Cops
#1 - Philadelphia, PA 1
Season 5 - Episode 1
Philadelphia officers subdue a man who was shooting at them; Offs. Luis Colon and Christine Couter witness an accident while looking for a car thief; a car vandal is caught.
#2 - San Bernardino, CA 1
Season 5 - Episode 44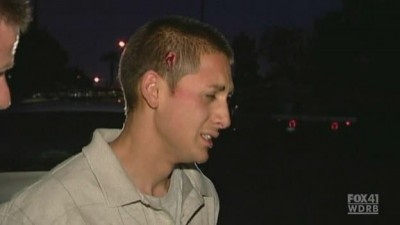 #3 - Coast to Coast #133
Season 20 - Episode 1
COPS starts it 20th season with stories from Kansas City Missouri, Lee County, Florida and Rialto, California. Stories include a stolen vehicle pursuit involving shots fired; a domestic violence call involving drugs; and a man with windshield glass sticking out of his head, denying he was in a nearby car accident.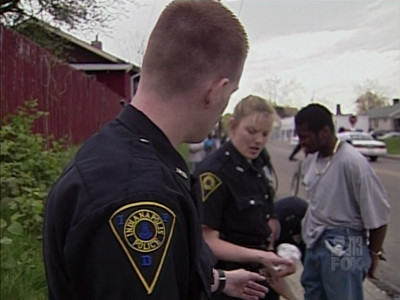 #4 - Indianapolis, IN 8
Season 12 - Episode 1
Indianapolis, IN - Officer Genae Gehring chases and catches a man in a foot pursuit who claims the drugs found in his pocket are Kool-Aid. Marion County, IN - Deputy Mark Myler responds to a call where a man drove his pickup truck over a child on a bicycle. Indianapolis, IN - Officer Richard Wilkerson enters a house and finds the caller beaten up in the bathroom.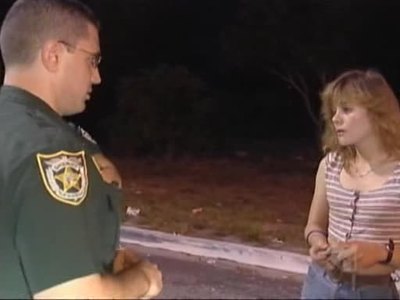 #5 - Palm Beach County, FL 11
Season 14 - Episode 1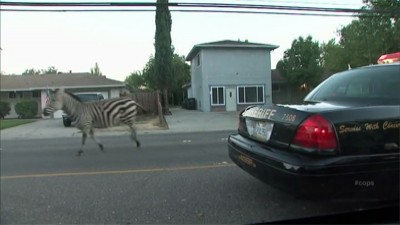 #6 - Odd Arrests
Season 25 - Episode 1
The 25th season kicks off with officers responding to a domestic-disturbance call in Toledo. Also: Sacramento cops work with an animal trainer to contain a feral zebra that's running loose in the city; a disturbance call in Portland, Ore., involves a suspect chasing a man along a highway overpass.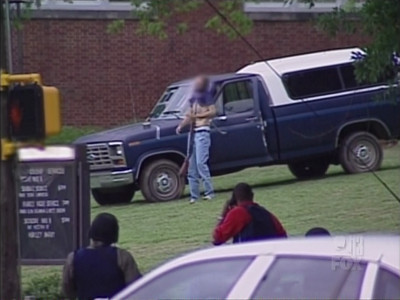 #7 - Atlanta, GA 2
Season 11 - Episode 1
Atlanta, GA - Officer R.D. Woody and Officer Ryan Thomas go to a standoff with a suicidal man in a truck. Fulton County, GA - Officer Debbie Banker goes to a 911 hangup call at an apartment to find a couple arguing. Atlanta, GA - Officer Jeff Glazier and Officer Jacquie Diederich notice a car in the ditch and find the driver has been shot in the head.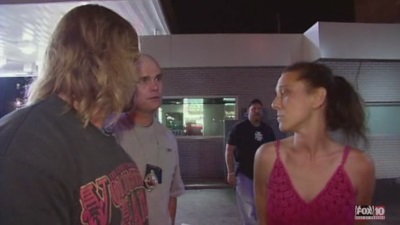 #8 - Coast to Coast 96
Season 18 - Episode 1
In the 18th season premiere, deputies Marc Taub and Joseph Ensminger of the Travis County, TX, Sheriff's Office question the residents of a home that has been burglarized and we learn that someone went into the house and completely trashed it. However, there is no sign of forced entry and nothing is missing from the property. The complainant and his friend, who appear inebriated, explain that they think they know who did it, and they believe it occurred because they would not smoke enough pot with him. Deputies take fingerprints from an article in the kitchen and advise the residents to be careful about whom they hang out with. In another segment, Corporal Bev Genevish, Officer James Presley and Lt. J.T. Strickland of the Gwinnett County, GA, Police Department investigate a call about a car hitting person riding a bike. At the scene, the driver's car has run off the road, and while the vehicle's windshield and hood are both damaged, the driver claims to have no memory of hitting anyone. As the investigation continues, a bloodied young boy stumbles toward officers, but the injury has impaired his memory and he cannot remember how it happened.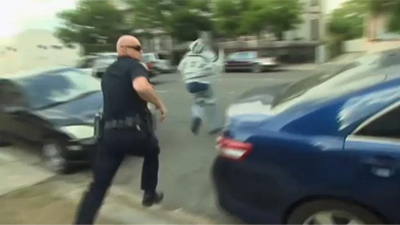 #9 - Fight and Flight
Season 26 - Episode 1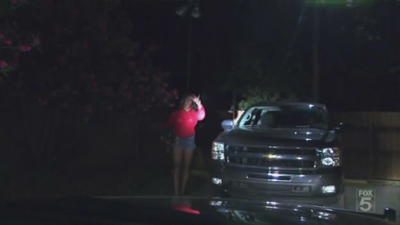 #10 - Arrests with a Twist
Season 24 - Episode 1
In the 24th-season opener, undercover cops are held at gunpoint in Las Vegas. Also: Narcotics and a concealed weapon are found in a car in Tampa; and police in Lafayette, La., check out a suspicious car and make arrests for solicitation and prostitution.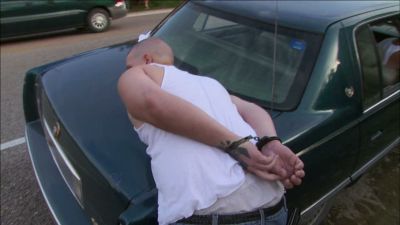 #11 - 800th Episode Milestone
Season 23 - Episode 1
On the 23rd season premiere, COPS celebrates a monumental 800th episode milestone with all the action indicative to the long-running series, including a chase, drug busts and more. An officer from the Boynton Beach Police Department in Florida chases a man fleeing his car by foot only to find what the suspect failed to hide. Another officer from Boynton Beach receives a call about a boa constrictor spotted in a residential area. Meanwhile, officers from the Harris County Sherriff's Office in Texas stop a victim for a routine traffic violation that ends in a drug bust and a charge of grand theft auto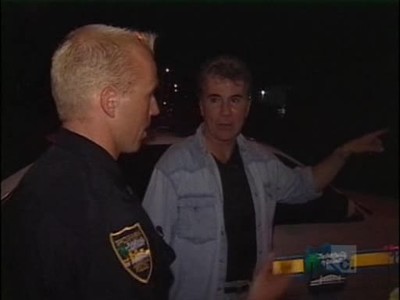 #12 - Jacksonville, FL 1
Season 13 - Episode 1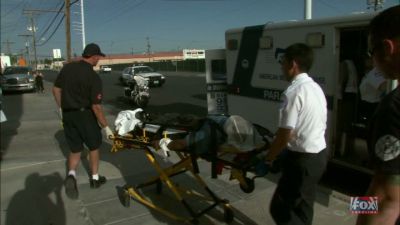 #13 - Odd Arrests #2
Season 22 - Episode 1
The COPS Season 22 opener includes a Las Vegas Metro police officer and the Las Vegas fire department trying to deal with a suspect who resists arrest, and a suspicious driver refuses to pull over.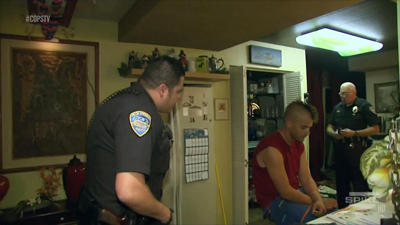 #14 - Mohawked Cleaning Service
Season 27 - Episode 1
A cyclist gives officers a bloody fight; a scared caregiver tries to evict an unwanted helper; tinfoil lands an unlicensed driver in hot water.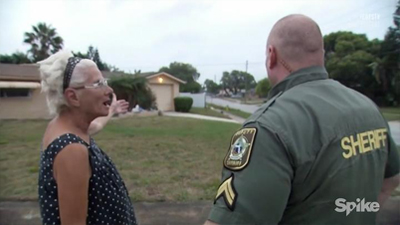 #15 - Cats and Dogs
Season 28 - Episode 1
An armed trespasser uses a young dog as a shield. A woman under the influence goes on a rampage, tearing into homes and people. A cat lady calls the cops when her neighbors get nosy.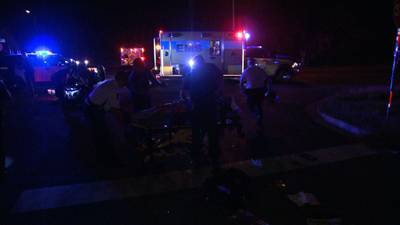 #16 - From Sixty to Zero
Season 29 - Episode 1
A motorcyclist gambles with his life during a high-speed chase. One lawbreaker will say anything to avoid being caught. A recent parolee blames Mom when the cops question him about his past.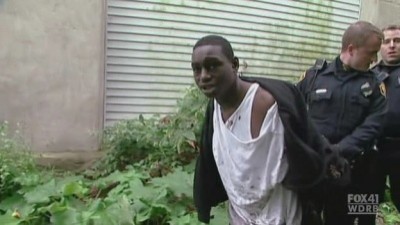 #17 - Evidence...What evidence? #1
Season 20 - Episode 2
Part two of the COPS 20th season premiere continues with stories from Pittsburg; Brevard Country, Florida; and Rialto, California. Stories include K-9 and other officers in the assist of the arrest of a known narcotics user seen with a gun; a woman with a suspended license is stopped and arrested for DUI; and the robbery of a restaurant leads to a trailer park and the arrest of suspects.
#18 - Philadelphia, PA 2
Season 5 - Episode 2
#19 - Minneapolis, MN 2 - Rookies
Season 3 - Episode 2
(Police Academy Survival Training Exercise) Cadet Mike Looney says to get out of the car with his hands in the air. He wanted to be a cop since he was a kid, maybe he's naïve ,but the fact you can help people is a noble position to be in. Officer Wes Edstrom supervises as he gets out of the car at gunpoint, cuffs and searches a guy. Mike is told to keep the back door open while searching them and put their feet back and head on the trunk to keep them off balance. When you go down to search don't go on your knees or they can kick you. It's looks good. (Practical Exercises Lab) Sgt. Dave Martenz draws on a board about the training, they can film them from all angles. They can see if they have it or not, how they treat people, if they have a bad attitude. He's not looking to scare them or drum them out, he wants it to be a positive experience. They are going to a bar scenario. The actors are real cops using lines they've all heard in the bars. Dave says he's heard it over 12 years while he watching, it's real interesting. The bartender says he's having trouble with drunk customers and wants them out. They try to talk to them and say why do they have to leave. It's their bar, they want them out. One woman fights and they throw them out. Then they find a gun on one guy and he claims he has a permit and wants to show it. He tries to get him to put the gun down as his partner holds him at gunpoint. They hold him back and he fights because he doesn't like to be restrained. He says he can walk out on his own. They say OK and the guy runs out. He comes back in with a gun and says for the cops to let her go or they'll get shot. They both run out. That's two in a row they screwed up. Dave says if they can't win don't go forward. (Cadet Graduation) They have to swear in and are official housing patrol cops in a large ceremony. Mike kisses his gum-chewing wife. (Roll Call) Sgt. Thomas Kerns reads out the assignment. 510 is Laplant and Zurwas, 520 is Hirsch and Looney. Mike was top man in his class and got the William Perry award – they are goofing on him. Talk to the Sgt about it. (8:40 PM) Officer Mike Looney says it's his first day. (911 Call Street Shooting) A black man in blue jeans, a blue hat with A on it and a black t-shirt is the shooter. Greg is driving him on his first day. Tom says she's all yours. They drive around looking for the guy and finally spot him. Mike holds him at gunpoint, Greg searches him and says he's sweating like a racehorse. The suspect asks what that means. He's cuffed and says he matches the description of a shooter. Where was he? He was at his girlfriend's, cousin's house. He turned away because he's scared out the police, not going to lie. His cousin lives right there at 206. They go back to the cordoned off scene to ID him. Officer Greg Hirsch says the hat is a Wrigley field diamond which looks like an A (9:10 PM) The ambulance is working on the victim with two gun shots in him. A witness with long dreadlocks says he saw him when he was sitting in front of his house and ID's him. It was a shooting at a crack house. The suspect was chasing the victim in his car, he hit an innocent car, crashed into a tree and the guy jumped out and shot him three times. He has a bunch of rock on him, might be a drug deal gone bad. The shooter gives him three different stories – he was watching TV with his girlfriend, then can't remember the show, then wasn't watching TV. (10:31 PM) The suspect is brought in. Mike says for the first day it feels good, after the years of college and school, now it starts to pay off. On the first day you want to catch all the bad guys. (4:35 PM Assistance Call) He says all rookies get in a mind set like they are going to change the world. One cop told him you aren't going to change the world, just go out and make your little dent. After 20 years there will be someone behind you to do the same thing. A call of a confused elderly lady at a downtown store comes in. The woman says she missed the bus and was short on taxi fare. She's a government worker, on SSI and gets a check every third work. She's well known and called the police for a ride because she was always told to call a cop when she was in trouble. So they give her a ride. (5:20 PM) She says she works and is a good woman who earns a living. (9:21 PM 911 Call Assault in Progress) They spot a Mike, black guy in a yellow hat with his shirt falling off and put him in the car. The victim has a thick Russian accident. He says the guy attacked his friend, came up to him, was on drugs and took his watch. His friend comes up with a shirt wrapped around his head, his face is bruised, bloody and he needs stitches. He hit him with his fists and they ran to the gas station and found a pipe to defend themselves. Mike says those two guys attacked him and ripped his jacket, he doesn't know why and he hasn't been drinking. Officer Larry Krebsbach puts him in the ambulance. Officer Laurie Janikowski finds a watch in Mike's pocket and asks the victim to describe it. He says it's a cheap gold Rolex and it's broken, because he broke it. It's a match. (10:08 PM) Out there you are dealing with average people, good and bad. Arresting a felon, helping an old lady back home, it's part of the job.
#20 - Mardi Gras 2004 Pt 2
Season 17 - Episode 2
(10:23 PM Fight in Progress) 8th District - Officer Patrick Rose and Leon Benoit III patrol looking for pick pockets, drunks and lewd conduct. Watch out for fights and hopefully no one gets hurt.. Two guys are arrested for fighting. One is cut loose and the other is drunk and was just looking for a fight. (10:51 PM Task Force Street Patrol) A guy says a man was trying to grab his sister and he pushed him away. The guy gets arrested for battery since he touched her without permission. A guy from Canada is also arrested for showing his ass. (11:31 PM Fight in Progress) Three guys are fighting in a tiny bar. One guy stuck his hand up a girls' skirt and then hit her boyfriend and his friend started pounding him. They are arrested for assault & battery plus lewd conduct. Before they finish a big black guy started a fight in the club right next to them and gets arrested outside. (11:19 PM Suspicious Activity) A drunk white guy tries to put pills in girls drinks and then get them back to his hotel. (11:52 PM Fight in Progress) A crazy black guy is arrested and starts spitting in cops faces after being thrown out of a bar and banks his head against the walls. (12:01 AM) The crew of blue cleans the streets.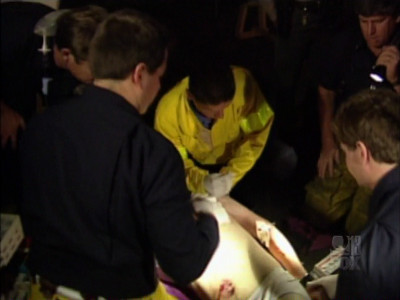 #21 - Los Angeles, CA 15
Season 7 - Episode 2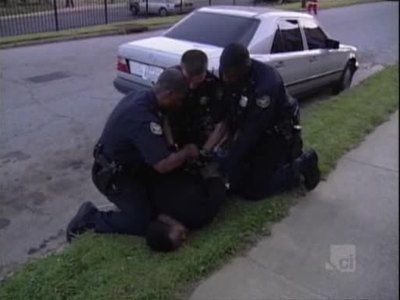 #22 - Atlanta, GA 12
Season 14 - Episode 2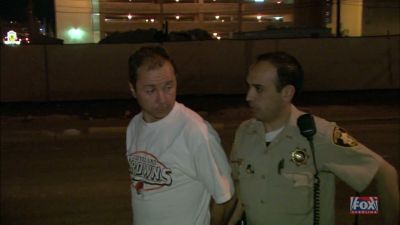 #23 - Liar, Liar #4
Season 22 - Episode 2
Continuing the hour long opener of season 22 for COPS, officers in California pursue a subject wanted for domestic violence; and Las Vegas metro police respond to a call that has been reported to them as a domestic violence incident.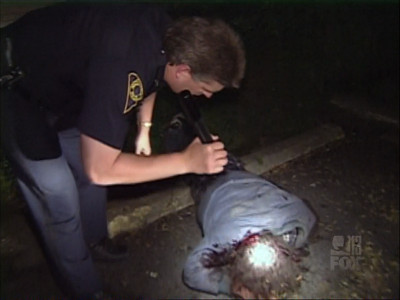 #24 - Indianapolis, IN 10
Season 12 - Episode 2
Indianapolis, IN - Officer Robert Cook finds a robber bloody and unconscious on the pavement and the victim sitting nearby. Officer Jon Daggy goes to a house where a man was scratched and beaten when he tried to deliver a VCR. Officer Kimberlee Carmack works undercover in a prostitution sting.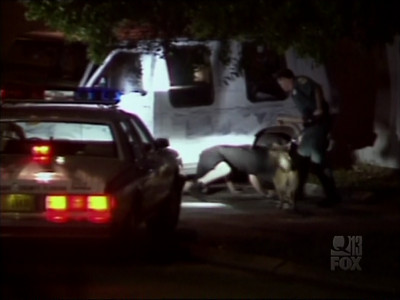 #25 - Tampa, FL 6
Season 8 - Episode 1
From Tampa, Florida. Police set up a sting operation, a man is asleep in the road, officers investigate a possible suicide and gunfire.