Comic Book Men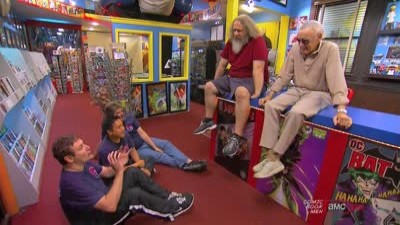 #1 - Stan the Man 8.28
Season 2 - Episode 8
The staff prepare for a visit from Stan Lee and Walt has the opportunity to purchase one of the most coveted comic books of the past two decades.
#2 - To the Bat Cave 8.28
Season 3 - Episode 2
The staff at the Stash receives an invitation to visit a bat cave and a customer arrives at the shop intending to sell his collection of original "Star Wars" action figures.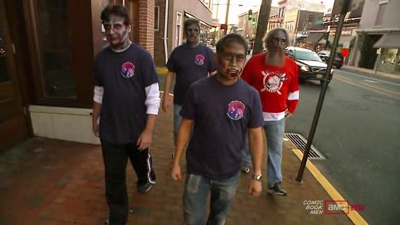 #3 - Zombies 8.27
Season 1 - Episode 4
Walt lets Ming run a sales promotion for the Stash based on the current zombie craze.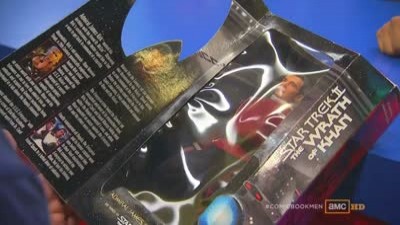 #4 - Con Men 8.24
Season 2 - Episode 12
The Stash organizes an auction to help a long time customer/friend sell his comic collection for mounting medical bills. Another customer relates to one of Spider-Man's deadliest enemies.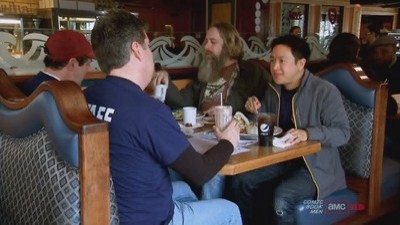 #5 - Con Gone Wrong 8.23
Season 1 - Episode 5
Walt and the guys head to a convention where, after a setback, they strike gold among trash. Later, a customer brings in an item that Mike covets.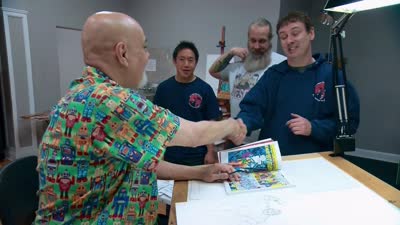 #6 - Super Friends 8.21
Season 3 - Episode 3
The guys ask George Perez to help rebuild Mike's collection and a customer sells his set of vintage interactive comic books.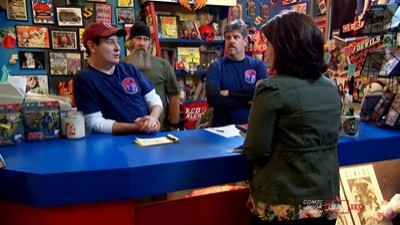 #7 - Ink 8.20
Season 1 - Episode 6
Walt challenges the staff to get tattoos, a woman arrives at the Stash looking for a romantic gift for her boyfriend and Bryan shows interest in a woman's collection of Barbie dolls dressed as super-heroes.
#8 - Cryptozoic Men 8.20
Season 2 - Episode 14
The guys try to create their own comic book. Walt buys a signed issue of Creepy.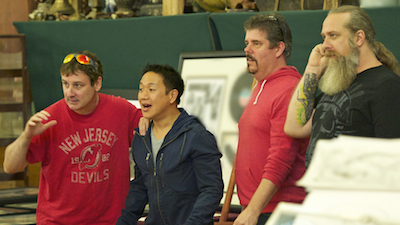 #9 - The Esposito Collection 8.15
Season 3 - Episode 13
The Stash helps auction off the work of Mike Esposito; Walt buys a paper doll.
#10 - Comic Charades 8.12
Season 2 - Episode 15
The guys play charades with a comic-book theme, while Walt seizes an opportunity to purchase original artwork from a favorite artist.
#11 - Junk 8.08
Season 1 - Episode 1
Walt challenges Bryan, Ming and Mike to a Collingswood Flea Market selling contest. Items aplenty come in for sale, some good, some not so good. We're also treated to a master class from Pop Culture Expert Robert Bruce.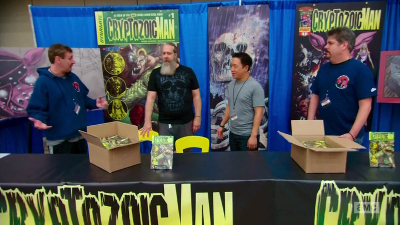 #12 - Cryptozoic Launch 8.07
Season 3 - Episode 8
The guys travel to the Baltimore Comic Con to launch their comic book, "Cryptozoic Man". "Sunday Jeff" works on a Saturday to fill in for Walt.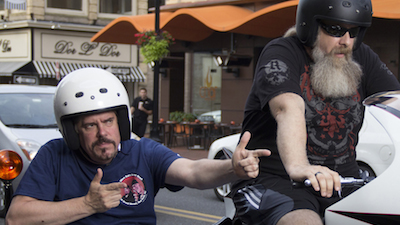 #13 - Batcycle on Broad 8.06
Season 3 - Episode 14
The guys have the opportunity to buy a replica of the '66 Batcycle; a collection of Marvel fan magazines from the '70s.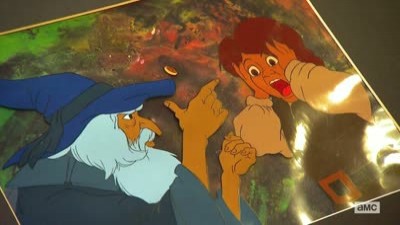 #14 - Giant-Sized Anniversary 8.06
Season 2 - Episode 16
Ming plans a surprise for Walt's anniversary at The Stash; Ming learns the virtue of patience.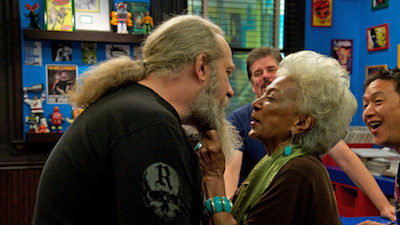 #15 - Uhura's Uhura 8.01
Season 3 - Episode 10
A woman is looking for an Uhura Mego doll from the '70s; an X-Men fan buys the first appearance of Phoenix.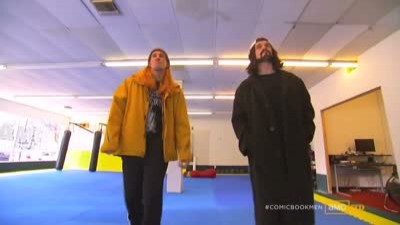 #16 - The Clash at the Stash 7.98
Season 2 - Episode 9
The Stash sells an independent comic book so the guys can see a costumed M.M.A fight; Walt buys nostalgic underwear to use in a bet.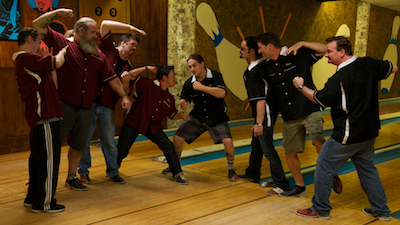 #17 - Pinheads 7.98
Season 3 - Episode 11
Walt is inspired to form a bowling team; an ill-conceived action figure shows up.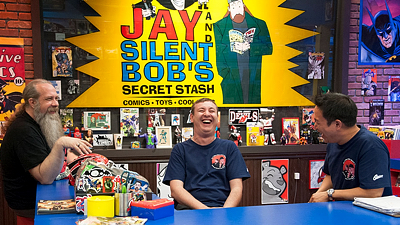 #18 - Walt's Treehouse 7.97
Season 4 - Episode 2
A returning customer brings in a toy that Walt always coveted; an aspiring student brings in an autographed book.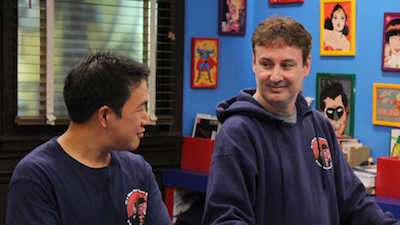 #19 - Trivia Chew-Off 7.97
Season 3 - Episode 12
Bored, Walt quizzes the guys on comic book trivia; a customer sells a Hellboy prop replica.
#20 - Life After Clerks 7.96
Season 1 - Episode 2
Kevin blows into town and gets the Stash staff to face off in a game of street hockey.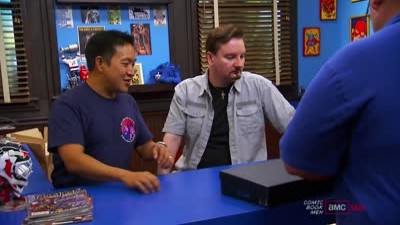 #21 - Ming in Charge 7.96
Season 2 - Episode 4
Ming gets to run the store when Walt and Mike take sick; and a customer has first issues of "Iron Man" and "Daredevil" to sell. Ming convinces "Clerks" star Brian "Dante Hicks" O'Halloran to help out.
#22 - Super Hoagie 7.95
Season 2 - Episode 10
The guys have a showdown at a local deli (who have sandwiches made for city fixtures) to see who can make the best sandwich that will represent the Secret Stash.
#23 - The Sidewalk Stash 7.90
Season 2 - Episode 5
Ming convinces the other guys to let him represent the Stash in the town's annual sidewalk sale.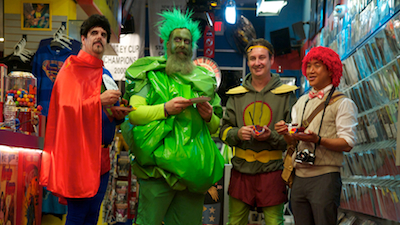 #24 - Superman's 75th 7.87
Season 3 - Episode 9
A customer buys a gift for his father's 75th birthday; the Stash throws a party for Superman's 75th birthday.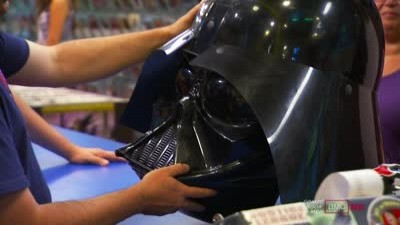 #25 - Stash Bashes 7.87
Season 2 - Episode 1
The guys throw a birthday bash and later on a customer brings in unusual "Star Wars" memorabilia.