City Hunter
#1 - Dangerous Detective Game: A Python for the Lady (Part 1)
Season 3 - Episode 4
Ryo receives a strange request from Aiko, a female private investigator, to teach her how to fire a gun. At one point, Aiko gets horribly drunk after one cocktail, slugs Ryo and steals his gun, only to find it empty of bullets. The request gets even stranger when it is revealed that she needs a gun to protect herself from unknown thugs trying to prevent her from locating a strange dog for a six-year-old girl. Finally, Aiko's uncle appears in order to convince her to give up the private investigator business but when she refuses, he is hit by a car.
#2 - Ryo is the Love Thief: Hidden Love Affair behind the Magic Mirror (Part 1)
Season 2 - Episode 43
Ryo runs into Kasumi Asoh, the "flying tush object" he met several years earlier. Kasumi is now 19 and is set to go into an arranged marriage in which she wants no part of. She thus masquerades Ryo as her lover, much to the disapproval of her grandmother, and Takeshi, Kasumi's arranged husband. Takeshi uses unscrupulous tricks against Ryo, by first hypnotizing him into believing that Takeshi's "mokkori" is bigger than Ryo's then when Ryo finds out about the hypnosis, hypnotizes Ryo in a state in which he can no longer experience "mokkori".
#3 - Combination of puzzlement & recovery! Memories are a distant light
Season 4 - Episode 3
#4 - Kaori in Danger: Love Means Saying Goodbye (Part 1)
Season 2 - Episode 3
Humiliated in their last encounter, the Silver Fox pledges revenge against Ryo. He issues a formal challenge to Ryo by saying that he has targeted Kaori, Ryo's "lover" for death and that Ryo must protect her from his attacks. When Kaori confronts Ryo about this, Ryo acts non-commital to the challenge. After an incident in which Ryo falls for a trick set up by the Silver fox, he informs Kaori that she is no longer to be his assistant.
#5 - Ryo's her Future Husband? Her Horoscope says she will meet and marry him! (Part 1) 6.50
Season 2 - Episode 1
After helping to protect a young girl named Akemi from some ruthless thugs, she insists that Ryo is her future husband and that they were destined to be married. While Ryo is able to get away, Akemi decides to enlist his help as her bodyguard to protect her from an unknown assailant named Kaijin X. In fact, the marriage story is a farce so that Akemi can leave her career as a young model.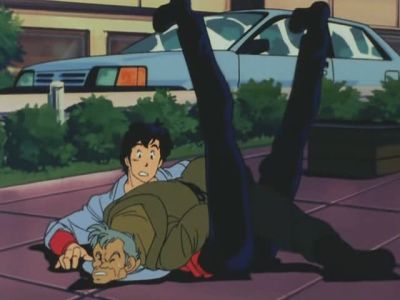 #6 - Lady Vanish: Boutique of the Shadows
Season 1 - Episode 4
Ryo's partner Hideyuki is frantic over the disappearance of her sister Kaori as a spate of abductions of women have swept Shinjuku. As he is trying to find his partner's sister, he comes across a man who is not who he seems to be. Together, they must find the secret into the kidnappings.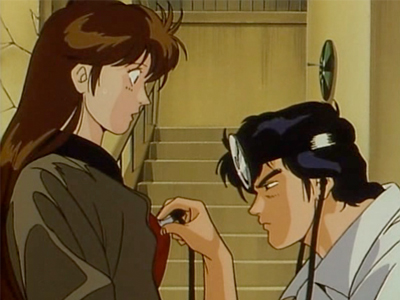 #7 - Big Revival of the Funny Pair! The Beauty Fallen from the Sky
Season 4 - Episode 1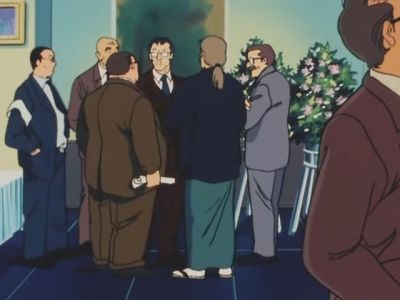 #8 - Ryo's a Nude Model: The Beautiful Artist who stole a Masterpiece
Season 2 - Episode 6
After stealing a supposed forgery of a masterpiece, the daughter of a famed artist requests Ryo's services to help her expose her father's former protege as a fraud.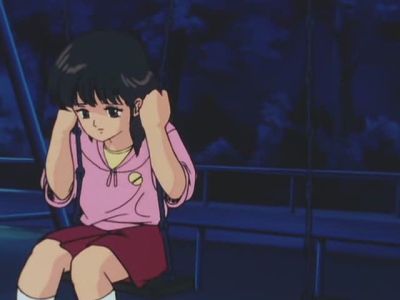 #9 - A Gunshot to set the Heart Aflutter: Sad Lonely Girl
Season 1 - Episode 7
Ryo's client is a man who wants to fake his own death to be free from a powerful politician so he could be reunited with his daughter. The man admits to be spineless but he is more than meets the eye. Ryo must masquerade as the hitman not only to save his client, but to ensure that the men working for the politician do not bother his client again.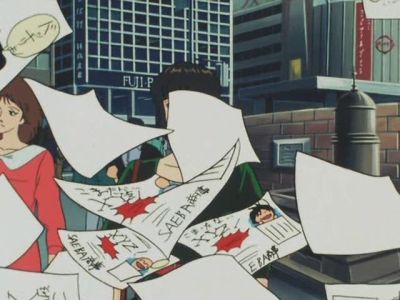 #10 - A Dangerous Detective before you know it: Welcome to Tokyo, Father
Season 2 - Episode 8
While shopping for dates, Ryo comes across a young woman who decides to parade him in front of her country-living father in order to convince her father that she is seeing someone and wants to stay in the city. When her father notices that Ryo has a gun, Ryo tries to pretend to be a police detective, steals a police car, and promptly gets involved in trying to break up a hostage situation during a bank robbery.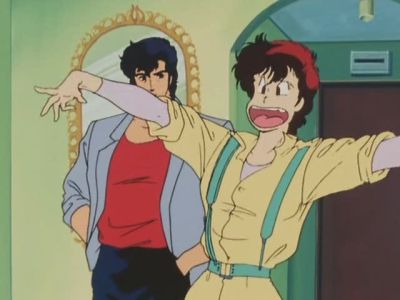 #11 - A Mischievous Mokkori Detective: A Beautiful Writer's Mystery Game
Season 2 - Episode 5
While doing research for a hardcore mystery novel, the publishing company sends a bodyguard to guard Azusa while she completes her book. Her adventures include visiting friendly Yakuza, an interview with Umibozu, and a plot to kill the friendly Yakuza boss. What she does not realize is that the City Hunter is the bodyguard hired to protect her.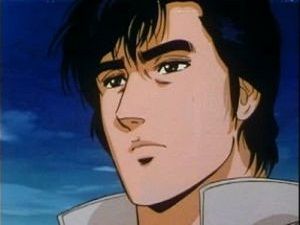 #12 - Looking for gunpowder smoke. . . City Hunter dies at dawn!
Season 4 - Episode 8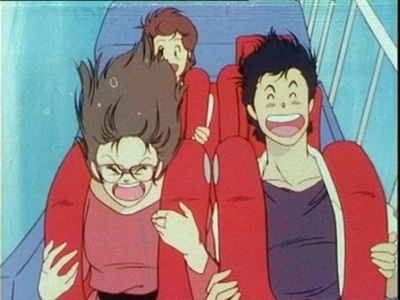 #13 - The Greatest Flagrant Love Committed: How to Hit on a Beautiful Lawyer
Season 3 - Episode 2
Ryo and Kaori attempt to protect a female lawyer marked for death by a corrupt developer, after an electronic databook is accidentally left in her possession.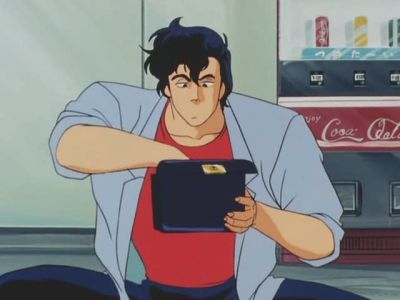 #14 - Moving Violation in Love: Ryo and the beautiful Motorcycle Cop.
Season 2 - Episode 9
Ryo and Saeko's date is interrupted by the discovery of a known fraud, and the subsequent traffic stop by a beautiful traffic cop. Meanwhile, Kaori finds that she was ripped off into buying a fake designer fur coat. The traffic cop then decides to help Ryo find the fraudster, whom is also the suspect Saeko is after.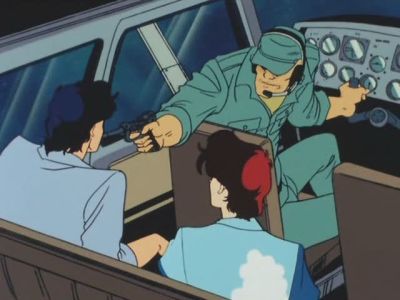 #15 - Tropical Island Assignment: The Coconut Girl's Love Paradise
Season 2 - Episode 7
Ryo and Kaori travel to an isolated tropical island to help a young girl protect the ecologically sensitive island from thugs looking to harvest its valuable mineral resources.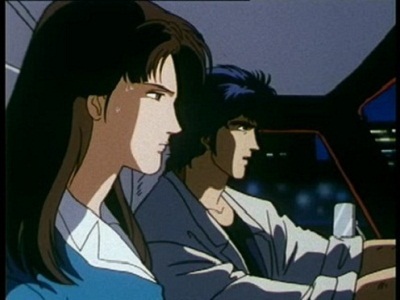 #16 - A wedding dress for Christmas (Part 1)
Season 3 - Episode 10
Ryo and Kaori receive a strange request from the head of the Yamaoka family looking to retrieve his daughter, Tsubaki from the son of the rival Umino family, Kazuhiko. It appears that Tsubaki and Kazuhiko have eloped against their parent's wishes and both families want the couple broken up to preserve the rivalry. When Tsubaki manages to escape from Ryo, Kaori volunteers to go to the Umino mansion for a party where she witnesses Tsubaki crash the party with a horse to retrieve Kazuhiko. As they escape, Ryo notices a strange car following the couple.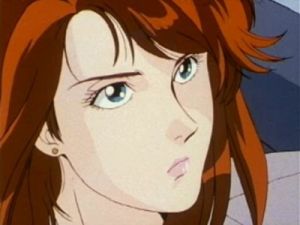 #17 - Love is also an A-license. The beautiful wheelman visiting the store!
Season 4 - Episode 4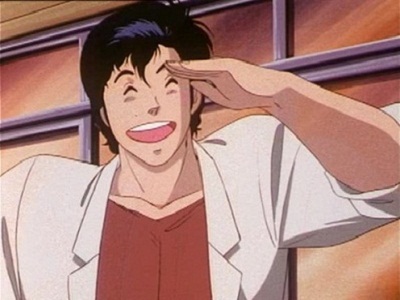 #18 - Stubborn Umibouzu: Tale of the jealous kitten
Season 3 - Episode 6
Miki and Umibozu get into an argument over Miki's desire to keep a stray kitten, knowing Umibozu's fear of cats. Miki walks out on Umibozu and is then kidnapped by a wealthy suitor looking for a potential mate. Umibozu and Ryo bicker on how to save Miki and set out to do so together.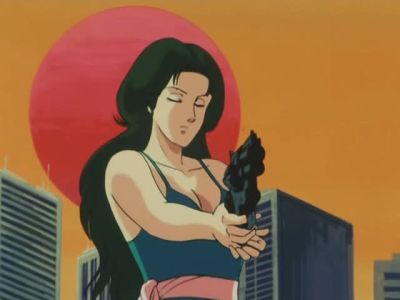 #19 - That Pretty Girl in Tights Prefers the Tulips
Season 1 - Episode 11
Ryo is requested to assist a female thief in stealing a black tulip from a fraudulent psychic. Kaori finds out that the psychic's butler has a crush on her and decides he may be helpful in obtaining the plant.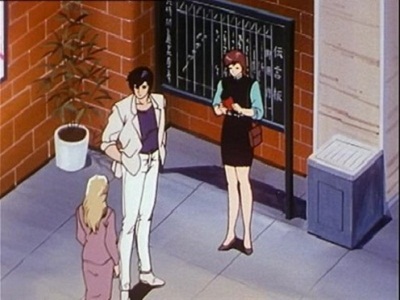 #20 - Goodbye City, a Farewell Gift (Part 1)
Season 3 - Episode 12
On the anniversary of the death of his friend, Robert Harrison, Ryo gets royally drunk and notices a woman watching him. This woman turns out to be Sophie Silverman, who represents an international firm of sweepers. Sophie wishes to tag along with Ryo and Kaori for a few days to witness him in his line of work. On their way to a potential job, the three are attacked by unknown assailants. After warding them off in a warehouse, Ryo finds Sophie pointing Robert Harrison's gun at him.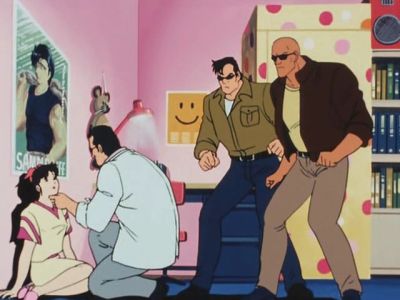 #21 - The most Advanced Smuggling Manouever: Treatment by a Beautiful Dentist
Season 2 - Episode 13
Suffering from a toothache, Ryo reluctantly visits a dental clinic and has his cavity addressed by the dentist Sayuri. But at the same time, thieves are trying to bust into Sayuri's practice hoping to recover a fake tooth with a special microchip containing classified plans.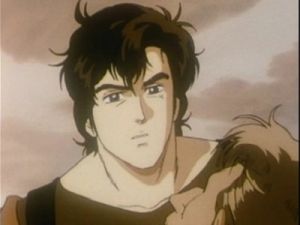 #22 - Ishuin Hayato's peaceful day
Season 4 - Episode 9
#23 - The Gambling Queen: A Bet for Wonderful Love 7.75
Season 1 - Episode 9
Ryo must protect a lovely casino dealer as she prepares for a showdown with a rival syndicate in order to win her freedom. Meanwhile, Ryo is pitted against a powerful gambler who exploits Ryo's weaknesses to their fullest extent.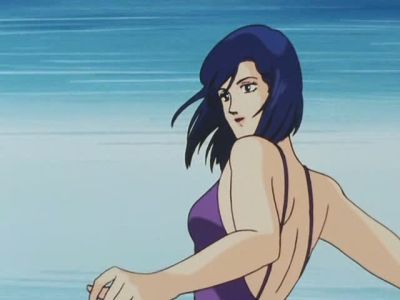 #24 - My Foe is a Beautiful Lady?: The Biggest Woman Trap in History
Season 1 - Episode 14
Saeko enlists the help of Ryo to solve the dissappearances of beautiful women in Shinjuku. The stakes are even higher when Kaori, mistaken for a beautiful woman, is also kidnapped. Ryo encounters the mastermind of the scheme, a supposedly beautiful woman who may not be who she seems to be.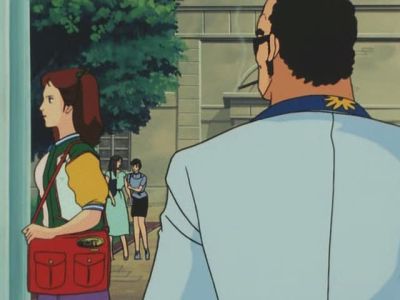 #25 - Love can be superior to money: Mokkori vs a Saving Girl
Season 2 - Episode 14
Ryo meets Shoko, a young girl who believes money is everything and is better than love. While Ryo tries to turn Shoko's attitude around, he has to contend with three men attempting to court her on behalf of a friendly Yakuza group.