Bizarre Foods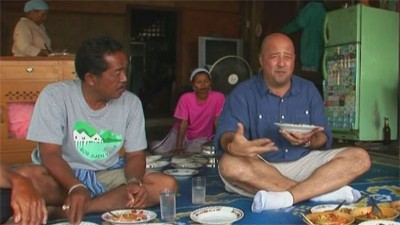 #1 - Phuket, Thailand
Season 3 - Episode 1
Andrew heads to Phuket, Thailand where he samples the unusual cuisine while visiting the sites.
#2 - Jamaica 8.89
Season 6 - Episode 23
An exploration of Jamaican cuisine, which blends island flavors with African traditions.
#3 - Vietnam
Season 1 - Episode 12
Snake parts, pig's ears, silk worms and cat coffee--all foods Andrew Zimmern indulges in during his Vietnamese adventure.
#4 - Morocco
Season 1 - Episode 2
Join Andrew Zimmern as he takes a culinary tour through Morocco, where he finds everything from lamb's head to pigeon pie on the menu!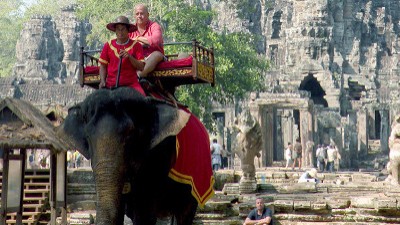 #5 - Cambodia
Season 5 - Episode 2
Andrew visits Cambodia, a developing nation where the food traditions are a source of national pride. From the bustling markets of Phnom Penh to a quaint floating village on the Tonle Sap River, Andrew samples some of the most extreme food on the planet.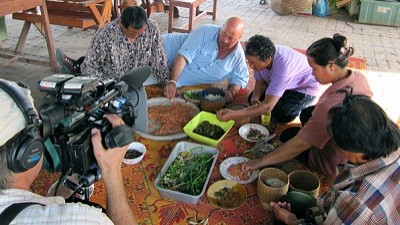 #6 - Thailand
Season 5 - Episode 1
Andrew travels to Northeastern Thailand to uncover a culture not familiar to Western tourists. The people in the Isan region know how to make use of everything living and breathing when it comes to food.
#7 - Lisbon: Snails, Sardines & Barnacles
Season 7 - Episode 2
Andrew Zimmern travels to Lisbon, Portugal, to brave crashing waves and to harvest barnacles from the rocky shore. Andrew also feasts on mollusks at a huge snail festival and more.
#8 - Fez, Morocco
Season 6 - Episode 20
A culinary tour of Morocco. Featured eats include lamb's head and pigeon pie.
#9 - Pennsylvania
Season 6 - Episode 2
Andrew samples Pennsylvania's staple foods that most people never hear about. Andrew meet interesting people, including a Japanese superstar chef who cooks poisonous sex organs and a family that boils up every part of the pig,
#10 - Phillipines
Season 1 - Episode 1
Andrew Zimmern is off to the island nation of the Philippines. There he chows down on local favorites like 'balut,' crickets, stuffed frogs and even live worms!
#11 - Venice
Season 6 - Episode 3
Andrew visits the mystical city of Venice. He enjoys the food in the historic city while catching critters in the Lagoon, blowing Murano glass, and indulging in the best cicchetti in the world.
#12 - Spain
Season 1 - Episode 4
Andrew Zimmern's gastronomic tour of the world continues with a trip through Spain. He chows down on suckling pig brains, bull testicles — and everything in between!
#13 - Rome: Porchetta, Pecorino and Pizza
Season 8 - Episode 3
Andrew heads to Rome for tastes that stand the test of time. He feasts on lamb brains and veal intestine in the shadow of an ancient dump, eats cheese aged in millennia-old caves, and nets eel with Rome's last eel fisherman.
#14 - St. Petersburg
Season 2 - Episode 3
Andrew heads to Russia's cultural capital of St. Petersburg as he embarks on his culinary tour.
#15 - Samoa
Season 3 - Episode 4
Andrew heads to Paris where he learns about snail caviar.
#16 - Sardinia
Season 6 - Episode 21
Andrew visits the Mediterranean island of Sardinia to learn about what the locals like to eat, from sea urchins to casu marzu (rotten cheese).
#17 - Dubai: Carp, Camel, and Cocoons
Season 8 - Episode 4
Andrew Zimmern heads to gleaming and gritty Dubai in the United Arab Emirates. He learns the secrets to milking camels, fermenting fish in the desert sun, making musical organ-meat mush, and finding manna from heaven at the spice market.
#18 - Philadelphia: Shad Cakes, Krak & Kishke
Season 9 - Episode 4
Cheese-steak and shad cake to turkey neck and pig liver in Philadelphia where pride brings good food.
#19 - Embassy Row
Season 6 - Episode 16
The host heads to Washington, D.C., to sample international cuisines at some of the foreign embassies.
#20 - Gulf Coast
Season 1 - Episode 5
Andrew stays in America and visits four states. His destinations include: Louisiana, Alabama, Mississippi, and Florida. Some of the regional cuisine that Andrew tries: nutria (giant rat), squirrel, turducken, head cheese, pig's brains, fried pickles, mullet roe, and alligator.
#21 - Brooklyn: Schmaltz & Sea Robins
Season 7 - Episode 5
Andrew Zimmern uncovers what's cookin' in Brooklyn, NY. During his visit, Andrew samples grilled sea robin in Sheepshead Bay, tries kombucha bacteria pancakes in a defunct pharmaceutical warehouse, and eats a spleen sandwich in an Italian focacceria.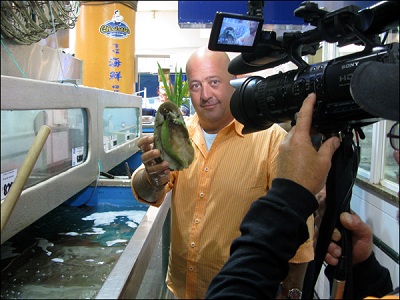 #22 - Eastern Australia
Season 4 - Episode 5
Andrew goes snorkeling, spear fishing and visits a farm where they "pamper" their cattle. He makes a stop at the Sydney Fish Market where he samples bizarre food he's never tasted before, including Morton Bay, Balamain Bugs, Flathead Fish and Spanner Crabs.
#23 - Paris
Season 3 - Episode 5
Andrew goes to Paris and learns to combine cooking and science.
#24 - Chile
Season 2 - Episode 6
Cow udders, bull testicles and barnacles. It's all part of Andrew's culinary tour of the world's longest, thinnest country. From the city to the country to the sea, you won't believe what Chile has to offer.
#25 - Panama: Beef Lungs & Love Potions
Season 8 - Episode 6
Andrew Zimmern heads to Panama City, Panama, one of the world's crossroads. He feasts on chicken-foot souse and iguana meat and eggs. Then, he hits the street for beef lung and aphrodisiac smoothies before noshing on Chinese-Panamanian kosher cheese.