The BEST Episodes of Utawarerumono
Every episode ever - ranked by fan votes!
Last Updated: Apr 30, 2020
An injured, amnesiac man with a mysterious mask is found abandoned in the forest. He is nurtured back to health by a girl named Eruru and given the name Hakuoro. After saving the village from a wrathful deity, he adopts the role of the village's leader. Although wishing to live in peace, fate eventually forces him down the path of war and battle...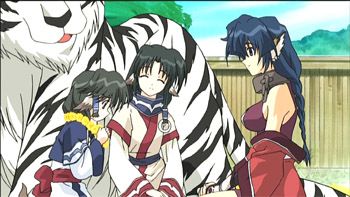 #1 - The Mercenary
Season 1 - Episode 10 - Aired Jun 5, 2006
A powerful mercenary is brought to the castle and held captive until she is able to show her worth as a fighter and joins Hakuoro's army.
76 votes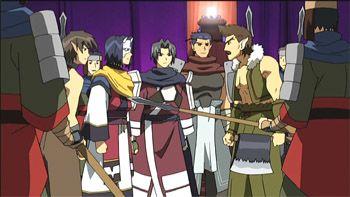 #2 - Everlasting Promise
Season 1 - Episode 11 - Aired Jun 12, 2006
Kuccha Keccha attacks Erurū's former village and massacres the inhabitants. In response to continued attacks, Tusukuru is forced to declare war with them.
77 votes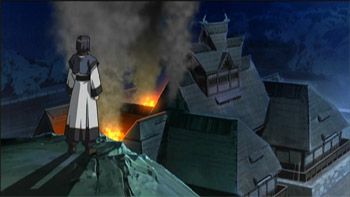 #3 - Taboo
Season 1 - Episode 9 - Aired May 29, 2006
As the large country of Shikeripetim threatens invasion, Hakouro devises a cunning plan to hold off Shikeripetim's emperor, Niwe, and his far superior military force.
75 votes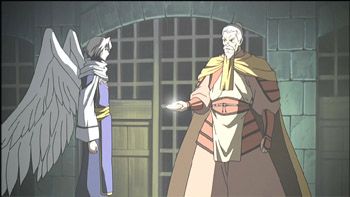 #4 - The Ravages of War
Season 1 - Episode 14 - Aired Jul 2, 2006
More helpless villages in Tusukuru are attacked by Niwe, the emperor of Shikeripetim, as he advances through the countryside. Hakuoro hatches a desperate plan in order to defend his nation.
44 votes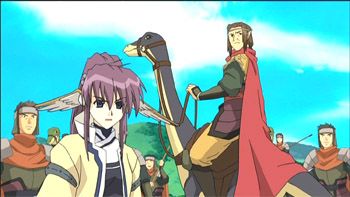 #5 - Unrest
Season 1 - Episode 12 - Aired Jun 19, 2006
Kuccha Keecha turns out to be a more formidable opponent than originally anticipated, more so now that they have the support of the Evinkuruga Touka. Hakuoro tries to find another way to attain victory.
75 votes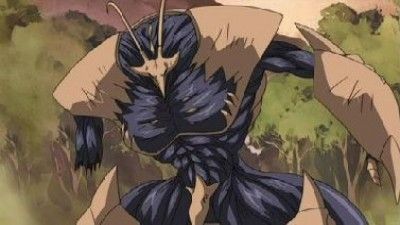 #6 - He Whose Song is Sung
Season 1 - Episode 26 - Aired Sep 25, 2006
After a climatic battle and the final pieces of Hakouro's past being revealed, Hakouro makes a very difficult decision that will forever have an impact on the future.
71 votes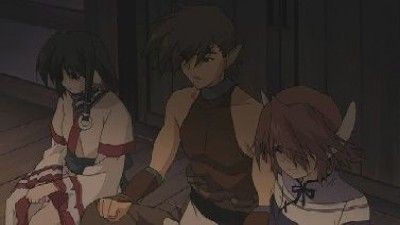 #7 - Traces of an Ancient Dream
Season 1 - Episode 25 - Aired Sep 18, 2006
The episode begins with the fate of Kuuya being revealed. Hakuoro rushes to Onkami Yamukai to rescue Kamyu, but all is not as it seems. Hakouro's true identity is confirmed and he remembers more of the Iceman's heartbreaking story.
72 votes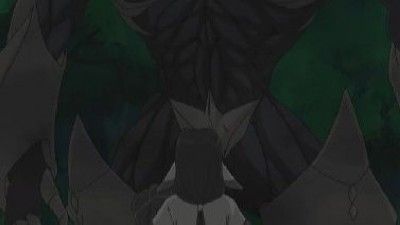 #8 - Where the Heart Lies
Season 1 - Episode 23 - Aired Sep 4, 2006
The first heavy defeat in battle with Kuuya in the previous episode slows down the war. In the next, relatively calm, days Hakuoro remembers some of his past. Who really is the Iceman? Why does this "Mikoto" in his memories resemble Erurū so much? Genjimaru leaves Kunnekamun since he knows they are on a path to annihilation. He joins Hakuoro offering his guide for the armies. Genjimaru seems to be betraying Kuuya, but he acts this way since he wants to save her from the war. Understanding that, Hakuoro accepts his help. The first step is unite all the rebels left by Kunnekamun's passage. In order to do that, Hakuoro arranges a mission to rescue the Oruyankuru. The old man is saved, but then he declares that Urutorii is the new Oruyankuru and retires.
71 votes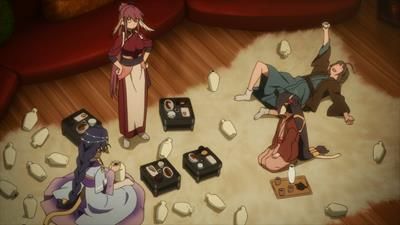 #9 - The Master of the Inn
Season 2 - Episode 6 - Aired Nov 8, 2015
The inn where Haku's staying, the Hakuroukaku, is known for its beautiful owner. She sends him a letter and invites him to a banquet. He goes, but...
16 votes
Writers: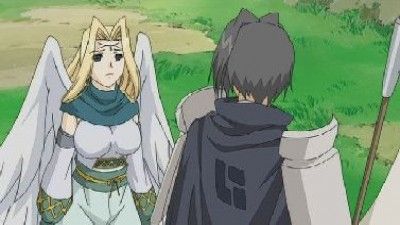 #10 - Odious Pact
Season 1 - Episode 22 - Aired Aug 28, 2006
As the forces of Emperor Kuuya descend upon Tusukuru's capital, Hakuoro realizes that the evacuation is going to take longer than they have, and so decides to sacrifice himself to draw their attention away. However, Aruruu isn't prepared to let this happen, and shows up riding Mukkuru. The immortal Mutikapa is able to attack the Avu-Kamuu without being hurt, but Aruruu is hit with a single blow and died. However, the pool of blood growing behind Aruruu begins to bring back Hakuoro's memories, and new questions start arising in his mind: What is he? What unknown powers does he harbor?
73 votes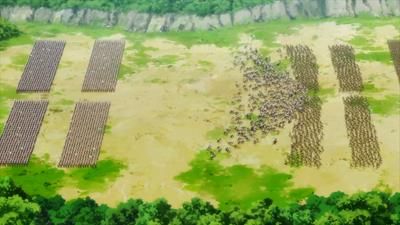 #11 - Master of the Blade
Season 2 - Episode 14 - Aired Jan 10, 2016
The invading forces are taking Yamato citizens hostage and using them as front line troops against the Eight Pillar generals. Rurutie and Haku go on a dangerous mission behind enemy lines to release the hostages' loved ones.
13 votes
Writers: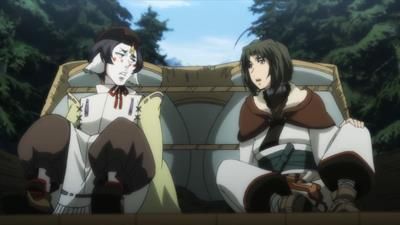 #12 - The Chivalrous Man
Season 2 - Episode 2 - Aired Oct 11, 2015
The village is under attack by monsters called gigiri, small insects with nasty claws. Haku and Kuon go with a group of mercenaries to help wipe them out, but get more than they bargained for when they run into a boro-gigiri, a monster that's over 30 feet tall.
16 votes
Writers:
Koujirou Nakamura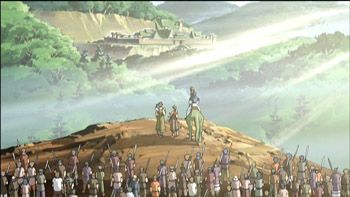 #13 - Invasion of the Imperial City
Season 1 - Episode 7 - Aired May 15, 2006
Finally, Hakuoro's small army reaches the castle of Emperor Inkara, to find, when they arrive, that he had already died by Benawi's blade. After this, Benawi and Kurou join Hakuoro.
105 votes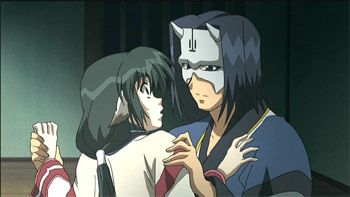 #14 - A Bloody Battle
Season 1 - Episode 13 - Aired Jun 26, 2006
Hakuoro's plan to defeat the Kuccha Keccha succeeds and he confronts Emperor Orikakan; the result of their encounter however, is quite unexpected.
75 votes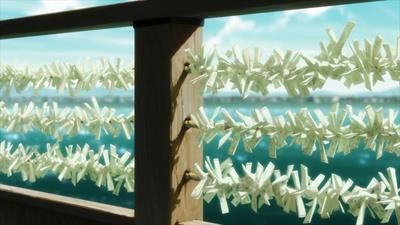 #15 - The Pirate Girl
Season 2 - Episode 5 - Aired Nov 1, 2015
Haku's busy days of working hard in the mornings and afternoon and studying at night are wearing down his mind. However, his hard work pays off when he's finally given a vacation. With his freedom and a little money, he sets out to the capital.
12 votes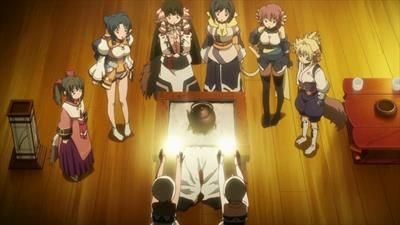 #16 - Kamunagi of Chains
Season 2 - Episode 12 - Aired Dec 20, 2015
For his services in saving the princess, Haku is invited to the palace and given an audience with the emperor. He is gifted two girls who are called the Priestesses of Chains. But he doesn't realize the deep meaning they possess.
13 votes
Writers: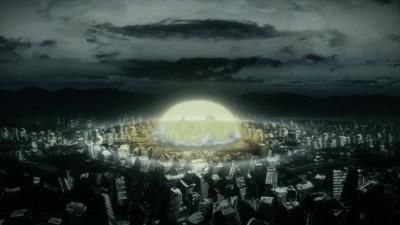 #17 - Afterglow
Season 2 - Episode 17 - Aired Jan 31, 2016
The truth behind Haku's past is revealed. What is his connection to the emperor, and to the mysterious and powerful masks?
13 votes
Writers: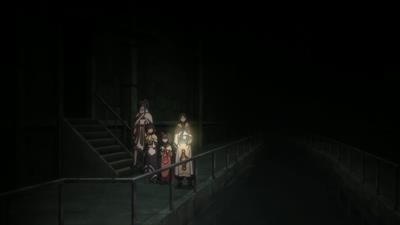 #18 - Rescue
Season 2 - Episode 22 - Aired Mar 6, 2016
The emperor is dead, and Anju has been poisoned. Oshutoru takes the blame for the crime. Haku mounts a daring plan to rescue him.
13 votes
Writers: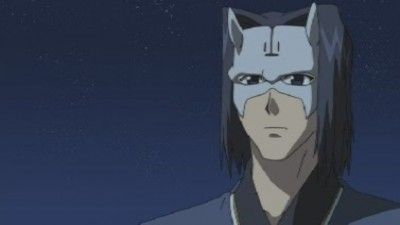 #19 - First Battle
Season 1 - Episode 20 - Aired Aug 14, 2006
Kuuya talks again with Hakuoro. Later she reveals her plans of war with the other countries. Thus Hakuoro is left with the decision to help her or not. Hakuoro tries to dissuade her, but to no avail.
74 votes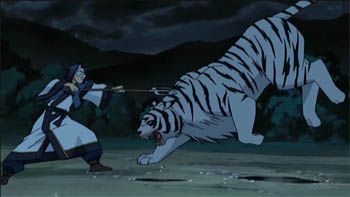 #20 - Ruler of the Wild Forest
Season 1 - Episode 2 - Aired Apr 10, 2006
The Queen of the forest, Mutikapa, is angered and begins killing some of the townspeople. Hakuoro works with the others to figure out a way to defeat it.
109 votes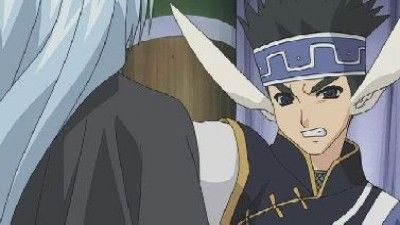 #21 - Large Seal
Season 1 - Episode 21 - Aired Aug 21, 2006
Kuuya, convinced by her bloodthirsty advisers, starts a war against every nation in order to unite the whole continent. Soon the war reaches Hakuoro's empire. The avu-kamuu of Kuuya seem unstoppable, and Hakuoro decides to evacuate the capital.
71 votes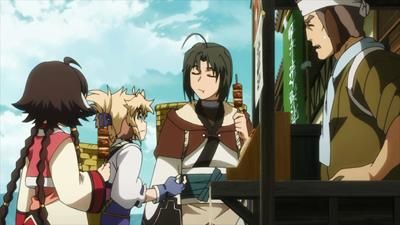 #22 - The Young Princess
Season 2 - Episode 7 - Aired Nov 15, 2015
The emperor of Yamato holds absolute loyalty from his subjects. And his daughter, Anju, has her birthday approaching. Hakuroukaku finds itself with a strange visitor. Kuon's eyes shine coldly at this selfish young girl.
15 votes
Writers:
#23 - On the Path of Destruction
Season 1 - Episode 24 - Aired Sep 11, 2006
With the help of the rebels and Genjimaru's military command the Tusukuru empire stops Kunnekamun and soon turns the tables of the war. Inside the castle of Kuuya the final battle ensues, but there are more factions at work than just Tusukuru and Kunnekamun...
71 votes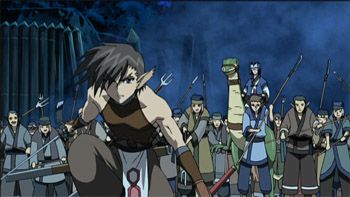 #24 - Gathering Force
Season 1 - Episode 6 - Aired May 8, 2006
Hakuoro gains more men at his command and once again has a battle involving Benawi and the men he commands.
105 votes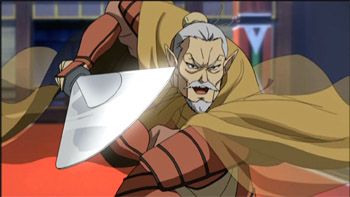 #25 - End of the Banquet
Season 1 - Episode 15 - Aired Jul 9, 2006
A final decisive battle between Hakuoro and Niwe begins in Shikeripetim's capital.
73 votes