The Best Episodes of Top Shot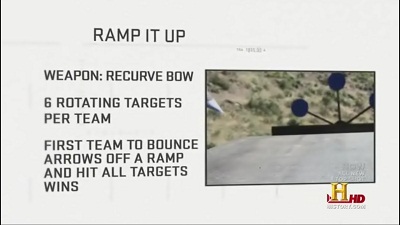 #1 - Ramp It Up 9.00
Season 3 - Episode 8
Contestants must master the Recurve Bow and nail a target by skipping an arrow off a ramp. One team goes to the brink of self-destructing when two teammates almost come to blows during a dispute of a previous elimination decision.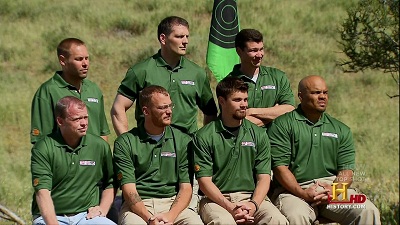 #2 - Stacked 8.92
Season 3 - Episode 9
The individual stage of the competition kicks off with the highly accurate McMillan TAC-50 Sniper Rifle. Taking aim at targets 500 yards downrange, one marksman has a meltdown and struggles to complete the individual challenge. In the elimination, it's all on the line for two competitors as they duke it out with a notorious WWII handgun.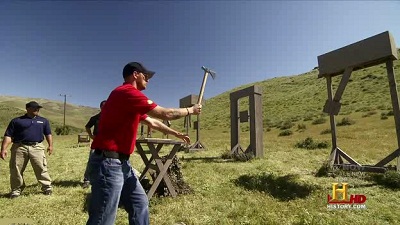 #3 - Throwdown Showdown 8.91
Season 3 - Episode 5
Competitors endure some old school playground dynamics as the teams call each other out with primitive weapons, including one of the earliest known to man. In the elimination challenge, two shooters compete head to head with the largest, most powerful weapon ever used on Top Shot.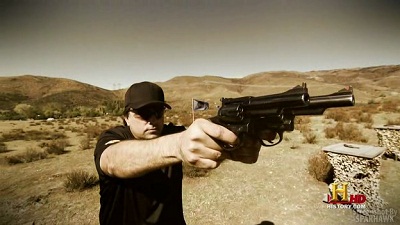 #4 - Trick Shot Showdown II 8.83
Season 2 - Episode 7
It's a Trick Shot Showdown! Contestants split a bullet on an axe, shoot with both hands and upside down as they attempt iconic shots from exhibition shooting history. Some marksmen step up to the extreme challenge while others fall short.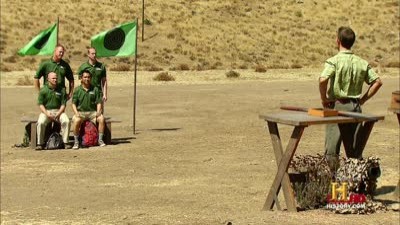 #5 - The Ultimate Prize 8.81
Season 4 - Episode 12
From the Kentucky Flintlock Pistol to Crossbows and Grenade launchers--an epic assortment of weapons are featured. Four marksmen gear up to blast their way through the home stretch with hopes of becoming History's next Top Shot. After a series of elimination challenges, only two competitors enter the final showdown which comes down to the very last second.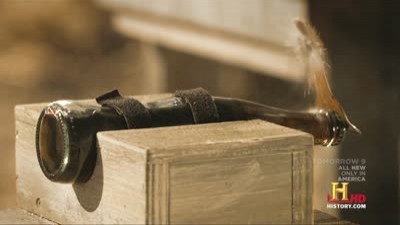 #6 - Trick Shot Shoot Off 8.81
Season 4 - Episode 7
Contestants take aim at bowling pins, bottle openers and other specialty targets in an episode full of dazzling trick shots. One team's quarreling over strategy translates to a poor performance at the team challenge. And after a controversial nomination range, two shooters must go head to head to avoid elimination.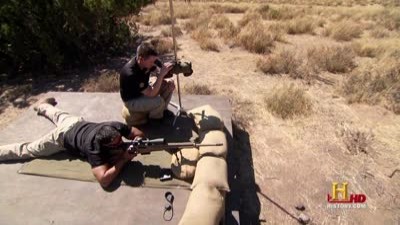 #7 - The Longest Shot 8.73
Season 4 - Episode 9
Shooters reach the individual stage of the competition and immediately face an incredible challenge with the Accuracy International AWM Sniper Rifle--taking the longest shot in Top Shot history. Top Shot veterans Kelly Bachand and George Reinas return and get in on the action.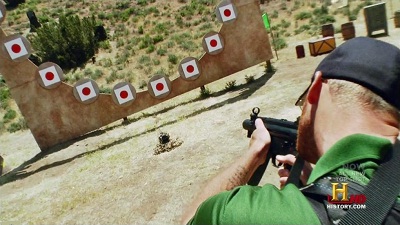 #8 - Wheel of Fire 8.73
Season 3 - Episode 11
The five remaining marksmen face one of the most difficult challenges in Top Shot history. Shooters will use the powerful and compact SP89 semi automatic pistol while moving through the air upside down. With the last spot in the final four up for grabs, one competitor amazes the group with a stunning performance at the elimination challenge.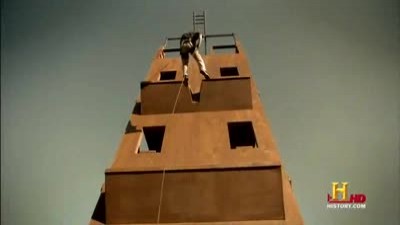 #9 - SWAT Throwdown 8.71
Season 4 - Episode 10
The competition features two challenges inspired by real life SWAT team scenarios. A physically demanding individual challenge leaves three shooters exposed for nomination. And, in an extreme elimination showdown, competitors race the clock as they breach doors with the Mossberg 500 Chainsaw Shotgun to take out targets with the FN FS2000 assault rifle.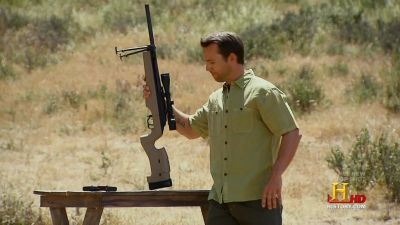 #10 - Odd Man Out 8.64
Season 3 - Episode 10
Competition speeds up when marksmen fire one of the fastest shooting handguns on the market. The vote at the nomination range provokes a drastic reaction from one of the shooters and a shocking turn of events leaves competitors stunned.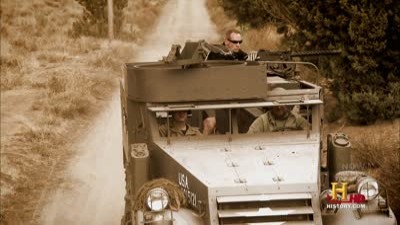 #11 - Have Machine Gun Will Travel 8.60
Season 4 - Episode 11
Armed with a belt fed Browning 1919 machine gun mounted on an authentic World War II half track, shooters blast their way through an explosive individual challenge. After coming up short, two competitors are selected to compete for the right to stay in the game. An unconventional elimination challenge tests marksmanship, strength and memorization. Only one will have what it takes to land the last spot in the final four.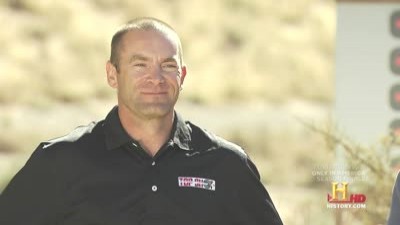 #12 - The Mad Minute 8.56
Season 4 - Episode 8
Top Shot season one winner Iain Harrison returns to school the competitors in British weaponry. The team challenge introduces a surprising twist, and one team bands together to conquer the task. For the losing team, it's off to the elimination round where two shooters compete in a high-stress precision challenge.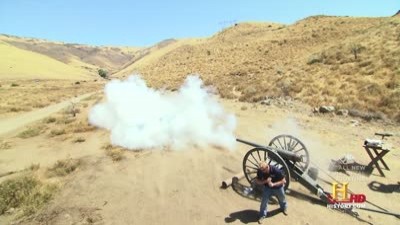 #13 - Blast From the Past 8.54
Season 4 - Episode 6
A mighty 3.2 inch bag gun cannon forces each team to work together; a heated grudge match pits two shooters against each other using the fast-flying prehistoric atlatl throwing dart.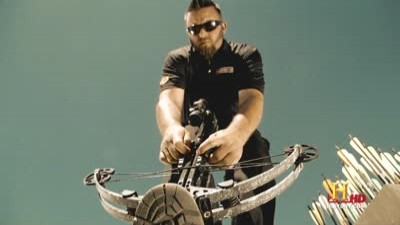 #14 - Crossbow Crossfire 8.50
Season 4 - Episode 4
As the field of marksmen narrows, one team holds an urgent meeting in an attempt to reconcile their differences. The team challenge features an ultra-modern, high-power crossbow that fires bolts at a stunning 350 feet per second. In the aftermath of a nail-biting archery duel, the elimination challenge is a fight to the finish with what many consider the "Perfect Pistol."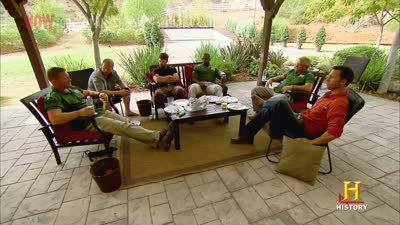 #15 - A Game of Horse 8.47
Season 5 - Episode 11
In a blast from the past, marksmen fire the Browning M1919 from a rolling Army Half-track. Competitors call the shots in a game of horse, where one all-star fails to keep pace and is sent packing.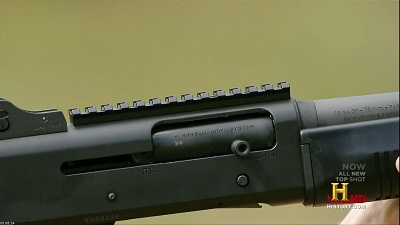 #16 - Slug It Out 8.46
Season 3 - Episode 3
Shotgun skills are tested with a head-to-head speed shooting challenge. Leaders emerge and tension escalates on both teams. And it's an elimination challenge unlike any before, featuring an elaborate machine, a Glock 34, and a line of non-stop cannonballs.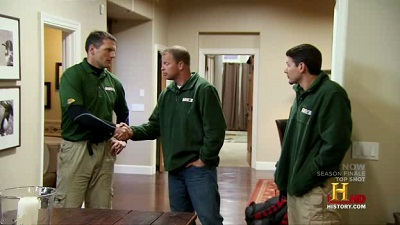 #17 - Finale 8.45
Season 3 - Episode 12
The Final Four marksmen set their sights on the $100,000 prize and the title of Top Shot. In a series of intense challenges, one shooter attempts an unprecedented shot with the AK-47, and contestants are eliminated one by one until there are only two left standing. The final challenge pushes two marksmen to their limits and a new champion is crowned.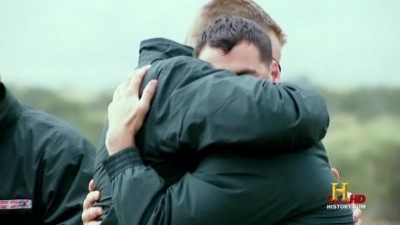 #18 - Season Finale 8.41
Season 1 - Episode 10
The final four contestants compete to determine the winner of the $100,000 prize.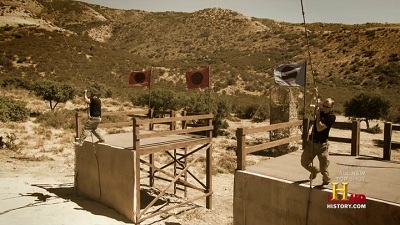 #19 - Swing Into Action 8.40
Season 4 - Episode 5
Teams employ pirate tactics in a challenge; a high energy battle that requires coordination and focus; two marksmen use one of the most durable pistols on the planet.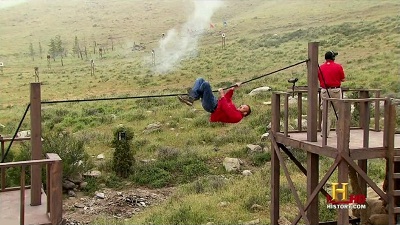 #20 - Turn the Corner 8.40
Season 3 - Episode 6
Contestants are shocked to see two Top Shot champions return as honorary captains for the team challenge. Marksmen compete with a just-released, ultra modern assault rifle and tensions flare when a fight erupts between two competitors.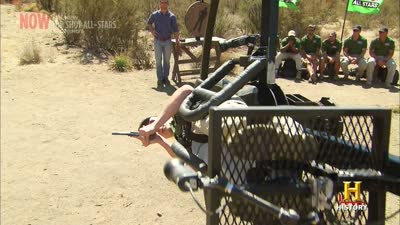 #21 - Thread the Needle 8.39
Season 5 - Episode 7
A returning challenge receives a daring makeover, literally throwing contestants for a loop. The spin of a wheel determines their bodies' angle as they aim with the Rutgers Security Six Revolver. But two veteran marksmen do not deliver, sending them to the elimination round where they must cleanly fire a bullet through a narrow tube. Failing to shoot on the straight and narrow will unseat one and preserve his opponent for another day.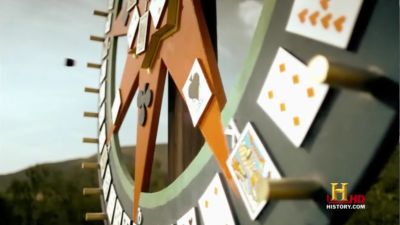 #22 - Wild, Wild West 8.38
Season 1 - Episode 6
Targets fly in an extreme shooting gallery; halfway through the competition a rule change forces contestants to start evaluating their own teammates.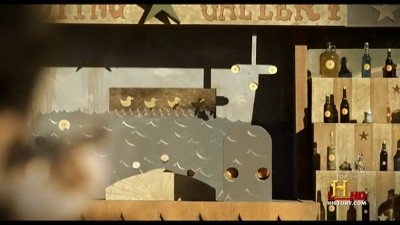 #23 - Catch .22 8.36
Season 2 - Episode 8
Competitors face an extreme shooting gallery. With only eight remaining, it's back to marksmanship basics. The marksmen face off with a firearm they're all familiar with, a .22, and the level playing field allows them to see who really excels.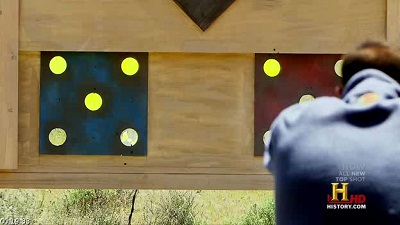 #24 - The Bulldog Gatling 8.36
Season 3 - Episode 4
The legendary Gatling gun is introduced. But first the competition travels back to the Old West for a team challenge with a historic pistol. To stay in the competition two marksmen shoot it out with a firearm considered by many to be the world's first practical machine gun.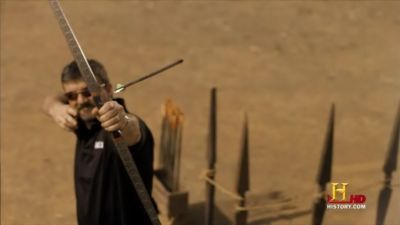 #25 - Archer Enemies 8.33
Season 1 - Episode 3
Contestants compete with longbows; a team wins immunity; two competitors face off in a William Tell elimination challenge.
Directors: Adam Vetri