The BEST Episodes of Love, Election, & Chocolate
Every episode ever - ranked by fan votes!
Last Updated: Jun 7, 2021
Koi to Senkyo to Chocolate follows the protagonist Yūki Ōjima, who attends Takafuji Private Academy a large school with over 6,000 students. Yūki is a member of the Food Research Club along with seven others, including his childhood friend Chisato Sumiyoshi. The members leisurely spend their time in the club not doing much activities. When the election of the next student council president comes up, the front runner Satsuki Shinonome proposes that clubs that have no merit should be sorted out and abolished. The Food Research Club seeks advice from the current student council president Yakumo Mōri, who suggests Yūki run in the election as an opposing candidate. Yūki learns about the issues facing the school and decides to run in the election.
Watch Now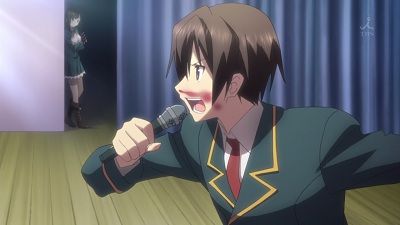 #1 - Counting Votes!
Season 1 - Episode 6 - Aired Aug 17, 2012
After Yuki headed to speech, Mifuyu I noticed that I have passed to Yuuki the secret diary that was printed by mistake and speech manuscript. I just want to avoid that the secret diary that would have been read to Yuki. Mifuyu was panic, hurried to Hiroki tries Torimodoso diary. On the other hand, Yuki was waiting in the waiting room is the order of the speech I could not concentrate on being distracted by the speech of Satsuki and Shigeru Heiji, his speech manuscript in mind. Although I look down at the documents to have on hand and will re-read the manuscript finally ...
34 votes
#2 - The Camp!
Season 1 - Episode 7 - Aired Aug 24, 2012
Ōjima finds out that even he just made it past the preliminaries; however, now that the preliminaries are over, he needs to claim the swing votes if he's to win the election. Hazuki causes Ōjima more problems when he forced to carry her into the girls' dormitory.
35 votes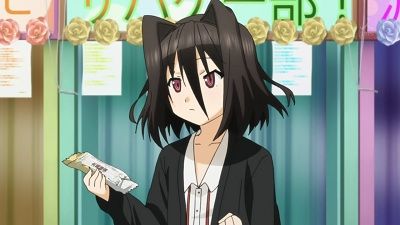 #3 - Festivities!
Season 1 - Episode 5 - Aired Aug 17, 2012
To make this 20 "roll Oshima" sold at the venue primaries, Hiroki had muffled the club room and cuts classes. You will spend time alone with Yuki, the mind can not I can not move, you have created a Mifuyu speeches in the club room also had secretly wrote a secret diary. However, the moment came, staff and visitors to disturb the work of one after another, Hiroki is also happy, Mifuyu myself when I'm not in the mind. Although I welcome the preliminary election day ... and finally
34 votes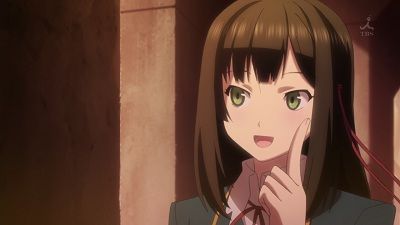 #4 - Strategies!
Season 1 - Episode 3 - Aired Jul 20, 2012
It was Schocken the candidacy of Hiroki is officially accepted, set up a task force election, has entered the election campaign in earnest, because there is no staff have the know-how of the election, it would get stuck early. At that time, evening clouds Mori Head of the current student council president and security appear. Because I offer to refrain from running for election to president by Osawa incident, the security forces would like to back up the campaign Hiroki instead. Although I was wary Chisato hearing this, whether it is not there something behind ...
35 votes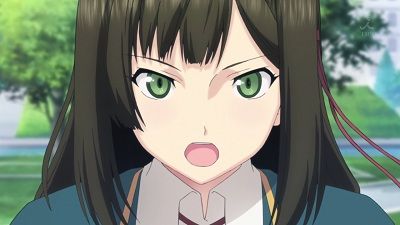 #5 - The Funds!
Season 1 - Episode 4 - Aired Jul 27, 2012
The food research club searches for a way to fund their campaign on making Ōjima the student council president. They decide to sell Ōjima Rolls, and 3,000 Yaoi candy sticks that Oboro's parents' company make and sell. During this time, Ōjima learns more about Shinonome's reasons to become the student council president, and by reading her manifesto, he gets a lead on what he could put up as his own manifesto. Meanwhile, Aomi gets bullied by four of her classmates, which results in them taking her panties off and throwing it in the garbage can. While she searches for her panties, Ōjima passes by her and offers his help, but she strongly declines it. Later, she continues her work on replacing the school's light bulbs, telling her brother to eat without her first.
36 votes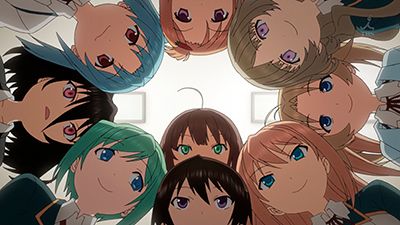 #6 - Disbanding the Club!
Season 1 - Episode 1 - Aired Jul 6, 2012
While taking pictures of members of the student council involved in a shady deal, Kana Ōgibashi is run over by a car and has her evidence destroyed. Soon after, the time comes for the student council's elections and the members of the Food Research Club learn that the front runner Satsuki Shinonome proposes that clubs that have no merit should be sorted out and abolished. Fearing of being forced to disband the club, the Food Research Club decide to have one of their own, Yuki Ojima, run in the election.
37 votes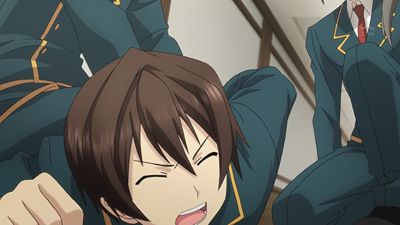 #7 - Running in the Election!
Season 1 - Episode 2 - Aired Jul 13, 2012
Hiroki who was ordered to candidacy for president of the student council election nominations from Chisato by Ken shot all members to give out and stop Schocken Chisato angry to say arbitrary, the next morning, I came to wake. Ken member who shot heard it is shocked, I was figuring out how Yuki will not quit. On the other hand, Hiroki skip an activity that had been strolling. Along the way, encounter a beautiful girl of any person, including the Satsuki, I would inflate the chest feeling of love ...
38 votes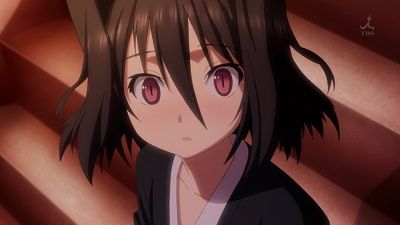 #8 - The Accident!
Season 1 - Episode 9 - Aired Sep 7, 2012
Ōjima wants to end the discrimination against financial aid students and comes into conflict with Yakumo because it would be an unpopular policy. Ōsawa returns to her position in Security Affairs claiming to be against Ōjima because he isn't likely to be a puppet candidate.
92 votes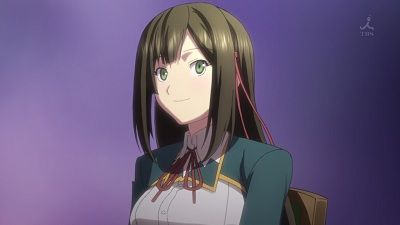 #9 - Voting!
Season 1 - Episode 12 - Aired Sep 28, 2012
Ōsawa made her move and kidnapped Chisato. She will only let her go if Ōjima drops out of the election. With Election Day coming up, the Food Club and Yakumo decide to put a plan into action. At the end, Ōjima became the President and Satsuki became the Vice President.
63 votes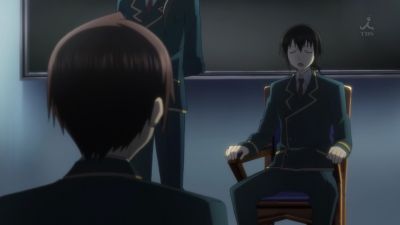 #10 - Search!
Season 1 - Episode 11 - Aired Sep 21, 2012
Ōjima learns that the attempted murder of Kana was to hide evidence that she had gathered, and that in order to help her Yakumo put Ōsawa in charge of Public Safety. The Katahira faction is now blackmailing Yakumo to stop all support for Ōjima or they will let Kana die. Ōjima tells Michiru where Kana is and she takes her from the hospital and reminisces with her causing her to wake up from her coma. Still at home, Chisato takes a good look at herself and tries to straighten out her feelings. The episode ends with the Katahira faction attacking Ōjima and Chisato.
63 votes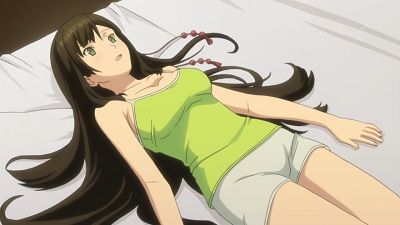 #11 - The Truth!
Season 1 - Episode 8 - Aired Aug 31, 2012
While stuck in the girls' dormitory with Satsuki, Ōjima learns more about her family and her sister, Hazuki.
63 votes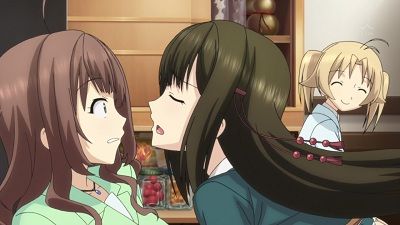 #12 - Entangled!
Season 1 - Episode 10 - Aired Sep 14, 2012
Ōjima gets hit by a truck, but isn't hurt terrifying those around him especially Chisato. Ōjima finds out that Michiru and Kana are both spies of the disciplinary section to help maintain security in the school.
92 votes