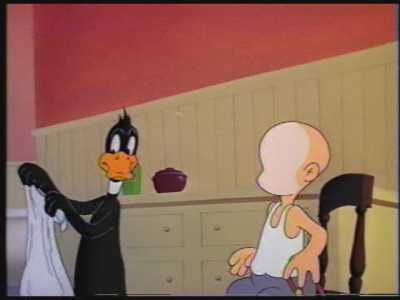 #1 - Wise Quackers
Season 1949 - Episode 1
Daffy, the "little black duck", falls from the sky onto Elmer Fudd's farm, and rather than be shot, he begs Elmer to accept him as a personal slave. After torturing Elmer with his type of kindness, slave Daffy puts a whip in Elmer's hands, then instantly dresses like Abraham Lincoln to scold Elmer for "whipping slaves".
Directors: Friz Freleng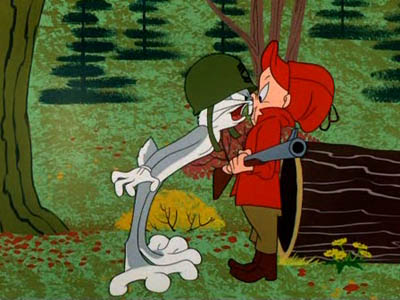 #2 - Bugs Bonnets
Season 1956 - Episode 1
A documentary-styled cartoon in which a behavioral study of the effects of different headgear ensues by constantly changing the hats on Bugs Bunny and Elmer Fudd and inducing them to enact the personalities suggested by the hats that land on their heads.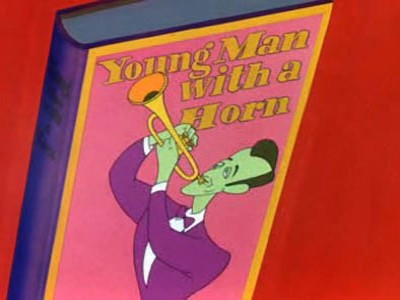 #3 - Book Revue
Season 1946 - Episode 1
The ultimate Warner Brothers "books come to life" cartoon. Parodies and caricatures of Harry James, Frank Sinatra, Benny Goodman, Tommy Dorsey, Gene Krupa, Jimmy Durante and, in a wild take-off on Danny Kaye, Daffy launches into a Russian-accented version of "Carolina in the Morning," then scat-sings his way through the tale of "Red Riding Hood" with Margaret O'Brien as Red.
Directors: Robert Clampett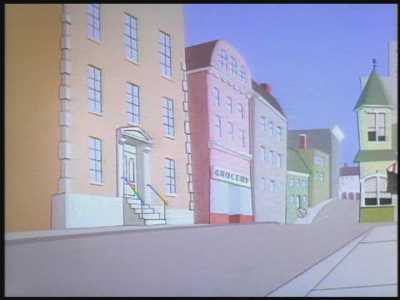 #4 - Dog Pounded
Season 1954 - Episode 1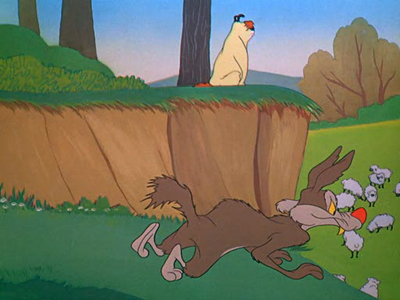 #5 - Don't Give Up the Sheep
Season 1953 - Episode 1
In this matchup of wolf and sheepdog, the sheepdog is identified as Ralph, and the wolf isn't named and doesn't punch the clock. The sheepdog is also not as good at anticipating the wolf's moves. But the wolf is, ultimately, no more successful; his Acme wildcat turns on him; his Tarzan-like vine swinging gets him only the sheepdog, no sheep, and the subsequent war of cutting down tree limbs, the tree, and ultimately the cliff where the tree grows, is done in by cartoon physics. Ultimately, he tries posing as Fred, the night shift dog, with no success.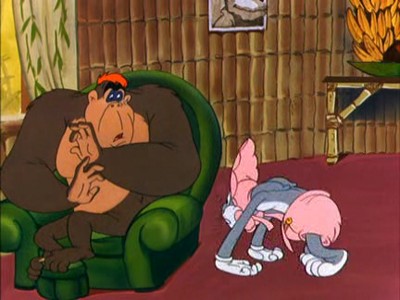 #6 - Gorilla My Dreams
Season 1948 - Episode 1
Bugs ends up in a land of ferocious apes. Mistaken for a baby, a female gorilla takes Bugs into her care. The male gorilla, however, hates having kids.
Directors: Robert McKimson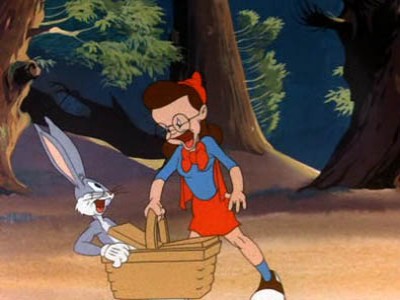 #7 - Little Red Riding Rabbit
Season 1944 - Episode 1
A tom-boyish little red riding hood takes Bugs (that's tucked away in her picnic basket) home to Grandma. Once she gets there, she finds out that a wolf is hiding in the bed, in place of Grandma, and wants to eat the rabbit she's carrying.
Directors: Friz Freleng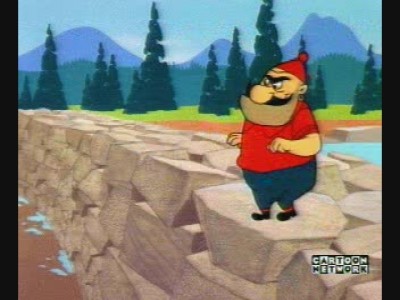 #8 - Wet Hare
Season 1962 - Episode 1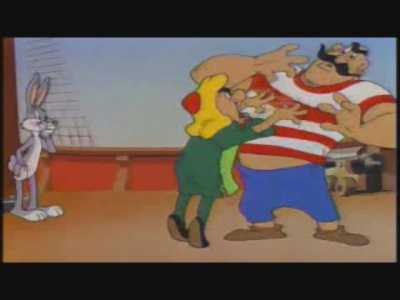 #9 - Hare We Go
Season 1951 - Episode 1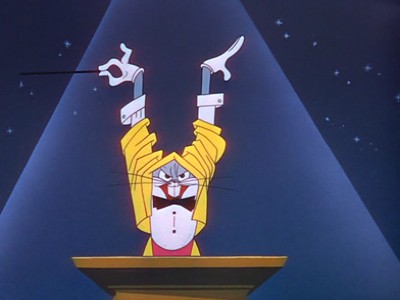 #10 - Baton Bunny
Season 1959 - Episode 1
Bugs is getting ready to conduct an orchestra fancily. When he finishes getting ready, he starts to conduct. However, a fly comes around and lands on his nose while he is conducting. When it flies off, Bugs gets aggravated and tries to kill the fly. Before he does, he bows to the crowd. But there is no crowd except for the fly, who is clapping. Bugs bows to the fly and the episode ends.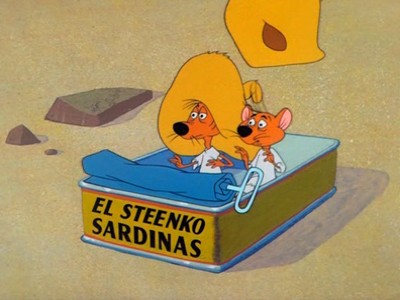 #11 - Cannery Woe
Season 1961 - Episode 1
Speedy Gonzales is summoned to help supply cheese for a Mexican mouse festival, and he makes repeated raids on a cheese store guarded by Sylvester Cat, whose attempts to stop Speedy become extreme.
#12 - Daffy Duck & Egghead
Season 1938 - Episode 1
A very early appearance of a barely recognisable Daffy Duck, seen here tormenting Egghead, a prototype Elmer Fudd who is just as unsuccessful with ducks as he was later to be with a certain wascally wabbit.
Directors: Tex Avery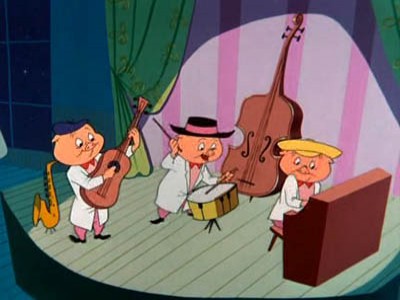 #13 - Three Little Bops
Season 1957 - Episode 1
Three hip, Little Pigs are travelling entertainers, moving from straw to wood, to brick nightclubs, playing swinging tunes for high-class, "with it" crowds, but an uncool Big Bad Wolf keeps intruding on their act with with his "corny horn" and uses it to blow their nightclubs down when they throw him out- until they are playing in their brick club and the Wolf tries a more drastic, explosive method for destroying the "House of Bricks".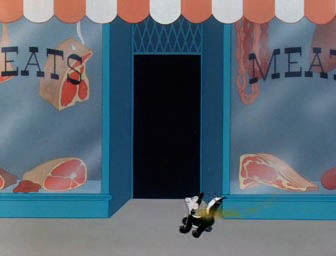 #14 - Odor-Able Kitty
Season 1945 - Episode 1
A cat, fed up with abuse from dogs, disguises himself as a skunk, but this attracts the amorous attentions of a real skunk. First appearance of Pepe Le Pew, though here he's named "Henry".
Directors: Chuck Jones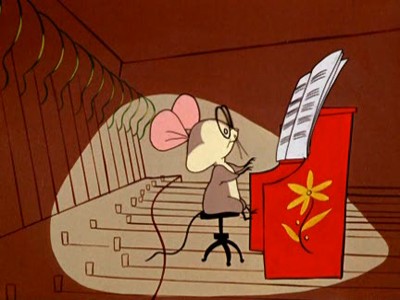 #16 - Pizzicato Pussycat
Season 1955 - Episode 1
Mr. and Mrs. Jones hear a piano being played in their living room. They automatically assume it is their cat who is making the music, when in fact, the talented one is a mouse whom the cat has forced into being his stooge to make him famous. The cat is showered with media attention and set to play at Carnegie Hall, where he hopes nobody will notice that he is pantomiming the movements with the keys while the mouse is playing his miniature piano inside the full-scale model.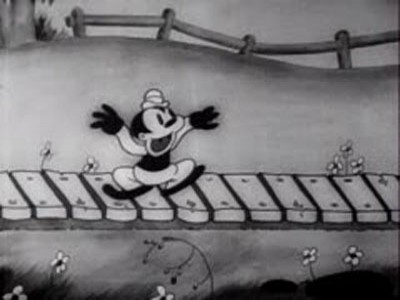 #17 - Sinkin' in the Bathtub
Season 1930 - Episode 1
Sinkin' in the Bathtub was the very first Warner Bros. theatrical cartoon short as well as the very first of the Looney Tunes series. The film opens with Bosko taking a bath while singing "Singin' in the Bathtub". A series of gags allow him to play the shower spray like a harp, pull up his pants by tugging his hair, and give the limelight to the bathtub itself which stands on its hind feet to perform a dance.
Directors: Hugh Harman

,

Rudolf Ising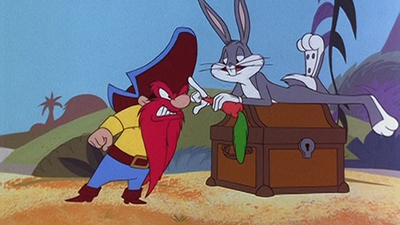 #19 - From Hare To Eternity
Season 1997 - Episode 1
Yosemite Sam the pirate finds a treasure chest which belongs to Bugs Bunny. Bugs is determined to get it back, and boards Sam's ship- the H.M.S. Friz Freleng- to battle wits with Pirate Sam.
Directors: Chuck Jones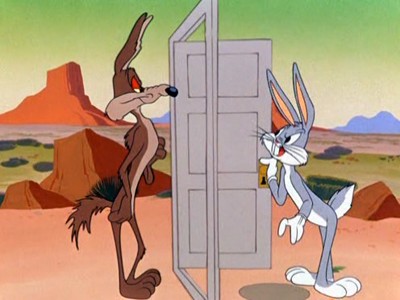 #20 - Operation: Rabbit
Season 1952 - Episode 2
Wile E. uses Bugs to his advantage to do his best to catch Road Runner. This plan doesn't go as well as he hoped it would, though. Road Runner outwits him, once again.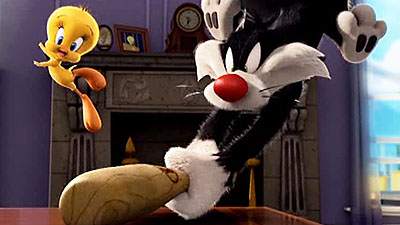 #21 - I Tawt I Taw a Puddy Tat
Season 2011 - Episode 1
A classic game of cat and bird transpires in Granny's apartment as Tweety Bird goes to great lengths to avoid the clutches of his arch-nemesis Sylvester the Cat.
Directors: Matthew O'Callaghan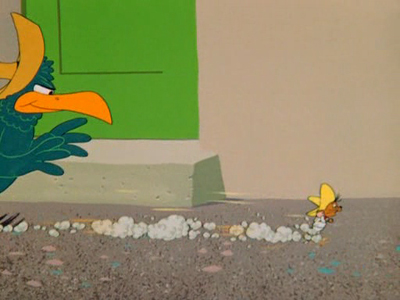 #22 - Tortilla Flaps
Season 1958 - Episode 2
A hungry crow intrudes on a party honoring Speedy Gonzales, Mexico's fastest mouse, and tries to catch and eat some of Speedy's friends. Speedy leads the crow on a frustrating and violent chase that demoralizes the crow into surrendering and joining in Speedy's party, as the center of a dart board, and the target of a ball-throw.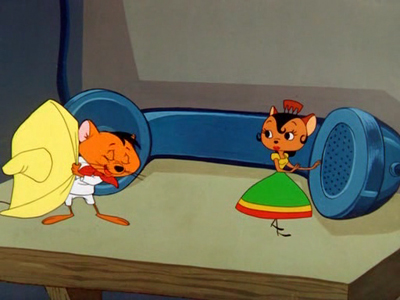 #23 - West of the Pesos
Season 1960 - Episode 2
Sylvester Cat is a guard at a Mexican experimental laboratory where mice are confined for research. The families of the captured mice place a call to Speedy Gonzales, the fastest mouse in Mexico, to help them rescue their compadres. Speedy comes and engages in the usual battle of wits and feet with Sylvester.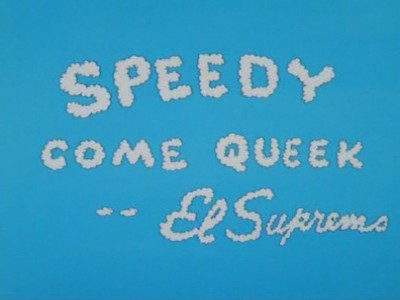 #24 - A Message To Gracias
Season 1964 - Episode 2
Sylvester Cat has caught and eaten every messenger the Mexican revolutionary mice send to General Gracias. So, Speedy Gonzales is summoned to outwit and outrun Sylvester and reach the General with an important message, which turns out to be a birthday greeting!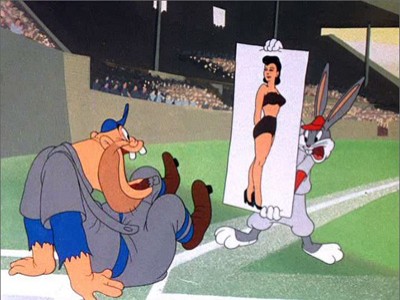 #25 - Baseball Bugs
Season 1946 - Episode 2
Bugs helps a losing team get some runs by helping everyone all around the field.
Directors: Friz Freleng