The BEST Episodes of Junior MasterChef Australia
Every episode ever - ranked by fan votes!
Last Updated: Feb 7, 2021
No longer satisfied with putting mere amateurs and so-called celebrities to the test, the makers of the hit TV series MasterChef are now looking to crown Australia's best Junior MasterChefs. A bunch of brave Aussie kids aged between 8 and 12 years old, get ready to face the judges praise and possible criticism and compete in the ultimate cooking challenge.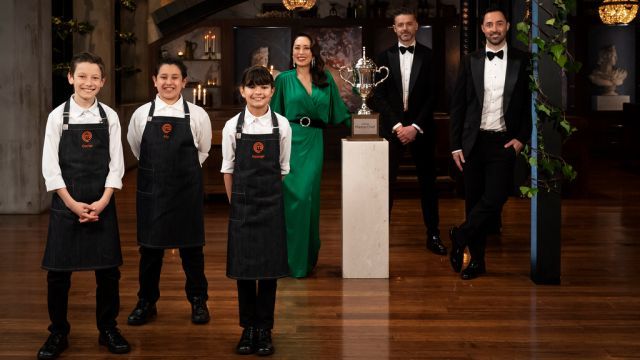 #1 - Grand Finale
Season 3 - Episode 13 - Aired Nov 9, 2020
Today's Grand Finale will see one exceptional cook crowned Australia's Junior MasterChef 2020, taking home a huge $25,000 in prize money.
4 votes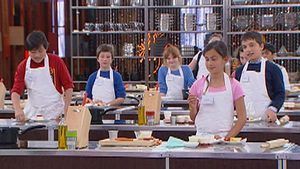 #2 - Cook-Along Masterclass
Season 1 - Episode 6 - Aired Oct 22, 2010
It was a special Masterclass for 10 of the Top 50 who came to the Junior MasterChef kitchen to learn some new tricks and cook a few dishes too. Apart from Gary, Season One MasterChef finalist Poh and Executive Chef from Red Lantern, Mark Jensen came in for a visit. It was a delicious day with Chicken Schnitzels, Vietnamese Pho soups and creamy Panna Cottas, and by the smiles on the faces – it was a memorable one too.
44 votes
#3 - Semi Final Pressure Test: Kirsten Tibballs
Season 3 - Episode 12 - Aired Nov 8, 2020
in tonight's pressure test contestants must recreate Kirsten Tibballs' lemon meringue tart. the top three dishes will send their mini-makers into the Grand Finale, the others will be heading home.
5 votes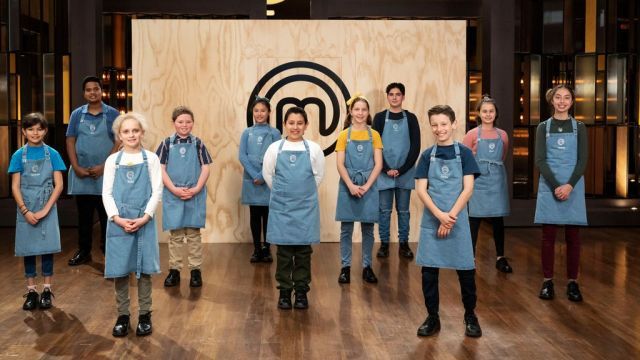 #4 - Giant Mystery Box
Season 3 - Episode 4 - Aired Oct 18, 2020
The contestants enter the kitchen and scream with delight as they notice a giant-sized mystery box but no judges in sight.
7 votes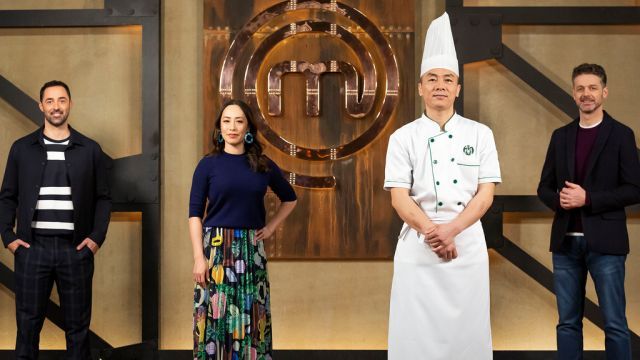 #5 - Hand Pulled Noodle Elimination Challenge
Season 3 - Episode 8 - Aired Oct 27, 2020
Contestants will have 60 minutes to make a dish using hand-pulled noodles made by master Mr X. The best two noodle dishes will keep their makers safe from the next elimination.
3 votes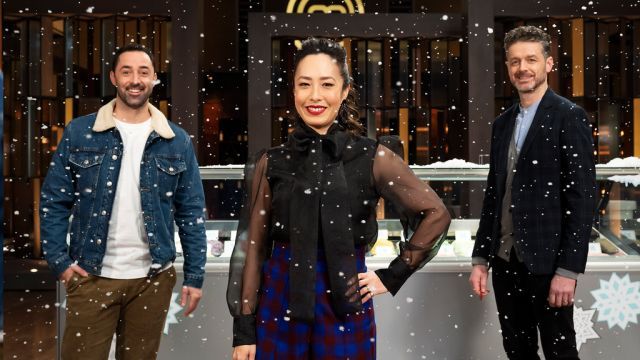 #6 - Snowy Elimination Challenge
Season 3 - Episode 9 - Aired Nov 1, 2020
Our juniors enter the MasterChef Kitchen and discover a winter wonderland - it's snowing! The Junior MasterChefs will be braving the cold of a two-round elimination challenge.
4 votes
#7 - Top 50 - Round 3
Season 2 - Episode 3 - Aired Oct 2, 2011
Heat four called upon the contestants to cook the ultimate cake for the ultimate guest: Prime Minister Julia Gillard. Given two hours and an amazing array of ingredients, the hopefuls produced an incredible display of dessert cooking, with the guest of honour being taken aback by them all. With only four Top 20 aprons up for grabs however, Gracie, Lily, Madi and Jack were judged as the best performers, sending them through to the next stage of the competition. Heat five, the last chance for a Top 20 apron, was an Italian challenge, with the little chefs needing to prepare their finest fare to impress guest judge Alessandro Pavoni. Once again the contestants cooked with incredible maturity, but it was Aya, Hannah and Zac who excelled, winning the three remaining Top 20 aprons.
40 votes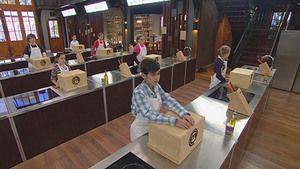 #8 - Mystery Box & Invention
Season 1 - Episode 13 - Aired Nov 7, 2010
Two challenges will see the two Junior MasterChefs who cook the best dishes walk straight into the Top 4. The first challenge is a Mystery Box with an unusual twist, but that doesn't stop Sofia from gaining the first place in the Top 4. The second challenge sees Sofia choose pheasant as the core ingredient for the French Invention Test. This time Siena blows the judges away with her dish, earning her a place in the Top 4.
43 votes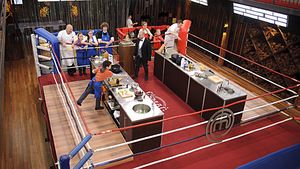 #9 - Basic Skills & Tag Team Challenge
Season 1 - Episode 10 - Aired Oct 31, 2010
The scoreboard is reset to zero as the Top 8 take on a three-part basic skills test and a team challenge. The basic skills test consists of whisking cream, podding an exact 300 grams of peas and finally – making the perfect scrambled eggs. The second test divides the eight into two teams of four as they do a tag team style cooking challenge. With guest chefs Matt Moran and Justin North coaching, it's anyone's game.
49 votes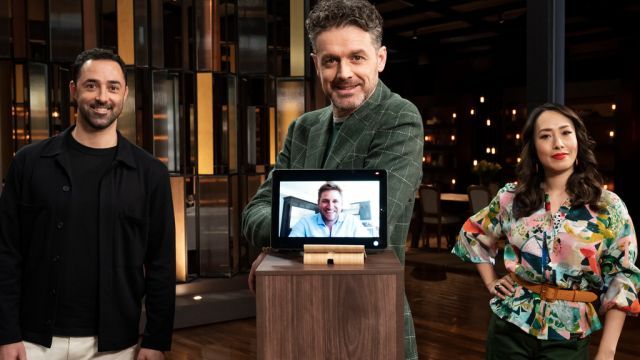 #10 - Curtis Stone Mystery Box
Season 3 - Episode 10 - Aired Nov 2, 2020
Curtis Stone sets this mystery box which is all about the humble potato. Contestants are vying for a place in the semifinal by creating a sweet or savoury dish featuring delicious spuds.
5 votes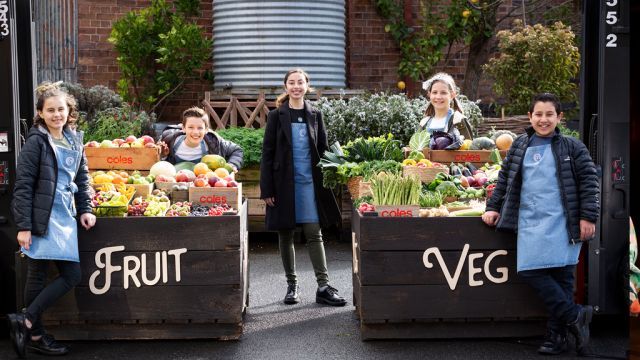 #11 - Fruit & Veg
Season 3 - Episode 11 - Aired Nov 3, 2020
Contestants must hero a fruit or a vegetable in their dish. If they select a fruit, they need to produce a savoury dish, and if they select a vegetable, they need to create a sweet dish.
4 votes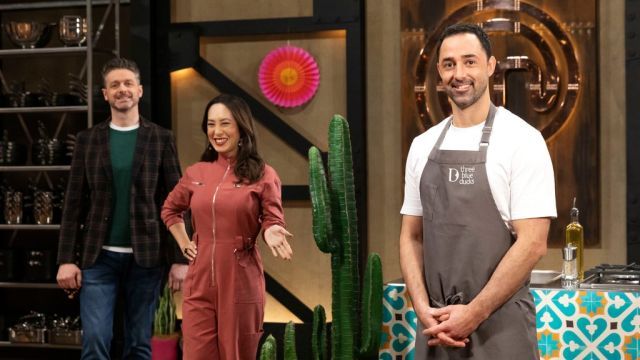 #12 - Cook Along Immunity Challenge
Season 3 - Episode 5 - Aired Oct 19, 2020
Contestants in this challenge must cook along with judge Andy, but with no recipe. The two cooks with the dishes closest to Andy's will win immunity from the next elimination.
6 votes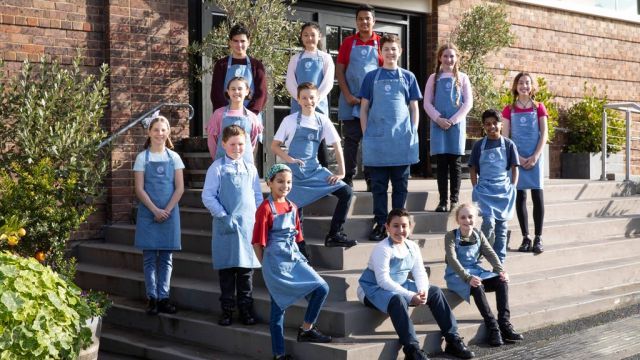 #13 - Signature Dish
Season 3 - Episode 1 - Aired Oct 11, 2020
The Top 14 mini cooks have an open pantry to create their signature dish. The top two dishes will win the chance to use the immunity gong and save themselves from elimination during the competition.
7 votes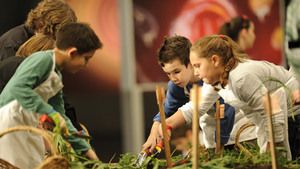 #14 - Top 12
Season 1 - Episode 3 - Aired Sep 26, 2010
It's a big day with the Top 20 cooking for a place in the Top 12. The first round is an Invention Test which involves chicken and vegies. The next round is a Pressure Test with MasterChef Finalist Callum providing the dish they must cook. In the end it's Sam, Isabella, Sophia, Nick, Alex, Jack, Siena, Lucy, Cassidy, Emily, Anthony and Pierre who are chosen for the Junior MasterChef Top 12.
81 votes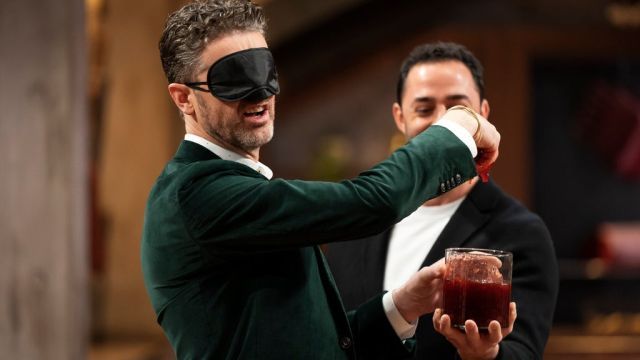 #15 - 1st Elimination
Season 3 - Episode 3 - Aired Oct 13, 2020
The first elimination starts out with a blindfold taste test. Those who move into the second round must cook a dish that the judges can eat using only a spoon, chopsticks, or a real life human hand.
5 votes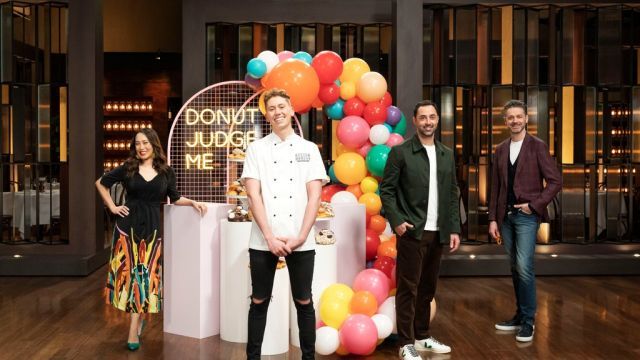 #16 - 2nd Elimination
Season 3 - Episode 6 - Aired Oct 20, 2020
Morgan Hipworth from Bistro Morgan reveals that in this challenge, contestants will be creating their own doughnut topping and fillings. The two least impressive dishes will send their makers home.
6 votes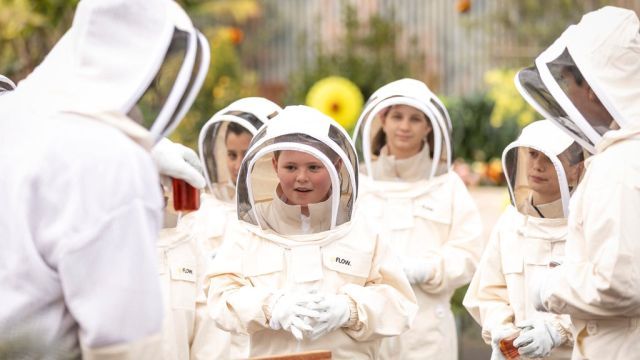 #17 - Honey Immunity Challenge
Season 3 - Episode 2 - Aired Oct 12, 2020
Collecting their own honey from a beehive, contestants must create a sweet or savoury dish that heroes honey. The best two dishes win immunity from the first elimination.
4 votes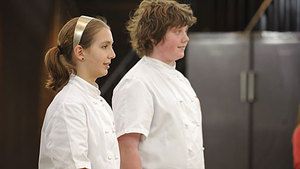 #18 - The Grand Final
Season 1 - Episode 17 - Aired Nov 15, 2010
It's the Junior MasterChef Grand Final, and there's excitement and nerves all round. First there's fun with a 'Remote Control Chef' Challenge which sees Gary and George cooking off against each other with help from the Top 10. Next is the finale with two challenges that sees Isabella and Jack cook their hearts out...but by the second challenge featuring an Adriano Zumbo piece – it's Isabella who takes the first Junior MasterChef title.
43 votes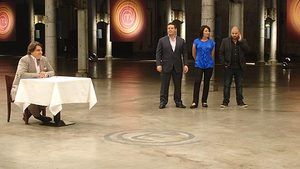 #19 - Top 20 Part 2
Season 1 - Episode 2 - Aired Sep 19, 2010
The final spots for the Top 20 were up for grabs with 3 final heats. A seafood challenge saw a surprise appearance and solo judgement by Matt Preston, who put through Alex, Ainsleigh, Sophie J and Sophie M. The next heat pitted the youngest kids against each other. Making it through were Siena, Anthony, Nicholas and Te Ani. The final heat had George decked out in his best butcher gear for a meat challenge, with the final 4 spots of the Top 20 filled by Jack, Pierre, Emily and Cassidy.
86 votes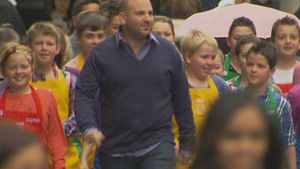 #20 - Offsite Challenge - Summit Restaurant
Season 2 - Episode 5 - Aired Oct 9, 2011
Gary revealed that the Top 20 were about to embark on their first Offsite Challenge. Madi was made captain of the Blue Team and selected the other team captains: Alysha (Yellow), Chandler (Green) and Miraede (Red). The contestants were taken to Summit Restaurant for the Challenge, which was explained by owner and chef Michael Moore. Each team was given a dish to prepare, which the results judged by 50 top food critics who dined in the restaurant. The cheflings came through the challenge in fine style, with the Green Team taking the win and six points for their dry-aged beef fillet dish; second place Red for their spiced poached cherry dessert; third place Blue with a poached quail dish and fourth place yellow for their grilled prawns with peppered goats cheese.
41 votes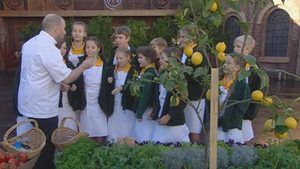 #21 - Masterclass
Season 1 - Episode 9 - Aired Oct 29, 2010
Gary, George and Anna are joined in the kitchen by 12 students from Bangalow Public School. George takes the visitors to the veggie patch to pick some herbs for the meal he'll be cooking. The first six students with George as he does a Fillet of Beef. Anna whips up an Open Lasagne, and the other six students cook along with Gary as he makes a yummy White Chocolate and Cherry Clafoutis.
36 votes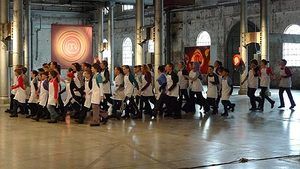 #22 - Top 20 Part 1
Season 1 - Episode 1 - Aired Sep 12, 2010
The show started with 50 very excited children. After high-fiving the Judges, the Junior MasterChefs were divided into five groups of 10. Each group would do a 45-minute cooking challenge where the four best dishes would get through. The first group had an International theme where Tayla, Nick and sisters – Isabella and Sofia got through. The second group had to make a dessert with the Judges deciding Lucy, Clarrie, Sam and Ashley would make it through.
126 votes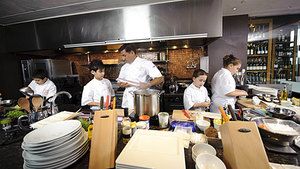 #23 - Flying Fish
Season 1 - Episode 14 - Aired Nov 8, 2010
The Junior MasterChefs are out of the kitchen and taken to Flying Fish restaurant where the six competitors will cook a dish from the restaurant's menu and serve it to 40 guests. As Siena and Sofia have earned a Top 4 position, they will be the serving staff, while the others will need to do their best to dish up a meal resembling the restaurant's. In the end it's decided Isabella and Jack will round off the Top 4.
73 votes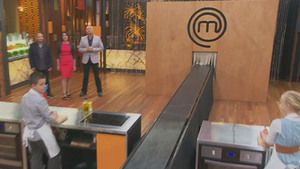 #24 - Conveyor Belt Mystery Challenge
Season 2 - Episode 19 - Aired Nov 21, 2011
As finale week continued, the Top 6 were told by the judges that the leader board was now scrapped, leaving them all on a level playing field. By the end of the episode one contestant would be going straight through to the final, while two would be sent home. To add to the surprise, the cheflings were greeted by a giant Mystery Box with a conveyor belt at the centre. One by one 30 ingredients came out, with the contestants having to select a maximum of five to create a dish of their choice. Greta once again proved herself the chef to beat, winning the challenge with her baked salmon dish and giving her an advantage going into the Thai-themed Invention Test, in which she'd not only get a five minute head start but also the power to choose the core ingredient. Much to the dismay of her peers, she opted for duck. Her decision certainly paid off as she created a dazzling duck laab and a place in Junior MasterChef 2011's Top 2. Harry, Jack and Zac's dishes all impressed, winning them semi-final places, but Alysha and Indigo didn't quite make the cut.
70 votes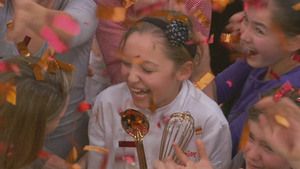 #25 - Grand Final
Season 2 - Episode 21 - Aired Nov 23, 2011
Donna Hay was welcomed to the MasterChef kitchen to introduce the first part of finale: a fruit dessert challenge. Jack and Greta had one minute to select their preferred fruits from the pantry, then an hour to create beautiful dishes that would delight dessert queen Hay. Jack opted for a deconstructed strawberries and cream, Greta a citrus tart. Both dishes presented their difficulties; Jack had trouble making the chocolate pipes for his recipe, while Greta couldn't get her lemon and orange curd to thicken. After the tasting the judges stepped up to deliver the first round of scoring: Donna, Anna, Gary and Matt all gave Jack 8/10, with George awarding 9/10. Greta won 8/10 from Anna, and 9s across the board from the other judges. The second half of finale was a Pressure Test, with the cheflings recreating a dish by the legendary Tetsuya, who guest judged. Greta and Jack cooked well beyond their tender years, creating and plating up dishes that could have easily been mistaken for being the work of Tetsuya himself. Jack again scored impressively, winning 8/10 from Tetsuya and Gary, and 9/10 from Anna, George and Matt. Greta needed big marks to win and delivered empatically, scoring 9/10 from Gary and Tetsuya and perfect 10s from the other judges, winning her the title of Junior MasterChef 2011.
69 votes