The BEST Episodes of Jamie Oliver's Food Revolution
Every episode ever - ranked by fan votes!
Last Updated: May 10, 2021
Famed TV chef and cookbook author Jamie Oliver heads to American cities to help get the residents to start leading a healthier life. Oliver's goal is to set each community up as a template for the rest of the country to follow and start a chain reaction of Americans eating healthier. Naysayers challenge Oliver in his quest for improving the health of the residents.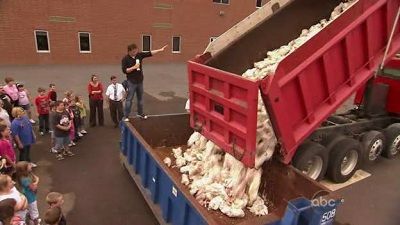 #1 - Episode 102
Season 1 - Episode 2 - Aired Mar 26, 2010
Jamie returns to chat with the radio host who gave him such a hard time when he first came to town. He tries to defend the comments he made about Huntington, but the radio jock still won't buy Jamie's selling. It's going to take time to get him, and a lot of folks in Huntington, on Jamie's side. Some kids come to Jamie's kitchen for an experiment that never fails. Jamie shows them how chicken nuggets are made. He chops up the bone, skin, giblets and carcass of a chicken. Everything gets mulched and mixed with stabilizers and flavoring. The finished product is patted down and cut into a patty. Remarkably, every single kid says they'd still eat the nugget. Remember how we said this experiment always works? Not today.
151 votes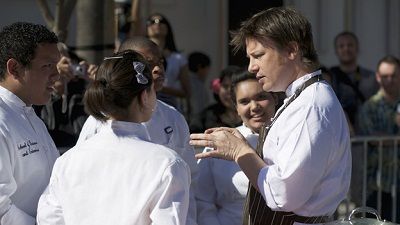 #2 - A New Start, A New Chance
Season 2 - Episode 6 - Aired Jun 24, 2011
A meeting with the district's incoming superintendent gives Jamie hope; Jamie puts together a cooking competition for students.
93 votes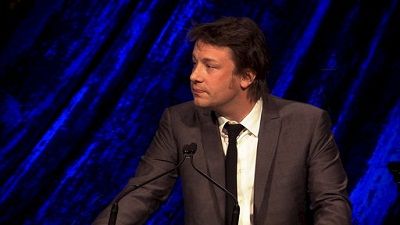 #3 - Feed Them Healthy Food With 77 Cents
Season 2 - Episode 5 - Aired Jun 17, 2011
Jamie gets a break when he's given the chance to work with another school district, but before long, he's faced with another big obstacle. Also: Jamie Lee Curtis presents him with an award from the UCLA School of Public Health; and later, he tours an organic school garden in Santa Barbara, Cal.
123 votes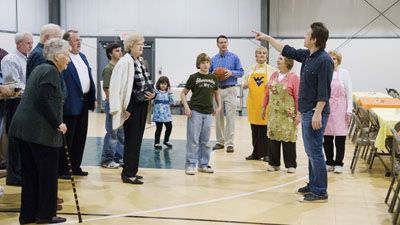 #4 - Episode 106
Season 1 - Episode 6 - Aired Apr 23, 2010
Jamie is throwing a huge food festival for all of Huntington with the promise of a big surprise. It's his way of saying thank you to the community. Doug Sheils will be at the festival. If you recall, Doug is the local hospital representative who can help provide the money needed to keep the revolution rolling. The festival set-up is underway with many familiar faces lending a hand. The Edwards family looks like they've lost about a hundred pounds between them! As nice as it is to see all his old friends, Jamie is most excited by the fact that Doug Sheils is there. He presents school officials with a check for $80,000 to keep the Food Revolution going in all Cabell County schools. It's a wonderful moment, but it's not over yet. Doug says his CEO authorized him to cut another check for $50,000 to keep Jamie's Kitchen open, too. Excellent!
232 votes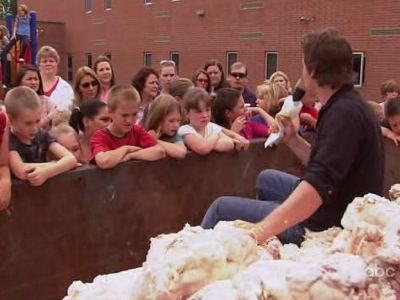 #5 - Episode 103
Season 1 - Episode 3 - Aired Apr 2, 2010
Jamie visits the cooks of Central City Elementary to see how things are progressing. In the cafeteria, Jamie sees that the kids are actually eating the food. But back in the kitchen, Alice doesn't have a lot of positive feedback. That's par for the course. If only Jamie could get her on his side. Jamie was able to bring in some extra help to support the ladies during the two week trial of serving nothing but fresh food. The homemade shepherd's pie is a big hit. Some of the kids are even eating broccoli. Alice doesn't believe they'll be able to sustain this type of production without the extra kitchen help. Rhonda tells Jamie they will need money to pay for the training of cooks. As tasty as the meals may be, the program falls apart if they don't have the funds to support it.
234 votes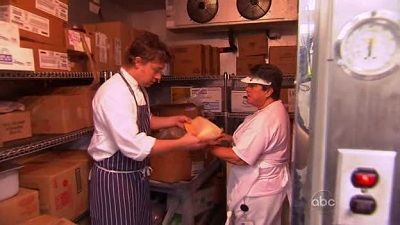 #6 - Episode 101
Season 1 - Episode 1 - Aired Mar 21, 2010
With a population of about 50,000 folks, Huntington, West Virginia has been called the unhealthiest city in America. One man wants to change all that. Super chef Jamie Oliver has crossed an ocean to help save a city. How's he going to do that? Well, Jamie is plotting a food revolution! Jamie kicks off his mission at the Central City Elementary School. He's given one week to change the food, get the kids to eat it and come in on budget. Jamie is shocked to see that the cafeteria is serving pizza for breakfast. The kitchen workers are a little leery of Jamie. How do we know this? Well, a woman named Alice gives him the look of death when he refers to her as a lunch lady. They prefer to be called cooks.
188 votes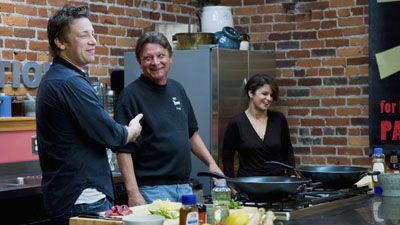 #7 - Episode 104
Season 1 - Episode 4 - Aired Apr 9, 2010
Rod Willis, the local talk radio host who has been giving Jamie a hard time since day one, is still a huge doubter of the revolution. Yet Jamie keeps returning to Rod's show hoping he'll eventually see the light. The two adversaries make a bet. If Jamie can get a thousand people to come into his kitchen to learn how to cook, Rod will consider changing his attitude and buy him a beer. Jamie has five days to make it all happen. To entice some of the 14,000 kids at Marshall University to visit his kitchen, Jamie enlists the aid of a dance choreographer to help with a "Flash Mob." Jamie says, "A Flash Mob is about creating a really unusual experience in a really normal place and shocking everyone with something brilliant." What's the "something brilliant," you ask? Let's just say you have to see it to believe it.
203 votes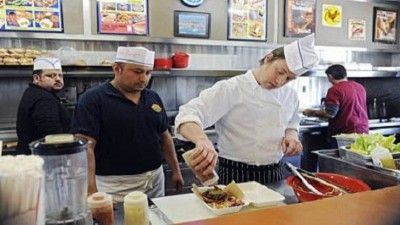 #8 - I Think I Found a Loop Hole
Season 2 - Episode 2 - Aired Apr 19, 2011
Jamie dresses as a tomato and distributes free healthy lunches outside a Los Angeles public school, hoping to garner parental support and gain access to the schools. Later, he meets a 17-year-old who fears she'll inherit her parents' diabetes.
122 votes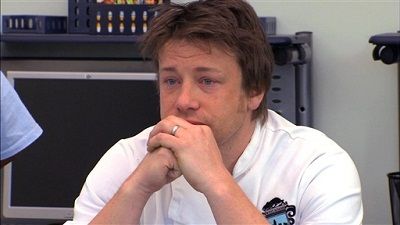 #9 - Is It Me or Have We Just Been Pushed Into a Corner?
Season 2 - Episode 3 - Aired Jun 3, 2011
MLA CEO Mike McGalliard delivers a shattering blow to Jamie and his 10 teenaged culinary students at West Adams Preparatory High School: They've been banned from serving food on campus. Heartbroken and defeated, Jamie makes an emotional plea to the kids' parents and gives the students a graphic reality check about what is really in the foods they're eating every day.
121 votes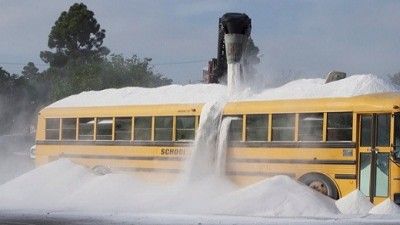 #10 - Maybe L.A. Was a Big Mistake
Season 2 - Episode 1 - Aired Apr 12, 2011
Jamie Oliver brings his Food Revolution to Los Angeles in the Season 2 opener, and things get off to a rough start when the Los Angeles Unified School District (LAUSD) refuses him access to their schools.
153 votes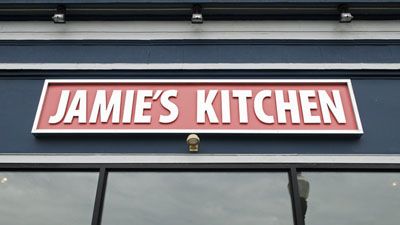 #11 - Episode 105
Season 1 - Episode 5 - Aired Apr 16, 2010
Jamie meets Doug Sheils, the head of Cabel County Hospital. Doug is upset by the broad generalizations associated with Huntington being dubbed the unhealthiest city in America. When hospital representatives ask what kind of help is needed, Jamie pulls no punches. He needs $150,000 to keep the revolution rolling and he knows that Doug Sheils is the man who can give it to him. The reps say they'll consider his request. But Jamie knows that in order to change their perception of what he's doing, his work at the schools MUST be a success. Jamie realizes he made a mistake the last time he was at the high school by closing down the French fry line. He takes center stage at an assembly to say the line for fries will open again alongside Jamie's line for fresh food. It'll be up to the kids with path they want to take.
203 votes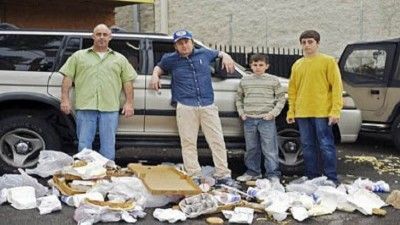 #12 - We're Going to Go Guerilla
Season 2 - Episode 4 - Aired Jun 10, 2011
Using a simple math equation, Jamie teaches the West Adams High students a practical lesson about the short term consequences of their unhealthy food choices. The message becomes far more emotional when Jamie invites a few guests suffering from the painful, long term effects of diabetes, heart disease and high blood pressure to share with students some unforgettable stories of their struggles. Meanwhile, Jamie helps a busy, devoted single father and his two young boys to open their eyes to their destructive daily cycle of eating fast food, and to rediscover the physical and emotional value of preparing and eating a home cooked meal together. Things really get ugly when Jamie learns first hand who was responsible for the decision to revoke his film permits and ban him from preparing food in any school across Los Angeles. He refuses to accept defeat and devises a plan to move his kitchen across the street from West Adams High, but will this be enough to make a real impact?
123 votes