The BEST Episodes of How To Cook Like Heston
Every episode ever - ranked by fan votes!
Last Updated: Sep 18, 2021
After years of passionately seeking culinary perfection, Heston Blumenthal demonstrates not just how to cook, but why certain things do or don't work, as he dispels some of the myths inherited from our mother's kitchen. Britain's most visionary chef delivers meticulously tested tips and techniques to help viewers transform their dinners from bog standard to reliably brilliant without even breaking a sweat. Each episode concentrates on one everyday ingredient - eggs, chicken, beef, chocolate, cheese and spuds - and features recipes for big favourites such as roast chicken, the perfect steak, and how to pull off the ultimate chocolate cake. The series is packed with straightforward advice, while special cameras show what actually happens to food as it hits the pan or roasts in the oven.
Watch Now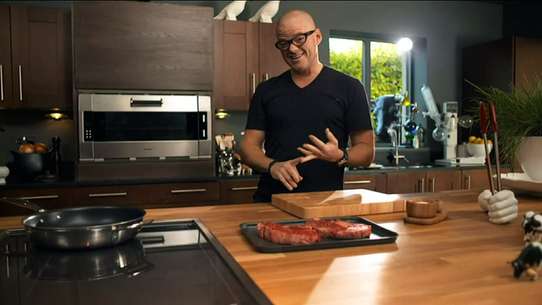 #1 - Eggs
Season 1 - Episode 2 - Aired Jan 11, 2012
Heston reveals the secret to a great boiled egg, the perfect poached egg and his signature scotch egg. Heston challenges his local Holyport Women's Institute to scramble eggs, and gives a masterclass in how to achieve a perfect lemon-custard tart every time without fail. And finally, with a bit of Heston magic, the Women's Institute are invited to sample his famous bacon and egg ice cream made with dry ice.
72 votes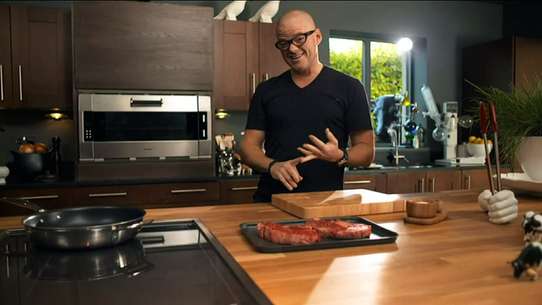 #2 - Beef
Season 1 - Episode 1 - Aired Jan 4, 2012
Heston challenges the way Brits cook beef and confronts one of the biggest culinary myths out there - searing a steak doesn't in fact keep in the meat's juices. The secret to frying the perfect steak is Heston's scientific, but super-simple, flipping technique. Heston also provides tips on how to choose the best cuts of beef. He makes the best burgers in town with the local rugby team, and a juicy oxtail pudding, before revealing his secret to enhancing the flavour of mince by building a chilli bonfire in a bowl.
72 votes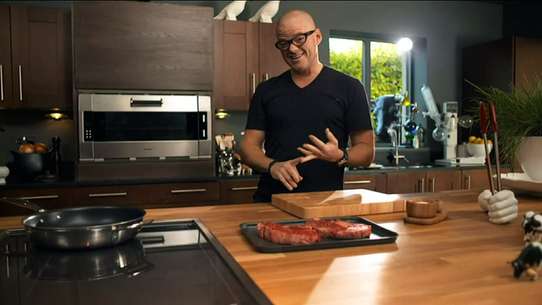 #3 - Chocolate
Season 1 - Episode 3 - Aired Jan 18, 2012
Heston challenges the way we cook chocolate as he lifts the lid on his magical popping candy, passion fruit gateaux with an exploding base, and an amazing flowerpot tiramisu with edible chocolate soil. There's a magic twist as Heston turns dark chocolate into rich chocolate wine. There's also a can of keyboard dust cleaner to shock-freeze melted chocolate into a pliable chocolate sculpture, a paint sprayer loaded with velvety dark chocolate to coat a frozen cake, and a pneumatic drill to explain how chocolate is made. And Heston visits his local village hall to show the colourful characters from the amateur dramatics group the best way to make hot chocolate.
76 votes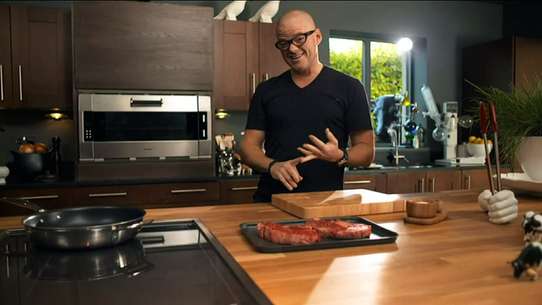 #4 - Chicken
Season 1 - Episode 4 - Aired Jan 25, 2012
In this edition Heston challenges the way we cook chicken; the most popular meat in the world, but an old bird he believes is in need of a makeover. First up he attempts to revolutionise the way we roast a chicken by sharing his low and slow cooking technique. Then he gets to grips with the chicken's many delicious parts via an autopsy. At his village hall, Heston challenges the local hockey team to a blind stock tasting match before introducing his own super flavour-boosting stock - the secret of which is a sprinkling of milk powder to increase the levels of protein and sugar. Heston also reveals his guarded recipe for his dreamy chicken and ham pie, and demonstrates a shortcut for preparing a Michelin-star worthy chicken consomm? For a final bit of theatre, Heston teaches viewers how they can use hot water, dry ice and essential lemon oils to flood our kitchens with chicken enhancing aromas.
74 votes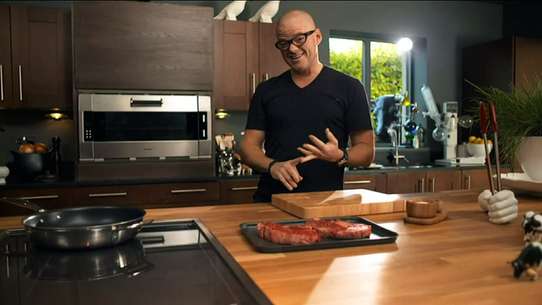 #5 - Potatoes
Season 1 - Episode 6 - Aired Feb 8, 2012
Heston takes on the humble spud - the foundation of every hearty British meal. But there's more to potatoes than just mashing, boiling or roasting. Heston reveals tips and techniques to transform Maris Pipers into mouth-watering main courses - from his triple-cooked chips to potato donuts, mash and potato skin jam
44 votes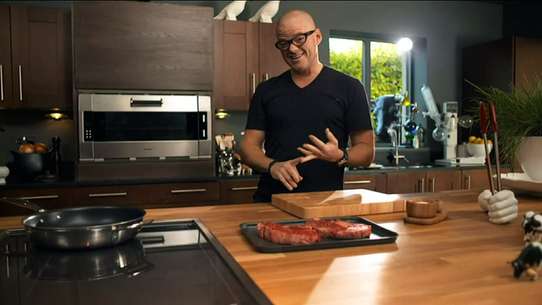 #6 - Cheese
Season 1 - Episode 5 - Aired Feb 1, 2012
Heston takes on cheese – one of the most popular cooking ingredients in the UK. He reveals the key ingredient for the ultimate cheese fondue, turns a block of cheddar into a four metre cheese string, and also makes a dream cheese toastie.
40 votes