The BEST Episodes of Hidamari Sketch
Every episode ever - ranked by fan votes!
Last Updated: Sep 21, 2021
Yuno has just begun school where she always wanted, Yamabuki High School. She moves out and into an apartment by herself in a complex called Hidamari-so, which is right in front of the school. There, she meets a classmate, Miyako, and a senior student, Hiro. Yuno's days become hectic as she begins meeting the strange artists that live in her complex. Although she's not used to her new life style, she begins to actualize her dream while being with these gentle friends.
Watch Now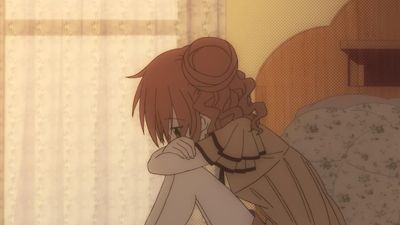 #1 - September 25th: Chatting Sketch / September 29th-30th: Hiro-san
Season 4 - Episode 6 - Aired Nov 9, 2012
September 25th: Yuno and Miyako spend the day drawing themselves as a class assignment, while discussing various things. Yuno decides to ask Miyako to come over so they can continue talking after school. September 29th-30th: Hiro worries about what she is going to do after school and is upset at the idea of not seeing everyone as much. Fortunately, she has plenty of caring friends around her to help her out.
4 votes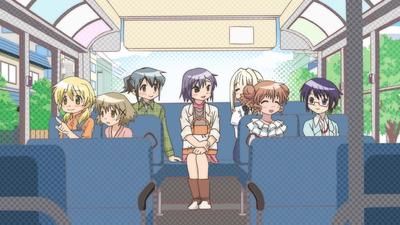 #2 - May 3rd-4th: A Day in Seven Parts
Season 3 - Episode 7 - Aired Feb 19, 2010
Sae's younger sister Chika visits the Hidamari Apartments once again, where she meets Nazuna and Nori for the first time. The girls plan a picnic at a nearby lakeside park and later recount what they did and talked about back at the apartment building. As Chika is the same age as Nazuna and Nori, the three of them are able to quickly become friends.
2 votes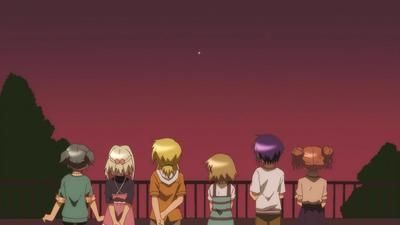 #3 - July 12th: Three Stars x Lycopene
Season 3 - Episode 12 - Aired Mar 26, 2010
The girls pick the tomatoes they planted in the garden of Hidamari Apartments earlier in the year. After they spend the day preparing tomato-based dishes, the landlady joins them for dinner, and later they give Yoshinoya the leftover pasta sauce.
2 votes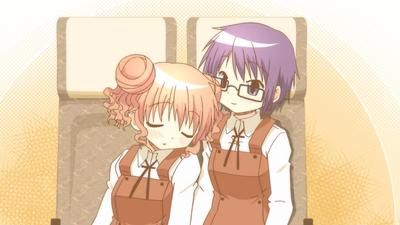 #4 - May 6th-15th: Narrow Japan, Where Are You Hurrying Off To? / May 16th-18th: Everything's Bigger in Hokkaido!
Season 4 - Episode 1 - Aired Oct 5, 2012
May 6th-15th: Sae and Hiro are getting ready for the third-year's trip to Hokkaido. The other girls seem just as excited, even though they aren't the ones going! May 16th-18th: Whilst Sae and Hiro are away, Yuno and Miyako are the senior classmates in Hidamari Apartments. Yuno decides to try and set an example for Nazuna and Nori as a reliable senpai.
2 votes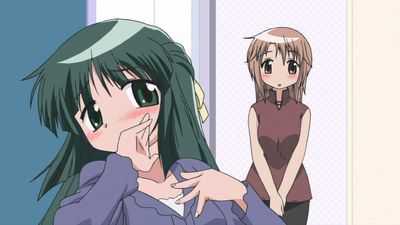 #5 - September 4th: The Wolf of the Shinjuku Back Streets
Season 1 - Episode 9 - Aired Mar 9, 2007
Yuno and Miyako wake up early in the morning and as they are leaving the apartment building, Yuno spots an envelope on the ground. She notices a man not too far away and it turns out he had dropped it. To show his thanks, he gives Yuno four lottery tickets which were in the envelope. At school, a former student of Yoshinoya comes in to talk to Yuno's class, and Yuno starts wondering about her future dreams as an artist. Near the end of the day, Sae buys the evening paper to check the numbers on the lottery tickets, but no one is a winner.
3 votes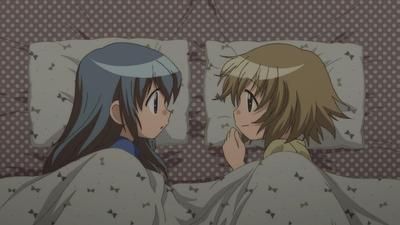 #6 - May 28th-June 2nd: Sunshine Palette
Season 3 - Episode 10 - Aired Mar 12, 2010
After accidentally flushing her apartment key down the toilet, Yuno asks the landlady for another one. While the landlady tries to find the spare key among various other junk, Yuno spends each night sleeping over at each of the residents' apartments. After five nights, the landlady manages to find the spare key and Yuno finally returns to her apartment, only to be greeted by a foul smell from some leftover cooking.
3 votes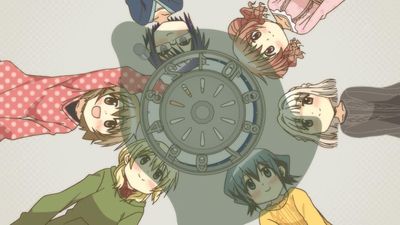 #7 - November 10th: Returning a Smile
Season 4 - Episode 9 - Aired Nov 30, 2012
The Landlady finds a Game of Life board game lying around and brings everyone together to play it. The gang decide to personalise the game into a 'Hidamari Apartments edition'. Whilst playing through the game, the gang receives a call from Chika, which proves embarrassing for Sae since the game forces her to act like a cat. As the game goes on, Nazuna and Nori learn more about the apartment whilst everyone wonders about the Landlady's actual job. Nori ends up winning the game whilst everyone thinks about their futures.
3 votes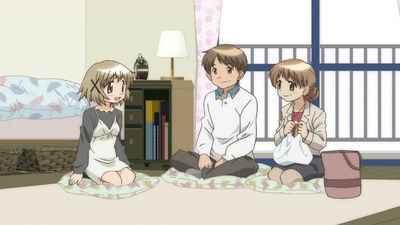 #8 - June 8th: Round Carrot
Season 2 - Episode 10 - Aired Sep 5, 2008
Yuno's class spend the day sculpting replicas of their shoes. Later, Yuno's parents make a surprise visit to Hidamari apartment.
3 votes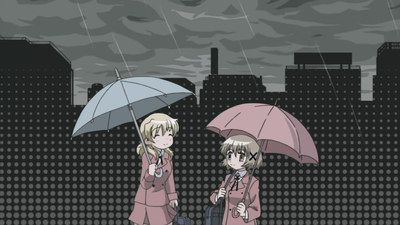 #9 - October 12th: Stormy Drying Agent
Season 1 - Episode 7 - Aired Feb 23, 2007
A typhoon hits during the say of the Sports Festival and has to be called off until the next day when the typhoon has already blown over. Later on, Yuno and her friends are in Miyako's room worried that if the drying agents under her floor get wet they will ignite and catch the building on fire. Miyako gets the idea to remove them all, and throws one into the rain outside, but it does not catch fire.
4 votes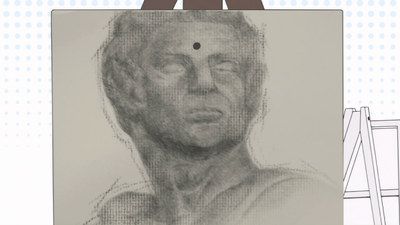 #10 - June 17th: ...or an Indian
Season 1 - Episode 3 - Aired Jan 26, 2007
Yoshinoya starts her class with her trying to get her students to sketch her in various outfits, but after some intervention from the principal, they settle on sketching a bust of Brutus. Later that day, the four main characters get together in Miyako's leaky apartment.
5 votes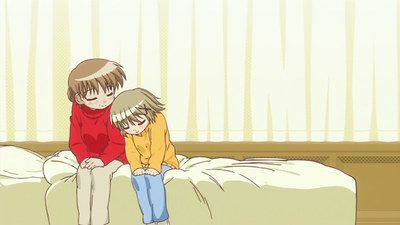 #11 - Nice to Meet You Ume-sensei!
Season 2 - Episode 1 - Aired Jul 4, 2008
Accompanied by her mother, Yuno comes to Yamabuki Art High School to take the entrance exam. After getting accepted into the school, she settles in the Hidamari apartment and makes friends with the new neighbors.
5 votes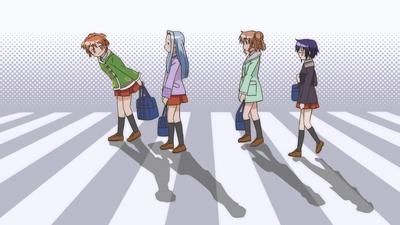 #12 - November 22nd: Seniors and Freshmen / May 21st: Crying Woman
Season 3 - Episode 9 - Aired Mar 5, 2010
On November 22nd, a few months before Yuno and Miyako would come to the Hidamari Apartments, Sae and Hiro's were in their first year and shared the Hidamari Apartments with their seniors, Misato and Riri. Sae has had trouble sleeping due to her writing work, so Hiro decides she will move into the room next to her's to support her. May 21st: Yuno and Miyako do some sketching at the park, where they throw stones at a weird shaped rock in the river.
2 votes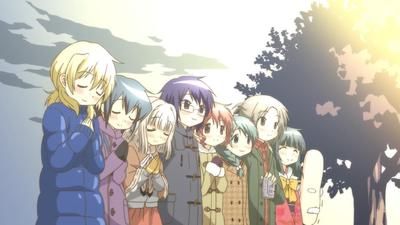 #13 - December 31st-January 1st: Years Together, Years to Come
Season 4 - Episode 12 - Aired Dec 21, 2012
New Years Eve is here and this time all the girls will be spending it at Hidamari Apartments. Whilst Sae and Hiro are at a study session, the rest of the girls clean up and prepare for festivities later. Later, after the bells chime in the New Year, the girls all visit the shrine, where they meet other friends and acquaintances. After watching the sunrise together, the girls then return home to sleep and contemplate the coming year.
3 votes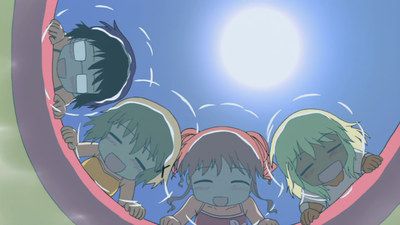 #14 - July 14th: Cool and Comfy
Season 1 - Episode 6 - Aired Feb 16, 2007
Summer has arrived, and once final exams are over, Yuno and her friends enjoy the beginning of their summer vacation. Due to Yuno not knowing how to swim, Miyako gets out an inflatable pool that Yuno and her friends play in, though they eventually go to the beach.
4 votes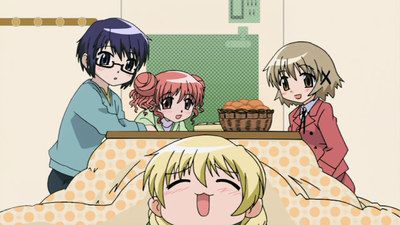 #15 - January 11th: A Winter Collage
Season 1 - Episode 1 - Aired Jan 12, 2007
Yuno had forgotten to do her homework in time for Yoshinoya's class and has to finish it during lunch break. After school, Yuno and Miyako play in the snow for a while and later visit Hiro's apartment so Yuno can thank her for the rice ball Hiro gave her for lunch.
7 votes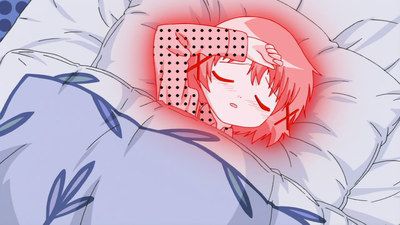 #16 - February 13th: Heart and Body
Season 1 - Episode 5 - Aired Feb 9, 2007
Yuno comes down with a cold and has to stay home for the day. While asleep in her apartment, Yuno has several odd dreams of school and of her friends. Meanwhile, Yuno's friends do all they can to help her get better.
5 votes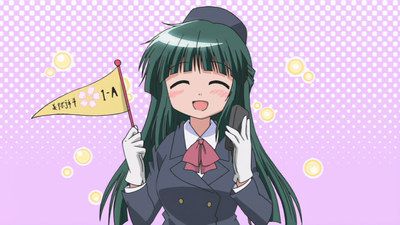 #17 - April 28th: A Round Cabbage
Season 1 - Episode 11 - Aired Mar 23, 2007
Yuno and her friends go to the zoo for a school assignment to sketch some of the animals. Yoshinoya dresses up like a tour guide and acts like one on the way to the zoo by pointing things outside the window to the students, but soon becomes very carsick and has to stop. At the zoo, Yuno and her friends go around and see many of the animals. Later, Yoshinoya ends up in front of the Hidamari Apartments, and Yuno and her friends take her to Hiro's apartment when she rests for a time. After she leaves, they discuss some of the rumors they have heard about Yoshinoya.
4 votes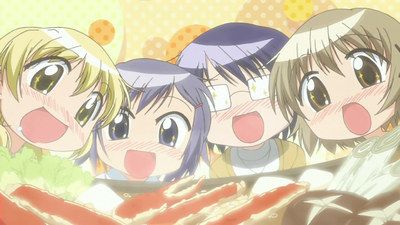 #18 - March 25th: Congratulations, Chika
Season 2 - Episode 5 - Aired Aug 1, 2008
After visiting the Hidamari apartments, Chika chats with her friends and enjoys dumplings, which is her favorite dish. After that, they go to a karaoke box, but are soon disappointed that the place is closed for business. They instead head to a communal bath house, where they meet Yoshinoya and spend their time singing various songs together.
4 votes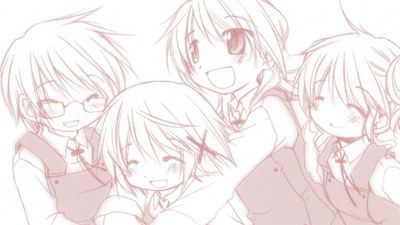 #19 - January 10th: Welcome Back! Ume-sensei!
Season 2 - Episode 13 - Aired Sep 26, 2008
Yuno returns to the apartments after going back to her hometown during winter break. The girls talked about what they did during the break and then decides to visit the temple after. On the way there they visited Yoshinoyo sensei's house and invited her to come with them to the temple. While they were at the temple they made New year wishes and then went home. After they went home they talked about all sorts of stuff like what they did last year and what they want to do this year.
3 votes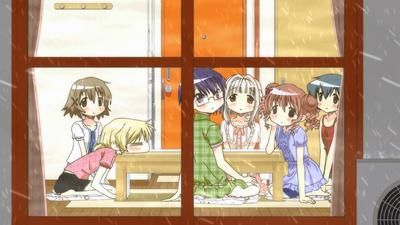 #20 - August 31st: The Final Visitor of Summer Vacation / September 1st: Mochi Sweets
Season 4 - Episode 3 - Aired Oct 19, 2012
Yuno and Miyako's plans to spend the last day of Summer having fun is thwarted when a typhoon settles in, so everyone retreats to Hiro's apartment for some food. Afterwards, Yuno looks over her summer homework. As school resumes the next day, a fire drill is held, during which Nazuna feels the need to go to the bathroom.
3 votes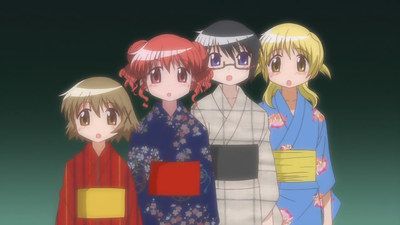 #21 - August 21th: Japan's Summer
Season 1 - Episode 2 - Aired Jan 19, 2007
Yuno and her friends have been given the task to create a new sign for the Hidamari Apartments, and they set to divide the work equally. Afterwards it is discovered that Miyako's rent is much lower than the others have to pay, and Sae goes to the landlord to discover why. That night, the summer festival starts and Yuno and her friends go and have fun.
7 votes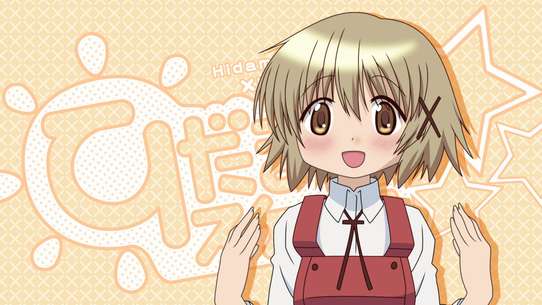 #22 - September 15th: The Shutter Chance of Victory!! The Winner is Miyako!!
Season 4 - Episode 4 - Aired Oct 26, 2012
The school holds a swim meet, with Miyako, Nori and Sae competing whilst Yuno is part of the camera crew. Nori, Sae and Miyako all manage to win their events, bringing their overall team to victory. Afterwards, everyone checks the school's homepage to see the photos Yuno had taken.
3 votes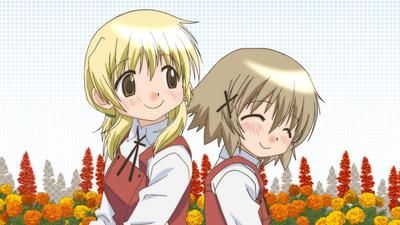 #23 - October 15th: Height of the Sky, Shade of the Grove / April 26th-27th: Expert on Love
Season 3 - Episode 6 - Aired Feb 12, 2010
On October 15th of the previous year, Yoshinoya appears to be down, and is constantly checking her cell phone, leading Yuno and the others to think she may be in love. It later turns out she has been reading a romance novel on her phone. April 26th: The girls spot Nazuna on numerous occasions being assisted by boys and wonder if she is popular among them. When asked about it, Nazuna says she is not too keen with it since it makes their other girls jealous.
3 votes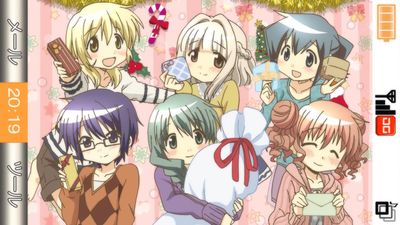 #24 - December 22nd: It's Cause I'm Your Big Sister / December 21st-24th: Faint Memory of a Song
Season 4 - Episode 11 - Aired Dec 14, 2012
December 22nd: Yuno, Miyako and 2 of their classmates visit Yoshinoya to help her clean up some old art books. Whilst there, they meet an unexpected visitor. December 21st-24th: The girls are preparing for their Christmas Party at Hidamari Apartments. Sae invites Natsume, remembering that she had wanted to visit before.
3 votes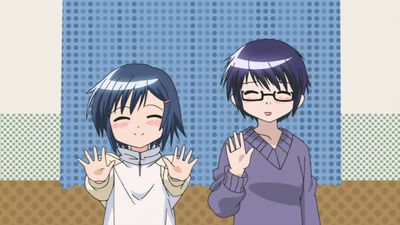 #25 - December 25th: Goodbye Ume-Sensei
Season 1 - Episode 12 - Aired Mar 30, 2007
On Christmas Eve, Sae's younger sister Chika comes to visit and gets to meet Yuno, Miyako, and Hiro too. They show Chika around Yuno's school, and they run into Yoshinoya there who later swings by in a Santa outfit and wishes them Merry Christmas. Chika later comes to Yuno's apartment in the middle of the night after Sae refused to give Chika her autograph. Sae, Miyako, and Hiro come by too and they stay up late into the night. On Christmas day, Chika oversleeps and leaves quickly to meet someone in a neighboring town. Yuno and her friends spend the rest of the day together.
4 votes