The Best Episodes of Gadget Man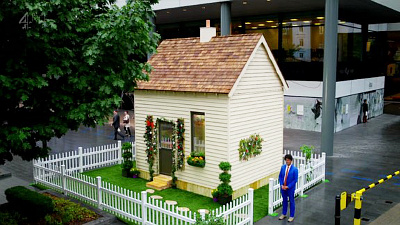 #1 - Smaller Is Better 8.35
Season 2 - Episode 6
Richard attempts to prove that small is beautiful by demonstrating the world's smallest gadgets. He visits musician Alex James at his enormous farm and six bedroomed home to demonstrate how he can downsize his lifestyle using tiny gadget alternatives to his large appliances. Richard shows Michelin star chef Galton Blackiston a gadget that can prepare and cook a three-course meal entirely on its own. Using moving walls and innovative interior design, Richard creates a house of five interchangeable rooms out of a tiny four metre cube, and invites Jimmy Carr for a tour.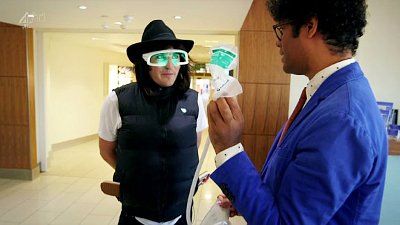 #2 - Summer Holiday 8.32
Season 2 - Episode 4
Noel Fielding joins Richard Ayoade to road test holiday gadgets including a superfast motorcycle/car, anti-jet lag glasses, a BBQ dinghy, an unbreakable suitcase and a box of holiday smells developed by the American military. Richard and Noel travel to the South of France examining gadgets to make journeys less boring, lying on the beach more relaxing, and swimming in the pool more entertaining. The show culminates with Richard trying to recreate the South of France in Southend, with the help of a astronomical device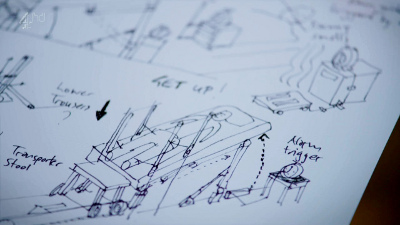 #3 - Rise and Shine 8.31
Season 2 - Episode 2
Richard tests new gadgets to get people get out of bed and out of the house in the morning with long-term early-riser DJ Sara Cox. He also encounters some unusual vehicles as he experiences the commute at the crack of dawn with the Today programme presenter John Humphrys. Gadgets include a new machine for ironing clothes without ironing, a magic mirror and the most energy-efficient car in the world. The show culminates with Richard trying out a Get Ready Machine which promises to propel him from his bed and to wash, dress and feed him automatically.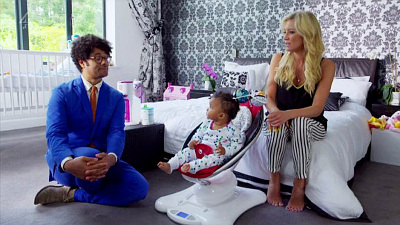 #4 - Child's Play 8.15
Season 2 - Episode 3
Richard tests some parenting gadgets for toddlers through to teens with the assistance of Denise van Outen and Hugh Dennis, including a mind-controlled helicopter, a self-assembling pram, the latest in interactive computer gaming and a £10,000 robotic baby-sitter. His main objective is to showcase gadgets that promise to make parenting a more enjoyable and less stressful pastime. And the episode culminates with Richard showcasing his brainwave for a parent-friendly playground that runs on kiddie-power alone, taking away the need for mums and dads to do all the work pushing swings and roundabouts.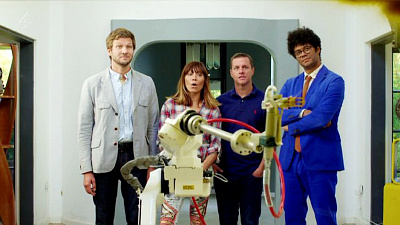 #5 - Home Improvement 8.11
Season 2 - Episode 5
Richard looks at DIY, including robot lawnmowers, the world's safest saw, an automatic wallpapering machine and the latest 3D printers capable of making plates and cutlery in minutes. Richard is not a fan of doing it yourself and believes that gadgets should be able to do all the work for you. So he tests the latest safety tools, building machinery and lawnmowers, all of which promise to take the strain and pain out of decorating your home. He also sets himself a challenge: to makeover a room in his house using robots and gadgets and without him having to lift a finger.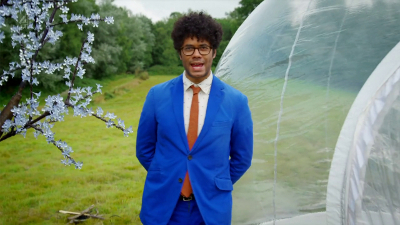 #6 - The Great Outdoors 8.08
Season 2 - Episode 1
Richard turns his attention to the increasingly popular world of camping and shows viewers how gadgets can make the great outdoors more entertaining and bearable for novices.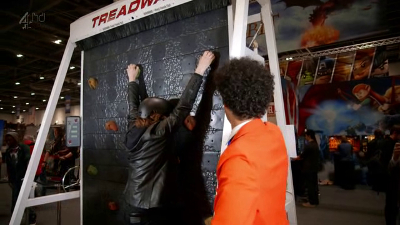 #7 - Staying In 7.90
Season 3 - Episode 6
Richard sets out to prove that gadgets can make it possible to lead a full and healthy life without leaving the house. He enlists the help of comedian Seann Walsh to check out gadgets that deliver the health benefits of the great outdoors, without the necessity of braving the danger, filth and inconvenience of the world outside. Richard also invites comedian David Mitchell to help him road test the latest in home gaming gadgets, in a bid to attract 'normal folk' to the Gadget House.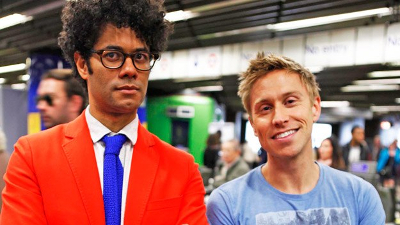 #8 - Public Transport 7.86
Season 3 - Episode 2
Richard takes a look at the discomfort that he suffers while on public transport and is joined by Russell Howard on London's tube network to assess the effectiveness of gadgets designed to deal with poor air quality and extreme heat.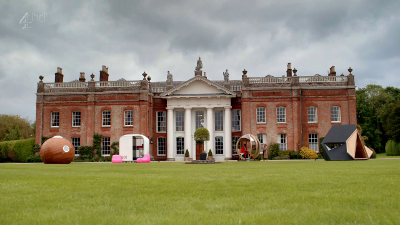 #9 - Property 7.83
Season 3 - Episode 8
Richard meets an army of window cleaning robots, samples some garden pods recommended by designer Naomi Cleaver and visits a super high tech home with Claudia Winkleman.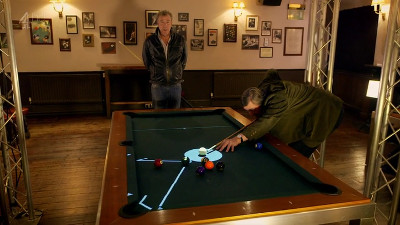 #10 - Fun and Games 7.82
Season 1 - Episode 4
Stephen looks at how gadgets entertain us. He shows Jeremy Clarkson how traditional pub games could be overhauled by replacing them with various gadgets, including an automatic cocktail-maker and a futuristic pool-table machine that lines up your shots for you. (And remote-controlled pet as well.) Stephen also tries to build the world's biggest computer game.
Directors: Mark McQueen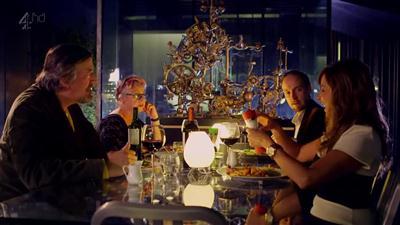 #11 - Tasty Tech 7.81
Season 1 - Episode 2
Stephen takes a look at how gadgets can make shopping and cooking so much easier and far more entertaining. He escorts the world's only driverless shopping trolley around the supermarket, tests high-end barbecues and tries out an array of fancy kitchen gadgets as he prepares to host a spectacular dinner party for his friends.
Directors: Mark McQueen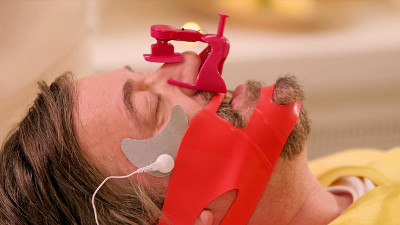 #12 - Body Beautiful 7.81
Season 1 - Episode 5
Stephen looks at how new technology can help keep us fit and healthy. He road-tests some of the latest gym gadgets and gets a makeover from Amy Childs (from The Only Way Is Essex), using some weird and wonderful beauty devices. Some of the gadgets on the show include an app which predicts how long you will live, the world's most incredible treadmill and a device that claims to make you slimmer in just 30 minutes. And Stephen attempts to build the ultimate running machine that will enable him to race against double Olympic champion Kelly Holmes.
Directors: Mark McQueen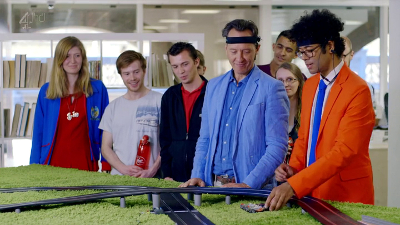 #13 - Self-Improvement 7.76
Season 3 - Episode 5
Can Richard Ayoade make himself a brighter man with the aid of gadgets? He gets Eamonn Holmes and actor Richard E. Grant to help, and challenges memory legend Dominic O'Brien to a contest. He plays Scalextric and tries flying a drone simply with mind power. And realises that to prosper in his memory challenge he has just one option - to cheat.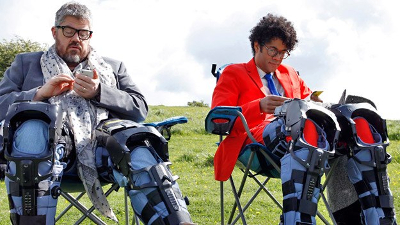 #14 - The Staycation 7.71
Season 3 - Episode 3
This episode features the world's tiniest caravan, 360 degree cameras, 300 litre rucksacks and a pair of trousers that can transform into a picnic table. With the combined horror of picnics, days out and bracing walks in the countryside looming, Richard turns to comedian Phill Jupitus to hold his hand through this "trial by leisure".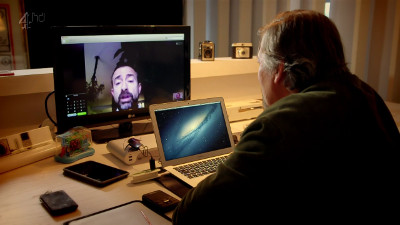 #15 - Work Made Easy 7.70
Season 1 - Episode 3
Stephen examines devices that make work easier and more fun, meeting up with Lord Sugar to road test some of the latest work-saving gizmos, including a coffee machine that talks to your phone. Stephen also plays around with some of Lord Sugar's early inventions. Other gadgets covered in this episode include a pen that transcribes notes direct to your computer and an executive sleep pod.
Directors: Mark McQueen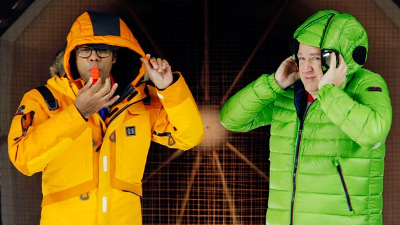 #16 - Weather 7.58
Season 3 - Episode 1
Richard takes a look at the British weather with the help of Tim Vine as he braves a hurricane in a wind tunnel to assess the best in gust busting gadgetry.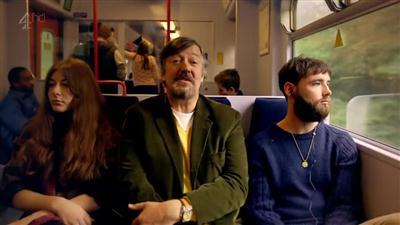 #17 - Super Commuter 7.58
Season 1 - Episode 1
Stephen and his guest Jonathan Ross look at how gadgets can make the daily commute more bearable and more fun. Gadgets include a very unconventional electric car, a very unusual bicycle and a 3D headset. Stephen also attempts to beat the traffic jams by creating his own fantasy super-vehicle.
Directors: Mark McQueen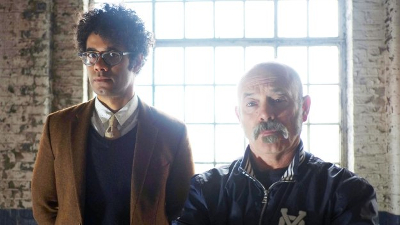 #18 - Health and Safety 7.57
Season 4 - Episode 4
Fearing that the world is a dangerous place for Gadget Man, Richard Ayoade tests security devices with Keith Allen and Bill Bailey, including a post-apocalypse survival kit that works at festivals too.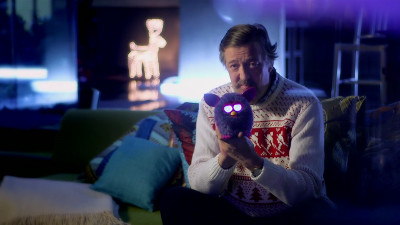 #19 - Christmas Special 7.55
Season 1 - Episode 6
In this Christmas special, Stephen Fry brings his insight and wit to bear on gadgets from Christmases past. Drawing on unusual and entertaining archive footage, Stephen surveys how Christmas and gadgets go together like mince pies and cream, as he takes a wry look at toys, snow, decorations and Christmas dinner.
Directors: Mark McQueen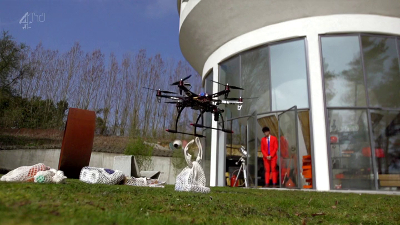 #20 - Shopping 7.55
Season 3 - Episode 4
Richard heads to the strip-lit aisles of the supermarket where farmer and foodie Jimmy Doherty joins him to check out a robotic shopping assistant, a fruit ripeness reader and a food ethics scanner. And Richard and actress Alison Steadman visit a busy department store to check out a 3D virtual mirror and a mannequin with expanding bust and hips.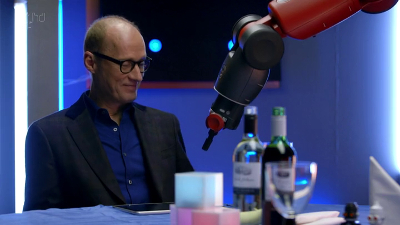 #21 - Cooking and Dining Out 7.52
Season 3 - Episode 7
Richard invites celebrity foodie Adrian Edmondson to his revolutionary bistro, where there's printed food, robot waiters, levitating desserts and clear coffee. There are also computerised wine sniffers and zero calorie electronic starters, as Richard confronts the twin horrors of cooking and dining out.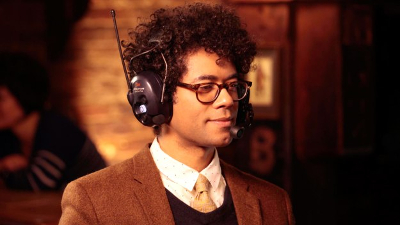 #22 - The Weekend 7.45
Season 4 - Episode 1
Richard tackles the great British weekend with comedians Sara Pascoe and Al Murray, from exercise to a night down the pub, the perfect selfie, and dodging the night bus home.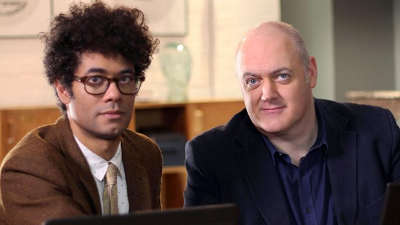 #23 - 9 to 5 7.44
Season 4 - Episode 2
Richard beats the workday grind with cool, clever gadgets, and with the help of comedian Dara O'Briain and writer Grace Dent. He even arranges to do all his office work without leaving bed.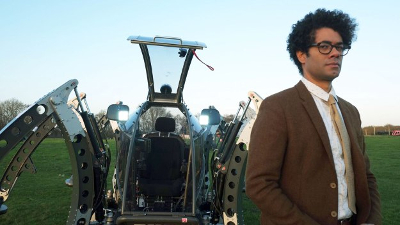 #24 - Date Night 7.17
Season 4 - Episode 3
Richard joins comedians Katherine Ryan, Sanjeev Bhaskar and Tom Rosenthal in testing out dating and relationship gadgets - including 3D chocolate printing and virtual flowers.