The BEST Episodes of Fight Quest
Every episode ever - ranked by fan votes!
Last Updated: Dec 31, 2021
Join hosts Doug Anderson and Jimmy Smith as they travel the globe in search of a variety of fighting challenges. The pair immerse themselves in the local culture as they prepare to face off against a local in a no-holds-barred battle. Locations include the Philippines, China, Japan, Korea, Mexico City, Thailand, Israel, Brazil and India. Jimmy Smith, an LA-based mixed martial arts fighter...
Watch Now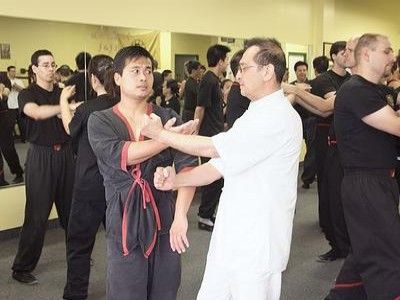 #1 - Hong Kong (Wing Chun)
Season 1 - Episode 13 - Aired Oct 9, 2008
Location: Hong Kong & Kowloon, China Masters: Grandmaster Leung Ting, Sifu Kong Chi Keung Features: Rapid fire punches & kicks Wing Chun, also romanized as Ving Tsun or "Wing Tsun" is a concept-based Chinese martial art that specializes in close-range combat.
26 votes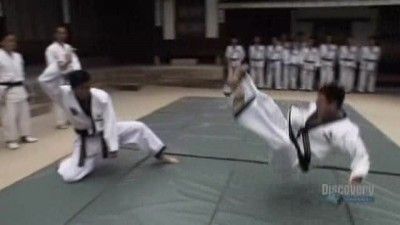 #2 - Korea (Hapkido)
Season 1 - Episode 7 - Aired Feb 8, 2008
Location: Seoul, South Korea Masters: Kim Nam Je, Bae Sung Book, Ju Soong Weo Features: Feet, hands, throws Hapkido is Korea's gift to the world of martial arts and in this episode Jimmy and Doug learn the ins and outs of this deadly defensive art.
28 votes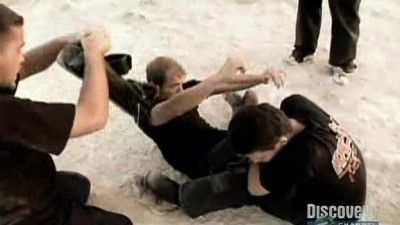 #3 - Israel (Krav Maga)
Season 1 - Episode 9 - Aired Feb 22, 2008
Location: Netanya, Israel Masters: Ran Nakash, Avivit Oftek Cohen Features: Everything that hurts The Israeli military is one of the most highly trained and skilled forces in the world and their secret weapon is Krav Maga. In this episode, Jimmy and Doug train with the Israeli military and learn the secrets of this murderous fighting style.
55 votes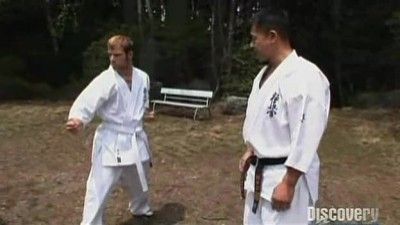 #4 - Japan (Kyokushin Karate)
Season 1 - Episode 3 - Aired Jan 11, 2008
Location: Tokyo, Japan Masters: Shihan Yuzo Goda, Shihan Isamu Fukuda Features: Hands, feet, smashing things Kyokushin kaikan is a style of stand-up, full contact karate, founded in 1964 by Masutatsu Oyama. Kyokushinkai is Japanese for "the society of the ultimate truth." Kyokushin is rooted in a philosophy of self-improvement, discipline and hard training.
52 votes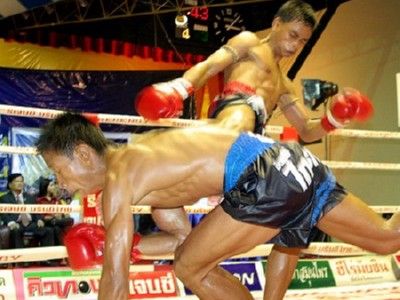 #5 - Bangkok (Muay Thai)
Season 1 - Episode 11 - Aired Sep 26, 2008
Location:Bangkok & Ayutthaya, Thailand Masters:Thakoon Pongsupha, Karim "Palang" Pattana Features:Punches, kicks, elbows, knees Muay Thai is a hard martial art from Thailand. It is similar to other Indochinese styles of kickboxing, namely pradal serey from Cambodia, tomoi from Malaysia, lethwei from Myanmar and Muay Lao from Laos.
52 votes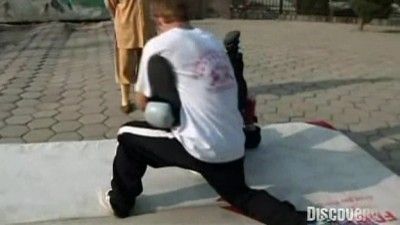 #6 - China (Wushu; Sanda)
Season 1 - Episode 1 - Aired Dec 28, 2007
Location: Dengfeng, China Masters: Shi De Yang, Shi De Cheng Features: Hands, Feet, smashing things Our fighters head to China's legendary Songshan mountains to learn the mother of all martial arts: Kung Fu.
57 votes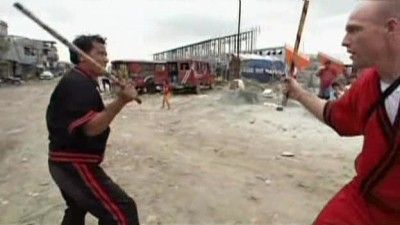 #7 - Philippines (Kali)
Season 1 - Episode 2 - Aired Jan 4, 2008
Location: Manila, Philippines Masters: Cristino Vasquez, Leo T. Gaje Jr. Features: Knives, sticks In this episode, our boys head to Manila to try their hands in the weapons-based Filipino art of Kali - one of the deadliest, most ancient fighting systems on earth.
54 votes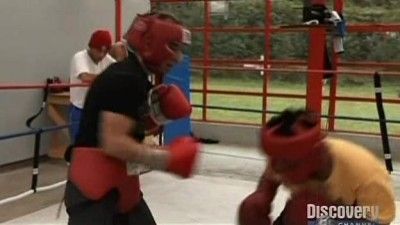 #8 - Mexico (Boxing)
Season 1 - Episode 4 - Aired Jan 18, 2008
Location: Mexico City, Mexico Masters: Ignacio "Nacho" Beristain, Tiburcio Garcia Features: Hands Boxing is a combat sport in which two people, male or female, generally of similar weight, fight each other with their fists. Boxing is supervised by a referee and is typically engaged in during a series of one to three-minute intervals called rounds.
52 votes
#9 - Brazil (Brazilian Jiu-Jitsu)
Season 1 - Episode 8 - Aired Feb 15, 2008
Location: Rio de Janeiro, Brazil Masters: Breno Sivak, Renato Barreto Features: Grappling Our fighters land in Rio to experience the wildly popular world of Brazilian Jiu-jitsu and train with the legendary Gracie family.
26 votes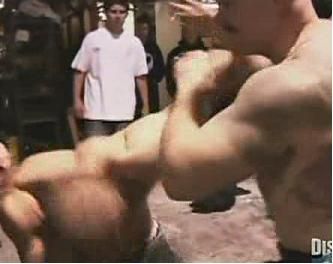 #10 - USA (Kajukenbo)
Season 1 - Episode 10 - Aired Feb 29, 2008
Location: Bay Area, Calif. Masters: Charles Gaylord, Greg Harper Features: Hands, feet, throws Kajukenbo is a street-fighting martial art comprised of the most deadly moves from karate, kung fu, and other fighting styles. In this episode, Jimmy and Doug travel to the roughest edges of the S.F. Bay area to uncover why some Americans live to fight.
27 votes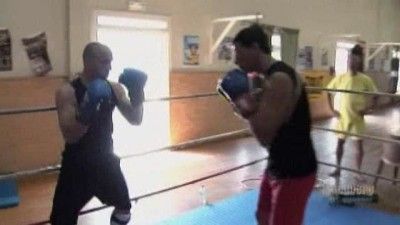 #11 - France (Savate)
Season 1 - Episode 6 - Aired Feb 1, 2008
Location: Marseille, France Masters: Christian Robert, Frank May, Frederic Baret, Laurent Bois, Patrick Gellat Features: Hands, feet Jimmy and Doug are off to the hard-scrabble port of Marseilles to learn France's contribution to the world of kickboxing - Savate, an elegant but brutal fighting form with kicks so dangerous they've been outlawed.
55 votes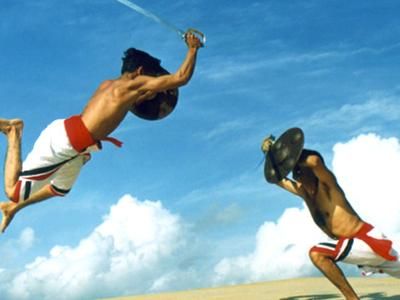 #12 - Kerala (Kalaripayattu)
Season 1 - Episode 12 - Aired Oct 2, 2008
Location: Kerala, India Masters: Guru Sureshan Nambiar, Guru Sunil Kumar Features: Sword & shield, sticks, open hand, kicks Kalarippayattu is a Dravidian martial art from Kerala, India. It is practiced in Kerala and contiguous parts of Tamil Nadu and Karnataka as well as northeastern Sri Lanka and among the Malayalee community of Malaysia.
78 votes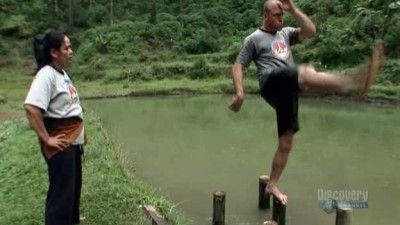 #13 - Indonesia (Pencak Silat)
Season 1 - Episode 5 - Aired Jan 25, 2008
Location: Bandung, Indonesia Masters: Rita Suwanda, Dadang Gunawan Features: Hands, feet, throws, weapons In the remote streets of Bandung, Jimmy and Doug learn the ancient fighting art known as Pencak-Silat. While training with one of Indonesia's toughest Silat masters, Doug injures his foot and has to decide whether to fight in his final battle or not.
78 votes