The BEST Episodes of Degrassi Junior High
Every episode ever - ranked by fan votes!
Last Updated: Sep 3, 2020
Go to school with the show in a class by itself- and get real! Hailed as "groundbreaking," "powerful," and "totally authentic," Degrassi Junior High confronts it all-friendship, puberty, rumors, sports, studies, and more-with a refreshing ensemble cast and a unique teen's-eye-view of life. Sometimes moving, sometimes shocking, but always believable, Degrassi Junior High is a classic for teens of all ages. All your favorite characters and storylines are waiting-find your seat-school's open!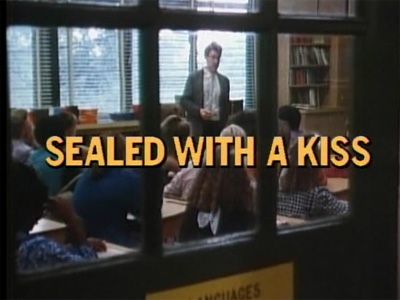 #1 - Sealed with a Kiss
Season 2 - Episode 8 - Aired Feb 22, 1988
Erica meets an older guy at the school dance and french kisses him in the school stairwell. She later feels ill, and thinks he may have given her mono. When he drops by the house to visit, Erica is too sick to go out. He asks her twin sister Heather to go for a drive instead, where he kisses her as well. Heather tells Erica what happened and they both go to the doctors office to see if they have mono. They are both relieved to find out Erica had just come down with the flu.
5 votes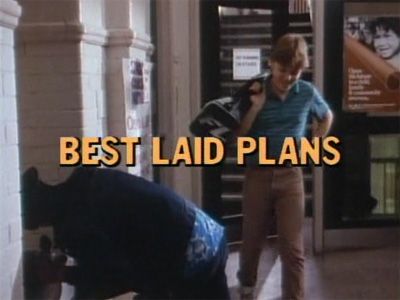 #2 - The Best Laid Plans
Season 1 - Episode 7 - Aired Mar 1, 1987
Stephanie asks Wheels out on another date, and rumours start floating around the school that they will have sex on their date. Wheels unknowingly buys condoms at the drugstore where Stephanie's mother works. All pressure and plans are quickly ended, when Wheels arrives at Stephanie's house for their date, and Stephanie's mom recognizes him from the drugstore.
12 votes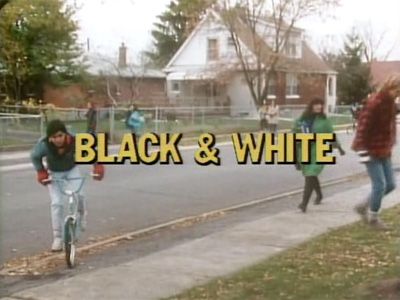 #3 - Black & White
Season 3 - Episode 14 - Aired Feb 20, 1989
BLT invites Michelle to the graduation dance and she accepts. She introduces him to her parents, who then forbid her to go out with him. They tell her she is too young to date, but she wonders if they don't want her to date him because he is black. When she questions her mother about this, her mother says they are just looking out for her. Michelle decides to go to the dance with BLT anyway.
8 votes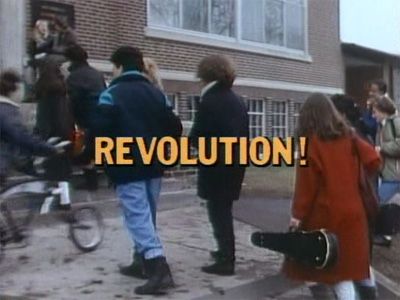 #4 - Revolution!
Season 1 - Episode 13 - Aired Apr 5, 1987
After Wheels rejects a date with Stephanie, she starts flirting with Joey to make him jealous. After she appoints Joey as sports rep on the student council, the grade sevens retaliate because Yick was interested in the position first. They start an impeachment of Stephanie as school president. After Joey finds out she was using him to make Wheels jealous, he resigns from the position. Stephanie vows that next semester she will change and will do a good job as president.
8 votes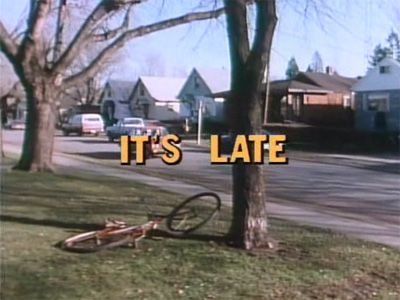 #5 - It's Late!
Season 1 - Episode 11 - Aired Mar 29, 1987
Shane and Spike have sex for the first time, at Lucy's party. Spike is later worried when her period is late and fears she might be pregnant. Her mother discoveries a home pregnancy test and takes her daughter to the doctor to find out for sure. It is then discovered that she is indeed pregnant. Meanwhile, Yick likes Melanie, but is afraid to ask her out. Arthur tries to give him advice, but everytime Yick follows Arthur's plans they backfire. Yick finally gets courage and asks Melanie to go on a date skating and she accepts.
10 votes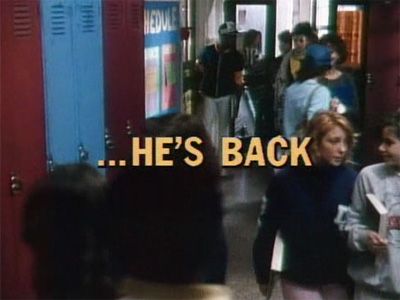 #6 - He's Back
Season 2 - Episode 12 - Aired Mar 21, 1988
The substitute teacher from "A Helping Hand" (season 2, episode 2) is back, only this time is teaching Susie's class. Lucy warns Susie to be careful around him, but Susie doesn't know what she means by this. After the teacher touches Susie; her, Lucy, L.D. and Wheels report him to the principal.
7 votes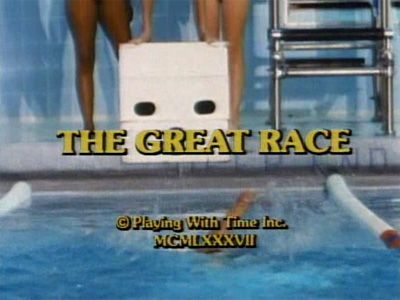 #7 - The Great Race
Season 1 - Episode 5 - Aired Feb 15, 1987
Melanie fears she is too flat chested for the school swim team. After constant complaining that her mother wont buy her a bra, L.D. takes Melanie to the department store. When she arrives at school, wearing her bra, she is the victim of much ridicule and teasing. At the big swim meet (girls team vs. the boys team), Joey makes a loud comment about Melanie's chest to the whole school, and L.D. tosses him into the pool.
13 votes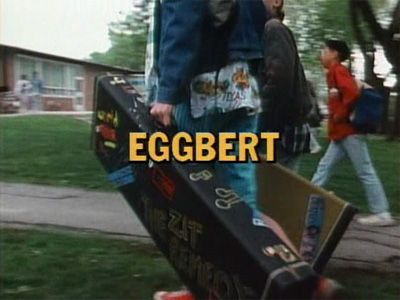 #8 - Eggbert
Season 2 - Episode 1 - Aired Jan 4, 1988
Spike is given an egg to take care of for a week, to show her what taking care of a baby is like. Stephanie and Alexa are both attracted to Simon, the new student. Stephanie is jealous to see him and Alexa together at Lucy's party. Feeling guilty, Shane asks Spike if there is anything he can do to help her. She gives the egg to Shane and tells him to take care of it. Shane arrives at the party with the egg and starts tossing it around the room with his friends. Spike leaves, feeling upset, telling Shane how upset she is at him. Shane later tells his parents that he got her pregnant.
9 votes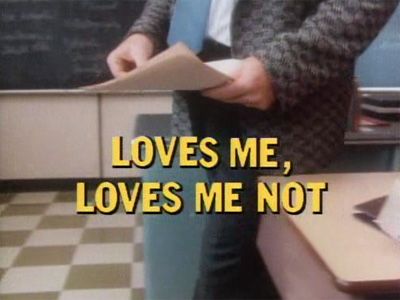 #9 - Loves Me, Loves Me Not
Season 3 - Episode 5 - Aired Nov 28, 1988
Caitlin has a big crush on Joey and agrees to work with him on a school project. The more time they spend together, the more Caitlin thinks he returns her affection. Caitlin mistakenly thinks Joey has invited her to the dance with him. When she arrives, she is crushed to find out that he is there with Liz.
9 votes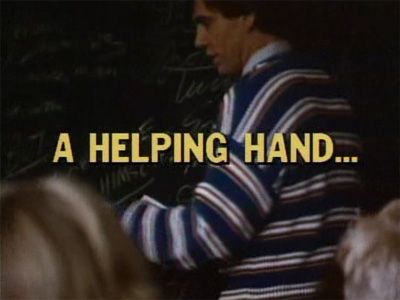 #10 - A Helping Hand
Season 2 - Episode 2 - Aired Jan 11, 1988
Lucy takes a liking to her substitute teacher. She is pleased with all the attention he gives her. L.D. sees him look down Lucy's top in class and warns Lucy to be careful. Lucy tells L.D. that she is just jealous. Lucy agrees to stay behind after school and help her teacher. Wheels walks in and finds the teacher's hands on Lucy's shoulders. Lucy runs home and is comforted by L.D. The following day at school, the teacher asks Lucy if she'd like to stay after school again. "Not in a million years", she replies. Wheels has been making poor marks, so his parents make him tutor with Ms. Avery after school. This means that Wheels must quit the band until his grades are better. He also ends up getting glasses since part of the problem was he couldn't see the board well. Meanwhile, Joey and Snake find Simon playing bass guitar in the gym, and ask him to be the zits' new bass player.
8 votes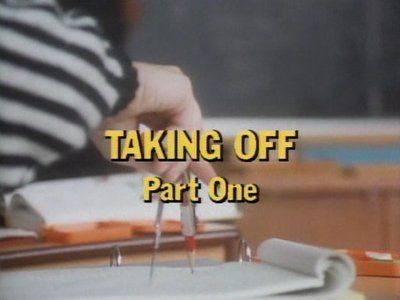 #11 - Taking Off (1)
Season 3 - Episode 11 - Aired Feb 6, 1989
Tired of living with his grandparents, Wheels decides to track down his birth father. Joey and Snake attend a concert, where Luke and Shane take acid. Wheels tells Joey and Snake that he is running away to find his father, and swears them to secrecy.
7 votes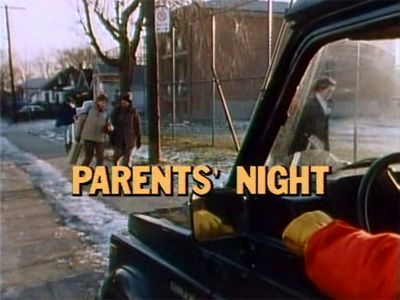 #12 - Parents' Night
Season 1 - Episode 12 - Aired Apr 12, 1987
Wheels meets his birth father for the first time when he comes to town. Wheels finds he has a lot in common with his father and is hopeful that they will become close. After realizing that his father doesn't feel the same way, Wheels is hurt. Spike is considering giving her baby up for adoption once it is born, and asks Wheels for advice.
8 votes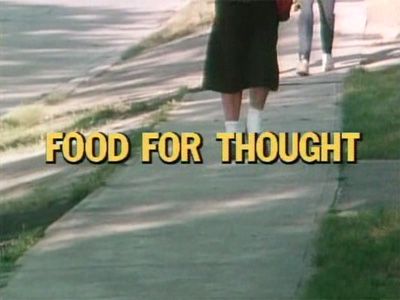 #13 - Food for Thought
Season 3 - Episode 9 - Aired Jan 23, 1989
While working on a science fair project together, Melanie is shocked to read in Kathleen's diary about her diet. It appears that Kathleen is anorexic, which causes her to faint during the science fair. Kathleen is furious with Melanie when she tells Ms. Avery. Ms. Avery insists that Kathleen talk to the school nutritionist.
9 votes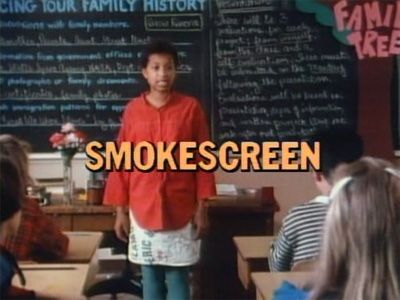 #14 - Smokescreen
Season 1 - Episode 10 - Aired Mar 22, 1987
In an effort to impress Caitlin, Rick joins the school's anti-pollution committee. Yick buys a vase, passing it off as an ancient family heirloom for his school project. When Arthur accidently breaks the vase, Yick gives his class a recount of being a refugee from China and moving to Canada.
8 votes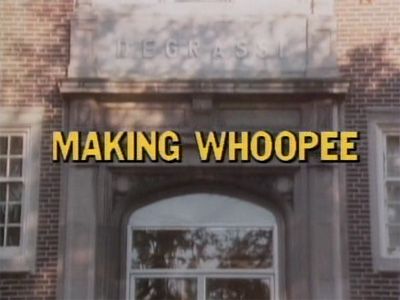 #15 - Making Whoopee
Season 3 - Episode 13 - Aired Feb 13, 1989
Arthur doesn't like his father's new girlfriend, and him and Yick plot to break them up. Arthur is frustrated when his attempts don't work, and is shocked to see that his father's girlfriend had spent the night. At the school open house, Arthur is furious when his father brings his girlfriend. Arthur feels bad when his father later tells him that he broke up with her.
7 votes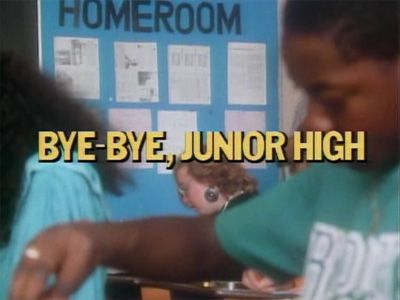 #16 - Bye-Bye Junior High
Season 3 - Episode 16 - Aired Mar 6, 1989
At the end of the school year, Joey asks Caitlin to the graduation dance. Ms. Avery informs Spike that her grades were poor and encourages her to make them up in correspondence courses. Faulty wiring causes the fire alarm to go off at the dance as the students stand outside and watch their school burn down.
11 votes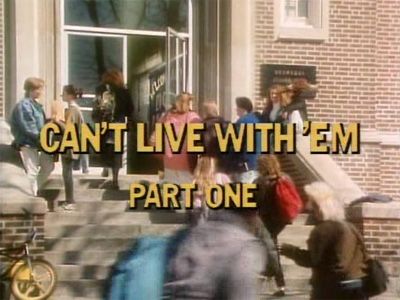 #17 - Can't Live With 'Em (1)
Season 3 - Episode 1 - Aired Nov 7, 1988
At the start of the new school year, Wheels's parents forbid him to hang around Joey, as they feel he is a bad influence. Spike returns to school, having had a baby girl during the summer. She ignores Shane, who says he wants to see the baby. Lucy meets an older guy, Paul, who she begins dating. Yick finds out that Arthur's mother won over a million dollars in a lottery over the summer. While out at Joey's place, Wheels is startled to come home and find out that both his parents were killed by a drunk driver.
9 votes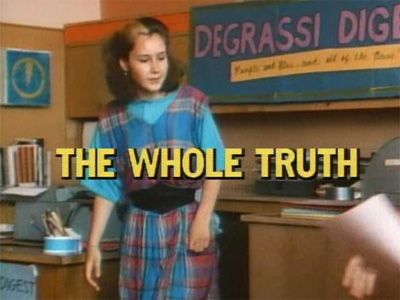 #18 - The Whole Truth
Season 3 - Episode 7 - Aired Dec 12, 1988
When Liz tells Caitlin about her interest in animal testing, she tries to convince her to write an article for the school paper. Liz and Caitlin work together in order to let the students know about this topic. When Kathleen informs Caitlin that animal testing is necessary in some cases, Caitlin does some research and learns that Kathleen is right.
8 votes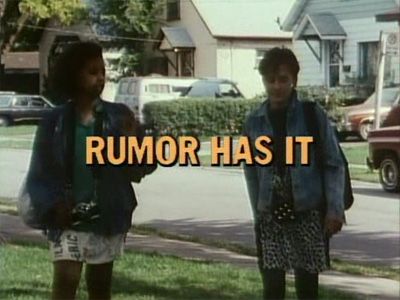 #19 - Rumor Has It
Season 1 - Episode 6 - Aired Feb 22, 1987
Many of Ms. Avery's students think that she is a lesbian. Caitlin, who admires her teacher, defends these rumours and insists that her teacher isn't gay. After dreaming that her classmates think that she is also gay, Caitlin begins to act self-conscious at school. Caitlin confronts her teacher, who informs her student that she is not gay. After confiding that she has been questioning her own sexuality, Ms. Avery informs Caitlin that these dreams are perfectly normal and that everyone her age has them.
13 votes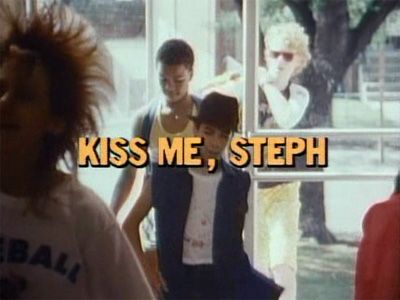 #20 - Kiss Me, Steph
Season 1 - Episode 1 - Aired Jan 18, 1987
Stephanie begins her first day of the eighth grade by ignoring her younger brother, Arthur, who is a year younger than her. Stephanie decides to run for student council president for the school year. After allowing a good portion of the school's male population to kiss her, she wins the election. She loses her best friend, Voula, by neglecting to thank her during her speech.
28 votes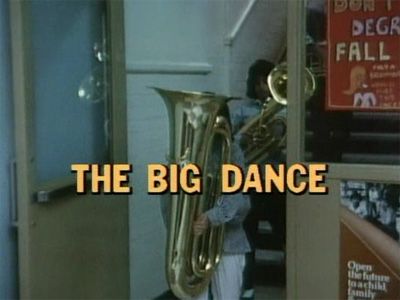 #21 - The Big Dance
Season 1 - Episode 2 - Aired Jan 25, 1987
Against her father's orders, Voula attends the school dance, but doesn't tell him she's going. Stephanie asks Wheels to be her date for the date, and he accepts. Before arriving, Stephanie, Heather and Erica go to Lucy's house and start drinking her parent's alcohol. By time they get to the dance, Stephanie is drunk. After a short time, she runs to the washroom, where she is sick. Voula is persuaded by everyone to give a speech for the school, that was supposed to have been given by Stephanie. Voula's father walks into the gym, and takes his daughter home.
28 votes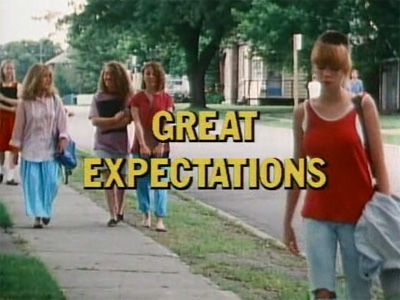 #22 - Great Expectations
Season 2 - Episode 3 - Aired Jan 18, 1988
When a new student, Liz, transfers to the school; Joey takes an immediate liking to her. Rumours begin circulating that Liz is a wild girl, who likes to have sex and Joey wants to know if its true. While working after school on a project at her house, Joey asks Liz if she wants to have sex. Liz then kicks Joey out of the house and he later realizes how sorry he is, because he actually likes her.
6 votes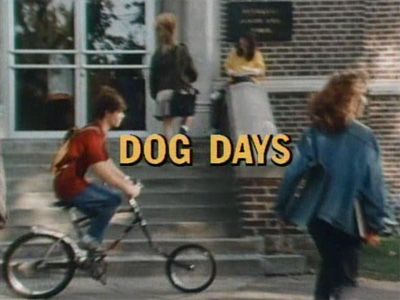 #23 - Dog Days
Season 2 - Episode 9 - Aired Feb 29, 1988
After her father decides to seek custody of her, Stephanie becomes depressed. This depression doesn't improve when her mother announces she plans to marry her new boyfriend. Arthur finds a stray dog and wants to keep him. His mother refuses this, but Stephanie tells Arthur she will cheer up and maybe this will make their mom change her mind about keeping the dog.
9 votes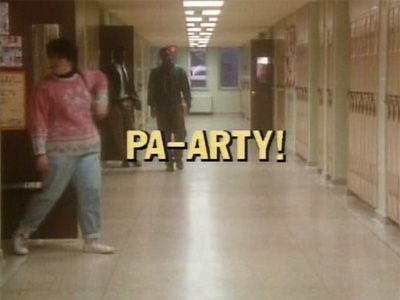 #24 - Pa-arty!
Season 3 - Episode 15 - Aired Feb 27, 1989
Lucy has a party while her parents are out-of-town. Joey, Snake and Wheels get Clutch to buy a case of beer for them. They are stopped by the police when they decide to have a drink on their way to Lucy's. Shane comes out of his coma at the hospital. When Lucy's parents call from the airport because their flight is cancelled, everyone cleans up and leaves. Before her parents arrive, Clutch shows up, drunk. Lucy hurries him out before her parents show up and later breaks up with him because of his drinking.
9 votes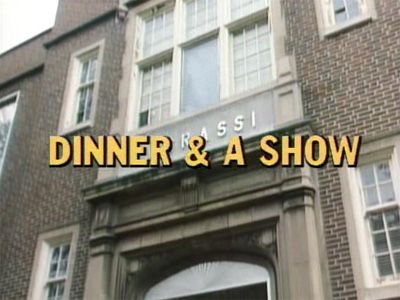 #25 - Dinner and a Show
Season 2 - Episode 4 - Aired Jan 25, 1988
Shane tells Spike that his parents want to meet her and her mother to discuss the baby. When the five meet, Shane's Dad announces that his son will attend a private school. Shane tells his father that he isn't going away, and wants to be around when the baby is born. Melanie breaks a date with Yick by saying her mom wont let her go. Yick later discovers that Melanie lied, when he runs into her and Snake, on a date, at the movies.
8 votes