The Best Episodes of Ancient Aliens
#1 - The Da Vinci Conspiracy 8.24
Season 4 - Episode 8
Might an examination of Leonardo Da Vinci's masterful paintings, highly technical hand-drawn sketches, and private journals reveal knowledge of otherworldly technology and extraterrestrial beings?
#2 - The NASA Connection 8.09
Season 4 - Episode 5
NASA scientists, former astronauts and secret government files all point to the conclusion that there has been contact with extraterrestrial life in the past. Researchers examine this and other recent scientific evidence that may provide proof of alien contact in both the recent and ancient past.
#3 - The Tesla Experiment 8.08
Season 6 - Episode 16
He is one of the most prolific inventors of the 20th century--and the man that actually electrified the world. Nikola Tesla shepherded mankind to a new industrial era and laid the groundwork for today's technological age--but could that have been by some otherworldly design? A man shrouded in mystery and intrigue, Tesla would speak about obtaining insights in a flash of genius, how he could visualize his inventions in full-detail and manipulate them in his mind, and his compulsion to invent the future. But he also claimed to have direct communication from intelligent beings on other planets. Is it possible that this alleged mad scientist, so far ahead of his time, was actually a human "receiver"? A being tapped to advance mankind--and pave the way for a future reunion with our alien ancestors?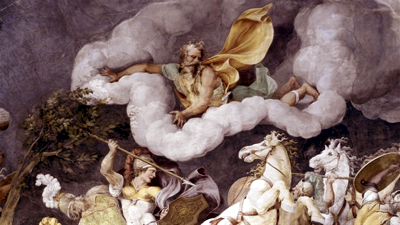 #4 - Mysterious Devices 8.01
Season 6 - Episode 14
A potential link between alien technology and mysterious devices from ancient cultures is examined.
#5 - Aliens and the Creation of Man 7.98
Season 3 - Episode 16
Why are humans so different from every other species on Earth? Did we evolve from ape--or is our intelligence the result of contact with an otherworldly source? Could unexplained advances in human evolution be the work of interstellar beings? 10,000-year-old petroglyphs link our ancient ancestors with star beings. Might evidence of alien contact help unlock the mystery of the Creation of Man?
Directors: Kevin Burns
#6 - The Mystery of Puma Punku 7.97
Season 4 - Episode 6
At nearly 14,000 years old, the ruins of Puma Punku are the oldest and most baffling on the face of the Earth. No one knows who designed and built this complex of sophisticated inter-locking blocks, and then vanished. Researchers investigate the ruins on-location in Peru and present new computer analyses. Forensic evidence on the ground, together with local myths and legends, suggest this site may have been designed and even once inhabited by a species of extraterrestrials.
#7 - Alien Transports 7.96
Season 6 - Episode 12
From ancient accounts of fiery chariots in the sky in the Bible and flying carpets in Ethiopian texts to fire-breathing dragons in Chinese mythology, a look is taken into the possibility of the phenomena being extraterrestrial.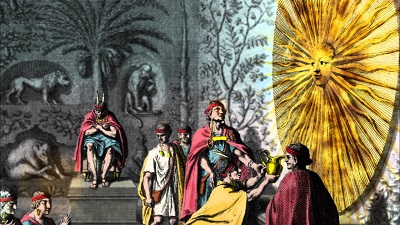 #8 - Alien Messages 7.95
Season 7 - Episode 7
Researchers discuss the possibility that some strange and cryptic communications can help us unlock the mysteries of the universe and contact extraterrestrial beings.
#9 - Alien Encounters 7.95
Season 6 - Episode 18
Stories of strange encounters accompany many of history's major events. Is it merely coincidence? Or might it be evidence of extraterrestrial intervention? In ancient myths from cultures around the globe, gods are often portrayed intervening in human affairs. The Sumerian gods are said to have created mankind; the Hebrews believe God gave Moses man's first laws, the Ten Commandments, and the angel Gabriel reportedly shared divine wisdom with the prophet Muhammad. But is it possible that these supernatural visitations were not actually the work of the gods--but rather a race of extraterrestrials using advanced technology to create and shape our civilization? Ancient Astronaut Theorists believe aliens may have helped guide mankind in the remote past--and that evidence for this stunning conclusion can be found sprinkled throughout human history.
#10 - Aliens Among Us 7.94
Season 7 - Episode 3
There are those who believe that the evolution of technology is not entirely of our own making. Ancient Astronaut theorists contend that it is by extraterrestrial design that we have become so technologically interconnected--and that we are being watched by beings from beyond our world. Do stories from the ancient past hold evidence of alien overseers? The Book of Enoch describes divine entities called the Watchers descending to Earth to monitor humankind and aid in our advancement. Inca legend states that the god Viracocha created humans and taught them astronomy,
#11 - The Doomsday Prophecies 7.94
Season 4 - Episode 1
The Maya created the most sophisticated calendar systems in the ancient world, and according to many scholars their Long Count Calendar will come to an end on December 21, 2012. What does this mean for mankind? Some researchers believe it will usher in the return of Bolon Yokte--a mysterious god associated with creation and war. Could this god actually be an extraterrestrial as some ancient astronaut theorists believe? Other scholars believe the end of the calendar will bring about a series of catastrophic events that may threaten the very existence of mankind. They point to a rare galactic alignment that will coincide with the end of the Mayan calendar as proof of an impending geological catastrophe. If these doomsday prophecies prove to be true, will it mean the end of the world as we know it? Or could it reveal some profound truth about the origins of the human race?
#12 - The Shamans 7.93
Season 6 - Episode 9
Throughout history, spiritual leaders known as shamans have healed, protected and advised their people. But are they simply putting on elaborate ceremonies? Or could they be in contact with extraterrestrial realms? The Mongol army crushed their enemies and built a massive empire with the help of powerful shamans who could manipulate the weather. Amazonian shamans believe otherworldly beings taught them how to create a powerful brew that allows them to travel beyond Earth to gain knowledge. And on the desert plains of the Kalahari, the San Bushmen practice elaborate trance dances that unlock supernatural capabilities in their healers. Can shamans really communicate with otherworldly beings? Is it possible that through these spiritual mediators, extraterrestrials were able to influence mankind in the distant past? And could such celestial communication continue even today?
#13 - The Genius Factor 7.93
Season 7 - Episode 4
Throughout history, many of the world's greatest thinkers have helped push civilization forward with their profound insights and extraordinary abilities. But the majority of these master minds say their brilliance comes from a place they don't understand-and arrives at times they're not expecting it. In antiquity, people in nearly every culture around the world believed they did not possess genius, but that genius possessed them, like a spirit. Could it be that the forces of inspiration that the ancients attributed to the gods really did emanate from an otherworldly ...
#14 - Aliens and Dinosaurs 7.90
Season 4 - Episode 10
Angkor Wat, Cambodia, is the world's largest ancient religious temple. Within its megalithic ruins, researches have discovered a depiction of a species of dinosaur – a stegosaurus. But how could the ancients have had knowledge of animals that mainstream science says died out millions of years ago? Why are dinosaurs extinct? Did an alien race of beings kill off the dinosaurs to make room for humankind?
#15 - Aliens and Mega-Disasters 7.90
Season 4 - Episode 4
There are numerous historical, religious and mythic accounts of ancient civilizations being wiped out by volcanoes, earthquakes, floods, and meteors. Did god, or nature bring about such disasters? Or is it possible that celestial beings had a hand in the ancient world's catastrophic disasters?
#16 - Alien Power Plants 7.89
Season 4 - Episode 13
Egyptian hieroglyphs depict the use of light bulbs in tombs and secret chambers. And batteries may have been discovered among artifacts from Mesopotamia. Did the Ancients understand electricity, and if so, how did they discover this technology?
#17 - Aliens and Superheroes 7.89
Season 6 - Episode 19
From the beginning of recorded history, humans have told stories about beings with super-human strength, super-sonic speed, and supernatural abilities. The ancients had heroic tales about Zeus, Thor, and Hanuman while today we have superhero stories about Superman, Batman, and Spider-man. Mythologists say these epic stories resemble each other because they may have all come from a common set of oral legends created eons ago by our earliest ancestors. But might there be another, more otherworldly reason that the world's heroic myths are so similar? Is it possible, as many Ancient Astronaut Theorists contend, that these stories are actually based on extraordinary-- and possibly extraterrestrial--beings that lived on Earth in the distant past?
#18 - Aliens and the Secret Code 7.88
Season 3 - Episode 13
Megalithic monuments linked together by electromagnetic energy... Prehistoric ruins arranged across vast distances in straight lines... And advanced mathematics carved into landmarks more than 5000 years ago. Were ancient man's spectacular structures built by humans alone? Or do they bear evidence of being designed--and interconnected--by otherworldly visitors?
Directors: Kevin Burns
#19 - Aliens and Insects 7.87
Season 6 - Episode 10
Earth is home to 10 quintillion insects. In cultures throughout the world, insects have been honored, feared and even revered as gods. But might these strange creatures that have inhabited Earth for hundreds of millions of years provide a link to extraterrestrial beings? Is it possible the ancient Egyptians encountered alien beings that had an insect-like appearance? Are the scorpion-tailed locust described in the Book of Revelations some type of advanced weaponry wielded by an extraterrestrial being? Might the Ant People that appear in both Greek and Native American mythology really be grey aliens? Is it possible that there is a connection between insects and aliens? Are insects related to beings from beyond our world, as some Ancient Astronaut theorists suggest? And if so, might they have a secret purpose we have yet to discover?
#20 - The Reptilians 7.87
Season 6 - Episode 15
The Reptilian alien is a fixture of science-fiction, from H.P. Lovecraft's tales of Valusians to the Cardassians in Star Trek, to the Visitors of the television series V. But could ancient myths about reptilian creatures provide evidence that they are more than just a pop-culture creation? Legends of serpent beings can be found on every continent. The Bible, the Quran and the ancient texts known as the Nag Hammadi codices all describe reptilian entities interacting with humans. In Central and South America people worship the feathered serpent god called Kulkukan or Quetzalcoatl. In India, the Nagas are half-human half-reptile gods who live underground in a place called Patala. And in China and Japan, many emperors claim to be the descendants of dragons. Could these stories represent real Reptilian beings that people all over the world actually encountered in the ancient past?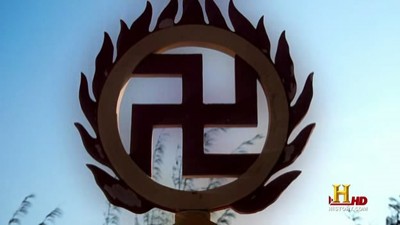 #21 - Aliens and the Third Reich 7.87
Season 2 - Episode 5
If ancient aliens visited Earth in the remote past, could they have given us advanced technology, past down through human history? And could this technology have helped the Third Reich build mysterious weapons and crafts far beyond the limits of 20th century science?
#22 - Magic of the Gods 7.86
Season 5 - Episode 11
Wondrous wizards... Mysterious sorcerers... And heavenly beings... possessed of unimaginable power. Throughout the ancient world, magic was used for everything from healing to communicating with the gods. But did magic really exist in the ancient times? Not as a form of theater - but as a means of replicating the power of the gods? Do ancient accounts of magic suggest evidence of advanced, otherworldly knowledge? A knowledge given to early humans as a means of helping them unlock their own - some might say "divine" - potential?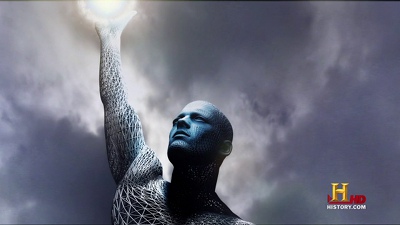 #23 - Gods & Aliens 7.85
Season 2 - Episode 2
Myths and legends have long been regarded as fantastic stories that describe powerful gods, mutant giants and fearsome monsters. But why do so many different cultures, separated by vast distances, tell the same stories? Is it possible that myths and legends were really eyewitness accounts of ancient astronauts descending to Earth?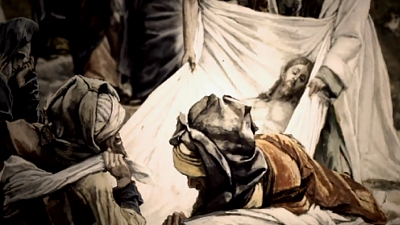 #24 - Alien Resurrections 7.85
Season 7 - Episode 6
Throughout history, incredible stories have been told of the dead rising from their graves, mummies journeying into the afterlife, and people on the brink of death mingling with deceased relatives in a celestial netherworld. Are they simply legends--or could some of these stories actually be true? From Jesus and Elijah to mummies and zombies, our culture is filled with accounts of beings who are able to lift the veil between life and death. And even today, scientists are trying to mimic this by suspending death in the operating room for hours at a time. Haitian ...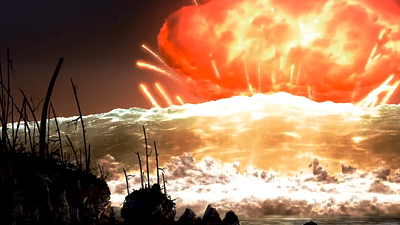 #25 - The Great Flood 7.84
Season 7 - Episode 8
It is a story told in more than twelve hundred cultures around the world–the gods sent a great flood to wipe out humanity for its disobedient and wicked ways. Do these numerous creation myths point to an actual deluge, one that engulfed the world and spared only a chosen few? New evidence suggests that many fabled aspects of these flood myths may, in fact, be true. From traces of a major meteor impact in the Indian Ocean, to a worldwide ash layer, and even remnants of Noah's grave site, scientists are starting to put the pieces of a very deadly puzzle together–a puzzle that some believe was created by extraterrestrial beings. Did humanity narrowly escape extinction? And are the ancient stories correct–that alien beings are the reason we survived? Ancient Astronaut Theorists believe they are–and that celestial beings are poised to save us again when another catastrophe sweeps across the Earth.