The Best Episodes Directed by Saori Tachibana
#1 - Bee Affection
Hearing about a party at Andrew's mansion that Diana is attending, Akko, Lotte and Sucy don magical Cinderella dresses and sneak into the party. Just as Andrew notices them and prepares to send them out, Sucy, ever in the mood for a little mischief, sets loose a LoveLove Bee that causes whoever it stings to fall in love with the first person they see. The bee stings Andrew and Diana, causing them both to fall in love with Akko and pursue her. While searching for the bee in order to stop the spell, Akko overhears a conversation between Andrew and his father, who wants him to quit the piano and chase all witches out of the country. After receiving encouragement from Akko to keep chasing his dreams, Andrew uses his piano playing to distract the other guests so that Akko can finally swat the bee, undoing its magic.
106 votes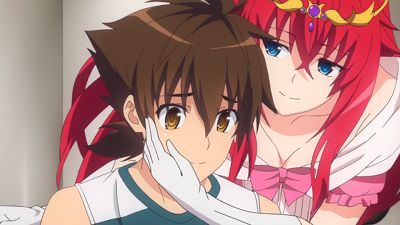 #2 - We Are Preparing for the School Festival!
The Chaos Brigade has quieted down since their stunt in Kyoto so Issei and the others must now focus on other issues. After all, there are hero shows to act in, a school festival to prepare for, and the ever-looming Rating Game with Sairaorg...
46 votes