The Three Stooges
#1 - Termites of 1938
Season 5 - Episode 1
A rich woman hires the Stooges (who are pest exterminators) to escort her to a fancy party.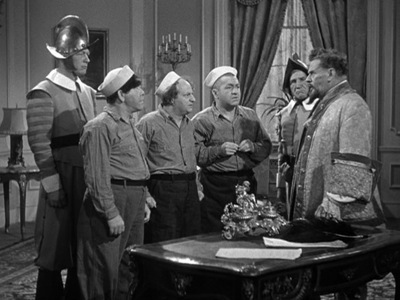 #2 - Three Little Pirates
Season 13 - Episode 9
The stooges are castaways from a garbage scow who land on Dead Man's Island where everyone is living in olden times. To escape from the governor, they disguise Curly as a Maharaja and win permission to journey to their own country to fetch presents. The governor is fooled, but the boys run into more trouble in the den of Black Louie the pirate where Curly is forced into a knife throwing contest with Larry as the target. Things look bad until a mis-thrown knife cuts the rope that holds the chandelier and it crashes down on Black Louie's men. With the pirates defeated, Moe decides to take over as ruler of the island.
#3 -
Season 4 - Episode 0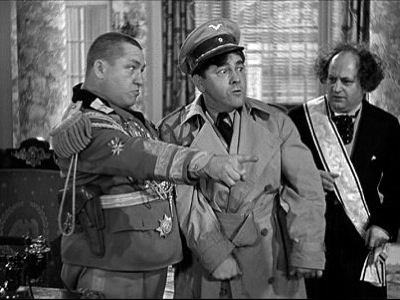 #4 - You Nazty Spy!
Season 7 - Episode 1
The King of Moronica is overthrown and the Three Stooges are chosen to take his place. When three politicians from a small country discover there is no money in peace, they decide to hire a paperhanger (Moe) as a puppet dictator. Classic Stooge short was the first Hollywood film to satirize the Nazis and Fascists from World War II (predated Charlie Chaplin's "The Great Dictator" by 9 months). Due to its historical significance, this was known as the favorite Stooge short of Larry, Moe and Jules White. Much of the short reflects the American Public's knowledge of affairs in Germany at that time. First Stooge appearance by Stooge supporting player John Tyrrell.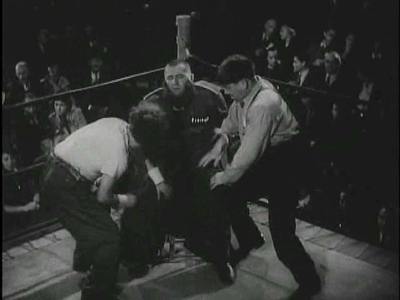 #5 - Grips, Grunts and Groans
Season 4 - Episode 1
Although circumstances force an over-matched Curly into a wrestling ring against a superior opponent, a spectator's perfume proves to be his secret weapon.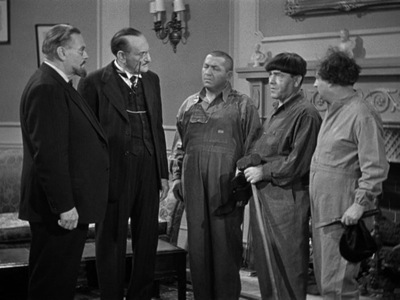 #6 - Half-Wits Holiday
Season 14 - Episode 1
A professor bets one of his colleagues that he can turn the stooges into gentlemen within 60 days. With the aid of his pretty daughter, the professor tries to teach the boys proper etiquette. After many frustrating attempts, he introduces the stooges into society at a fancy party. At first things go all right, but the party soon degenerates into a wild pie fight.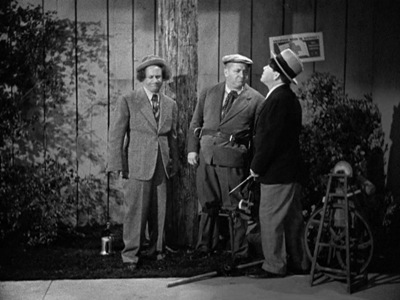 #7 - They Stooge to Conga
Season 10 - Episode 1
The stooges are repairmen who get a job fixing the doorbell in large house which is the secret headquarters of some Nazi spies. They manage to ruin most of the house while working on the wiring and then subdue the spies and sink an enemy submarine by remote control.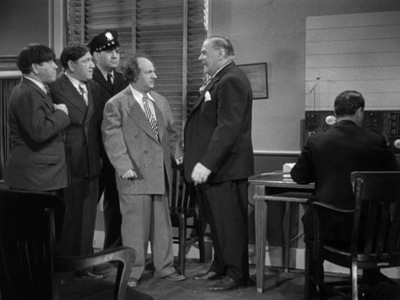 #8 - Shivering Sherlocks
Season 15 - Episode 1
The stooges witness an armed robbery and are brought in by the cops as suspects. After passing a lie detector test, the boys are freed but are now the only ones who can identify the crooks. Meanwhile, their friend Gladys has inherited a house in the country and the boys go with her to inspect it so she won't be gypped when its sold. The house turns out to be the crook's hideout, and when they abduct Gladys, the stooges must rescue her.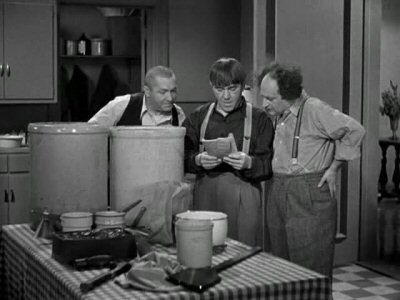 #9 - Beer Barrel Polecats
Season 13 - Episode 1
The stooges make a whole batch of homemade beer, but get tossed in jail when Curly sells some to a cop. Their minor indiscretion turns into a forty year sentence when a keg of beer Curly has hidden under his coat explodes while the boys are being photographed. In prison the stooges get into more trouble with the warden and wind on the rockpile when they try to escape. Released as old men with long gray beards, the first thing Curly wants is a bottle of beer.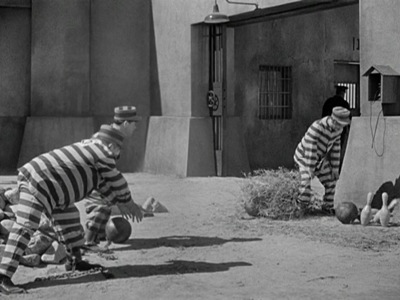 #10 - So Long Mr. Chumps
Season 8 - Episode 1
The stooges are street cleaners who find some valuable bonds and return them to their owner. The man is so grateful that he offers them a big reward if they can find an honest man with executive ability. Their search leads them to a woman who's fiancée is honest, but he's in jail. The boys decide to commit a crime so they can go behind bars to find him. In prison the boys locate the man and help him escape, only to find out that their benefactor is a con man and on the way himself to the slammer.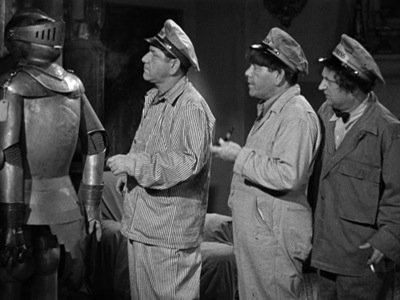 #11 - The Ghost Talks
Season 16 - Episode 1
The stooges are movers for an express company and on a rainy night are sent to move some junk, including a suit of armor, from a spooky old house. The armor is haunted by the ghost of Peeping Tom, who has no intention of leaving. The ghost foils the stooges attempts to take the armor, until Lady Godiva shows up and the two ride off together.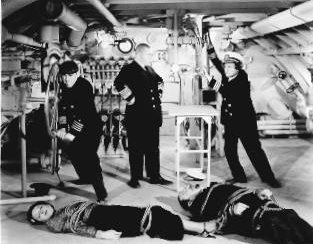 #12 - Three Little Sew and Sews
Season 6 - Episode 1
The stooges are sailors working in a ships' tailor shop. When they can't get passes to go ashore, they steal officers uniforms and go to a party with Curly passing himself off as Admiral Taylor and Moe and Larry as his aides. Two spies, one of them a beautiful woman, trick the stooges into stealing a new submarine. The boys turn the table on the spies and capture them. When the real Admiral shows up, Curly's reenacts the capture and accidentally detonates a bomb, blowing them all to kingdom come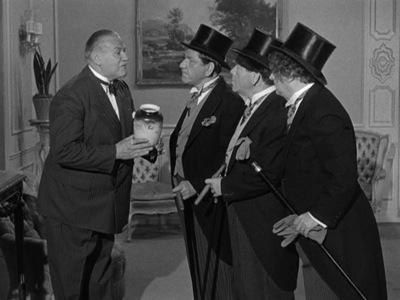 #13 - A Missed Fortune
Season 19 - Episode 1
Shemp wins $50,000 in a radio contest and the stooges move into the Hotel Costa Plente where they live it up and wreck their fancy suite. While they wait for the prize money to arrive, the boys are pursued by three gold-digging dames after their winnings. When the check arrives however, it's only for $4.85 after tax deductions.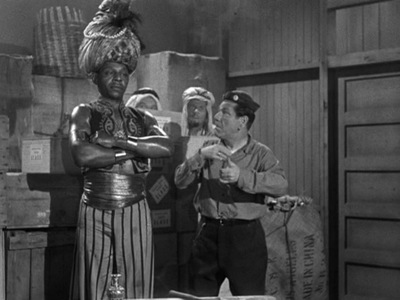 #14 - Three Arabian Nuts
Season 18 - Episode 1
The stooges are delivering some Arabian antiques, which include a magic lamp complete with genie. Three Arabian bad guys are after the magic lamp, but the stooges defeat them once they get the "genius", (as Shemp calls the genie) on their side.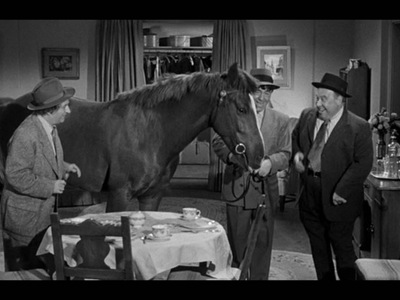 #15 - Hoofs and Goofs
Season 24 - Episode 1
Joe dreams that the stooge's sister Birdie has died and been reincarnated as a horse. The stooges take Birdie home but must conceal her from the snoopy landlord. They succeed, but more complications ensue when Birdie gives birth to a colt. Joe wakes up to suffer some abuse from the real Birdie (Moe in drag), when he tells her he dreamed she was a horse.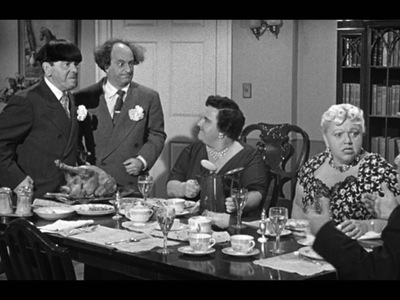 #16 - Husbands Beware
Season 23 - Episode 1
To inherit a fortune, voice teacher Shemp must marry before six o'clock, but no girl will accept his proposal. Finally one of his repulsive students agrees to marry him, just in the nick of time. When the rest of the prospective brides hear about the inheritance, they show up at the ceremony and a free for all ensues. Shemp marries his student before the deadline, and then finds out that there is no inheritance. Moe and Larry have tricked him into marriage as revenge for their marrying his shrewish sisters.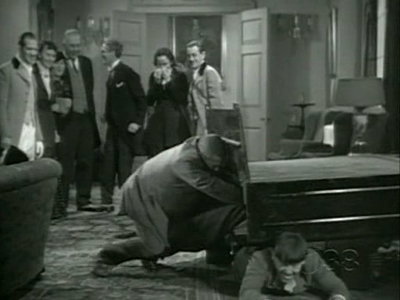 #17 - Ants in the Pantry
Season 3 - Episode 1
You can't run an exterminator business if there are no pests, but Larry, Moe and Curly can fix that. They infest a nearby mansion and turn up just in time to take care of business, using whatever means necessary to rid the home of its unwanted guests. Director Preston Black is actually famous Stooges producer and director Jules Whites older brother, Jack White. He changed his name to hide income from his divorced wife. Clark Kimball Young was a silent film star. (SLAP COUNT: 17) (EYE POKES: 2) (Moe, Larry, Curley)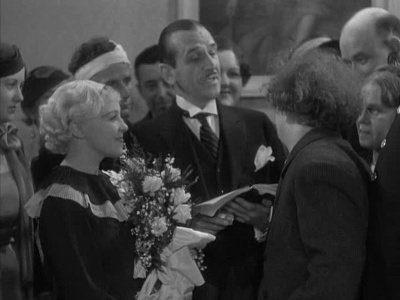 #18 - Woman Haters
Season 1 - Episode 1
The Stooges' first short was done entirely in rhyme. When Larry breaks his oath to the Woman Haters Club by marrying, he is treated like a traitor by his fellow member. But getting out of the marriage may be even more harmful than anything his friends could ever do to him! Long time Stooge supporting actor, Bud Jamison also makes his first appearance in a Stooge short. (SLAP COUNT: 60 - mostly Moe) (EYE POKES: 11) (CONKING HEADS: 1) (Moe, Larry, Curley)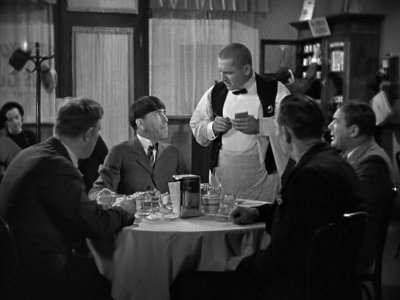 #19 - Punch Drunks
Season 1 - Episode 2
The only place violins and boxing could coincide is in the world of the Three Stooge! Larry's rendition of "Pop Goes The Weasel" transforms Curly from a harmless cream puff into a vicious contender, but when Larry's violin breaks, it threatens Curly's boxing career with a TKO. First film in which the Stooges were officially called "The Three Stooges." Only Stooge film actually written by the Stooges themselves. (SLAP COUNT: 30) (EYE POKES: 1) (Moe, Larry, Curley)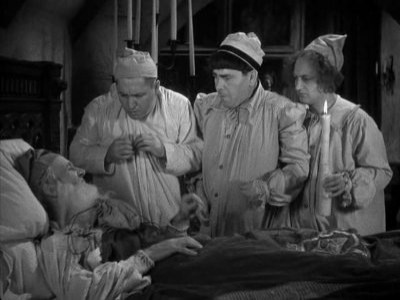 #20 - Restless Knights
Season 2 - Episode 2
Almost immediately after the Queen hires Larry, Moe and Curly to be her bodyguards she is abducted, which provides Prince Boris with the perfect opportunity to be rid of them once and for all. Facing execution, the Stooges fight for their lives, and wind up en garde for a regal victory. Also features Walter Brennan. First "triple slap" in a Columbia Stooge short. (SLAP COUNT: 20) (EYE POKES: 4 - another 1 blocked) (Moe, Larry, Curley)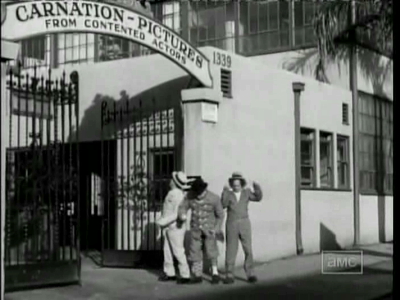 #21 - Movie Maniacs
Season 3 - Episode 2
Actors Moe, Larry and Curly are given the roles of a lifetime when they are mistaken for studio execs on a Hollywood lot. The power quicly goes to their heads, but their rise and fall from stardom happens faster than you can say, "that's a wrap!" Actress Milred Harris was Charlie Chaplans first wife. (SLAP COUNT: 7) (EYE POKES: 1) (Moe, Larry, Curley)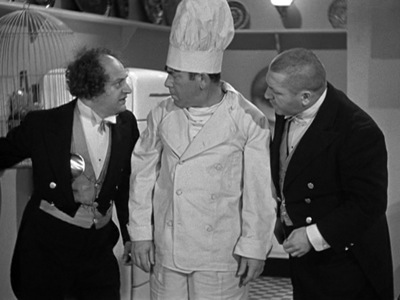 #22 - Crash Goes the Hash
Season 11 - Episode 1
The stooges are hired as reporters and their first assignment is to get a picture of a visiting prince who is planning to marry a local socialite. The boys disguise as servants and infiltrate a party being in thrown in the honor of the prince. The stooges ruin the party, but save the day as they expose the prince as crook who is planning to rob the house. Their boss is so grateful for the expose that he gives the boys a bonus and the rich lady decides to marry Curly!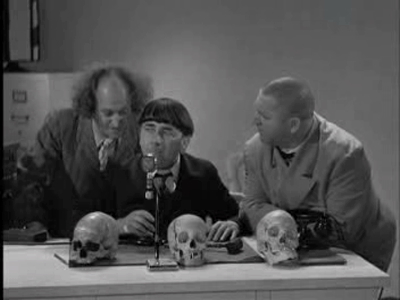 #23 - Dizzy Doctors
Season 4 - Episode 2
The Stooges are lazy-bum husbands, inept salesmen, and misfit fugitives in a hospital.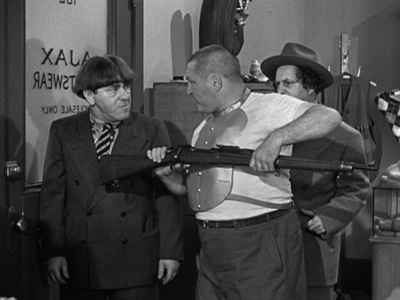 #24 - Three Pests in a Mess
Season 12 - Episode 1
Trying to patent a new fly-catching device, the Stooges calculate that they need to catch 100,000 flies to pay for it, but nearby crooks overhear their conversation. Unfortunately, they misunderstand the conversation, thinking that the Stoogies won $100,000, and chase the Stooges to get the winnings.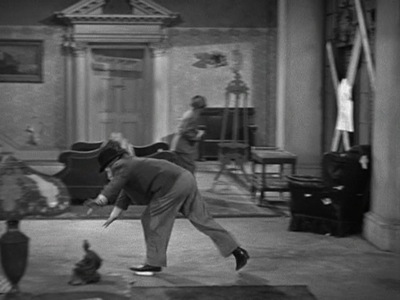 #25 - Loco Boy Makes Good
Season 9 - Episode 1
The stooges decide to get some easy money by having Curly slip on a bar of soap in a hotel lobby so they can sue the owner. Curly slips as planned but the hotel turns out to be run by an old lady who is about to lose her lease to the evil landlord. The stooges decide to help her fix up the place and start by beating up the landlord and stealing his watch. After their usual antics in renovating the place, the hotel is ready for the grand re-opening. The stooges put on a big show with a famous critic in attendance. Their corny act goes over poorly until Curly accidentally puts on a magicians coat and becomes a sensation and the place is a success.