The Qwaser of Stigmata
#1 - Friendship of Masks
Season 1 - Episode 2
While Tomo sleeps to resolve the delirium from her fever, Mafuyu compares notes with the sympathetic Ayana Minase who offers her assistance upon request before the bell prompts the girls on their way to class as the priest Yūri Noda prosecutes a soliloquy about the »Tsar's Crowning«. Waylaid with no practical recourse, Sasha explains Mafuyu about the »Tsar's Crowning« icon along with the fanatical zeal driving the Adepts' pursuit thereof. Mafuyu's opprobrium of all Qwasers being murderers strikes a nerve within Sasha whose languishing into unconsciousness after holding her at bay sets the stage for a glimpse of Sasha's prologue in refining his iron-based Qwaser powers and gives way to a dexterously prepared apology pot of borscht from Mafuyu. Teresa admonishing caution of Mafuyu prior to departing with Sasha is the only warning of an innocuous bathtime session of girl talk becoming the preamble for Ayana showing her true colors as the Magnesium Qwaser as she wields Tomo in an obverse abduction; the ultimate irony of the whole confrontation is that even with her powers energized by Tomo's soma, Sasha successfully turns the tables on Ayana using an iconoclastic strategy in spite of his rage.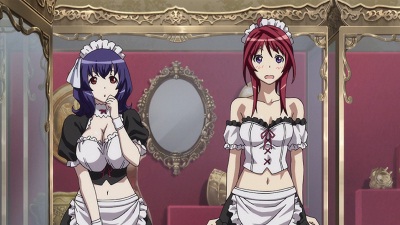 #2 - The Egg of the Imperial Princess
Season 1 - Episode 6
Anxious about the prospect of heretic Qwasers of greater potency and psychosis trying their fortunes for the »Tsar's Crowning«, Mafuyu decides to take the initiative and search for coveted icon herself ; after a fruitless search through Yuudai Yamanobe's inventory, she then decides to entreat Miyuri's permission to search for clues in the Tsujidou mansion. Miyuri sees an opportunity to restore social homeostasis as she charges labor of Mafuyu along with Tomo and Sasha as guides for her family art exhibit. Ekaterina's teasing amplifies Sasha's aversion to being forced to work as a maid and sets the stage for Ekaterina to explain that her desire to see the Tsujidou Fabergé Egg is why the exhibit is; unfortunately, that same volition drives a paramilitary platoon to raid the exhibit and take the two Qwasers hostage along with the three girls. While Ekaterina relives her prologue of being raped by humans, Miyuri offers herself as erotic entertainment; Hana standing by with Anastasia and Miyuri having galvanized the libido of the soldiers combine into the perfect deus ex machina for Ekaterina to slaughter the soldiers using Miyuri's soma. The ultimate silver lining in this is that the platoon colonel has a bitter prologue with the Sodium Qwaser not unlike Sasha's.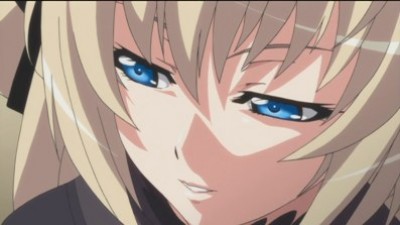 #3 - The Cage of Thorns
Season 2 - Episode 4
Determined to save Tsubasa at all costs, Miyuki heads to the virtual world to do battle.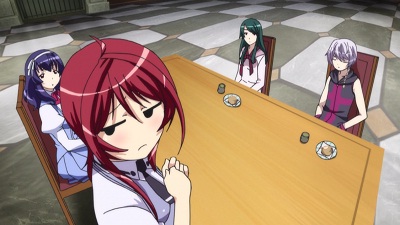 #4 - Atomis' Double Face (Part 2)
Season 1 - Episode 9
Even after having been taken captive, Teresa continues to stalemate Yuu who quickly finds that Teresa's antipathy toward him has soured her soma. Undaunted by this setback, Aoi proceeds with her mirage as a house-guest who charges Sasha a mortal volition for her brother that ignites a divergent concourse with Mafuyu who does not like that Sasha has forgotten whose residence it is when Hana hauling in the badly damaged Ekaterina prompts Aoi to explain her prologue with her twin brother Yuu but is unable to maintain the mirage when asked the relationship Mafuyu has with Sasha upon detecting the wound from Teresa's arrow attack. Teresa now emancipated, all that remains is to evacuate her -- a task easier said than done with the psychotic Aoi wielding oxygen as a weapon when the floor underneath gives way. A soma recharge from Mafuyu and some metallurgy later, Sasha fights Aoi to a stalemate while Ekaterina intercedes for Mafuyu after she restores Anastasia with Hana's soma; the ultimate irony of Sasha finishing off Aoi is that even though it did not change the situation for the better, Sasha begins to comprehend the rationale behind Mafuyu's plea for clemency when he realizes that Aoi and Yuu supporting each other has many parallels to his prologue with Olja.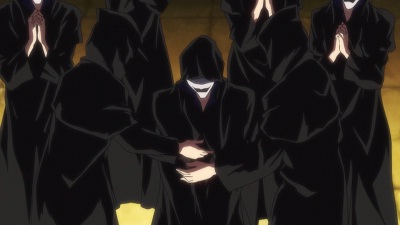 #5 - Atomis' Double Face (Part 1)
Season 1 - Episode 8
Furious that Shin'ichiro and Elizabeth have decided to search for the »Tsar's Crowning« on Athos's behalf, the Adepts turn their efforts to their recent find: the fraternal twins Yuu and Aoi Kuchiba. While successful in manufacturing Yuu into a psychotic oxygen-wielding Qwaser hostile to Athos, the Adepts find that wielding Aoi as Yuu's Maria Magdalen partner proves to be their undoing when Aoi slays and assimilates Yuu during an initiation rite; while the Adepts compute their next move, Mafuyu's shock of Shin'ichiro as her world history teacher gives way to the divergent concourse between Sasha and Elizabeth at the banquet that night to which Miyuri invites herself along with the student council president Fumika Mitarae. Miyuri and Fumika grappling with their issues obfuscates Hana being abducted as an open challenge to Ekaterina who soon finds that she is no match for Yuu on her own with Anastasia now a scattered pile of corroded copper. Hana's courage and Teresa's ranged cover fire ultimately proves itself Ekaterina's life-saving deus ex machina; unfortunately, Sasha has no idea that Aoi is leading him into the same kind of trap when he replies a love letter that he finds at school day inception.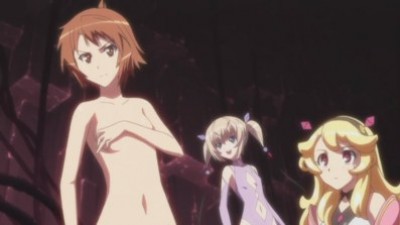 #6 - The Witch's Living Sacrifice
Season 2 - Episode 5
The silicate user harnesses the Magdalene of Thunder, will he be stopped?
#7 - A Night at the Iron Spring 2 ~Suck It and Be Surprised~
Season 2 - Episode 11
Big Ma'am trains the students to become stronger than the Adepts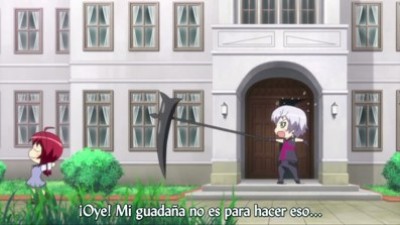 #8 - The Qwaser of Stigmata
Season 2 - Episode 10
Big Ma'am challenges Sasha to refrain from drinking Soma.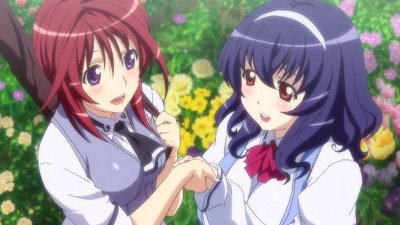 #9 - My First (?) Housekeeping
Season 1 - Episode 10
While bootstrapping herself to begin another school day, Mafuyu notices that it is more difficult for her brassiere to contain her mammaries; a brief appraisal later, Tomo decides to make a plaster cast of Mafuyu's mammaries to commemorate the milestone. Miyuri pulls Mafuyu and Sasha aside to relay a story about a man that accosted the soft-spoken student representative Mitarae in his search for Akari; while no real damage was done, Miyuri nonetheless wishes the molester captured or repulsed and it falls on Mafuyu to bring this about. Upon departing with Teresa and Sasha to prosecute a nocturnal patrol, Mafuyu charges Tomo vigilance over the house just as Elizabeth is heading out for a nocturnal practice session armed with an admonition for vigilance against hostile Qwasers; on this ironic note, Tomo's clumsy cooking attempt becomes the deus ex machina to lure out an inept Qwaser named Joshua Phrygianos who guides Tomo through the basics of cooking and wishes to turn the tables on the other Qwasers that have maltreated him. In spite of the nocturnal cat-and-mouse wild goose chase between Elizabeth and Sasha, Tomo and Joshua ultimately develop a novel insightful perspective on their respective lives.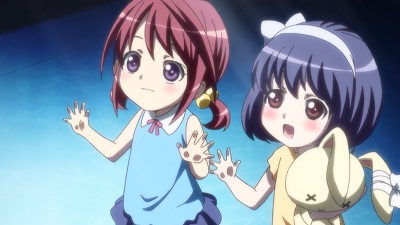 #10 - Bleached White Maria
Season 1 - Episode 7
While soaking in the tub, Mafuyu recounts the day at the aquarium where she and Tomo observed a manatee nursing its young when Tomo decides to lighten the ambiance with some horseplay. Guided by another childhood memory of Yuudai Yamanobe showing her his secret base, Mafuyu sets off with Miyuri the next morning to the Tsujidou mansion in order to locate the »Tsar's Crowning« -- the journey thereof no picnic not only because of Miyuri's aristocratic antics but also a trio of helium-wielding Qwasers that accosts the two girls. Mafuyu loses her footing near the escarpment and falls into the medical care of Shin'ichiro Ootori and his tomboyish protege Elizabeth; while Mafuyu gathers the ingredients to prepare a stew for dinner, Miyuri wandering to the middle of the battle is the ironic deus ex machina soma recharge that enables Elizabeth to quickly finish off the two remaining helium-wielding Qwasers' bid to chase their losses prior to feasting on Mafuyu's home-cooked stew. While Mafuyu reconciles her prologue with Yuudai's intercession for her as a child, her journey has ultimately been a wild goose chase while Shin'ichiro has already been there and is leading Elizabeth to St. Mihailov's Academy after igniting an effulgent »Keep away from my student!!!« inferno as a warning to Friederich Tanner against taking revenge on behalf of the Adepts.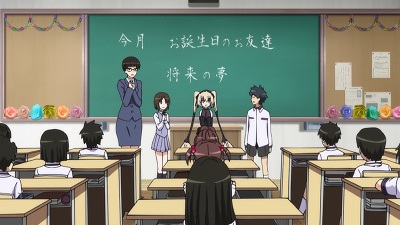 #11 - Figurehead Princess
Season 1 - Episode 20
Seeing that the circumstances are deteriorating around them, Sasha and Mafuyu desperately rifle through Shin'ichiro's research for clues to help secure the »Tsar's Crowning« along with Tomo's safe return oblivious to the fact that Friedrich seeks to wield Ekaterina in his long-range designs for the icon. Be it Tomo's absence or the experiences of being used as a diary cow, Miyuri has somehow detected a deviant diagnostic with Mafuyu who she encourages to attend Ekaterina's birthday party with Sasha who is shocked to learn that the infirmary nurse Urada Oikawa has extensive data about the war Athos is prosecuting with the Adepts at St. Mihailov's Academy along with a prologue of assisting Yuudai with his research on the »Tsar's Crowning« alongside Shin'ichiro before handing Sasha the key to Yuudai's research. While Sasha ultimately finds it no trouble at all to defeat Elizabeth in the crazed artificial beast incarnation, Friedrich still accomplishes his objective of delivering the distraught Ekaterina an urgent exhortation to catalyze the advent of the »Tsar's Crowning« icon; considering the destruction of Anastasia and Hana's friendship overtures being subsequently repulsed that evening along with her abrupt departure, it is not out of the question to say Ekaterina is giving it some thought.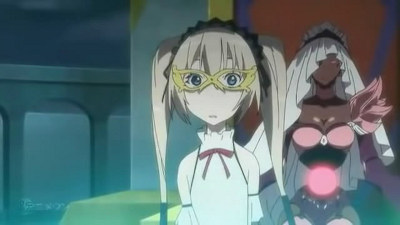 #12 - The Melancholy of Tsujidou Miyuri
Season 1 - Episode 14
If the fiasco at the Oppai Hot Springs was not strange enough, Miyuri seems to have gone on a magical-girl head trip of her own as the heroine LiLiKamen much to Sasha's shock when she successfully intercedes for him against a trio of molesters by shoving one away and blasting the other two with an energy beam; catalyzed by that intercession along with Tomo using her mammaries in a sort of puppet show, Sasha's amnesia starts to improve. After having it explained to them that a crucial and dangerous element circuit has come up missing, Hana and Ekaterina approach LiLiKamen to take her under their wing for some very stringent training that enables her to successfully land an airliner; unfortunately, LiLiKamen leading Sasha through destroying a platoon of robots does nothing to extinguish the necessity of doing battle against her former classmate and teacher only to find that this is ultimately an exercise of Ekaterina's design to exhaust the powers of the element circuit -- a process catalyzed by the Neodymium Qwaser Taisuku Fujiomi.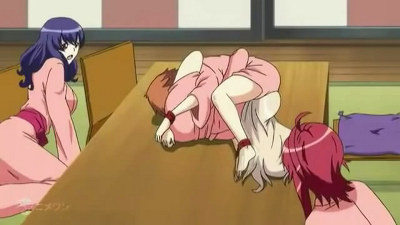 #13 - A Night at the Iron Spring
Season 1 - Episode 13
Sasha's abrupt promotion to mid-level element control catalyzed by his anxiety for Mafuyu's safety may have been necessary to conquer the Hygrargyum (Mercury) Qwaser Eva Silver; still, such an exhibition does have a hefty price to be paid. Thanks to prompt medical intercession, Sasha only ends up foregoing his iron will and his entire prologue after becoming the Iron Qwaser to end up around the psychological development level of a self-conscious and impressionable kindergarten boy. While Miyuri fumes at not being invited along before deciding to crash the party with Elizabeth, Mafuyu reminds everyone of the task at hand -- a task Athos thinks is best done at the iron-laden Oppai Hot Springs. Hana's attempted intercession on Ekaterina's behalf, Sasha accidentally making Fumika feel bad about her chest, Tomo getting inebriated merely from smelling sake, the iconoclastic cuisine . . . none of this is any preparation for the arrival of the Athos tactician Nikuma who easily humiliates Ekaterina before leading Sasha through an a-la-carte exercise of sucking soma from Teresa along with Mafuyu, Tomo, Hana, and Fumika that ultimately backfires horribly in the form of an earthquake that spouts geysers that flood the entire hotel.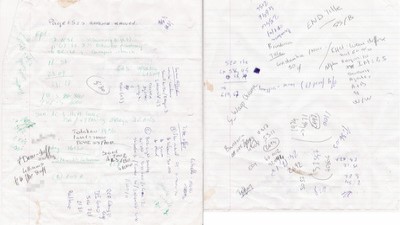 #14 - The Flame's Gospel
Season 1 - Episode 17
Things continue to deteriorate as the Holy Aurum (Gold) Qwaser finds that she is her own Maria Magdalen while taking Mafuyu captive and deriding Shin'ichiro's subterfuge against her. The expository concourse Friederich Tanner and Shin'ichiro prosecute about the true purpose of the heretic Qwasers Sasha has killed under Athos's orders sets the stage for Sasha to demonstrate great moral strength when he spares Teresa and Elizabeth prior to chasing after Shin'ichiro only to find himself knocked around like a rag doll as Shin'ichiro either dodges or otherwise perverts to his detriment each of his attempted attacks; it is only by channeling his protective desire for both Tomo and Mafuyu into forming the Fresh Blood Sword around Mafuyu's wooden sword that Sasha successfully turns the tables against Shin'ichiro using his full powers. Elizabeth is extremely anguished that Shin'ichiro is in a bad way but respects his dying wish for her to fight alongside Sasha as debris from the roof falls upon him; unfortunately for the hysterical Elizabeth, the Holy Aurum (Gold) Qwaser is still intent upon the »Tsar's Crowning« as she energizes the Imperial Egg to begin assimilating it. Although she is after the Egg for her own reasons, Ekaterina's ranged energy attacks ultimately become the ironic deus ex machina to foil the Holy Aurum (Gold) Qwaser's plans along with emancipating both Mafuyu and Tomo; unfortunately, Friederich is not hostile to taking Tomo as a consolation prize.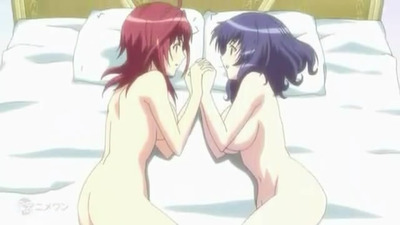 #15 - The Secret Garden
Season 1 - Episode 19
While Jita Phrygianos appraises Tomo prior to a procedure intended to enhance Tomo into becoming a High Maria, Sasha has figured out how to pervert the mechanics of Taisuku's powers to his advantage before racing to Mafuyu's rescue uninterested in Taisuku's prologue as a Vajrapanis; a strategic retreat on Mutsumi's part gives way to Mafuyu and Sasha wondering about the »Sword of Maria« element circuit as they compute their next move. While Ekaterina plays the consummate actress to defuse a teacher's challenge for loitering, Joshua is shocked to find that there is no honor among his teammates when it comes to Tomo's soma; whatever the Adepts' volition for her, it becomes apparent that Tomo is more valuable in one piece -- much to Mafuyu's relief when Tomo sends a »Keep the faith and the home fires burning« video after her day with Astarte who is already a High Maria. Still, even with Tomo having the run of the Adepts' hideout complete with the security detail, the Holy Aurum Qwaser ultimately sees no reason to abandon her plans and Georg Tanner clearly has plans for Mafuyu through that elemental circuit.
#16 - Aquatic Sanctuary
Season 1 - Episode 21
The circumstances continue to deteriorate as the Adepts join forces with the Ancient Regime in a sort of tenuous unholy alliance as the Holy Aurum Qwaser declares the time is ripe to advance toward the »Tsar's Crowning«; almost if they had sensed this, Sasha and Mafuyu desperately search around for the Aquatic Sanctuary where the Icon is held only to find that there is a specific set of circumstances under which it can be found. The Hydrogen Qwaser Milk drawing a lot of attention due to her gas mask as she leads Jita Phrygianos through buying a cake in a store becomes the backdrop for Mutsumi and Tasuku to pick a fight with the two Qwasers while Friedrich abducts Mafuyu in order to avail the Sword of Maria elemental circuit within her body. Even with Hana's syllabus of Ekaterina being abruptly missing in action, Sasha is shocked to find the irony that Ekaterina is ultimately the most dangerous adversary on the scene as she threatens Mafuyu's life prior to the advent of the Aquatic Sanctuary; as if to rub salt in the wound, Ekaterina arrogantly decides to refuel herself with Mafuyu's soma caring nothing that the most power she will have in the Holy Roman Empire version 2.0 is as Friedrich's second-in-command.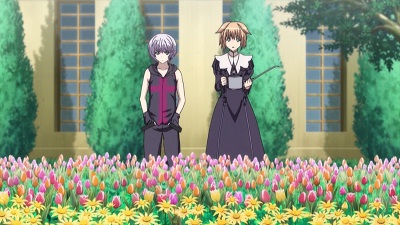 #17 - You, Live Not Your Youth!
Season 1 - Episode 24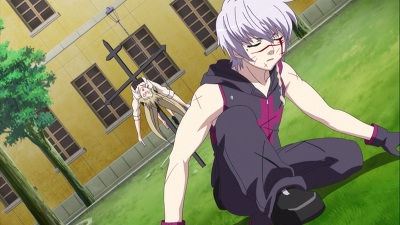 #18 - Blood Sword
Season 1 - Episode 12
Undaunted by Sasha's successful conquest of her proactive proximity precautions, Eva Silver bristles at Sasha's challenge; a soma recharge from Fumika and a »Stop right there, sister!!!« interception from Teresa later, Sasha uses his temperature control capabilities to make quick work of Eva Silver along with the prologue of persecution directed at Mafuyu and Tomo. While Father Yuri deals with the aftermath, Ekaterina explains Sasha Eva Q and Eva R's hasty retreat to the aid of Eva Silver. The next morning, Sasha is taken aback at Miyuri finally seeing the light as she acknowledges her culpable fallibility while Hana's persecution of Sasha becomes the ironic admonition against complacency that sets the stage for Mafuyu's abduction. Sasha and Teresa are shocked to find that Eva Silver was able to repair herself just enough to escape death; now with Mafuyu as a hostage and Eva Silver having upgraded element control along with the vengeance to use it, the battle begins anew. The deus ex machina that ultimately conquers Eva Silver is Sasha successfully forming the iron in his blood into a sword catalyzed in no small part by Ekaterina's timely intercession and Mafuyu's soma along with Shin'ichiro incinerating Eva S.