The Nightly Show with Larry Wilmore
#1 - Allegations Against Bill Cosby 7.26
Season 1 - Episode 2
Larry takes an unflinching look at the sexual assault allegations against Bill Cosby with panelists Jamilah Lemieux, Kathleen Madigan, Baratunde Thurston and Keith Robinson.
#2 - Salman Rushdie
Season 2 - Episode 134
A restaurant displays a "Black Olives Matter" sign, and Larry discusses Ted Cruz's apparent refusal to endorse Donald Trump with Salman Rushdie, Jordan Carlos and Grace Parra.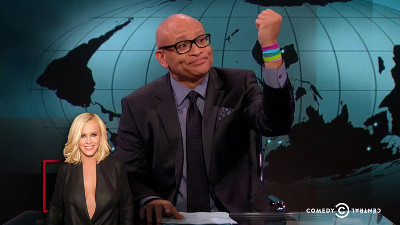 #3 - Vaccines
Season 1 - Episode 6
Larry talks about the Disneyland measles epidemic and the fight against vaccines with panelists Holly Phillips, Judy Gold, Zoey O'Toole and Mike Yard.
#4 - Ice Cream Sit-Down with Nancy Pelosi 7.32
Season 2 - Episode 9
Nancy Pelosi joins Larry for an enlightening ice cream social, and Mike Yard, James Davis and Jeezy debate Barack Obama's legacy as America's first black president.
#5 - Rupert Murdoch Backs Ben Carson 7.24
Season 2 - Episode 8
Roni Dean-Burren describes her fight against racist textbooks, and Jordan Carlos, Bobcat Goldthwait and Shannon DeVido discuss Rupert Murdoch's endorsement of Ben Carson.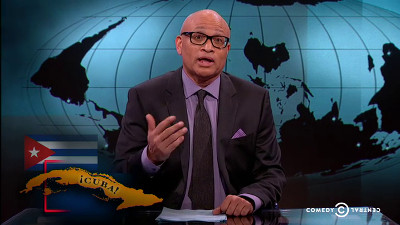 #6 - U.S.-Cuba Relations 7.00
Season 1 - Episode 4
Larry discusses the changing state of U.S.-Cuba relations with panelists John Leguizamo, Soledad O'Brien, Mauricio Claver-Carone and Mike Yard.
#7 - Racist Pirate Toy & Outsider Candidates 7.00
Season 2 - Episode 10
A toy pirate ship comes with a slave figurine, and Larry chats about the popularity of Donald Trump and Bernie Sanders with Jesse Ventura, Seaton Smith and Kathleen Madigan.
#8 - Cops vs Cameras & Assertive Women
Season 2 - Episode 12
Police officers gripe about being filmed by the public, and Larry discusses Jennifer Lawrence's essay on the gender pay gap with Grace Parra, Raul De Molina and Holly Walker.
#9 - Operation GroupMe & Raury Performs "Fly" 7.43
Season 2 - Episode 13
Donald Trump spars with Jeb Bush over 9/11, Larry discusses Operation GroupMe with Raury, Mike Yard and Natasha Rothwell, and Raury performs a song from "All We Need."
#10 - Democratic Presidential Debate
Season 2 - Episode 11
Larry examines the highs and lows of the first 2016 Democratic presidential debate with Steve Kornacki, Rory Albanese and Gabrielle Union.
#11 - Russia in Syria & Trump University Scandal 7.39
Season 2 - Episode 4
Donald Trump faces fraud allegations from students of Trump University, and Larry discusses Russia's bombing campaign in Syria with Eddie Huang, Lisa Ling and Jordan Carlos.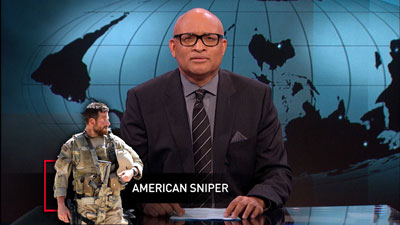 #12 - "American Sniper" 7.39
Season 1 - Episode 5
Larry takes a look at the controversy swirling around the movie "American Sniper" with panelists Matt Taibbi, Paul Rieckhoff, Sabrina Jalees and Nick Irving.
#13 - State of the Black Protest 7.03
Season 1 - Episode 1
Larry discusses the backlash over the Oscar nominations' lack of diversity and the success of recent protests with Cory Booker, Talib Kweli, Bill Burr, and Shenaz Treasury.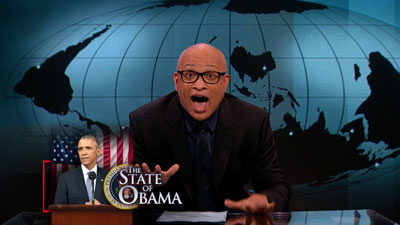 #14 - Obama's State of the Union 6.91
Season 1 - Episode 3
Larry discusses the 2015 State of the Union address as well as the image and legacy of President Obama with panelists Jon Lovett, David Remnick, Amy Holmes, and Godfrey.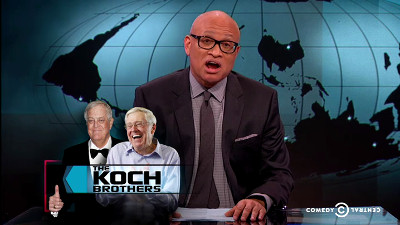 #15 - Money in Politics
Season 1 - Episode 7
Larry discusses the Koch brothers and the flood of private money in political campaigns with panelists Zephyr Teachout, David Webb, Hari Kondabolu and Ted Alexandro.
#16 - Ben Carson's Gun Policy & The Right to Die 7.59
Season 2 - Episode 7
California enacts a landmark death-with-dignity law, and Jay Leno, Bobby Gaylor and Michelle Collins discuss Ben Carson's surprising reaction to a mass shooting.
#17 - Mass Shooting in Oregon
Season 2 - Episode 5
Larry revisits his interview with presidential hopeful Bernie Sanders, and Rory Albanese, Mike Yard and Ashleigh Banfield weigh in on a mass shooting at an Oregon college.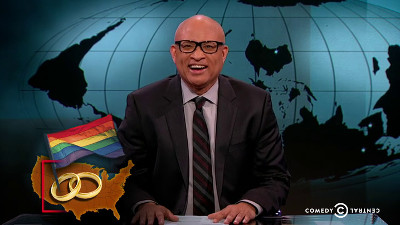 #18 - The State of Gay Marriage
Season 1 - Episode 10
Panelists Lance Bass, Sally Kohn, Jessica Kirson and Michel Faulkner join Larry to talk about America's growing acceptance of same-sex marriage.
#19 - CIA Email Hack & Joe Biden's 2016 Plans
Season 2 - Episode 15
The CIA chief falls prey to hackers, and Larry discusses Joe Biden's announcement that he won't be running for president with Holly Walker, Ryan Duffy and Terry Crews.
#20 - Ferguson Fires & Paul Ryan's Demands 7.58
Season 2 - Episode 16
A rash of fires plague black churches in Ferguson, Mo., and Larry discusses Rep. Paul Ryan's family leave demands with Lucy Lawless, Bonnie McFarlane and Judah Friedlander.
#21 - Soul Food With Rand Paul & Inmate Release 7.79
Season 2 - Episode 17
GOP presidential hopeful Rand Paul chats about Donald Trump over soul food, and Bob Saget, Ana Kasparian and Mike Yard discuss cringe-worthy Halloween costumes.
#22 - Toddlers with Guns & Wealth Therapy
Season 2 - Episode 14
American toddlers shoot people on a weekly basis, and Larry discusses wealth therapy for the beleaguered rich with Jeff Daniels, Rachel Feinstein and Joe Budden.
#23 - GOP Debate Gripes & Ben Carson's Rise
Season 2 - Episode 18
Republicans try to seize control of the presidential debates, and Larry discusses Ben Carson's unlikely political success with Ron Perlman, Crystal Wright and Jordan Carlos.
#24 - No Legal Weed in Ohio & Science vs Faith
Season 2 - Episode 19
Ohio citizens vote against legalizing marijuana, and Larry discusses the clash between religion and science with Neil deGrasse Tyson, Tom Papa and Carl Lentz.
#25 - Ben Carson's Rap Song & Celeb Activism
Season 2 - Episode 20
GOP presidential candidate Ben Carson releases a cringeworthy rap song, and Larry examines celebrity activism with Lola Ogunnaike, Niecy Nash and Bobby Gaylor.