Saber Rider and the Star Sheriffs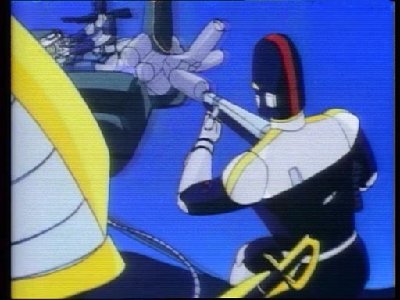 #1 - Little Hombre
Season 1 - Episode 5
The Star Sheriffs are enjoying their vacation to a ski resort. There, unbeknown to them, they are being stalked by Jean-Claude, an Outrider who holds a grudge against Colt. Jean-Claude kidnaps April and their friend, Suzie, and it's up to the Star Sheriffs to rescue them and stop Jean-Claude.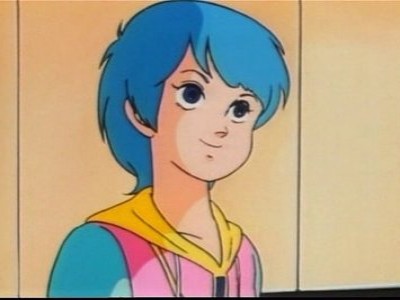 #2 - Snowcone
Season 1 - Episode 32
On Planet Laramie, the Star Sheriffs meet a young girl named Snowcone who sees this as a great chance to live an adventure. She first helps the Star Sheriffs, but then betrays them, and so on, until they find themselves trapped by Jesse Blue and his Outriders.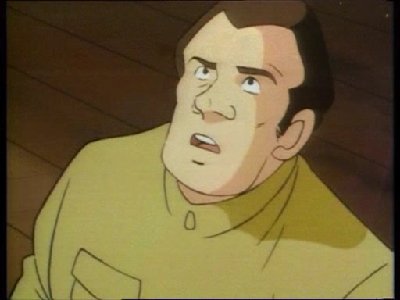 #3 - Brawlin' Is My Callin' 7.87
Season 1 - Episode 8
The Star Sheriffs go undercover as bounty hunters for hire to infiltrate Maddox's illegal operations base, and defeat him and his Outrider allies.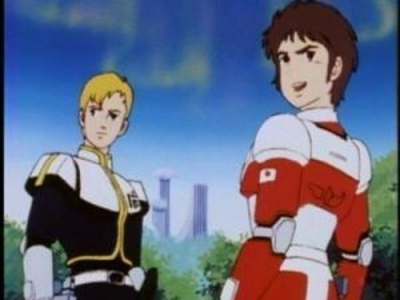 #4 - I Forgot!
Season 2 - Episode 2
Nemesis orders two of his best Outrider agents to join Fogarty, a human expert in explosives, to plant a bomb at the setting of the upcoming peace summit conference. The Outriders betray Fogarty, and try to kill him, but he is saved by the Star Sheriffs. Fogarty wakes up in the hospital, with total amnesia, and unable to help the Star Sheriffs find or stop the bomb.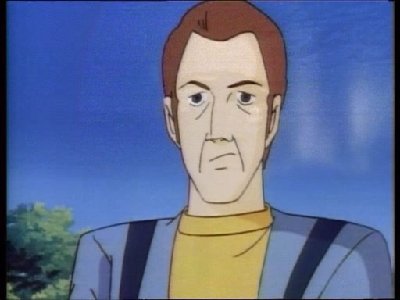 #5 - The Greatest Show On The New Frontier
Season 1 - Episode 6
Fireball is participating in the All Galaxy Grand Prix, where his main competition is believed to be the famous racer Marco Firenza, who is supposed to retire after this race. But another racing team, the Black Hornets, are revealed to be Outriders, who only want to attack the Cavalry Command Nerve Center located in Dome City.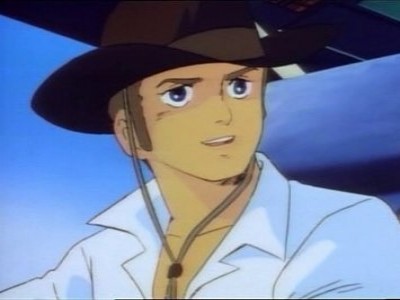 #6 - Iguana Get to Know You
Season 1 - Episode 4
When the Star Sheriffs arrive to investigate a destroyed Cavalry Command base, they are attacked by Outriders. One of the Star Sheriffs must go on a maverick mission to defeat them. Using a trick coin, Colt wins the toss against Saber Rider and flies off to battle the enemy, who trap him in a canyon. But, help comes from an unlikely source: a little iguana that Colt has befriended. With the iguana's help, Colt escapes and joins the other Star Sheriffs in defeating the Outriders.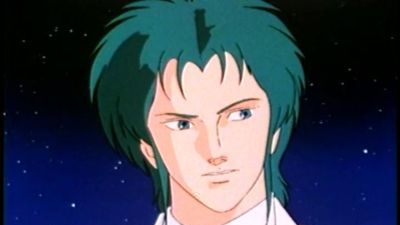 #7 - Little Pardner
Season 1 - Episode 7
Jesse Blue teams up with a gang of local desperadoes and plot an attack on Cavalry Command to get his revenge on the Star Sheriffs. He places a bomb aboard the Ramrod unit, not knowing April was the one who was piloting it. When he finds out, he tries everything he can to save his love.
#8 - Star Sheriff Round Up 7.33
Season 1 - Episode 1
Saber Rider recalls how he, April, Colt and Fireball met and became the dynamic frontier fighting team: Saber Rider and the Star Sheriffs. Saber Rider arrives on Planet Yuma for his assignment to the special project, Ramrod, which is being led by April. He discovers that the Outrider, Vanquo, is plotting to undermine Ramrod, and, with the help of Fireball and Colt, who are on Yuma pursuing their own interests, Saber Rider defeats the Outriders and their gigantic battle machine, Renegade. With April's encouragement, the group decides to stay together to help tame the new frontier.
#9 - The Castle of the Mountain Haze
Season 1 - Episode 10
Colt meets a young school teacher named Robin, who just hates violence. But she soon learns she has no other choice when Outriders attack her little hometown of Tranquility.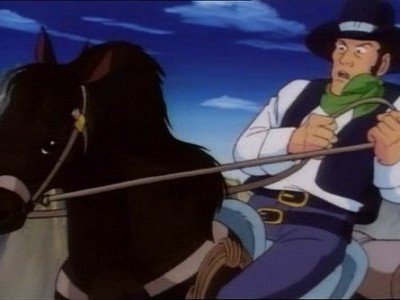 #10 - What Did You Do on Your Summer Vacation?
Season 1 - Episode 14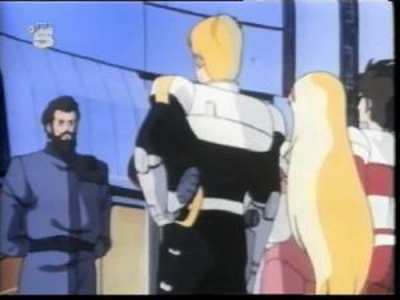 #11 - Happy Trails (9)
Season 2 - Episode 12
Nemesis, as the Nth Degree, causes the Outrider Planet to swerve out of orbit, putting it on a collision course with Planet Yuma. The Star Sheriffs have to stop it, without the help of Colt who is still in the hospital.
#12 - Rettung Wider Willen
Season 2 - Episode 16
One of the lost episodes, this was released along with four other episodes on the German Special Edition DVD.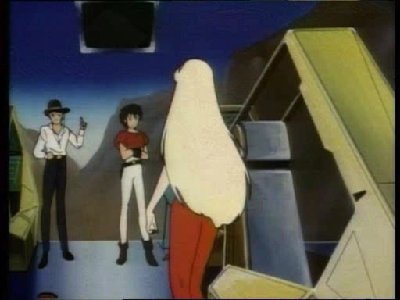 #13 - Showdown at Cimarron Pass
Season 1 - Episode 16
Gattler is given one last chance to trap the Star Sheriffs by Nemesis. He plans an attack at Cimarron Pass.
#14 - Taeuschungen
Season 2 - Episode 13
One of the lost episodes, this was released along with four other episodes on the German Special Edition DVD.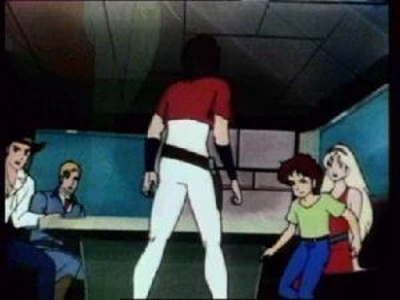 #15 - Lend Me Your Ears
Season 2 - Episode 3
The Outriders have developed a new technology, which they use to take over the Rainbow Planet by secretly planting devices in the ears of its citizens and controlling them.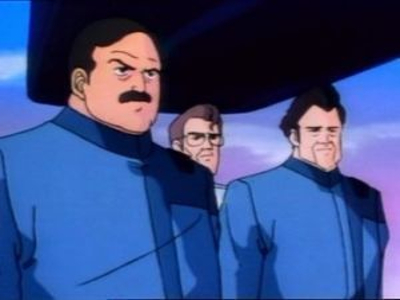 #16 - Eagle Has Landed (4)
Season 2 - Episode 7
Now rescued, Commander Eagle tries to keep the promise he made to the old monk that helped him, and wants to make peace with the Outriders. Nemesis sends Jesse Blue as an ambassador to Planet Yuma to discuss the conditions on which a peace treaty will be signed.
#17 - The Monarch Supreme (3)
Season 1 - Episode 24
King Jared unleashes his ultimate weapon, the Monarch Supreme, in his fight with the Outriders. The Star Sheriffs arrive in time to help him in the fight. Also, Fireball learns more about his father.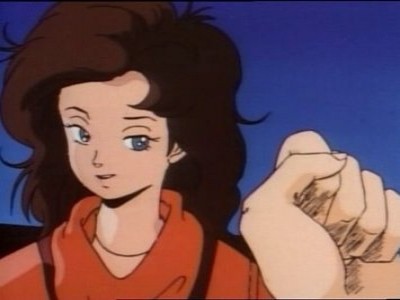 #18 - The All Galaxy Grand Prix
Season 1 - Episode 28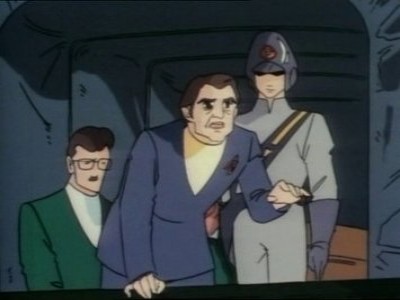 #19 - The Hole in the Wall Gang 7.67
Season 1 - Episode 27
Because of Outrider attacks, Commander Eagle orders the evacuation of the Yuma Dam. Everybody follows the orders, except for the chief engineer, who happens to be one of Fireball's former schoolmates.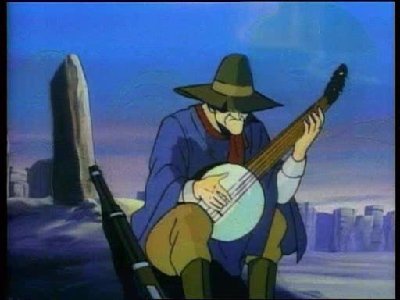 #20 - Wild Horses Couldn't Drag Me Away
Season 1 - Episode 9
The Star Sheriffs encounter a shaman called Castor who, with the help of his magic banjo, helps them stop a herd of wild cybernetic horses who keep stampeding towns on the New Frontier.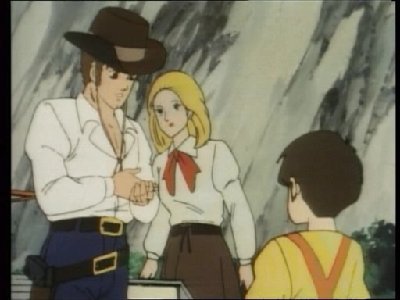 #21 - Tranquility
Season 1 - Episode 30
Outriders start placing fake gold in the mines of Gila Bend, in order to create riots and start chaos in the once tranquil town. The Star Sheriffs have to stop them.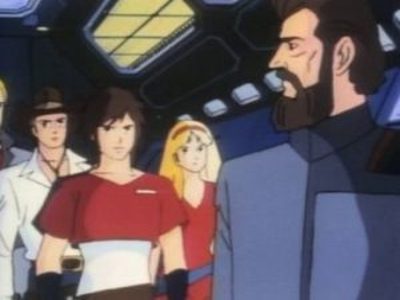 #22 - Alamo Moon (6)
Season 2 - Episode 9
Now that the Ramrod unit has been destroyed, the Outriders break their part of the peace treaty and use their latest weapon, the Cobalt Blue Blaster to blast Planet Alamo's moon. The Star Sheriffs retaliate with their latest weapon, Ramrod II.
#23 - Kapt'n Holiday
Season 2 - Episode 14
One of the lost episodes, this was released along with four other episodes on the German Special Edition DVD.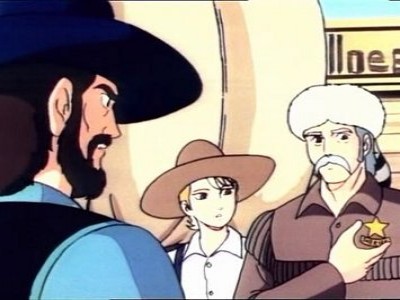 #24 - All That Glitters
Season 1 - Episode 18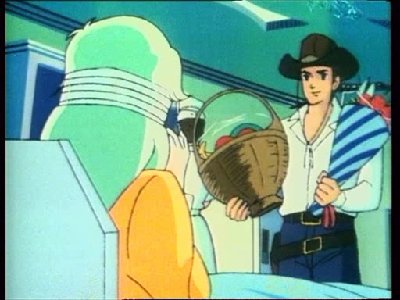 #25 - Sneaky Spies
Season 1 - Episode 33
Gerald Wyeth, who works as Control Tower Director on Planet Abileen, has been kidnapped by Outriders and a spy has been put in his place. The Star Sheriffs try to trick the spy into revealing the place the real Wyeth is being held.