Pingu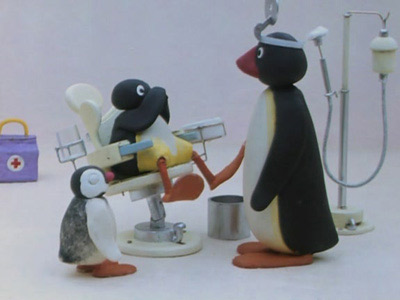 #1 - Pingu at the Doctor's
Season 2 - Episode 1
Mother goes out and leaves Pingu and Pinga at home. They decide to play dentist, but Pinga does not want to play when Pingu threatens to use a hammer and chisel on her. Pingu chases her, and during the chase a table gets knocked over by Pinga and Pingu bangs his beak on it. His beak is broken and bleeding. Pinga is sympathetic and bandages it up and takes Pingu to the doctor. Pingu is terrified when he sees the tool the doctor is going to use and runs off. Pinga and the doctor chase him round the outside of the igloo, but Pingu comes back inside and locks the doctor and Pinga out. Inside, all the other patients laugh at the whole fiasco. Pingu then rings Mother, who comes to the doctor and comforts him while his beak is being treated. While Pingu ends up with a brace on his beak, Pinga wants a lollipop, the doctor gives her one. Asking for the other one too, she kindly cleans the lollipop for Pingu and gives it to him. Mother then takes them both home.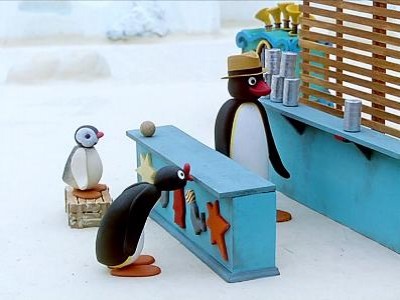 #2 - Pingu Loses the Bet
Season 4 - Episode 25
Pingu is going out on his sledge, but before he gets very far Mother calls to him to stop, and asks him to take Pinga with him. He's not happy about this but does so reluctantly. They stop at a fairground stall, where the main prize for throwing balls at six cans, and knocking all the cans down, is a large teddy bear. With his three balls, Pingu knocks all the tins down, and wins the bear. Pinga wants to have it, but Pingu won't give it to her. The stallholder sees what's happening and wonders what to do. He has an idea, and suggests that Pingu and Pinga compete for the bear by throwing at the tins against one another. Pingu and Pinga agree, but what Pingu doesn't know is that the stallholder has used a magnet to hold Pingu's cans onto the shelf! Pinga completely misses the cans with her first throw, and hits a nearby snowman. With his first throw, Pingu knocks down four tins. Pinga gets closer, but still misses, with her next throw. Pingu gets one more tin on his second throw. Pinga gets one tin on her third throw, and Pingu is gleeful. He takes his last throw and hits the remaining tin full on, but is amazed when it doesn't fall down. He's even more amazed when Pinga has another throw – the stallholder has sneaked her an extra ball when Pingu wasn't watching! She hits the tins. Only one falls initially, but the rest soon topple with a bit of help from the stallholder. Pingu has lost, and regretfully gives Pinga the bear, which she cuddles. Pingu and Pinga then go home, and wave goodbye to the stallholder as they leave.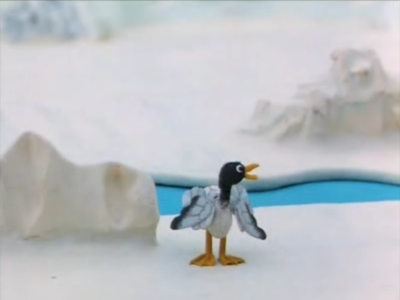 #3 - Pingu and the Seagull 8.63
Season 2 - Episode 3
It is a nice day and Pingu is out riding his brand new blue scooter. Circling overhead is a Seagull. It squawks, and Pingu hoots back and waves to it. The Seagull then poos on the scooter, rather annoying Pingu. Pingu goes indoors, cleans up the scooter and puts a cover over it. He then goes outside again. The Seagull is now sitting on top of the igloo, and squawks when it sees Pingu. Pingu makes a snowball and throws it at the Seagull. The snowball narrowly misses as the Seagull takes off. The Seagull retaliates by pooing on Pingu's right foot. Pingu cleans himself off, and then spots that the Seagull has landed on the ice nearby. He tries to grab it, but it takes off and flies out of reach. The Seagull lands again, and Pingu has another attempt at grabbing it, but this try also fails. The Seagull lands for a third time, but this time Pingu sneaks up on it from behind and succeeds in getting hold of its legs. The Seagull tries to fly away, and eventually Pingu has to let go. The Seagull circles around, and poos on Pingu again, this time on his right shoulder. The Seagull then lands to have a drink from a nearby ice hole and is grabbed on the beak by a lobster, which won't let go. After initially being amused, Pingu takes pity on the Seagull and tugs the lobster off. The lobster turns on Pingu and follows him into the igloo. Pingu eventually chases the lobster away and back into the pool by banging some pan lids. He pets the Seagull, and just when he thinks he's made friends with it, it flies away and poos on him yet again, right on the top of his head. He goes inside and tells Mother all about it, and she washes his head clean.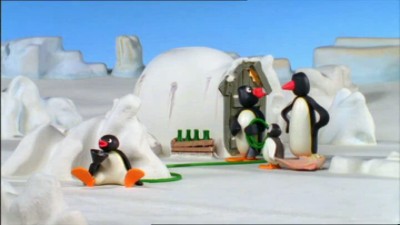 #4 - Pingu and the Hose 6.20
Season 6 - Episode 2
Pingu comes out of the igloo to play, sees a hose lying on the ground and then hears voices coming out of the end of it. He follows the hose to its other end and finds Father and Grandfather in the shed doing some bottling. They are talking, and it's their voices that Pingu heard coming through the hose. He shows them what is happening, and they're surprised. He then takes the hose, and plays a trick on Pinga by making her believe that the snowman is speaking to her, and a similar trick on Robby by making him believe that a fish is speaking to him. Then he puts the end of the hose into the shed and attempts to fool Father and Grandfather as well. Their initial surprise soon turns to suspicion, and they find the hose and track it back to the source. Pingu is oblivious to this, and continues making noises into the hose. Father and Grandfather have an idea and place the end of another hose just behind Pingu and they, together with Pinga and Robby, shout into it, startling Pingu. After Pingu has calmed down they all have a good laugh.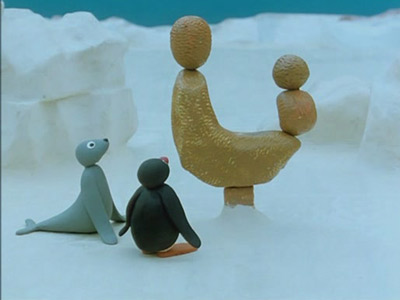 #5 - Pingu's Museum Visit 6.25
Season 3 - Episode 2
Robby goes to Pingu's home to ask him to come out and play, which Pingu thinks is a good idea. They go off with the sledge and slide down a slope. At the bottom they narrowly miss Father, who is on his motorised sledge. Father then tows them to the art museum, which is where he is going to deliver a large package. While Father and the curator of the museum unload the package, Pingu and Robby go over to a sculpture that is in the form of a ring on top of a block. Pingu does a circus trick and Robby becomes a blue ball. After briefly wondering what it is meant to be, they then have some fun jumping through the ring. They then wander across to a tumbledown igloo, which has a somewhat skewed picture hanging on the wall. Pingu straightens it up. At this point the curator arrives and tells them off for messing about with the exhibits, and they go. The picture then slips back into the crooked position and, after a couple of attempts by the curator to straighten it, to his annoyance it falls off the wall. A final attempt by the curator to get the picture straight, by hanging it from a nail he hammers into the wall, ends up with the wall collapsing on top of him, to the amusement of Robby and Pingu. Pingu and Robby then spot a sculpture made of little blocks balanced on a larger block. Robby taps the sculpture, and it falls apart! They decide to rebuild it and it ends up looking like a rabbit, but is rather wobbly. Robby finds a stick, which Pingu uses to prop the sculpture up. Father then calls out that he is going, Pingu and Robby rush to get on the sledge, and they leave. The curator then spots the "rabbit" sculpture, removes the stick and the sculpture falls apart again. Once more the curator ends up less than happy! Features Pingu, Robby, Father and the Curator of the Museum.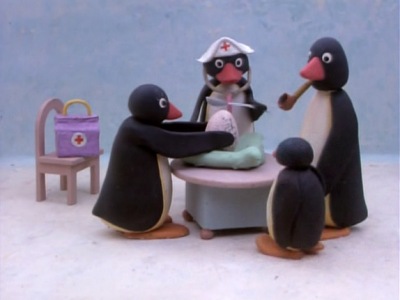 #6 - Pinga Is Born / Pingu's Sister is Born 7.42
Season 1 - Episode 3
Pingu is reading a book that he thinks is interesting while Mother and Father are watching that egg from the preceding episode Its apparently about to hatch and Mother tells Father to call the doctor The penguin doctor is called at 1st Pingu expects to and wants to see but his told to stay away and be quiet and he gets tired of the waiting in tension But finally the egg cracks and Pinga is introduced what will Pingu and his family think of her.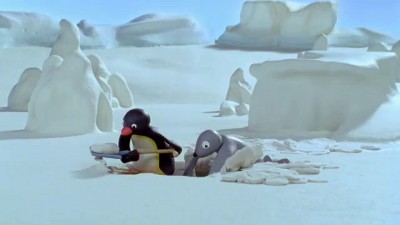 #7 - Pingu Digs a Hole
Season 5 - Episode 3
Pingu comes out of the igloo with Father, to see him off to work, and they find the sledge covered by snow from an overnight fall. Father digs it out, but leaves the shovel behind in the snow when he goes. Pingu decides to try it out and digs a hole right outside the front door of the igloo. Mother comes out with the washing and falls into the hole. While she's getting herself out, Pingu sneaks off so that she doesn't see him. Pingu then meets Robby, and they dig a hole together. Soon they are tunnelling around the neighbourhood, and the fishmonger can't understand where a crate of his fish has gone or why he's sinking into the ground. Father returns home to collect the rest of the family for a picnic and finds Mother, with Pinga, outside the door where the hole has appeared, but there's no sign of Pingu. They walk off, calling Pingu. Pinga, who is lagging a bit behind, then gets picked up on the crest from the rapidly growing tunnel, and she's deposited on the ground in front of Mother and Father. When they catch up to her they can't understand how she's got in front of them. Father lays out the picnic but the tunnel arrives and stops right under the cloth. The picnic sinks into the ground and Pingu and Robby surface, Pinga, Mother and Father find out and Father yells angrily at Pingu, closely followed by the fishmonger who is not at all happy. Pingu and Robby fill in the tunnel and recover the crate for the fishmonger, and he gives them both a fish. Pingu then tucks into his fish at the picnic, which is now being held back in the igloo.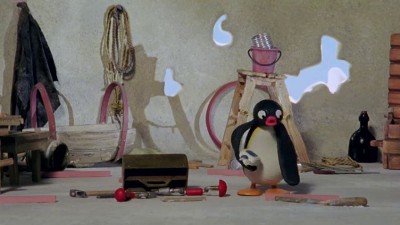 #8 - Pingu Finishes the Job 7.75
Season 5 - Episode 2
Mother and Pinga go out to the shops, and Father and Pingu go into the shed to repair a leg on a broken table. When Father rummages in his toolbox Pingu does as well, so Father moves him out of the way. While Father repairs the table, Pingu sidles back to the toolbox and starts rummaging in it again. Father spots what Pingu's doing, removes him from the toolbox and plonks him in a chair. Father then pops out to get some paint, leaving Pingu alone in the shed. Pingu can't resist the lure of the toolbox and has a good rummage, then puts it on the newly repaired table. The table collapses under the weight. Pingu tries to repair the damage but only succeeds in sticking his hand to the tabletop, and then trashing the shed in getting it free. Grandfather comes in and collects the legs of the table together, and Pingu gets the top but gets his hand stuck again. As they're recovering from freeing Pingu's hand, Father arrives back. Pingu and Grandfather tidy up, and Father starts putting the legs back on the table. When he's finished he stands the table upright but it wobbles, as one of the legs has been broken and is now shorter than the others. The three of them then try to fix the problem by sawing pieces off the legs, and end up with a table with very short legs! Pingu and Grandfather paint it, cover it with a cloth and go back into the igloo to await the return of Mother and Pinga. When they arrive the table is unveiled, and Mother is not amused. Pingu has an idea; he sits Mother down on the sofa, pulls over the table and puts a cushion on top, and invites Mother to use it as a footstool. She puts her feet up on it and relaxes.
#9 - Pingi's Valentine Card 8.50
Season 5 - Episode 4
It is Valentine's day, and Pingu gets a valentine card from Pingi. He shows it to Pinga and Mother, and decides he'll make one for Pingi. Mother gets him the box of card making materials out of the cupboard and he settles down to making the card. He chooses the paper for the card, and then tries to put glue on it to attach a heart shape. Unfortunately the glue won't come out at first, and then comes out in a big blob. He attempts to stick a heart to a card, but each stays stuck to the hand he's holding it in. He eventually gets them stuck together, or so he thinks, but after a few seconds it falls off! He then tries to make a card using glitter as well as the heart. He gets the glitter and heart stuck to the card, but then can't put the card down as it keeps sticking to him - if it isn't stuck to one hand it's stuck to the other, or to his head. He eventually gets it off, but meanwhile Pinga has sat up to the table and is rude to Pingu. Pingu is rude back and mother intervenes, but the card then sticks to the newspaper she is reading. It comes off when she has to intervene again, and it ends up stuck to Pingu as before. After another struggle getting it off himself, Pingu stomps into the bedroom to sulk. There he discovers he's got another piece of card stuck to his bottom. Meanwhile Pinga is making something from some card without using glue and goes to show it to Pingu, who at first refuses to look. Eventually Pinga unveils her masterpiece – a set of linked figures cut out from folded paper. This gives Pingu an idea, and he goes back to the table and makes some cut out hearts. He takes them over to Pingi's home and gives them to her. She is delighted.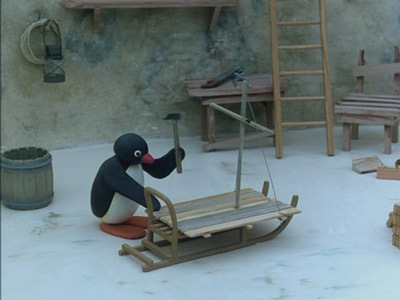 #10 - Pingu's Big Trip 7.67
Season 3 - Episode 4
Pingu is on his way home with his sledge when he sees a poster showing a tropical paradise. He is excited, and when he gets home goes into the shed. A lot of sawing and banging is heard. This catches the attention of Pinga, who is playing nearby, and she goes to listen at the door. Pingu tells her to go away. Pingu goes back into the shed to finish off the changes he is making to his sledge – he has put on a deck, and a mast for a sail. He finishes off by putting a small barrel on the sledge. He then raids the igloo for food, taking a fish and a loaf of bread, which he puts into the barrel. He leaves the shed and Pinga goes in, and is surprised to see what Pingu has been doing. She attempts to get into the barrel, but with both her and Pingu's food supplies it's too full. To make room she takes out the food and hides it in a nearby box, and gets into the barrel. Pingu then returns with a cloth that he puts on top of the barrel and sets off, pushing the sledge. After a while he's a bit tired and peckish, so he stops for a rest and a snack. He takes the cloth off the barrel, and is surprised when the barrel jumps about. Pingu is then annoyed when Pinga pops up out of the barrel, and even more annoyed when he discovers that the food he put in the barrel is not there! Pinga then produces a couple of lollipops from her satchel that they eat. They continue on the long journey and stop when they reach another poster. Pinga cries because she is hungry and wants to go home, so Pingu consoles her and they set off home, arriving as it's getting dark and the stars begin to come out. They go into the igloo and rapturously greet Mother, who has just finished baking a chocolate cake and seems blissfully unaware of their adventure, and they all sit down to eat.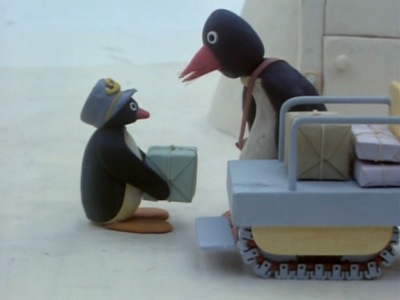 #11 - Pingu Helps to Deliver the Mail 8.00
Season 1 - Episode 5
Pingu is helping his dad deliver the mail. His dad lets him wear his postman's hat, and they go to the post office to pick up the mail and then deliver it to the town's various eccentric residents; including an old, kid-hating granny penguin, a tall, loud-beaked (bird style for loud-mouthed) penguin, a short, zippy and strange penguin in suspenders (this is Punki, who also slams the door right in Pingu's face as he opens it!), Pingu's friend Pingo, a sad penguin with bad news, a woman with three children, and others, before returning home again to his mum's arms.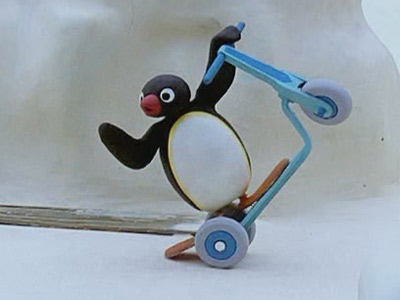 #12 - Pingu Shows What He Can Do 6.75
Season 4 - Episode 5
Pingu and Pinga are playing outside the igloo with the bricks, seeing how high they can get a pile without them falling over. Pingi arrives on her scooter, and, unseen by Pingu, watches them playing. Pingu and Pinga laugh when a particularly high pile collapses. Pingi laughs as well; Pingu hears and is surprised to see her. Pingu pretends that he wasn't enjoying the game, and tries to act macho. Pingi asks Pingu if he'll come with her, on his scooter. Pingu abandons Pinga, leaving her to play on her own, and goes off on his scooter with Pingi. As they ride away he pretends that he's on a motorbike by making appropriate engine noises. Mother comes outside, sees Pingu and Pingi riding away, and then sees that Pinga is playing on her own, so she joins her. As Pingi goes on ahead, Pingu hides behind a nearby ice column, then calls out to her. Pingi returns, stops near the ice column and looks around. Pingu comes out from behind the column on his scooter and rushes off. Pinga turns and follows him. They reach some abandoned igloos. Pingi gets off her scooter and enters one. Pingu follows, and then kisses her hand. Pingi responds by giving Pingu a big kiss on the cheek. Pingu is delighted, and exuberantly performs all sorts of tricks on his scooter, to Pingi's amusement. They then ride around the igloos a bit more before making their way back to Pingu's home. When they arrive they find Mother building a tower of bricks for Pinga, which Pinga then blows down, and they all laugh.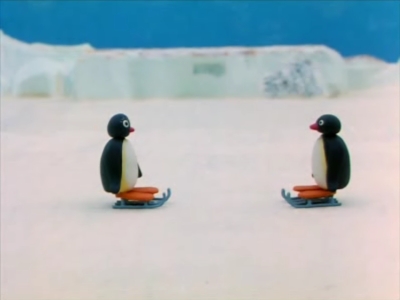 #13 - Pingu's First Kiss 8.00
Season 2 - Episode 5
Pingu and his friends Pingg, Pingo and Pongi are doing some tricks on skates when Pingu's girlfriend Pingi comes along. Pingu greets her by kissing her on the hand, and the other three laugh and take the mick out of him. Annoyed, Pingu impresses all of them with the best trick yet. Pingi applauds and suggests to Pingu that they go off together, but Pingu's friends want him to stay with them. Pingi goes off, and Pingu is not sure what to do. He goes back to his friends but, as Pingo tries a new trick and the other two watch him, sneaks away to join Pingi, who is gracefully dancing on her skates. Pingu joins in the dance, and they're about to kiss for the first time when Pingg, Pingo and Pongi skate past teasing them. Pingu and Pingi go off to be alone a couple more times, but each time the others find and tease them. They eventually manage to evade the others and have their first kiss, and then impress the other three with some figure skating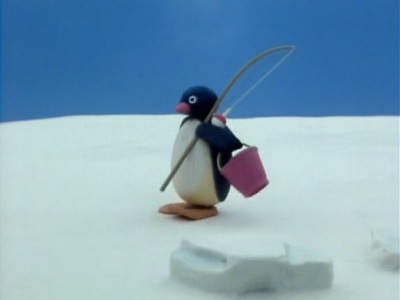 #14 - Pingu Goes Fishing 8.09
Season 1 - Episode 4
Pingu is going fishing; he climbs down a series of cliffs into a craggy, secluded area and finds an ice-fishing hole. He catches a fish, but he is unaware that Robby the seal, behind him, is emerging from another hole that the one Pingu is fishing at connects to, eating the bait, and snatching and attaching the same fish to the line each time. Pingu finds out and foxes Robby by luring him away from the ice holes and closing them off with large slabs of ice. A high-speed acrobatic chase ensues and Robby tries desperately to escape the young penguin by forcing his way under the ice-slab which stands between him and freedom. When Pingu tries to stop him by shouting at him, Robby's right flipper briefly gets trapped, and the weeping seal seems severely hurt. Pingu is struck with remorse and sympathy, consoling Robby before his flipper is 'miraculously' healed. Robby recognizes the goodness in Pingu's soul and rewards his sensitivity with a much larger fish.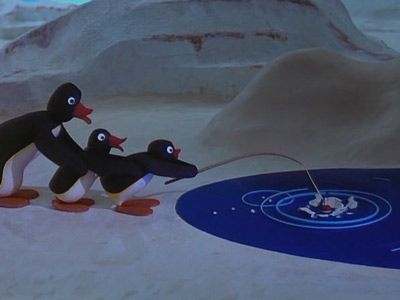 #15 - Pingu and the Big Fish
Season 4 - Episode 4
Mother is rolling out dough in the kitchen. Pinga is playing nearby. Pingu comes over and sees Pinga's trumpet on the floor. He picks it up and blows it. Pinga tries to get her trumpet back from Pingu, but he won't let go. When Pinga lets go, Pingu tosses the trumpet into the air over his shoulder, and it lands in Mother's bowl of flour. Mother comforts Pinga, then tells Pingu off and tells him to go away. Pingu trudges outside and sees one of his neighbours telling another about his successful fishing trip. Pingu sees the bucket of fish that has been caught and has an idea. He rushes indoors and gets his fishing rod. On his way out Mother stops him, points to the clock and tells him not to be late back for supper. Pingu goes to a nearby pool and starts to fish. Pingo arrives and watches. Pingu has a bite, but hooks nothing, and Pingo laughs. Pingu is annoyed and shoves the rod at Pingo, telling him to try and do better. Pingo soon has a bite, but when he lifts the rod there's a lobster hanging onto the bait, clacking its claws. The lobster drops back into the water, taking the fishhook with him. Then a big fish jumps from the water and splashes back in. They wonder how they can catch the fish, as the hook has gone. Then Pingu has a brainwave. He takes the handle from the bait bucket and uses it to make a large hook, which he ties onto the line. Pingu baits the hook and Pingo starts fishing again. There are lots of bubbles around the float but no bites. Later, as it's getting dark, Father arrives home from work. He goes indoors and greets Mother and Pinga; Mother tells him that Pingu went out earlier but hasn't yet returned. Father goes out on the sled to look for him, eventually finding him fishing at the pool with Pingo in attendance. While Father tells Pingu he should have been back home earlier, Pingu gets a bite, and it takes all three of them pulling together to land the large fish that Pingu has hooked. They proudly take the fish home, Mother cooks it and Pingu's family and Pingo all enjoy a fish supper.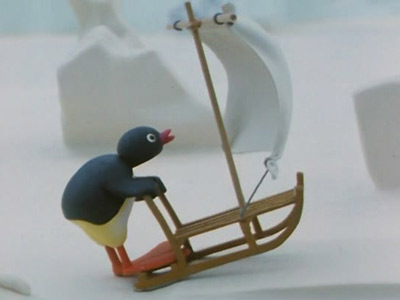 #16 - Pingu Surfing on the Ice 8.29
Season 2 - Episode 4
Mother has hung out some washing, with help from Pingu. Mother has just gone back inside the igloo when the wind suddenly gets up, so Pingu decides to have some fun on an ice-surfer. He builds this himself, making the platform and mast from some stuff he finds in the shed, and for a sail using one of Mother's clean sheets that she has just hung out to dry. After some fun zooming around, while going up a hill the wind suddenly stops and Pingu and his ice-surfer go crashing back down. The sheet he's used for the sail is now filthy. Pingu mournfully goes back home, is told off by his mother for dirtying the sheet, and has to clean it. As he is doing this, with not very much success, Robby comes along. By swish-swashing his tail, Robby very quickly gets the sheet spotless. Mother is very pleased by the result, and Pingu and Robby share a fish given to them by Mother as a reward.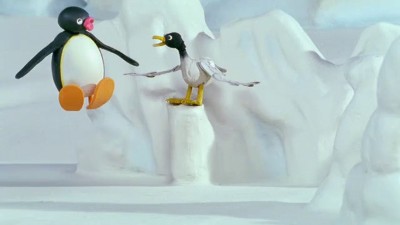 #17 - Pingu Wants to Fly 7.67
Season 5 - Episode 5
Pingu is having a snowball fight with Robby. Most of Robby's snowballs are hitting Pingu, but Pingu has not managed to hit Robby at all, much to Pingu's annoyance. During the fight, a seagull comes to watch and nearly gets hit by a snowball. The seagull takes Pingu's side in the fight and makes a snowball, which it drops on Robby. Seeing the seagull flying makes Pingu want to fly himself, so he tries to do it. First he tries jumping off a small block of ice, but he can't stay in the air. Then he tries jumping off the top of a rather taller block of ice, and still can't stay in the air. Pingu spots an old barrel nearby and, using an old plank, makes a seesaw-like launcher. He stands on one end and Robby jumps from the high block of ice on to the other end, launching Pingu into the air. Pingu gets rather higher than before, but still can't fly and plummets head first into a pile of snow, from which Robby pulls him out. Just then a balloon seller passes by, and gives Pingu his helium balloons in exchange for a couple of fish caught by Robby. Robby ties the balloons round Pingu's waist, and at last Pingu's into the air and flying. The wind catches him and he drifts away, chased by Robby on the ground. Pingu initially enjoys it, but soon decides that he'd rather be on the ground. The seagull comes by and pops one of the balloons, but this has little effect other than spinning Pingu around. The seagull then pops all the other balloons and Pingu crash-lands on the top of a high block of ice, from which he gets down using a rope made from the balloon strings. Robby then fires a large snowball at Pingu from a catapult. The snowball goes well above Pingu, and Pingu decides he'll take cover. Robby prepares another shot, but is startled by the seagull just as he's about to release the snowball; the snowball shoots into the air and lands on Robby's head. He and the seagull both find this funny.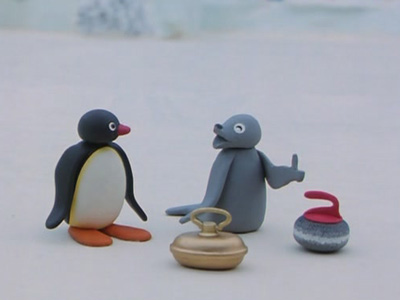 #18 - Pingu's Curling Game 7.60
Season 2 - Episode 6
Robby, who has a proper curling stone, invites Pingu to have a game with him. Pingu doesn't have a curling stone, but borrows Mother's hot water bottle to use instead. On their first go, Robby gets his the furthest, on the second Robby again gets his the furthest, but both finish up near a neighbour who is sitting on an ice block reading, and he tells them off for disturbing him. They swap stones, and play back the way they came. Robby wins this as well. Pingu is annoyed, and plays the stone as hard as he can. Unfortunately, it goes toward the neighbour who is reading and knocks the seat from under him, depositing him on the ice on his backside! He is understandably rather annoyed at this and goes to tell Pingu off, but Robby tries to pull him back. This annoys him even more and he follows Pingu home. Pingu goes indoors and hides, but the neighbour bangs on the door and comes in. The neighbour explains to Pingu's Mother what has happened, and Mother gets Pingu to apologise. Fortunately, by now the neighbour has cooled off a bit, and he and Pingu shake hands. The neighbour and Pingu then have a game. Pingu gets his the furthest (because his jumps over the other!), much to the neighbour's annoyance.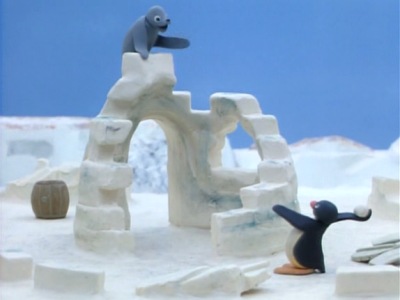 #19 - Pingu and the Snowball Fight
Season 1 - Episode 7
Pingu is going out on a play-date with Robby. They find some old and ruined igloos with junk and debris scattered around, and first play a game of hide and seek, and then have a snowball fight. Pingu tricks Robby by making a bust of himself with some things he finds in the ruin he is hiding and putting it on a stick and waving it outside, so that Robby throws the snowball at that instead of him. While Robby is quizzically investigating the smashed bust, Pingu runs and hides in a barrel. He then sneaks up behind Robby and throws a snowball at the ruin Robby is investigating, causing him to turn his head to see the barrel Pingu is hiding in (Pingu hides quick enough to avoid being seen). Robby then goes into the ruin, and he looks over to see Pingu (out of, but still in the barrel as a precaution of sorts) taunting him, then throwing a snowball at him. A chase then ensues, with Pingu coming out of the barrel due to tripping over a small block of ice. Robby then gets hurt while holding onto the rolling barrel, and Pingu vainly tries to cheer him up with some funny moves and postures, but finally manages with a hoola-hoop. Robby gets a hoola-hoop too and they play that instead.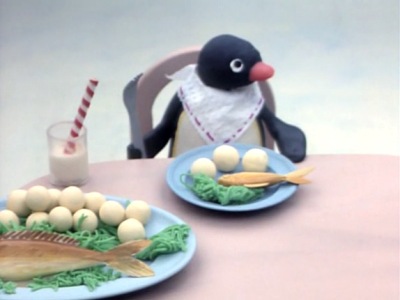 #20 - Pingu is Introduced / Hello Pingu
Season 1 - Episode 1
Pingu and his parents are having a yummy lunch. But Pingu is eating disgustingly; smashing his fork so he can scoop up potatoes (possibly eggs or nuts ) and swallow them whole in his mouth like a grape. Blowing bubbles in his drink, eating fish disgustingly, and of course refusing to eat his greens. After this comical lunch, Pingu goes out to play with his red ball, but two of Pingu's "friends" Pingo and Pingg come to take it away from him (this is contrary to later episodes; they've become nicer to him). After a fight in which Pingg knocks Pingu's head and his ball is burst (Pingu fell on it when he was tripped over by the two bullies.) He gets his ball back and sadly returns home (after being chased by snowballs thrown at him off-screen by the two friends. Although only two of them hit Pingu.) His parents put a patch (plaster that was meant) on his head and his ball. Then suddenly, they rock him to sleep in a hammock that was almost about comfy for Pingu.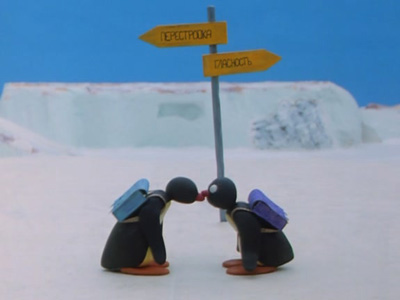 #21 - Pingu's Admirer 7.82
Season 2 - Episode 2
Pingu goes to school. On the way he meets Pingg, Pingo and Pongi playing limbo, and joins in, but then the schoolmaster rings the bell. The schoolmaster has just started the lesson when a new student arrives. The new student is a girl named Pingi. The schoolmaster greets Pingi, and he finds a place for her to sit. Unlike his friends, Pingu does not want anything to do with her. He spreads out his things all over his desk and puts his legs wide apart to make it seem as though there is no room at his desk, and is infuriated when the schoolmaster picks his seat anyway. Pingo offers Pingi a lollipop, which she takes and offers to Pingu. He refuses, so she gives it back to Pingo. She then draws a heart and offers that to Pingu, and he snaps at her, earning himself a reprimand from the schoolmaster, who firmly orders him to be nice to her. On the way home after school Pingi follows Pingu and, when Pingu lets her have a piece of his mind, she cries. Pingu walks away, and Pingi throws a snowball at him. He throws one back in retaliation, but it goes through the window of a nearby igloo. He and Pingi both hide in a barrel to escape the wrath of the igloo's irate owner, and they end up liking each other. They walk together the rest of the way and Pingu actually cries a bit when they have to part.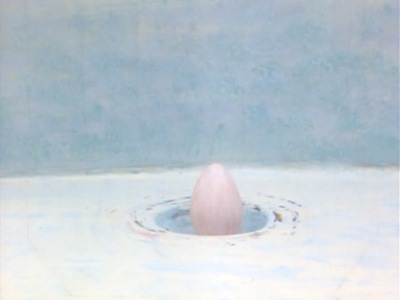 #22 - Pingu Helps With Incubating 7.57
Season 1 - Episode 2
Pingu's family has an egg, and while his parents do the laundry, Pingu has to sit on it. At first he is proud and happy to help, but he quickly gets bored, and gets up and starts listening to music called "Woodpeckers From Space". He does dances and other steps, but the egg suddenly sprouts a leg and starts to dance around the house. When Pingu notices this, he tries to stop things and catch the egg before his parents find out, trashing the igloo in the process. Pingu's parents, eventually noticing the commotion and finding out what's happening, rush over to help. Father catches the egg and mother turns off the record. Mother finds Pingu hiding in a cupboard beneath the record player; afraid his parents would be angry at him. They are not, however, and mother hugs him. Mother and Pingu clean up the igloo and Father sews him a hat for a great job taking care of the egg.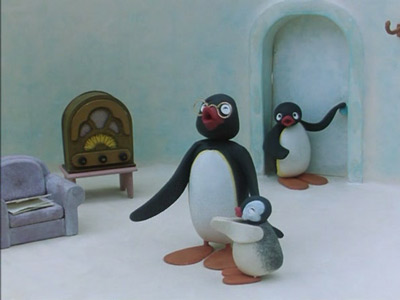 #23 - Pingu's Grandfather Comes to Visit 9.20
Season 3 - Episode 3
Father is cooking dinner, and Pingu and Pinga are laying the table – except that Pingu is juggling the beakers and Pinga is enjoying watching the act! Father then comes out of the kitchen, and tells them to hurry up and finish off laying the table. After Pingu finishes up he reads a book, while Pinga prepares the chairs. There is a knock on the door - Grandfather has arrived. After greeting the children Grandfather gives them each a lollipop to suck. Father comes and greets Grandfather, and then takes the lollipops away from the children and puts them away, much to their disgust. Grandfather and the children then sit down at the table, and while they are waiting for the food Grandfather amuses them with a trick, making a flower disappear and then finding it again behind Pinga's head. Father then appears with the fish part of the main course; Pingu grabs the biggest fish (his fish) much to Pinga's dismay. Father brings the vegetables, lectures Pinga that she should not have the biggest fish and gives her the little fish. They all finish off their fish, and they are forced to eat their greens, which they don't like. Grandfather tries to feed Pinga hers, but she refuses and shoves the bowl to Grandfather, who reluctantly finishes them off. Pingu then also shoves his bowl of greens to Grandfather, who eats those as well! Father then brings out a large chocolate cake for pudding and dishes out portions all round. The children tuck in but Grandfather is too full to eat his. Pingu and Pinga then each take a second slice, and so does Father. However, Grandfather doesn't want to eat his. Father wants to know why, and he finds out that Grandfather has ate all of Pingu and Pinga's greens. Father tells off the children for spoilng Grandfather's appetite by refusing to eat their greens and making him eat all of them. By then Pingu has finished his second slice of cake so he snaps at Father, and he takes Grandfather's unwanted slice and tucks it, finishing up the cake. While Father eats his angrily, Pingu and Pinga snuggle with Grandfather.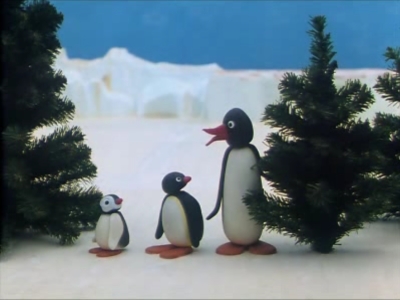 #24 - Pingu's Family Celebrate Christmas
Season 2 - Episode 7
Pingu and Pinga are getting ready for Christmas. They help Mother make some biscuits, and then they go with Father to help choose a Christmas tree. While Father puts up the tree, Mother gets the wrapped presents to put under it. Pingu and Pinga want theirs now, but Mother says wait. Mother then trips over a rope on her way to the tree, and drops the presents. Fortunately not breaking them. She blames Father, and they have an argument about it. Pingu and Pinga go out to see what the fuss is about, and when Mother and Father see them, Pingu and Pinga tell them to stop and make up, which they do. Mother then tells Pingu and Pinga to go into the igloo, and to make sure they stay there and can't see out she locks the door and blocks up the keyhole. Mother and Father then decorate the tree, while inside the igloo Pingu and Pinga wrap up Mother and Father's presents. When Mother lets them out, they take their presents to put under the tree, and are amazed when they see it all decorated. They give their presents to Mother and Father; Mother gets some hand warmers and Father gets a spotted bow tie. Pingu and Pinga then open their presents. Pingu gets a book, a ball and some earmuffs; Pinga gets a teddy bear, a dummy and a scarf. As night falls, the tree lights up and together they all sing Silent Night.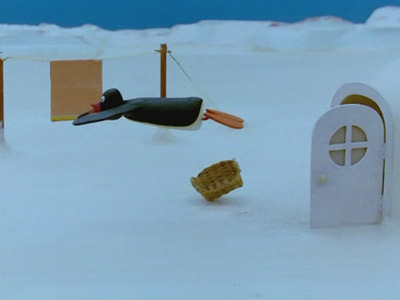 #25 - Pingu's Prank 8.67
Season 3 - Episode 7
Pingu's neighbour comes out of the igloo, puts out a piece of washing to dry and goes back inside. Pingu happens to walk past, and as he does so the washing falls off the line. This worries him, so he picks it up and rings the doorbell to tell the neighbour what has happened. The neighbour takes the washing, hangs it up again and rewards Pingu for his kindness by giving him some biscuits. Pingu then meets Pingo, who sees Pingu finishing a biscuit and asks if he can have one. Pingu gives him the bag, but it is empty! Pingu explains how he got the biscuits, and shows Pingo where. To Pingu's horror, Pingo pulls the washing off the line and rings the bell on the igloo. When the neighbour opens the door, Pingo tells the same tale, expecting the same reward. The neighbour realizes what is going on, and shuts the door in Pingo's face. Pingo and Pingu then play a couple of tricks on the neighbour, both involving ringing the doorbell and then running away, and the neighbour gets very annoyed. Another penguin then comes to deliver a parcel, rings the doorbell and, when the door is opened, is soaked by a bucket of water thrown by the neighbour! The neighbour apologizes, but the other penguin is very angry, then slams the parcel into the hands of the neighbour and stalks off angrily. The parcel then starts to leak (an indication that there was a liquid of sorts in the parcel), then the neighbour throws it to the ground, kicks the bucket away and goes back indoors, slamming the door. Then the washing drops to the ground again, so Pingu hangs it back up and both he and Pingo walk quietly away!