Peanuts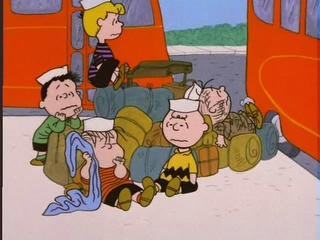 #1 - It Was a Short Summer, Charlie Brown
Season 1 - Episode 6
The gang recalls their summer vacation when, after some failings when competing with the girls, the boys bring out the "Masked Marvel."
#2 - I Want a Dog for Christmas, Charlie Brown
Season 1 - Episode 43
An hour-long special. It centers on ReRun, Linus and Lucy's younger brother. It's Christmas vacation and, as usual, ReRun's big sister is stressing him out, so he decides to turn to his best friend, Snoopy, for amusement and holiday cheer. However, Snoopy has plans of his own, giving ReRun reason to ask Snoopy to invite his brother Spike for a visit. When Spike shows up, it looks like ReRun will have a dog for Christmas after all... but then the real trouble begins.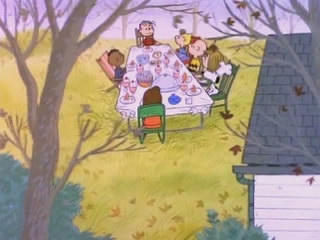 #3 - A Charlie Brown Thanksgiving
Season 1 - Episode 10
The "Peanuts" gather around Charlie's ping-pong table for an unusual feast, even though he's going over to his grandmother's for dinner. But with Snoopy and Linus's help, he decides to cook his own version of a Thanksgiving meal!
#4 - A Charlie Brown Christmas
Season 1 - Episode 1
Good Grief! In the first Peanuts special, the gang celebrates Christmas. Charlie Brown, thinking Christmas is too commercialized, directs the school Christmas play. He learns it from Linus, who tells us all the true meaning of Christmas!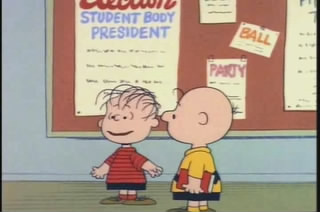 #5 - You're Not Elected, Charlie Brown
Season 1 - Episode 8
Linus runs for election as school body president, and is on his way to victory until he makes a speech about the Great Pumpkin.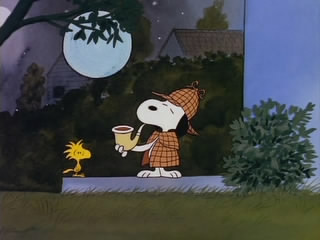 #6 - It's a Mystery, Charlie Brown
Season 1 - Episode 11
While Sally worries about a science project, Snoopy investigates the disappearance of Woodstock's nest.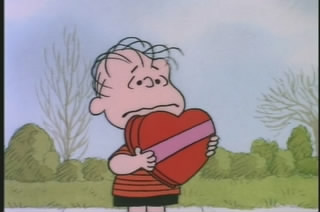 #7 - Be My Valentine, Charlie Brown
Season 1 - Episode 13
With Valentine's Day approaching, the gang prepares in various ways. Charlie Brown waits at the mailbox, Linus buys a box of candy for his teacher (while Sally thinks it's for herself), Snoopy puts on a dramatic "Pawpet" show, and the school has a Valentine's Day party.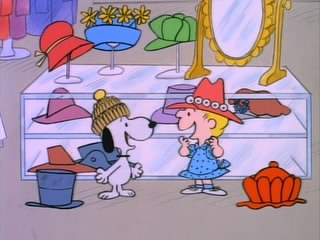 #8 - It's the Easter Beagle, Charlie Brown
Season 1 - Episode 12
Easter is approaching, and the gang is getting ready. Sally wants new shoes, Peppermint Patty attempts to show Marcie how to color eggs, and Snoopy helps Woodstock with a new house. Linus, however, claims that all the work is unnecessary because the Easter Beagle will come.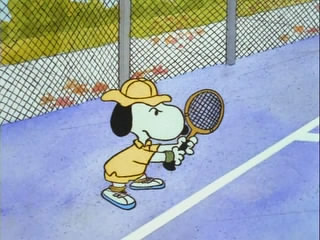 #9 - You're a Good Sport, Charlie Brown
Season 1 - Episode 14
Peppermint Patty gets "Chuck" to participate in a motocross race which has many challenges, including a mysterious Masked Marvel.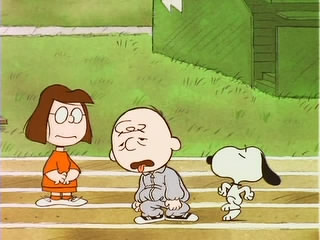 #10 - You're the Greatest, Charlie Brown
Season 1 - Episode 18
Charlie Brown participates in the Junior Olympics Decathlon, competing against several other contestants, including the Masked Marvel.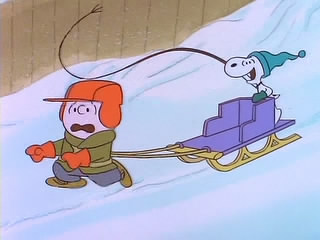 #11 - What a Nightmare, Charlie Brown
Season 1 - Episode 17
Having eaten too much, Snoopy dreams he's an Alaskan sled dog.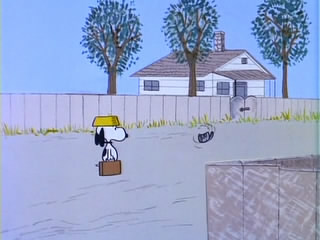 #12 - He's Your Dog, Charlie Brown
Season 1 - Episode 5
When Charlie Brown wants to send Snoopy back to the Daisy Hill Puppy Farm for being disobedient, his dog hides at Peppermint Patty's house, which is fine for him--until she starts making him do chores.
#13 - Charlie Brown's All-Stars
Season 1 - Episode 2
After losing 999 games in a row, Charlie Brown's baseball team threatens to quit and spend the summer like normal kids (swimming, skateboarding, and jumping rope) until he announces that Hennessey's Hardware store will sponsor them, meaning they can get uniforms and play in a real league - but only if he'll take the girls and Snoopy off the team.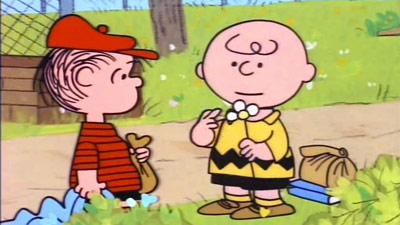 #14 - You're in Love, Charlie Brown
Season 1 - Episode 4
With the school year coming to an end, Charlie Brown tries to meet his dream girl, whom he only knows as "The Little Red Haired Girl". But his nervousness prevents him to go meet her upfront and all his attempts to impress her fail. His friends try to give him a helping hand, but things only get worse...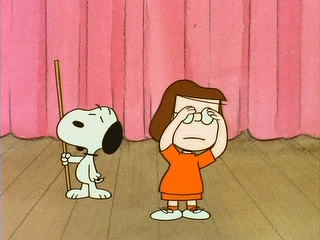 #15 - It's Magic, Charlie Brown
Season 1 - Episode 21
Snoopy puts on a magic act. His tricks are failures, except for one--turning Charlie Brown invisible.
#16 - Someday You'll Find Her, Charlie Brown
Season 1 - Episode 22
After Charlie Brown falls in love with a girl briefly shown in a broadcasted football game, he and Linus go across town door-to-door, searching for her.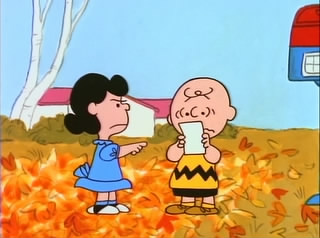 #17 - It's the Great Pumpkin, Charlie Brown
Season 1 - Episode 3
Join the Peanuts gang as they celebrate Halloween. Linus patiently waits in the pumpkin patch for the arrival of the Great Pumpkin, while Charlie is invited to a Halloween party and gets rocks in his trick-or-treat bag.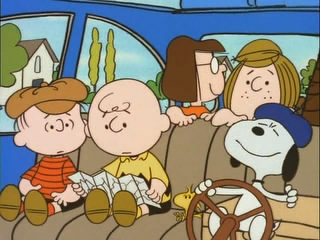 #18 - What Have We Learned, Charlie Brown?
Season 1 - Episode 26
As they begin their journey home from their student exchange term in France, the Peanuts gang find themselves sidetracked and with car problems. They then pass by the memorials of some battlesites in both World Wars. Linus talks about their importance and the sacrifices required of the troops who fought them.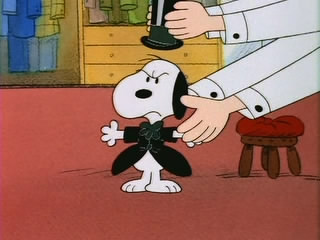 #19 - Snoopy's Getting Married, Charlie Brown
Season 1 - Episode 28
Snoopy runs into a female poodle while guarding Peppermint Patty's house and decides to marry her. The Peanuts gang gets into preparing their wedding with the usual complications and the extra help of Snoopy's cousin, Spike.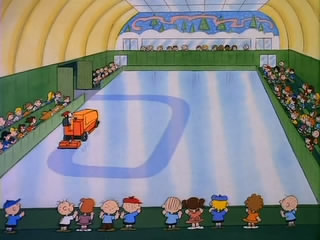 #20 - She's a Good Skate, Charlie Brown
Season 1 - Episode 19
Peppermint Patty prepares for a skating competition with Snoopy as her coach.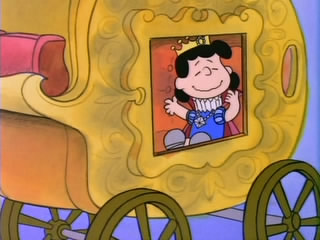 #21 - You're a Good Man, Charlie Brown
Season 1 - Episode 29
A 50 minute special animated version of the classic off-Broadway musical from the 60's. The Peanuts gang perform the various comedy sketches of the play.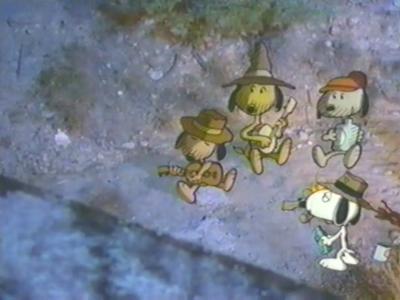 #22 - It's the Girl in the Red Truck, Charlie Brown
Season 1 - Episode 32
A one-hour special which combines live-action with animation. Snoopy's cousin Spike falls for Jenny, a pretty blonde girl in an old red truck. They visit Los Angeles and have lots of fun, but Jenny's boyfriend and Spike being mistaken with a coyote may put their relationship in jeopardy.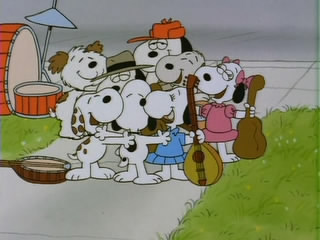 #23 - Snoopy's Reunion
Season 1 - Episode 34
Charlie Brown notices that Snoopy is depressed. He then decides to cheer up Snoopy by hosting a reunion party with his brothers and sisters. The whole gang enthusiastically responds. We learn about their early days at the Daisy Hill Puppy Farm and also of what happened to it.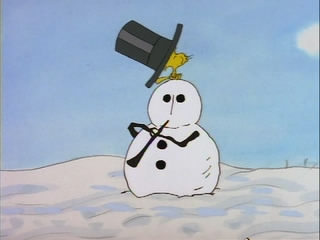 #24 - It's Christmastime Again, Charlie Brown
Season 1 - Episode 36
A collection of stories related to Christmas, where we can see Charlie Brown trying to raise money for his girlfriend or Sally and Peppermint Patty worried about their lines on the Christmas play, among other stories.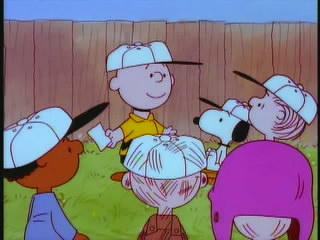 #25 - It's Spring Training, Charlie Brown
Season 1 - Episode 35
The special follows the spring training of Charlie Brown's baseball team, which is having problems. A child named Leland joins the team. Lucy points out that they are the only team without uniforms, so Charlie Brown and his team train hard for the first game of the season. Thanks to Leland, Charlie Brown's team wins, 27 to 26, therefore getting their uniforms (A recycled plotline is that Leland is so short the other team's pitcher either constantly walks him or beans him in his batting helmet). However, the team loses their next game because Leland has to quit because their new uniforms are too big for him, with Charlie Brown saying at the end, "It's not how you look, it's how you play the game."