Legend of the Galactic Heroes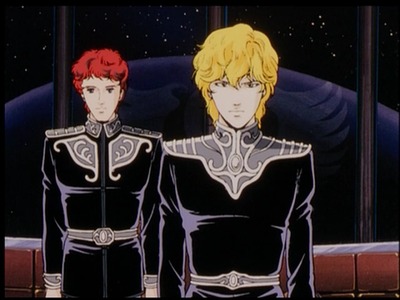 #1 - Into the Eternal Night
Season 1 - Episode 1
January 1, 796 S.C. / 487 I.C.: in the Astarte star system, a 20 000 spaceships Imperial fleet under Reinhard von Lohengramm's command is about to be cornered by three Alliance fleets of 13 000 spaceships each. Against the advice of his subordinates, Reinhard decides to strike first in order to defeat each fleet before they can join. The Allied commanders, trusting the overall odds of 2 to 1, don't anticipate this and rebuff Yang Wen-li's advice to quickly regroup their forces.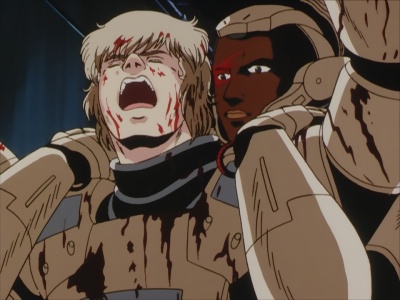 #2 - After the Festival
Season 3 - Episode 29
Julian finds Yang's body. The Yang staff return to Iserlohn. The crew of Iserlohn enter mourning. Julian tells Frederica about Yang's death. It is decided by Yang's remaining staff that Frederica will assume the role of political leader. Julian is considered to be the next military leader. Julian accepts the role of military leadership after talking with Frederica. Unrest within Iserlohn grows and there is talk of desertion. Admiral Murai speaks with Julian and gives him his resignation. Murai intends to fulfill his last task for Yang by taking all dissidents from Iserlohn with him as a desertion leader. The remaining leaders of El Facil abandon the Yang fleet.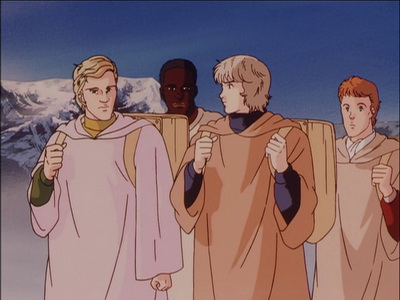 #3 - Visitors
Season 3 - Episode 4
Oberstein confronts Reinhard to choose a consort for bearing a heir. Reinhard releases Hildegard and her father from house arrest. Reuenthal reveals to Mittermeyer that his personal demons are effecting his lifestyle. At this time Reuenthal also gives up his ambition for power, realizing he can not exceed Reinhard. Müller launches his fleet from Odin towards Earth. Julian, Mashengo, and Poplan arrive on Earth and head to the Earth Cult holy temple.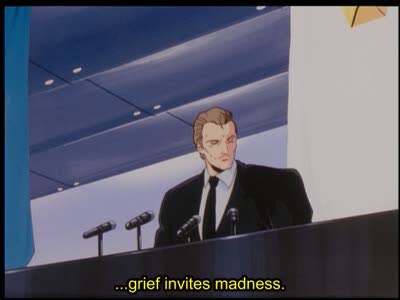 #4 - Birth of the 13th Fleet
Season 1 - Episode 3
In Heinessen (capital planet of the Free Planets Alliance), a memorial for the soldiers who died at the battle of Astarte is held. The warmongering speech of Job Trüniht, the Secretary of Defence, is interrupted by Jessica Edwards, whose fiancé was killed in the battle: she asks him why the advocates of war always sacrifice the lives of others while hiding in safer places. While going home, she is attacked by members of the Patriotic Knights Corps (P.K.C.), a nationalistic organization secretly led by Trüniht. She is rescued by her friends Yang and Dusty Attenborough and barely escapes death. The next day, Yang is promoted to rear admiral in command of the newly formed 13th Fleet. His mission: to take the Iserlohn fortress, a powerful space station which has repelled every attack.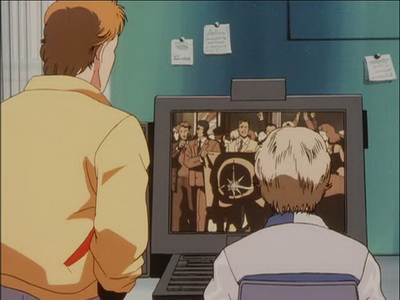 #5 - Earthbound
Season 3 - Episode 2
On the long trip to Earth, Julian and Poplan review the history of Earth. The lesson starts with the 13 Day War between Earth factions in 2039 AD. After the nuclear exchange, the unification of all governments on Earth occurs in 2129 AD. Following unification man expands into the stars. However, the lack autonomy to colonies, unequal economic polities, and tyranny from the Earth government culminate in multiple conflicts and human rights violations. The end of these chaotic conflicts eventually leads to the creation of the Galactic Republic in 2801 and Earth being forgotten.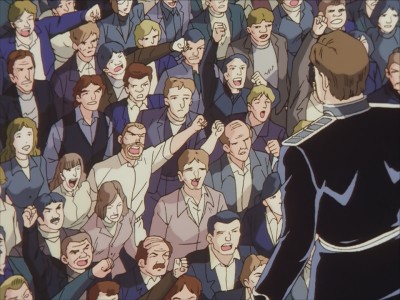 #6 - Rumbling
Season 4 - Episode 4
A large memorial service by the former Alliance government turns into a bloody riot with around 5000 killed and the number of injured exceeding 50,000. Reuenthal looks for the instigators of the riot. A anonymous tip warns that Trüniht is responsible for the violence now spreading from the memorial service to all parts of Neue land territory. Reuenthal orders a blockade outside of Iserlohn. On Iserlohn, Julian and Katerose become closer. Meanwhile, Terraists plan to turn Reinhard into a tyrant by provoking Reuenthal to betray Reinhard. If Reinhard became a tyrant, it would increase public unrest and give Terraism as a religion a chance to gain mass appeal.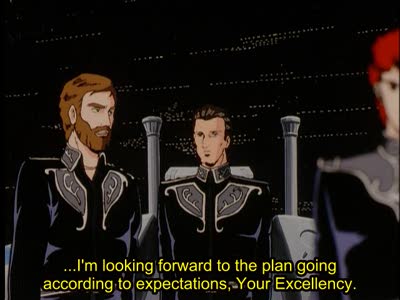 #7 - The Kastrop Rebellion
Season 1 - Episode 5
A new admiralty is created for Reinhard. He chooses commoners and lesser nobles to command his fleets: August Samuel Wahlen, Cornelius Lutz, Karl Gustav Kempf, Fritz Josef Bittenfeld, Ernest Mecklinger, Wolfgang Mittermeyer and Oskar von Reuenthal. Meanwhile, Maximilian von Kastrop has rebelled against the Empire. He thinks he is safe because of the "Artemis Necklace", a system of powerfully armed satellites built with the help of Phezzan. Reinhard sends a fleet under Kircheis' command to put an end to the rebellion. He manages to destroy the necklace. Kastrop is killed by his retainers and is the only casualty of the operation.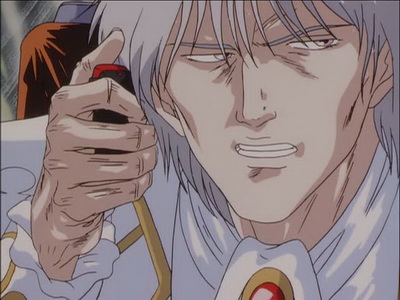 #8 - The Künmel Affair
Season 3 - Episode 3
Emperor Reinhard announces his new cabinet. Through a personal favor to Hildegard's father, the new secretary of state, Reinhard agrees to visit Künmel. During the lunch, it is revealed that Künmel and the Earth cult had placed explosives under the court. Trüniht leaks information to the chief of ministry police Kesler; an assassination attempt is planned on Reinhard. The Earth cultists around Odin are attacked in full force by the military police. Reinhard disables the trigger, via Künmel complacency. The Mariendorfs are put under house arrest. July 10, 799 S.C. / 1 N.I.C.: Julian crew arrives on Earth, that same day the Empire decides to suppress Earth by force.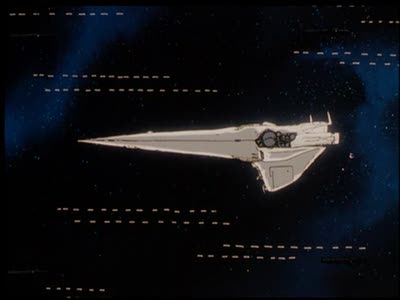 #9 - The Astarte Encounter 7.44
Season 1 - Episode 2
After the destruction of the 4th and 6th fleets, Reinhard's fleet engages the 2nd Fleet. When its commander is wounded, Yang takes command and manages to escape utter destruction. In Phezzan, Adrian Rubinsky, administrator of the planet, and Nikola Boltik, his main adviser, make comments on the battle and note that it won't change the strategic situation.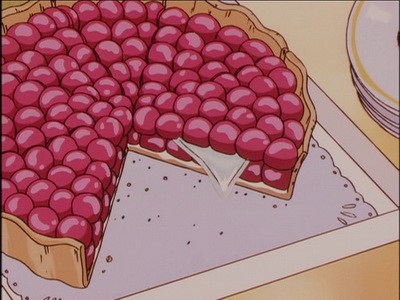 #10 - Past, Present and Future
Season 3 - Episode 5
On Odin, Reinhard reviews the secret history of the past Emperors of the Empire. On Heinessen Yang is enjoying his private life. Lennenkanpt is uneasy with Yang's quiet life, being vigilant he increases surveillance. Fredrica decides to learn how to cook better for Yang, she consults Cazellnu's wife. During this period, both women realized they can trade information inside the food.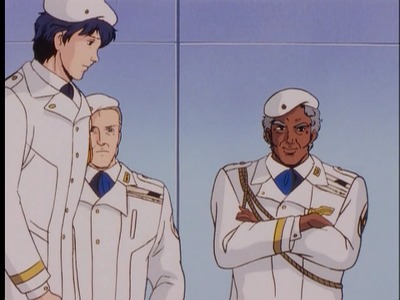 #11 - The Knights of the Rose
Season 1 - Episode 6
Yang decides to take Iserlohn by a ruse. The Rosen Ritter (Knights of the rose), a ground combat unit made of Imperial exiles, will pose as an imperial crew and infiltrate the fortress. Yang's staff is introduced: Murai, Patrichev, Fischer (a master of fleet maneuvers) and Frederica Greenhill, daughter of admiral Dwight Greenhill. The Iserlohn fleet is lured away from the fortress by decoys. When a damaged imperial spaceship asks for help, the commander of Iserlohn, who doesn't know where his fleet is due to radar jamming, authorizes it to dock...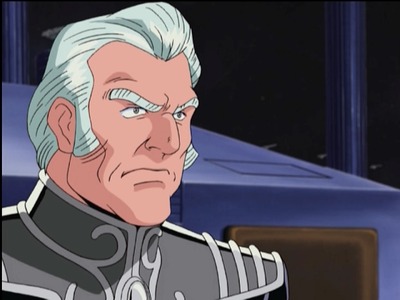 #12 - Iserlohn Invasion!
Season 1 - Episode 7
May, 14, 796 S.C. / 487 I.C.: a fake imperial spaceship docks into Iserlohn. Walter von Schenkopp, commander of the Rosen Ritter, pretends to have important information and takes control of the center of command. The Iserlohn fleet comes back, only to be destroyed by the fortress' main weapon, the "Thor's Hammer". The fall of Iserlohn dramatically changes the strategic balance: Yang hopes it will lead to a peace treaty. Back in Heinessen, he wants to resign, but is promoted to vice-admiral instead.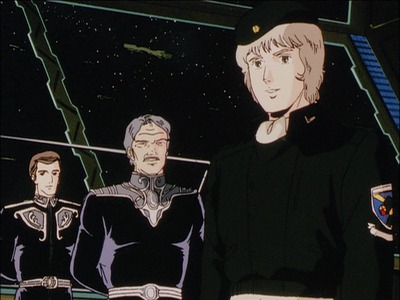 #13 - Repatriation
Season 2 - Episode 8
Reinhard is displeased by Kempf's report and decides to dispatch Mittermeyer end Reuenthal Fleet; he thinks the best tacticts was to smash Geiesburg against Iserlohn and destroy both fortresses (Yang has the same idea). Imperial scout ships detect Yang's reinforcement fleet. Kempf plans to lure the Iserlohn Fleet out of the fortress by pretending to retreat, then strike and seal it in the fortress, which will allow him to attack the reinforcements. Julian Minci sees through his plan. Merkatz, leading the Iserlohn fleet, pretends to fall into the trap, thus the Imperial Fleet is attacked from behind when it engages Yang's fleet. Kempf finally decides to smash Geiesburg into Iserlohn, but the Alliance's fleet destroys the engines, and the damaged the fortress moves randomly, destroying many imperial ships, before blowing up. The Imperial Fleet falls back but, against Yang's order, some commanders decide to pursue the Imperial Fleet.
#14 - Cold, Clear, Cybernetic Eyes 6.91
Season 1 - Episode 8
Paul von Oberstein, chief of staff of the Iserlohn fleet, is in trouble. He saw through Yang's plan, but his commander didn't listen to him, and he fled before the destruction of the fleet. The three chiefs of the Imperial fleet resign, but want to make him responsible of the defeat. Oberstein meets Reinhard and explains how, like him, he hates the high nobles and the Goldenbaum dynasty, and offer his help. Reinhard agrees and obtains his pardon by advising the Emperor to refuse the chiefs' resignations.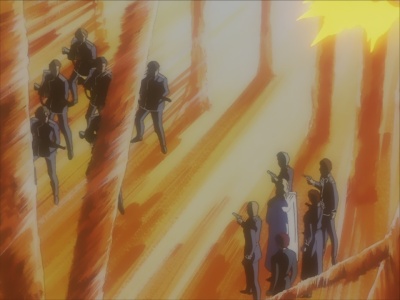 #15 - Incident at Urvashi
Season 4 - Episode 6
Julian answers complaints on Iserlohn. Reinhard visits many locations on Uruvasi. That evening the guards around the guest house act erratically. Lutz, Müller, and Reinhard's personal guards escape via car with a battalion of soldiers in pursuit. In the woods, the Reinhard entourage is attacked by soldiers and snipers. Eventually they meet up with the flagship Brunhilde. High Admiral Lutz stays behind to hold off the soldiers and is killed. Konev brings news of Reinhard escaping Uruvasi with only a single ship. Merkatz advises Julian on Reuenthal possible plans.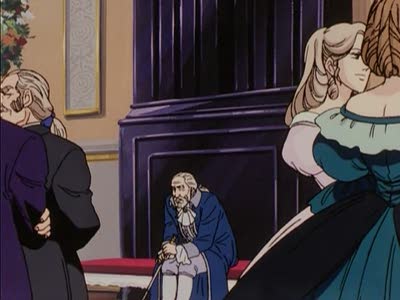 #16 - The Klopstock Incident
Season 1 - Episode 9
Thirty years ago, marquis Klopstock was exiled form the imperial court. He asks prince Braunschweig, the Emperor's son-in-law, to ask forgiveness on his behalf. Braunschweig invites him to his daughter's birthday party. Klopstock's real goal is to bring a bomb in order to kill the Emperor, who will be there. At the party, Reinhard clashes with baron Flegel. The bomb is taken away by accident and makes little damage. Klopstock commits suicide and all the incident is kept secret.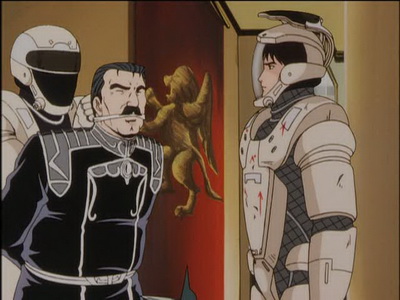 #17 - Cascades of Blood
Season 3 - Episode 8
July 22, 799 S.C. / 1 N.I.C.:The turmoil on Heinessen expands. Yang debates Lebello on the state of the nation. Lebello agrees to exchange his freedom for Lennenkanpt. The Rosen Ritter infiltrate the Imperial Consulate, kidnapping Lennenkanpt and causing massive casualties on the Imperial side. While in captivity Lennenkanpt hangs himself, too ashamed too live. Fredrica applies make up to Lennenkanpt's corpse, tricking the Imperials. Cazellnu resigns his post in the Alliance government and joins Yang's fleet with his family.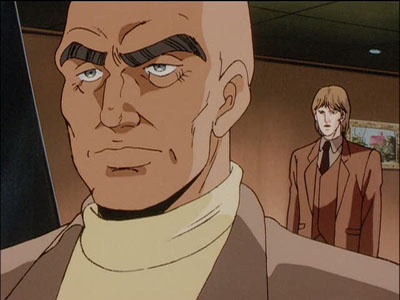 #18 - Determination and Ambition
Season 2 - Episode 9
The Mittermeyer and Reuenthal Fleets meet the retreating Imperial fleet and destroy the Alliance's pursuing ships before falling back when the Iserlohn Fleet shows up. In Odin, Müller is forgiven by Reinhard. Reinhard tells Hildegard von Mariendorf that power should not be inherited, but seized. In Phezzan, Kesselring explains to Rubinsky that the Free Planets Alliance is on the verge of bankruptcy; they decide to go on with their plan. It is revealed that Kesselring is Rubinsky's illegitimate son. Back in Iserlohn, Yang shares with Julian Minci his thoughts about military strength and how it is often used against the citizen it was supposed to protect.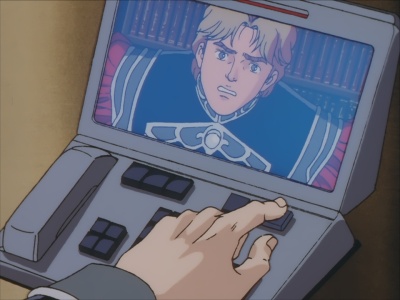 #19 - The Two Great Ones Strike Simultaneously
Season 4 - Episode 9
Admiral Grillpalzer convinces Admiral Knapfstein to join Reuenthal's side while betraying him later. Mittermeyer discusses battle plans with his subordinates. Wahlen tries to convince Reinhard to exercise restraint. Murai arrives at Iserlohn as Reuenthal's messenger of negotiations. Julian decides to refuse Reuenthal's offer. To accept it would be a short term gain with consequences later from the Empire. Reuenthal and Mittermeyer talk about resolving the situation, but are unable to persuade each other. Reuenthal had realized that Reinhard needed a strong opponent more than anything else. In Reuenthal's fleet, unrest is brewing. Reuenthal explains to his soldiers they are fighting against villainous vassals within the Empire. Moreover, Reuenthal had to secure a victory to raise morale.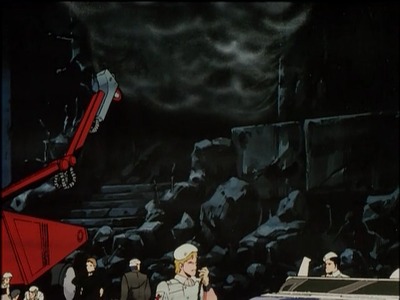 #20 - Jessica's Struggle 6.50
Season 1 - Episode 10
Yang is sent to Thernussen (Heinessen's second largest city) with his ward, Julian Minci, to attend a ceremony at the Military Academy. He meets Jessica Edwards, who is campaigning for the Peace Party candidate in an upcoming election. We learn that Yang, while being loyal to democracy, has no love for the current politicians. The P.K.C. sets a bomb in the Peace Party's headquarters, killing the candidate, but their plan backfires when Jessica, who is the new Peace Party candidate, wins a landslide victory.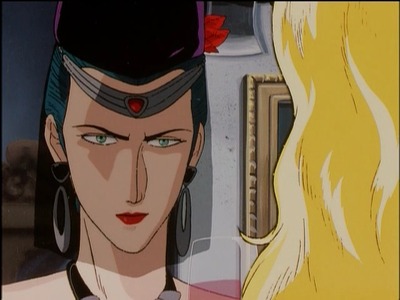 #21 - An Actress Exits
Season 1 - Episode 11
Susanna von Benemünde, a former favorite of the Emperor, wants to get rid of Annerose and win back the Emperor's love. She teams up with Flegel, who hopes that a scandal involving Annerose will lead to Reinhard's downfall. Annerose is abducted: she is to be killed and found with a supposed lover from the lower class. She is rescued by Kircheis, Reuenthal, Mittermeyer and Oberstein. Benemünde is forced to commit suicide. Flegel has been smart enough to leave no proof of his involvement, but Oberstein and Reinhard suspect him anyway.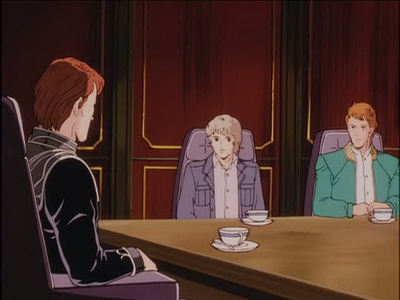 #22 - Holiday's End
Season 3 - Episode 10
Julian convinces Wahlan to escort him to Odin. The Imperial admirals discuss the issue of Lennenkanpt's capture and the unverified accusations against Yang. Oberstein argues that the subterfuge within Heinessen could be very advantageous to the Empire. The Admirals all reject Oberstein's conclusion and opportunism, preferring to investigate the plot for the truth. Yang's fleet heads towards Merkatz's base. During this trip, Yang considers the miscalculations leading up to his capture as well as the next steps needed. Reinhard formalizes his plan of moving the Imperial capital to Phezzan. August 13, 799 S.C. / 1 N.I.C.: Planet El Facil declares independence from the Empire and Alliance.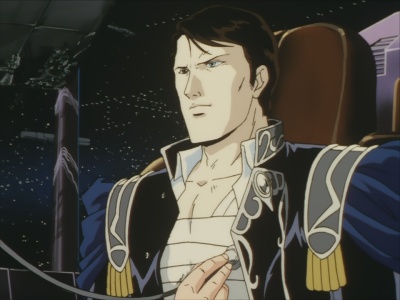 #23 - Die by the Sword
Season 4 - Episode 11
Mittermeyer's fleet catches up with Reuenthal's fleet as they head to Heinessen. Grillpalzer betrays Reuenthal's fleet and fires on his former allies. Reuenthal's flagship is hit by long distance artillery. Reuenthal is impaled in in the chest by a piece of metal. Reuenthal continues to order tactics as he becomes pale. Grillpalzer surrenders to Wahlen's fleet. Mecklinger discovers Terraism evidence on Uruvasi hidden by Grillpalzer. Mecklinger orders Grillpalzer arrested. Reuenthal returns to Heinessen with only 10% of his fleet remaining.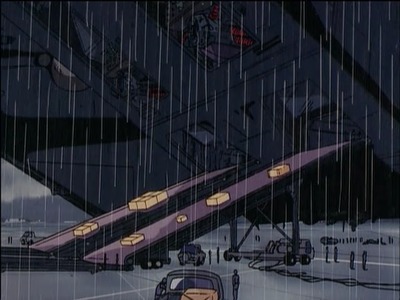 #24 - When It Rains, It Pours
Season 1 - Episode 13
August, 22, 796 S.C. /487 I.C.: the invasion of the Empire has begun. Reinhard implements a scorched earth strategy: all food is taken from the frontier zone, so the "Liberation force" of the Free Planets Alliance will be forced to feed the inhabitants. Reinhard plans to attack the invading fleets when their supply lines will be overstretched. Commodore Ulrich Kesler carries out the orders but, in the process, has to face someone from his past.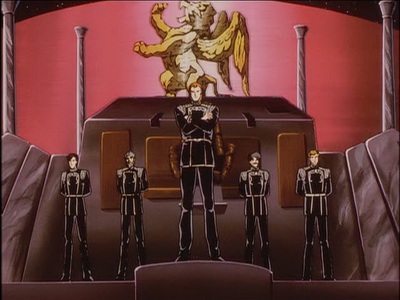 #25 - Beneath the Flag of the Golden Lion
Season 3 - Episode 12
Reinhard considers the possibility of Yang joining the Empire. Hildegard considers the different power groups at play. The current balance of power is divided between the Empire, the Alliance, Yang, El Facil, Phezzan merchants, Earth Cultists, and Goldenbaum loyalists. Yang is seen as a possible unifier of the Alliance, El Facil, and Phezzan merchants. Meanwhile Silverberche, the Imperial Secretary of Industry starts construction of the new Imperial capital in Phezzan. During a high level staff meeting, Reinhard decides that the Galactic unification of humanity is vital.