Fireman Sam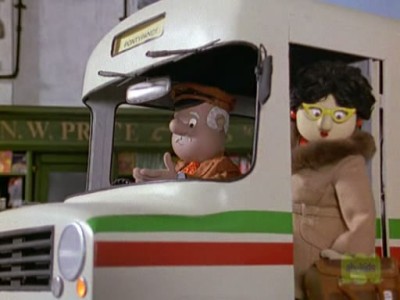 #1 - Home From Rome
Season 4 - Episode 1
Rosa stows away in Bella's shopping trolley, when she goes to Bingle's department store. But disaster strikes when a lift gets stuck, and it's up to the Pontypandy fire service to rescue Bella and her cat...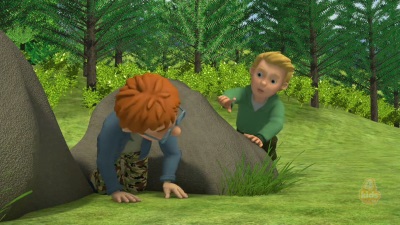 #2 - Hide and Seek
Season 9 - Episode 21
Norman claims to be the best hider in Pontypandy, and has bet all his sausages the other children can't find him.
#3 - Dilys' Forgetful Day
Season 3 - Episode 1
When Dilys falls off the ladder, Norman's got a lot of explaining to do!
#4 - The Big Freeze
Season 5 - Episode 2
Norman raises everyone's temperature with the bed he builds for his pet lamb Woolly.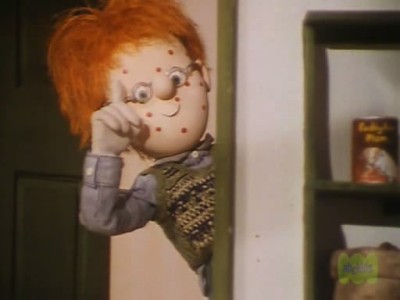 #5 - Spot Of Bother
Season 3 - Episode 2
Norman's double bluff backfires when chicken pox hits Pontypandy.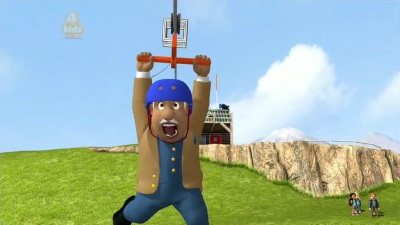 #6 - The Pontypandy Pioneers
Season 7 - Episode 2
Trevor takes the children on a nature walk to the Mountain Rescue centre. A zip wire has been set up for them, and when Trevor goes on it, he gets stuck.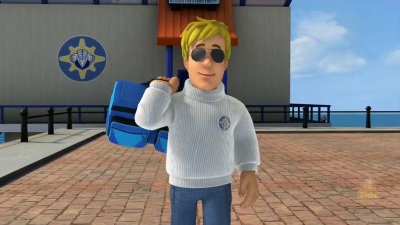 #7 - All At Sea
Season 9 - Episode 1
It's the day of Pontypandy's new Ocean Rescue Centre launch and Station Officer Steele is taking the firefighters on a tour of the centre. As they arrive on the quay, so does the new coastguard, Ben Hooper.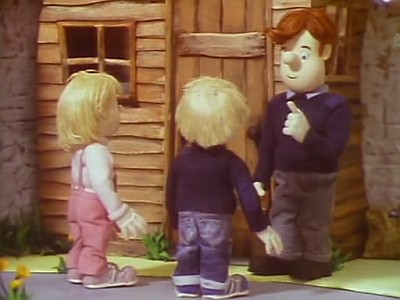 #8 - Sam's Day Off
Season 2 - Episode 2
Sam's popcorn machine is just the ticket for the cinemas, until it suffers from a touch of flumbustication!
#9 - Quarry Rescue
Season 4 - Episode 3
While Bella is making pizza's for Trevor to deliver James falls into an old quarry. Then Trevor gets his finger stuck in the brake fluid chamber.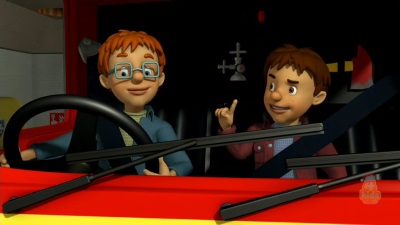 #10 - Jupiter on the Loose
Season 8 - Episode 2
When the Pontypandy Pioneers go to the fire station to complete their fire safety badge, Norman wants to prove to Derek that he can drive a fire engine.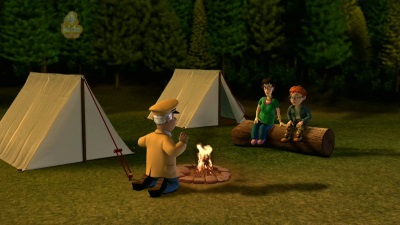 #11 - Hearts on Fire
Season 6 - Episode 3
Trevor take Dilys and Norman camping, but Dilys becomes panicked after hearing Norman's exaggerated stories.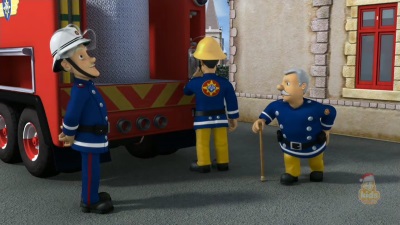 #12 - Boyce will be Boyce
Season 8 - Episode 3
Station Officer Steele fills in when Boyce hurts his back.
#13 - Castles and Kings
Season 10 - Episode 3
Mandy, Norman and the Twins play castles and kings and Norman wanted to build a fire breathing dragon, but the dragon catches fire and later crashes into Bessie's shed which causes the fire to spread on the back of the shed.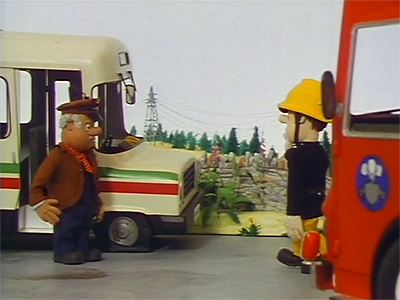 #14 - Flat Tyre
Season 1 - Episode 4
After going to a boot-sale, Trevor's tyre goes flat and invades Pontypandy and loads of delays, luckilly Fireman Sam goes to the rescue.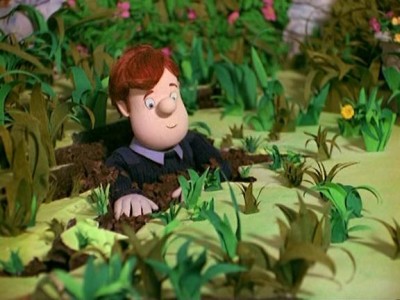 #15 - Deep Trouble
Season 4 - Episode 4
Sam has been sent to weed Penny's cottage garden. Why has Penny been called out to help?
#16 - Twist of Fate
Season 5 - Episode 3
Station Officer Steele takes Norman and Mandy Flood pot-holing, but he soon ends up in a tight spot.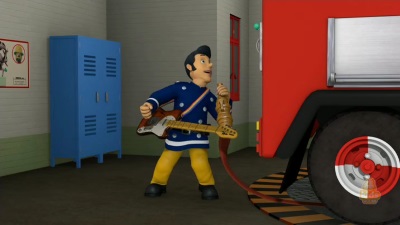 #17 - Elvis In Concert
Season 8 - Episode 4
Pontypandy is holding a Charity Concert and Elvis is to be the star act.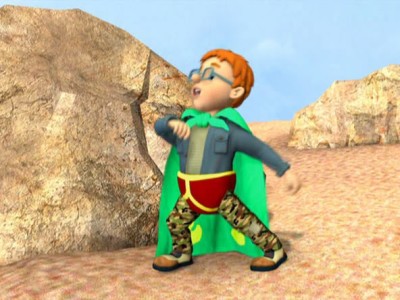 #18 - The New Hero Next Door
Season 6 - Episode 5
When Mandy gets a new video camera, the children decide to make an action movie.
#19 - Trevor's Bus Boot Sale
Season 4 - Episode 5
Trevor is holding a 'Bus Boot Sale', but then gets trapped at the old dump while suffering from some fumes. After Norman rescues him Norman then gets a surprise from Trevor.
#20 - Trevor's Training
Season 1 - Episode 3
It's routine drill for Trevor on his first day in the fire service, until a message comes over the radio.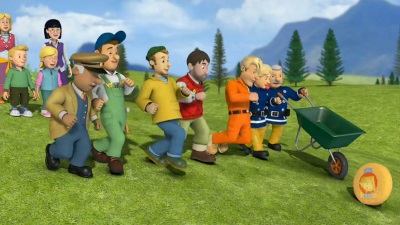 #21 - Wild Cheese Chase
Season 9 - Episode 3
It's the annual Pontypandy Cheese Roll Challenge (a race down a hill chasing a giant circular cheese) and Norman really wants the prize - the giant cheese! He sets out to win, but is it too late to enter the competition?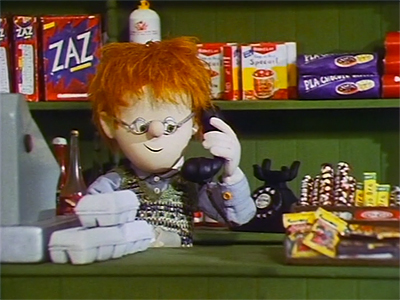 #22 - Norman's Tricky Day
Season 1 - Episode 6
Norman is up to his old tricks as usual, but this time he plays one too many!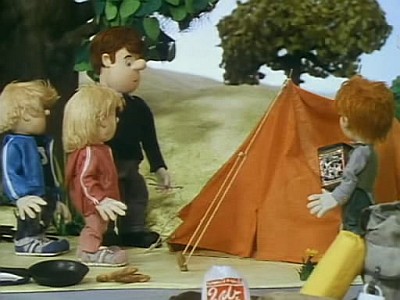 #23 - Camping
Season 1 - Episode 5
What have a frog and an oily rag got to do with camping? Sam, Sarah and James soon find out.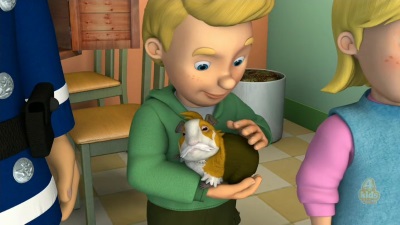 #24 - The Great Guinea Pig Rescue
Season 8 - Episode 6
Sarah and James's new pet guinea pig escapes.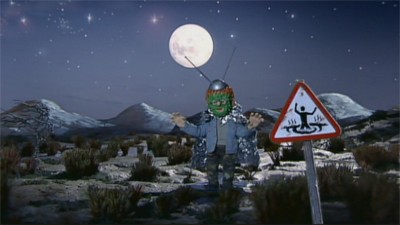 #25 - Bug Eyed Boy From Venus
Season 5 - Episode 5
When Trevor Evans tells the children that there's no such thing as little green men from outer space, Norman is determined to prove him wrong.