Excel Saga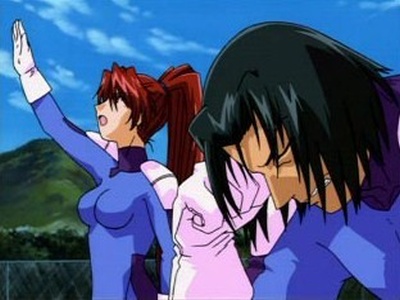 #1 - The Cold is Winter! Snowed Under Episode
Season 1 - Episode 6
When Ilpalazzo sends Excel and Hyatt on a mission to gather more resources for Across, the duo find themselves journeying out to the mountains. However, whether it's panning for gold or hunting for meat, finding resources in the middle of a survival drama setting promises to be far from an easy task for our intrepid heroines! And elsewhere, Watanabe, Iwata and Sumiyoshi face trials of their own as they attend a bizarre training seminar and meet up with a new colleague- the beautiful and dangerous Misaki Matsuya.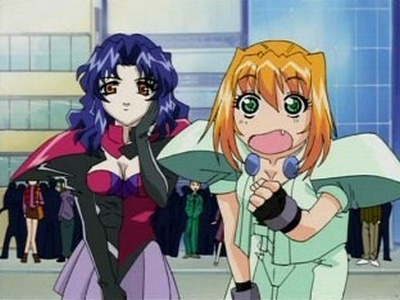 #2 - More! Prop Memorial
Season 1 - Episode 15
Annoyed that Ropponmatsu has bought it after only one episode, the merchandising team demands that she be put back in the show immediately. In the meantime, Iwata tries to put up with Ropponmatsu 2, an annoyingly cute little-girl version of the original Ropponmatsu, and Excel and Hyatt try their last mission over again, this time with a robot of their own!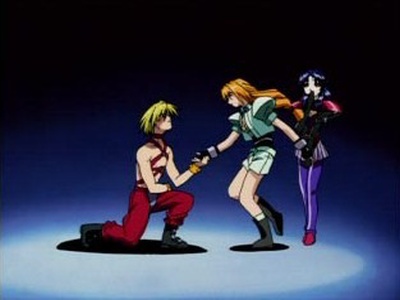 #3 - Visually Appealing Type
Season 1 - Episode 21
Fed up with Ilpalazzo's lack of progress, ACROSS HQ sends the leather-clad, ruggedly handsome, and more-bishonen-than-thou agent Key to deliver an important message to Ilpalazzo. But rock-star wanabee Key, being the ""artise"" that he is, won't deliver his little singing telegram until his muse returns. In the meantime, an envious Ilpalazzo sends the lovestruck Excel and the blasè-as-usual Hyatt to keep an eye on Key. That's easier said than done, though, as Key hooks up with a down-on-their-luck ""visual-type"" band and turns them into superstars, even scoring them a big gig, where he plans to reveal his big message on national television...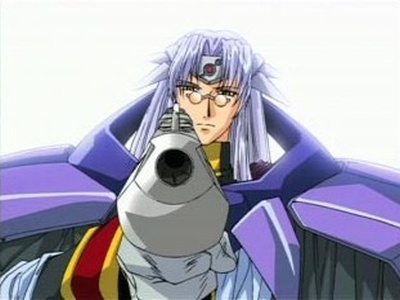 #4 - For You, I Could Die
Season 1 - Episode 24
After Koshi Rikdo declares this episode to be gag-free, an amnesiac Excel gives the performance of her life after being rescued by the surviving members of the Safety Assurance Agency (i.e. all of them). But as she copes with her betrayal and tries to recover her identity, Ilpalazzo is having an identity crisis of his own, as his drive to conquer pushes him further forward. Angst and pointless plot twists abound as Excel searches for ACROSS... and Ilpalazzo struggles with his ambition.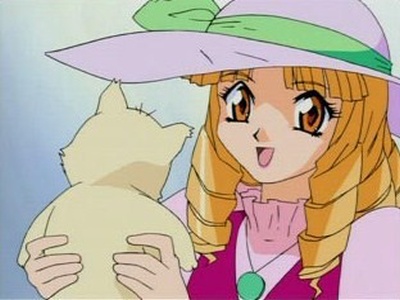 #5 - Menchi's Great Adventure 2 Around the World in 80 Hours
Season 1 - Episode 19
Menchi makes another break while Excel and Hyatt are out of town on a mission, and ends up on a boat to America. There, she meets Ann Anzai, a young lady who must travel the world in 80 hours before she can collect her inheritance from her grandfather, and accompanies the girl on her adventure. Can the two of them make it in time, and can Menchi defend her new friend from a mysterious assassin out to get both of them?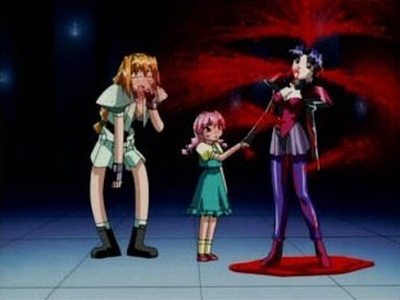 #6 - Going Too Far
Season 1 - Episode 26
In this aptly-named epilogue, an aborted attempt at making a musical version of Excel Saga is replaced by an exercise in pushing the boundaries of good taste for even Japanese television. As a small sampling of the insanity, Excel and Hyatt (the former more deranged than usual, the latter more sickly than usual) switch bodies, Cosette returns only to get naughty with Dr. Shioji, Watanabe takes Hyatt (in Excel's body) to a love hotel, Nabeshin gets married, and there's way too much blood and pointless violence. What better way to end a ""Quack Experimental Anime""?
#7 - The Koshi Rikdo Assassination Plot
Season 1 - Episode 1
The secret ideological organisation of Across has but one goal in mind- world domination. To that end, Across leader Lord Ilpallazzo sends his overenthusiastic (if somewhat incompetent) agent Excel Excel to get the ball rolling by working towards the takeover of F City, F Prefecture. Excel's first mission is to rid the world of the evils of manga artists and animators, starting with series creator Koshi Rikdo. Will Excel be able to complete her mission and hold down a part-time without getting killed or causing chaos for all around her? It looks doubtful…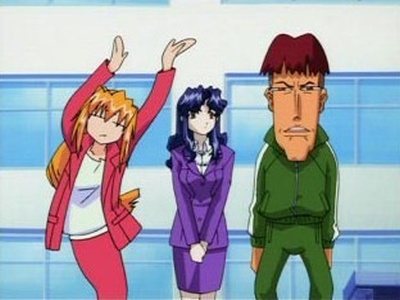 #8 - Butt Out, Youth!
Season 1 - Episode 11
Thanks to the state of modern education, the future is looking bleak- and that means that Across must take action. To that end, Ilpalazzo sends Excel and Hyatt to work at Excel's old high school, which has since become a dumping ground for all manner of juvenile delinquents. But no sooner have they tamed the students than a new challenge arises- whipping the school's woefully poor baseball team back into shape. But even with all the clichés of sports anime on their side, will Excel and Hyatt be able to create a team good enough to win their crucial match against the Monkey Balls High team?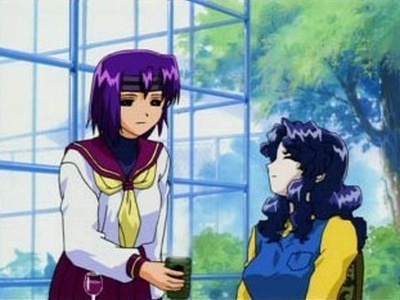 #9 - Take Back Love!
Season 1 - Episode 16
After getting demolished again in the last episode, new copies of Ropponmatsu 1 and 2 are delivered to Watanabe's apartment. But by mistake, Excel and Hyatt accidentally activate the new models, which immediately become fixated with them, in more ways than one! But will this double dose of shoujo-ai end in tragedy... or just dark comedy?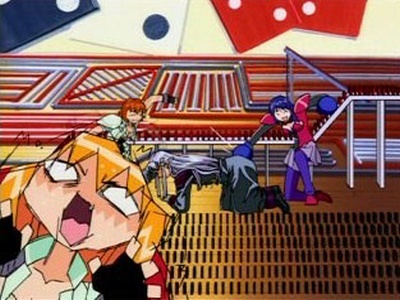 #10 - The New Year's-Year End Hidden Talent Contest
Season 1 - Episode 13
It had to happen eventually. The producers got behind schedule- there's way no way enough material for a whole new show could be produced in time. So what plan than to polish off some old clips, do some fancy editing, and make up a review episode? Yes, it's Excel Saga's turn for a clip show, framed by a seasonal New Year-Year's End Hidden Talent Content, as presented by Excel and Hyatt.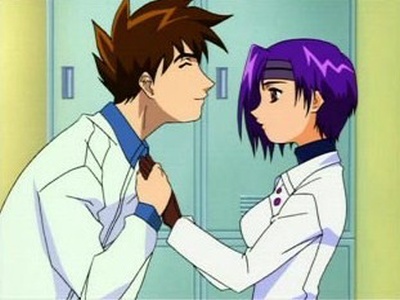 #11 - Prop
Season 1 - Episode 14
In order to pick up flagging ratings, the Excel Saga writers introduce a new character: the android lady Ropponmatsu, creation of Dr. Shioji, a brilliant scientist with a mostly-innocent (thank goodness) fixation with small girls. Iwata, of course, becomes hopelessly enamored with Ropponmatsu, completely clueless to the fact that she's not a living, breathing human. Meanwhile, Excel and Hyatt manage to bungle a seemingly simple mission to deliver a package with a bomb in it, one discovered and disarmed by Ropponmatsu... well, not quite, much to Iwata's horror.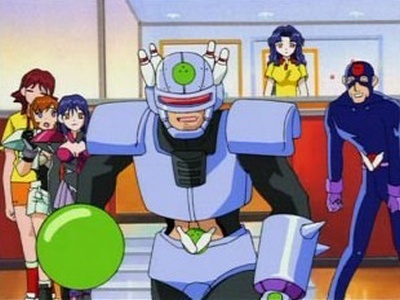 #12 - Bowling Girls
Season 1 - Episode 9
When Ilpalazzo orders Excel and Hyatt to learn how to control the masses through their most popular sports, the duo end up working in the rather less than mainstream field of ten pin bowling! However, what looks to be nothing more than a quiet part time job in a bowling alley soon becomes far more dangerous when the alley is taken over by an evil terrorist group of middle-aged bowling fanatics! Now only woman stands in the way of these miscreants- the over-energetic yet under-competent Excel Excel…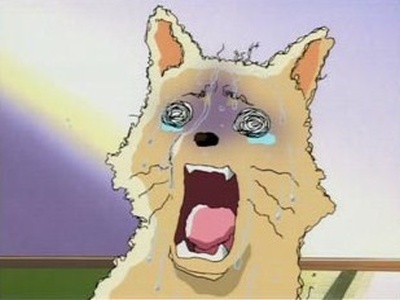 #13 - Increase Ratings Week
Season 1 - Episode 8
It's an all-girl fan service fest as Excel and Hyatt take off to the swimming pool, accompanied by local girl Cosette. But even as they laze in the sun and enjoy all the clichés of a summer episode, it appears that Cosette may have a deadlier mission in mind than simply taking a quick dip in the pool. Could such a cute little girl really be a sinister assassin? On a show like this, anything seems likely…