Cake Boss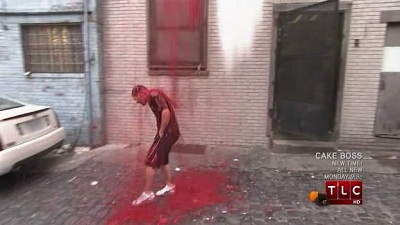 #1 - Plants, Pranks and a Proposal 7.14
Season 2 - Episode 1
In the second season premiere, Buddy and his crew are given the task of making a cake with the theme of poisonous plants. Also, a customer wants to propose at the shop so Buddy makes a cake in the shape of an engagement box.
#2 - Bees, Beware & Business
Season 4 - Episode 28
Carlo's is all abuzz this week when Buddy makes a giant behive cake made with real honey! Later, Buddy gets a request from a wife who wants to prank her unsuspecting husband. Finally, all jokes are put aside when Grace and Buddy get down to business.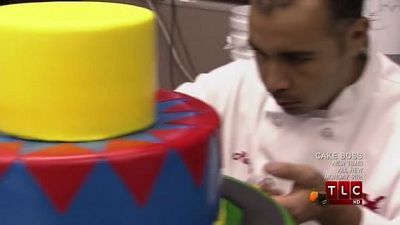 #3 - Candy, Crash & Crisis
Season 2 - Episode 2
Buddy and his crew are asked to make a cake for Dylan's Candy Bar. Buddy's sisters think that he could use an assistant.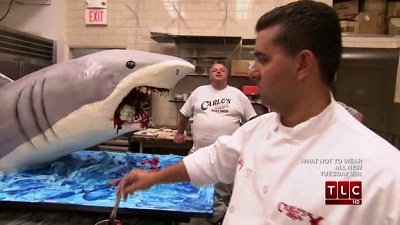 #4 - Shark Cake, Scooter & Smelly Fish 7.76
Season 4 - Episode 2
Buddy makes a great white shark cake for a fisherman; he also makes a Vespa birthday cake for Madeline and Mauro, whose birthdays are close to each other.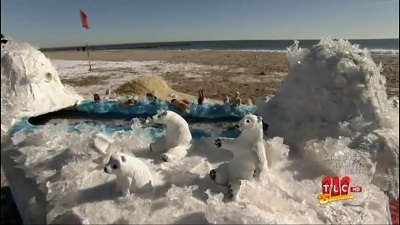 #5 - Peppermint & a Polar Bear Plunge 8.07
Season 3 - Episode 2
While on a cake consultation with the Coney Island Polar Bear Club, Buddy and his crew get an unusual challenge, when Mama Valaestro finds out about it, she requests that they don't partake in it; Buddy's youngest son requests that he make an ice cream cake with clowns on it for his birthday.
#6 - Pirates and Pastries
Season 8 - Episode 1
It's all hands on deck when Buddy and the team create a pirate themed cake; Buddy gets ready to open a new bakery in Connecticut.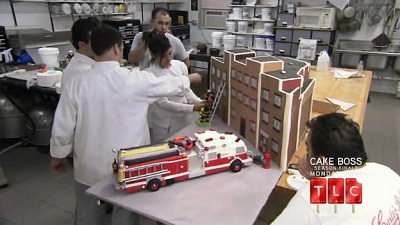 #7 - A Fire, A Fashionista and Family 8.38
Season 1 - Episode 2
Buddy and his team learn that where there's smoke, there's fire when they have to build a fire engine cake complete with working lights, siren and smoke. They also have to create a 30th birthday cake for two trendy fashionistas. This week also marks the 15th anniversary of Buddy's father's death so emotions are high as he recreates his father's trademark cake for the family memorial dinner.
#8 - Trash, Twirls & Tough Love 7.58
Season 5 - Episode 2
Buddy makes a realistic Trash Truck cake for a family friend. Two ladies request a cake for the founder of their synchronized swim team. Mary is accused of being rude again to the work staff, forcing Buddy to take action.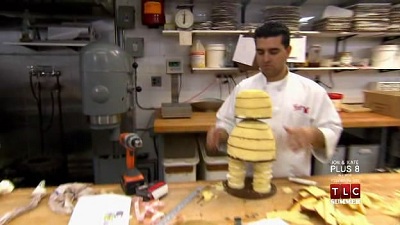 #9 - Bunny, Birthday and Burnt Food 8.06
Season 1 - Episode 3
It's one of the busiest weeks of the year at Carlo's Bakery with orders pouring in for Easter, and a last-minute Easter Bunny cake turns into more than the team bargained for. There are also three members of the family celebrating birthdays this week and Buddy's sister Grace, who's never cooked for the family before, decides she's going to make Easter dinner.
#10 - Sand Castles and Seeing Double 7.75
Season 8 - Episode 2
Buddy navigates the tricky task of making a birthday cake for twins who couldn't be more different; Buddy makes a giant sand castle cake.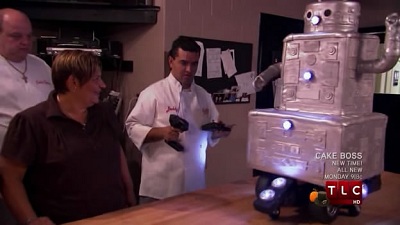 #11 - Robots, Rollerskates and Relatives 6.78
Season 2 - Episode 3
In this episode, Buddy delivers a rollerskate themed cake while on rollerskates. Also, a robot cake is created by the staff.
#12 - Stained Glass & a Surprised Danny 7.67
Season 5 - Episode 3
Buddy has a divine inspiration when Father Bob orders a cake for an honored church member. Despite the crazy schedules, everyone finds time to surprise Danny for his 50th Birthday with some special guests.
#13 - Botanical Cakes and Anti-Lock Brakes 7.17
Season 8 - Episode 3
The NY Botanical Gardens is celebrating Hispanic Heritage Month, and they want Buddy to make the cake. Repeat customers return 10 years later with plans in hand. Carlo's made their original wedding cake and now they want 5 full cakes to celebrate.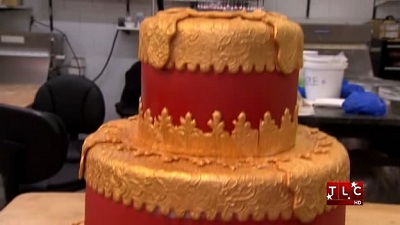 #14 - Weddings, Water and Whacked!
Season 1 - Episode 4
The team at Carlo's is hoping not to get whacked when they're asked to make a huge roulette table cake for a local businessman. It's also the start of wedding season and the time-consuming wedding cake orders are piling up. A mix-up by the sisters not keeping cake orders organized throws Buddy off the handle when a customer comes in to pick up a cake that's not ready.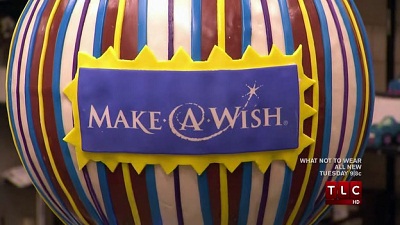 #15 - Hot Air Balloon Cake & Happy Little Bakers 8.06
Season 4 - Episode 3
Buddy makes a special cake for the Make-A-Wish Foundation; he also plays host to four girls who rely on Make-A-Wish to make their common dream come true -- they all want to be bakers. But it's Buddy's brother in law Joey who has a special connection -- his daughter was also a Make-A-Wish kid.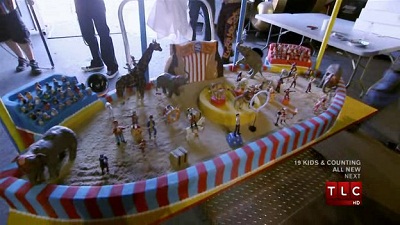 #16 - Circus, Celebrity Chef & Surprise!
Season 4 - Episode 1
Buddy makes a special cake for the Ringling Bros. and Barnum & Bailey Circus; Rachael Ray pays a visit to the bakery for her show, in which Grace was an irrepressible fan; Buddy and staff make a special cake for Lisa to celebrate her fourth pregnancy, but the staff doesn't know who the cake is for. (This episode is dedicated to longtime Carlo's Bakery employee Sal Picinich, who died the day before broadcast.
#17 - Mary Models, Toys and Turkish Marbling
Season 8 - Episode 4
Buddy is asked to recreate traditional Turkish water marbling on a cake. Plus, a cake for a toy company brings out everyone's inner child. Mary takes steps to realize a life-long dream of becoming a foot model.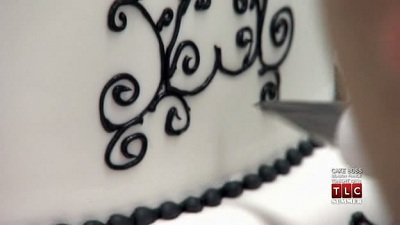 #18 - A Bride, A Boat and Bamboozled!
Season 1 - Episode 1
Meet award-winning pastry chef and cake decorator Buddy Valastro and his over-the-top family at Carlo's Bakery in Hoboken, New Jersey. After beginning a week completely jam-packed with cake orders, Buddy gets a call from a customer he cannot possibly turn down. Brides Magazine is offering Buddy an inside cover photo spread but he's going to have to create a cake unlike any he's ever done before. Between arguing with his family, producing the standard 300-plus cakes the bakery makes in any given week and running out of sugar, is there any way Buddy and Company are going to get this opportunity of a lifetime cake done in time? All the while Buddy's sisters are planning to throw their brother a surprise birthday party.
#19 - Fast Hands & a Flaming Pearl
Season 5 - Episode 4
Buddy makes a Dragon cake for Chinese New Year celebrations. But first, the team creates a life-sized punching bag for a couple of mixed martial arts fighters at a local gym.
#20 - Liberty, Layups & a Loaded Dinner 6.63
Season 5 - Episode 5
Buddy celebrates his heritage by making a cake in honor of Lady Liberty. Mauro finally realizes his goal of becoming an American citizen. But not everyone is in a celebrating mood as Mary gives everyone a piece of her mind at dinner.
#21 - Fitting In, Fed Up & A First Birthday
Season 5 - Episode 1
Buddy makes a cake for Baby Carlo's first birthday that's fit for a prince! Marissa learns what it means to be a part of the crew. Things turn serious when Grace gets fed up with Mary's lateness!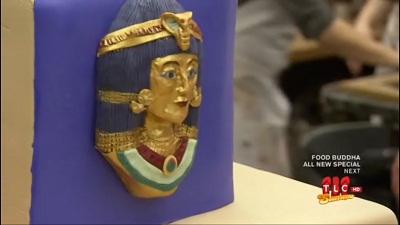 #22 - Hieroglyphics, Hearse and Happy Parents 7.64
Season 3 - Episode 5
A funeral hearse is made for a surprise cake. A mother and daughter cannot agree on a theme for a Sweet 16 cake, with one desiring an Egyptian theme, and the other a more girlish fashion-oriented theme. An animal-themed cake is made for an Indian baby shower.
#23 - Kid Crush and Carnival
Season 7 - Episode 5
Angela, the owner of a Brazilian restaurant, pays a visit to Carlo's to find out if Buddy's team can bake a carnival cake that can match her vibrant parties.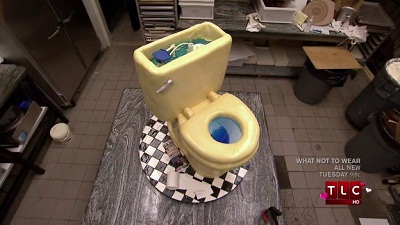 #24 - Toilets & Textiles 7.51
Season 4 - Episode 4
A plumbing supply company asks Buddy to make a toilet bowl cake with one special condition -- the cake must actually flush. A nightclub owner who's a fan of denim requests a baby shower cake -- that looks like denim. Meanwhile, someone in the bakery has accidentally made a tiered cake with uneven tiers; with the cake on a deadline, Buddy demands who's at fault.
#25 - Tournament of Knights and a Tasty Tiramisu 7.79
Season 3 - Episode 4
Buddy's Italian speaking skills are put to the test as he has to make an authentic tiramisu for a client who has family visiting from Italy. In addition, a knight comes to the bakery to ask for a cake for his king and queen, and challenges Buddy to a joust.