Beelzebub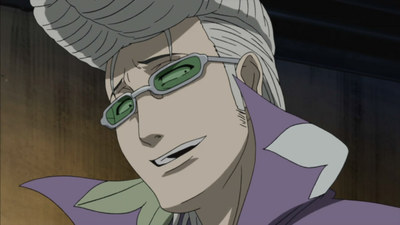 #1 - There's Nothing You Can't Buy With Money 9.10
Season 1 - Episode 5
After a sleep deprived night, Oga notices he has a strange mark on his hand, revealed to be Zebel Spell, a symbol of the contract between him and Beelzebub. Hildegarde and Alaindelon explain that a Demon Lord's parent is a vessel for his power, and the mark will grow the more opponents Oga defeats. Wanting to get rid of the mark, Oga decides to give up fighting in the hopes it'll make the mark smaller. Meanwhile, another delinquent, Tatsuya Himekawa, hires some thugs to kidnap Hildegarde and Takayuki in order to get Oga's attention. Oga uses Alaindelon to sneak in and forgoes his promise to beat Tatsuya's henchmen. Tatsuya goads Oga into hitting a cermanic plate hidden under his shirt, but his punch is so powerful it knocks him out anyway. Tatsuya then tries using a stun rod, but Oga resists it and uses Beelzebub's power to beat him, which in turn makes his mark larger.
#2 - We're the Strongest! 9.00
Season 1 - Episode 59
While Aoi fights Agiel, Oga and Hilda meet Behemoth and Jabberwock up close and personal. Then, at Akumano Academy, Lord En and quetzalcoatl has the delinquents playing a "game," and at the same time, Oga fights Jabberwock to free Hilda from the enormous jaws of Sodom. Will Oga and Beel have the power to free Hilda from Jabberwock and his dragon, Sodom?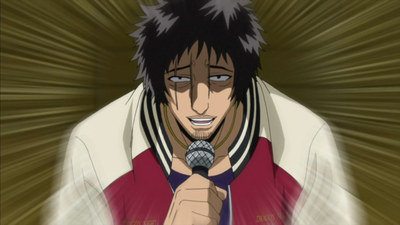 #3 - Finally, the Deciding Battle! 8.86
Season 1 - Episode 36
Kiriya, the man who scarred Miki and tried to attack Oga in the past shows up at the volleyball match. He declares that he is seeking revenge on Oga, and has taken hostages at the school to stop anyone interfering. Kiriya reveals that he had to move away to Nara previously, and this is why he is only now seeking revenge on Oga. Miki, who also moved to Nara after being beaten by Oga, realizes that Oga had only beaten him to protect him from Kiriya when the two of them were both in Nara. Oga and Miki team up to take down Kiriya's henchmen while the 6 Holy Knights, the Red tails and the Tōhōshinki incapacitated all of the Keimo High students holding the St. Ishiyama students captive. Oga directly confronts Kiriya, and declares himself to be going all out. The Zebel Spell spreads over Oga's arms and up and over his face as he unleashes his Zebel Blast attack, in full view of the entire school's population. Izuma quickly announces that the event was staged, and that even the Keimo High students were in on the act. As he walks out of the gym, he warns Oga not to show off his demon powers in public. Oga tells Hilda and Alaindelon what Izuma had said to him.
#4 - We Meet Again 8.82
Season 1 - Episode 8
Aoi and the Red Tails return to Ishiyama High to deal with Oga, despite not knowing who he is. When Takayuki drags Oga to meet her, Aoi is shocked to find Oga is the one she met at the park, although he doesn't recognize her back. Aoi starts to fight him using powerful bokuto attacks that cut through glass, but he manages to dodge all of her attacks. Impressed by her strength, Oga asks Aoi to become Beelzebub's mother which causes her to become embarrassed and run off. Afterward, Aoi seems to develop feelings towards Oga. Meanwhile, another delinquent gang plots to take down Aoi.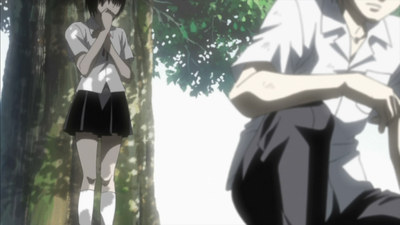 #5 - You're Not a Bad Specimen of a Man 8.80
Season 1 - Episode 16
Takayuki is dragged away from his tropical summer vacation against his will to join Oga and Beelzebub to a public pool, though Oga is soon shocked by the fact he could've gone to the tropical resort himself. Whilst chatting with the Red Tails, Takayuki is approached by some delinquents from his old middle school and ends up going against their leader, Takashima, when they start hitting on the girls. Takayuki tries to hide in the pool, but Takashima calls more of his men and tricks the lifeguard into evacuating the pool, leaving Takayuki and a stunned Oga. As Takayuki becomes surrounded, he forces Beelzebub to cry in order to shock all the delinquents before facing Oga's wrath.
#6 - Sorry to Have Kept You Waiting 8.78
Season 1 - Episode 47
The show opens seeing the 2 pillars who got beaten in jail, and 2 other pillars talking to them. One is Lamia's mom. They then cut to the main gang who are tired from playing video games. Shiro acts as Lamia while talking to En. He speaks like a ditzy schoolgirl, but En buys it.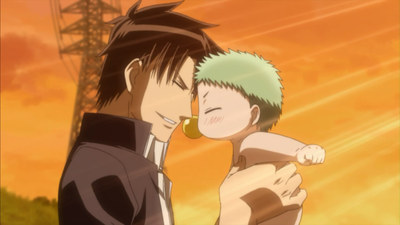 #7 - I Won't Say Goodbye 8.77
Season 1 - Episode 60
It begins with a bunch of Ishiyama delinquents crying and mourning over the loss of Oga and Baby Beel. Their tears stop short by the river when Alaindelon cruises like a speedboat and Oga and Beel pop out of the man. At Oga's house, Hilda explains that the Great Demon Lord has no interest in destroying humanity which means the goal of raising Beel to destroy all humanity is no more. Beel and his gang will have to go home, and mass hysteria follows. Will Oga, Beel, and the gang part ways forever?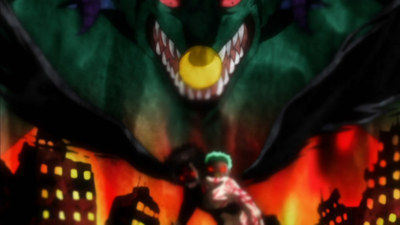 #8 - There Is One Second Before the Demon Lord's Floods Burst Forth 8.77
Season 1 - Episode 4
Beelzebub is currently in a phase of non-stop urination that threatens to flood the city. Hildegarde manages to temporarily stop it with an interdimensional diaper, but in order to stop it completely, Oga decides he needs to get a super absorbent daiper advertised on telly. Upon reaching the supermarket only to find the brand had already sold out, it is taking hostage by a group of thugs. As Oga probes everyone to see how ruthless they are, Beelzebub's diaper gets stuck on the leader's gun. Whilst the leader considers raising Beelzebub, Oga ends up changing his mind and beats him, before they decide to hover Beelzebub over the ocean to finish urinating.
#9 - Today I'm Different on the Inside 8.75
Season 1 - Episode 50
Due to the after effects of Super Milk Time, Baby Beel and Oga have swapped bodies. In order to return things back to normal, they try to look for Saotome-Sensei to see if he knows how to, however they are continuously disrupted by everyone else from the academy trying to start a fight with Oga (who is currently Baby Beel). Eventually, Baby Beel runs away after being drawn to a smell, and Hilda, Furuichi and Oga try to catch him, where they find him attached to Aoi. After hugging Aoi, BabyBeel runs off once again and so Hilda and Aoi have a match to see who can catch Baby Beel. Although at the end BabyBeel chooses Aoi over Hilda after she shows some of her new demon magic from training. Not long after, Aoi and Hilda attack Oga(Baby Beel) when fighting over him, and just before they hit him Oga and BabyBeel return to normal, leaving Oga being severely hurt by the two and BabyBeel perfectly fine. Saotome-sensei then comes to school the day after.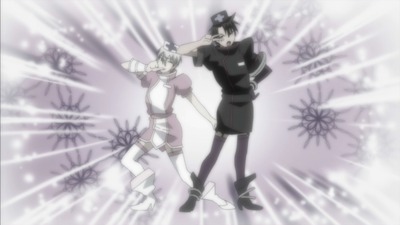 #10 - Toys Have Arrived from the Demon World / We Played Doctor 8.73
Season 1 - Episode 6
The mark on Oga's arm goes back to its small size, much to the chagrin of Hildegarde who destroys his games console. She brings a play room for Beelzebub to play in, but upon building it, it turns out to be a magical cage that both she and Oga get stuck inside. The only way to get out is to have Beelzebub solve a block puzzle toy, but he just ends up breaking it. Frustrated, Oga utilises his Zebel power to punch his way out, though it makes his mark grow big again. Rummaging through a bag of demon world toys, Beelzebub opens a chest that transforms Oga and Takayuki into nurses, which can only be reverted by helping Beelzebub play Doctor. Oga decides to use the opportunity to try and do good deeds and get rid of his mark, though has trouble handling the demonic medical supplies. After some failed attempts at treating some of the students, they change back after discovering an actually useful tool on Beelzebub's costume, but accidentally triggers an explosive that negates all the work Oga did getting his mark down to size.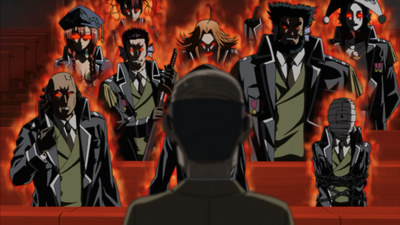 #11 - Akumano Academy is Open! 8.73
Season 1 - Episode 58
Behemoth visits St. Ishiyama to find Oga and Beelzebub, but he gets welcomed by Zenjuro, Ittousai, and the principal. Hilda holds Oga down while they watch the fight. Meanwhile, Furuichi and the delinquents arrive at Akumano Academy. They stumble upon the Pillar Generals. Agiel attacks only to meet Aoi who arrived in the nick of time. Will Aoi defeat Agiel?
#12 - I've Quit Being the BoB Brawler! 8.71
Season 1 - Episode 18
Beelzebub gets a summer cold, causing his body to give off incredible heat. As his condition gets worse, the Zebel Spell on Oga's hand disappears, leading Hilda to become frustrated towards Oga for showing little care towards him. As Oga tries to decide what to do, he encounters one of Tojo's henchmen, Shojo Aizawa, who seemingly outmatches Oga before leaving. The next morning, both Hilda and Beelzebub have disappeared. As Oga searches for them, he encounters Tojo with Beelzebub on his back, who challenges Oga to a fight. As the two fight, Oga is shocked to see what appears to be the Zebel Spell on Tojo's shoulder, before he is knocked clean into the river.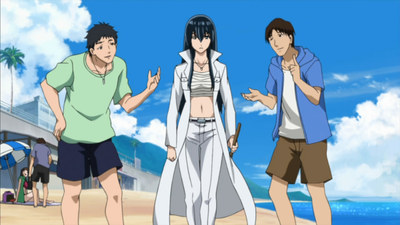 #13 - The Delinquents Have Changed Into Swimsuits 8.70
Season 1 - Episode 15
Takayuki tells Oga about the final member of the Tōhōshinki, Hidetora Tōjō, mainly to get him interested about ditching Beelzebub so Alaidelon will leave him alone. Wanting Oga to get beaten, Himekawa informs them that Tōjō works at the beach. Oga and Tatsumi go there the next day and get mistaken as part-timers for a yakisoba stand, later finding that Tōjō had actually been fire the previous night. As he keeps missing him, Oga asks Aoi to pass on a letter of challenge to Tōjō, whose henchmen find it before Aoi can rip it up. Oga gets held up to their meeting, arriving only finding a pile of beat up gang members, which Tōjō beat all by himself. Despite Aoi's warnings, Oga looks forward to finally meeting Tōjō.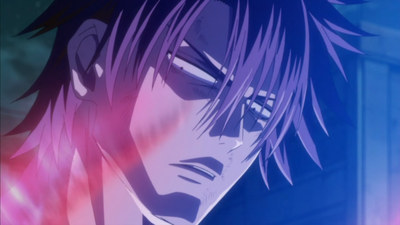 #14 - Who Do You Think Is Ishiyama's Strongest? 8.67
Season 1 - Episode 21
Furuichi is woken up by Alaindelon at 4:00 A.M. and is teleported to Ishiyama High to watch Oga and Tojo's fight with Hilda, Lamia, and Forcas Rachmaninoff. Meanwhile, Kanzaki, Himekawa, and Shiroyama confront Aizawa and Karou and begin to fight, but are quickly beaten by them, but they refuse to give up because of their stubborness. Natsume shows up and defeats Karou in one blow, and is about to deal with Aizawa. Kunieda and the Red Tails finish dealing with the delinquents and go to watch Oga and Tojo's fight, with Oga at a disadvantage. Beelzebub activates the Zebul Spell, thinking Oga cannot win, shocking everyone. Lamia accidentally sets off one remaining firework and it's aimed at Oga and Tojo. Oga easily stops the firework and causes a giant flaming Zebul Spell to appear on the ground. Oga orders Beelzebub to not interfere in his fight, promising he will win and Beelzebub erases the Zebul Spell. Oga and Tojo resume their fight, which goes on until dawn, and just as it looks like Tojo is about to win, Oga spins around and performs a suplex on Tojo, winning the fight. Oga tells Beelzebub he won the fight and Beelzebub tackles Oga to the ground. Tojo's past is revealed, showing a man he looked up to who taught Tojo the ture meaning of fighting and had a Zebul Spell on his shoulder, which Tojo got tattooed on his shoulder in order to look like him, and Tojo tells Oga he is now the strongest at Ishiyama High.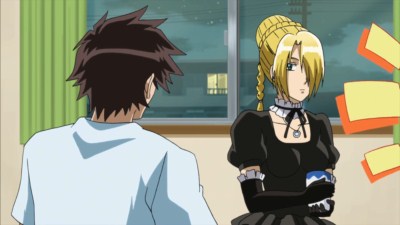 #15 - I Won't Let You Sleep Tonight 8.67
Season 1 - Episode 12
Beelzebub has been crying all night for the past three nights, which is causing Oga and the whole neighborhood to get very little sleep. Wanting to stop his night crying to avoid being chased out of their house, the Oga family attempt to play with Beelzebub all day in order to tire him out come nighttime. Despite managing to get him to sleep, Beelzebub still wakes up and cries in the middle of the night. After Oga spends the day dealing with a sleep deprived Tōhōshinki, Hilda brings a toy that calms Beelzebub down, but is even noisier than his crying.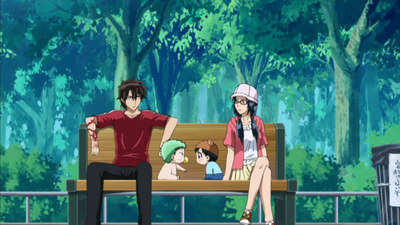 #16 - The Demon Lord makes his Debut at the Park 8.65
Season 1 - Episode 7
Oga's family coerce him into taking Beelzebub to the park so he can make his 'park debut'. Despite making a bad impression with the other mothers, Oga meets a girl named Aoi who is looking after her little brother, Kouta. Aoi tries to help Oga make his park debut which, partly due to the appearance of Alaindelon, doesn't reap much success. The general antics convince the other mothers to call over a police officer, who starts badmouthing both Oga and Aoi. Before Aoi can lose her temper, Oga throws him into a trash can, with Aoi coming off impressed. After Oga leaves, it is revealed Aoi's true identity is that of Aoi Kunieda, leader of the Red Tails gang and one of the Tōhōshinki.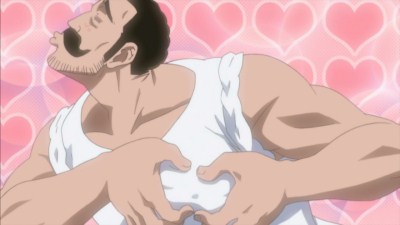 #17 - Are There Any Strong, Ruthless Bastards Around Here? 8.62
Season 1 - Episode 3
When Oga loses some food for Beelzebub and he starts to get hungry, Oga instead uses up a vending machine's worth of yoghurt drink, revealed to be the favourite of the second year delinquent, Hajime Kanzaki. Figuring he may be worthy of dumping Beelzebub on, Oga goes to see him under the pretense of becoming his henchman. After beating his current henchman, Oga is asked by Hajime to throw him out of the window, but instead decides he isn't worthy based on Beelzebub's expression and knocks him out instead.
#18 - Play Games at Most One Hour a Day 8.60
Season 1 - Episode 45
Furuichi's group go to Himekawa's home, to start searching for En in online games. When they arrive they find the place is a giant skyscraper building, with several rooms dedicated to gaming. Most of the group have never played games, except for Chiaki, who immediately proceeds to find En in an online fighting game. Furuichi tries to get him to tell them where he is, and when he finally answers he tells them they have to beat him in a game before he tells them. Tatsumi tries to escape from Saotome, but is unable to throw his teacher off, even after showing off his new rock splitting abilities. It isn't until later in the episode that Beel takes matters into his own hands and decides to let Saotome train him. With Saotome training Tatsumi, the group's first teacher substitues for them, but everyone is away doing their own thing, except for the girl with the face mask, who for some reason got left behind. The rest of the class head to Himekawa's where they get ready to play End of War 4, a first person shooter. After taking forever to make usable avatars, they end up wasting all their practice time, and have to jump into the game blind. Despite most of them not knowing how to play. Both Nene and Shiroyama run into glitches that make their characters spin in circles. Nene triest to get control, but instead ends up attacking Yuka's character. They manage to get some team work together, but En's team have the upper hand. Nene and Chiaki try to go after a tank, but the obvious trap is sprung and they are cornered by Yolda. Nene dives in front of Chiaki to protect her from the enemy players' fire. En taunts Furuichi by saying that he would be so happy to win that he just might cry.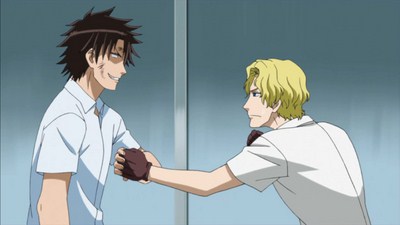 #19 - What Are the 6 Holy Knights? 8.60
Season 1 - Episode 29
After being shocked early in the morning by Baby Beel, Oga's enthusiasm to find someone new to pass Beel onto is temporarily reborn, and upon hearing rumors of six students who excel both academically and athletically, he goes off searching for these six in the hopes that they will impress Baby Beel. Oga, accompanied by Aoi, goes searching for Kazuya to get more information about the 6 Holy Knights. Meanwhile, Furuichi runs into an old friend, Miki. He warns Furuichi to stop Oga getting involved with the six, and tells him that the six wear badges to identify them as Holy Knights, before promptly revealing himself to be one of them. Oga finds Azusa while looking for Kazuya, and is quickly interrupted when two of the Knights show up, revealing themselves to be Alex and Sakaki. Sakaki tests Aoi's strength first by attacking her with a wooden sword, while she only has a ruler she borrowed from Azusa to defend herself with. Aoi cuts the tip of Sakaki's sword off during his attack, proving herself to be the more skilled swordsman. Oga refuses to fight his opponent, Alex, and instead quizzes him while attempting to dodge his attacks. Alex gives up when he realizes Oga is not taking the fight seriously, and the two knights leave the scene.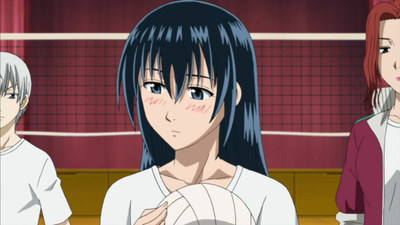 #20 - What Has the Transfer Girl Done? 8.58
Season 1 - Episode 32
Hilda transfers into the class to keep an eye on how things are progressing, with Alaindelon transferring into another class. The students find out the sport will be volleyball, something none of them have any experience in. The students lack motivation which Hilda promises to sort out. With the help of Alaindelon they kidnap the delinquents and force them to watch a poorly edited video of the 6 Holy Knights bad-mouthing them. The delinquents, except Furuichi, all believe in the video and become fired up, ready to beat their opponents.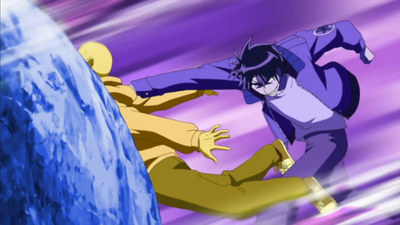 #21 - I Must Become Stronger 8.56
Season 1 - Episode 44
Oga begins his training with Ittousai while Furuichi and Lamia enlists the help of their Ishiyama classmates to search for Lord En. Can Oga and Beel complete their training in time and will Furuichi and Lamia find Lord En before he destroys the city with his army?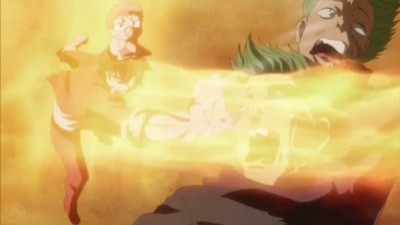 #22 - I Became a Gang Leader with a Child 8.55
Season 1 - Episode 2
Hildegarde presents herself to Oga's family in the wrong way, giving them a different view of the situation. She also informs Oga that if he is more than 15 meters away from Beelzebub, his cries may destroy the city. Whilst dealing with this situation, Oga comes up with the idea that, if he can find someone more strong and ruthless than him, he can dump Beelzebub on him and be free.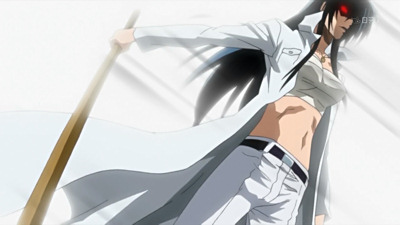 #23 - Love is a Hurricane 8.55
Season 1 - Episode 9
The delinquent group, MK-5, come to confront Oga, but are promptly beaten by him and Hildegarde, who catches the attention of a smitten Aoi. As Aoi's right hand ladies, Chiaki Tanimura and Nene Oomura confront Oga, Hildegarde, who had heard from Oga about his plans to dump Beelzebub onto Aoi, challenges her to a fight to test her strength. When Aoi returns to find Chiaki and Nene injured, she assumes Oga is responsible and confronts him in a fight. In actuality, Chiaki and Nene were attacked by MK-5, under the orders of Miwa, who desires the title of Queen. Shintarou helps Nene get to Aoi to tell her the truth, but when Miwa makes his move, Oga promptly beats him up. Afterward, Aoi is once again baffled by Oga trying to give her Beelzebub, explaining that he's forced to raise him because of Hildegarde. Later, Aoi decides to quit the Red Tails and put Nene in charge, feeling that she is no longer able to serve as their leader.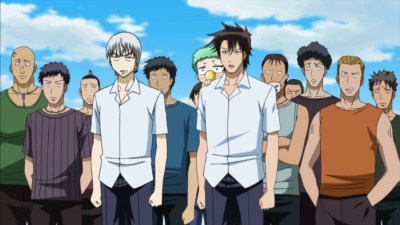 #24 - Baby Beel's Assessment Test / Hilda: Dear Great Demon Lord 8.55
Season 1 - Episode 13
As Ishiyama High holds an assessment test for its studyphobic students, the Great Demon Lord also holds a test for Beelzebub, requiring him to earn points by beating up various things, or run the risk of both he and Oga facing remedial classes in the Demon World. With Beelzebub not showing much hope, Oga decides to try and dump Beelzebub on whoever scores highest on the test. When a rival school interrupts the test, Oga fights them off to allow the other students to keep on the test, earning enough points to avoid remedial lessons, later learning that the smartest student it actually Takayuki. Later, Hilda prepares a letter to the Great Demon Lord, writing reports on Oga, his family and the Tōhōshinki.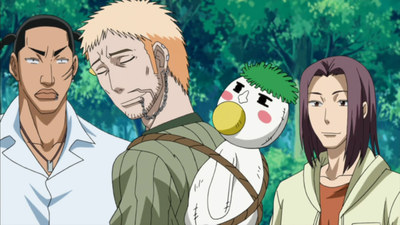 #25 - Is There a Special Move? 8.55
Season 1 - Episode 14
As Kanzaki tries to come up with a new special move to beat Oga, his followers suggest the key to Oga's power is having Beelzebub on his back. Thus, Kanzaki starts training with a weighted baby doll on his back. When that plan doesn't work, they try finding a living substitute, which end in more embarrassing results. Meanwhile, Oga takes Beelzebub to the park where they once again meet Aoi, who has lost track of Kouta. Kanzaki coincidentally finds him and deems him a worthy substitute for Beelzebub. Whilst playing with him, he figures out the key to performing his new special move. After returning Kouta to Aoi, Kanzaki performs his special move, though it just leaves everyone confused. As Kanzaki leaves, Oga admits his move was surprising.