Baby Steps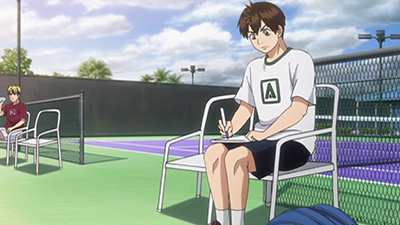 #1 - Data for the Future
Season 2 - Episode 3
After winning his first match in America, Eiichirō finally gets to play Ike in a one set match. Ike gets it approved at the New Years party where many of Eiichirō's new friends first learn of Natsu. Eiichirō plays Ike and begins to collect data on what the players in the world of the Pros is like. On his final day in Florida the coach proposes Eiichirō and Alex play a 3-set match. Alex learns how fearsome the notebook can be as he is forced to change his play pattern after Eiichirō breaks him twice. Eiichirō wins Set One 6-2
#2 - Final Set
Season 2 - Episode 25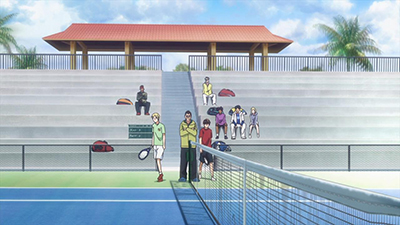 #3 - The World and the Wall
Season 2 - Episode 1
Eiichirō arrives in Florida, and Coach Mike introduces him to Marcia, an upcoming junior whose older brother just made the Pro's. Marcia and Eiichirō play a match, and Marcia decides Eiichirō must be training for the French Open because of his slow play style. Eiichirō is introduced to his new dorm mates, among which are Alex O'Brien, the older brother of Marcia. The next morning at breakfast Eiichirō is welcomed by Ike Souji, and his dorm mates begin to see him as a rival since Ike acknowledged him. Eiichirō's dorm mates are introduced to his 39 notebooks of tennis. Eiichirō and Alex are announced as a match for day one, but Alex refuses since Eiichirō isn't a Pro. Ike arrives and promises Eiichirō's dorm mates that anyone that can beat Eiichirō will be able to play him in the next two weeks. Eiichirō plays Alex in his first official match at the Florida Tennis Academy. During the day he learns about the video cameras showing his technique and the resources of the many coaches available.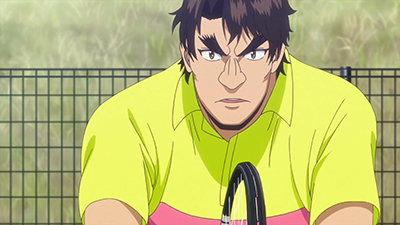 #4 - Start With a Roar
Season 2 - Episode 10
Araya and Eiichirō begin their match in the Kanagawa Prefectural Final. At first both are holding serve and the score is at 3-3. However Coach Aoi realizes Eiichirō doesn't have the knowledge on how to deal with left handers since he's only played Araya once. Araya starts to target Eiichirō's backhand. To counter Eiichirō is forced to continually adjust his speed, making his center shots an easy target for Araya. Araya gets the first break and goes on to win set 1 6-3. However Eiichirō begins to return Araya's shots as the first set ends, making Araya realize Eiichirō is growing as fast as Ike previously did. Both realize they have to find a way to get massive breaks if they are to have any chance of winning.
#5 - Diligence is My Style
Season 1 - Episode 9
Eiichirō returns to the Kanagawa Junior Circuit. His first match is up against fellow high school student Koshimizu Nariyuki, a man whom is always trying to compete with Eiichirō for the top scores. Eiichirō is a little too tense and quickly falls behind 3-0 when he finds a note from Natsu at the back of his notebook talking about what to do if he feels too tense. With this help Eiichirō rebounds and wins 6-3, beginning a process that would take him into a third round match with 5-seed Miyagawa. However Miyagawa is confident and proclaims he has learned Eiichirō's weakness after watching one match. Match 2 begins as Eiichirō takes on the 52-seed Noborikawa. With no tension Eiichirō easily advances with a 6-1 win. After the match Eiichirō watches Miyagawa's match to see what his tennis style is truly like to get him ready for the 3rd round.
#6 - A First Match Full of Surprises
Season 1 - Episode 5
Eiichirō is about to play his first match. He receives advice from the other STC members, but it only makes him more nervous. He doesn't get a chance to calm himself down as he's soon called to the tennis court. His first opponent is Oobayashi Ryo, a player with five years of experience, the assistant captain of the tennis team at Shonan Tech, and a top eight finalist in the prefectural tournament. It's finally time for Eiichirō's first match! This episode covers chapters 8, 9, and 10 in the manga.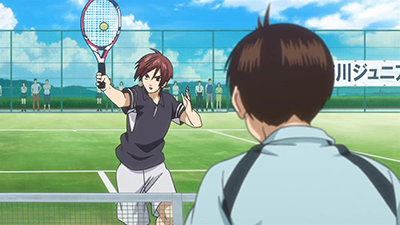 #7 - Risk and Possibility
Season 1 - Episode 11
After managing to hold serve Eiichirō starts looking for an opportunity to break Miyagawa. Both hold serve and force a tiebreaker. With the score 6-5 Maruo in the tiebreaker Eiichirō decides to try and gamble to use his full stroke and steal a point. The gamble backfires and Miyagawa evens the score 6-6. However Eiichirō's gamble makes Miyagawa think too much during his serve. He falls victim to a double fault, giving Eiichirō the match point opportunity on his serve. Seeing no other choice, Miyagawa makes a move to the net to catch Eiichirō by surprise. However Eiichirō's racket happens to be in the right spot for a return from short distance. Eiichirō's miracle return gives him the tiebreaker 8-6 and the match 7-6. The crowd is shocked as the 5-seed has been knocked out.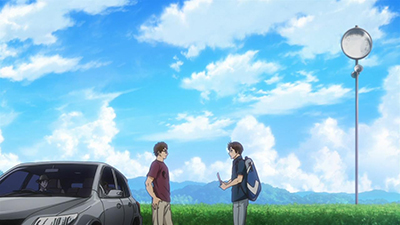 #8 - Putting the Pieces Together
Season 1 - Episode 14
It is match 10 of a 1-set match, and Eiichirō leads 5 games to 4. Eiichirō begins to up his speed against Hiromi, and with it he stays even at 30-30. Just then Hiromi's legs cramp up, allowing Eiichirō to get two easy aces and win the match 6-4. After the match Hiromi announces he is going to focus less on tennis and start drawing more on the canvas. However he tells Eiichirō that he appears to have the same desires to go Pro that a lot of the other top 4 do, even though he is currently only playing for the fun of it. Eiichirō scouts Araya only for Araya to win 6-0 and then tell Eiichirō he will crush him in the next match. The semifinals are set to occur in 2 days time, so Eiichirō uses that evening and the next day to practice. Coach Miura tells Eiichirō he needs to focus on his tennis style instead of trying to play to Araya's game and makes him take practice easy. The day of the semifinal comes, and Miyagawa comes to cheer for Eiichirō. Miyagawa helps Eiichirō realize that looking for an opponents weakness actually helps that opponent improve, so Eiichirō decides to ask Takuma what Araya's weakness is. When he finally finds them, he sees Araya whispering something to Takuma that could change the entire outcome of the future.
#9 - A Hero and Loud Cheers
Season 2 - Episode 15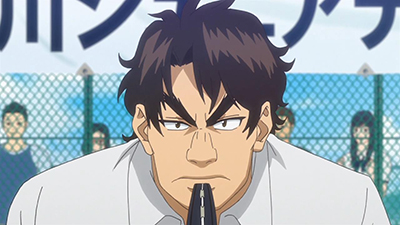 #10 - Plan to be Forceful
Season 1 - Episode 15
Eiichirō overhears Araya telling Takuma that if he loses to him this tournament, he will retire from tennis. His plan is to defeat Takuma and then announce he is going pro. Takuma agrees to tell Eiichirō Araya's weaknesses. Eiichirō comes up with 5 steps that give him the first game in a 3-set match. After going up 30-0 in game 2, Araya protests a point and receives a warning. However the protest allows Araya to get into the zone. Araya manages to win the next 6 games with ease and goes up 1-0. In set 2 Eiichirō studies all of Araya's shots from set 1 and realizes he can predict Araya's movements. Down 1-0 in set 2 Eiichirō finally manages to reverse Araya's counter shot and go up Love-15. How will this exciting match end?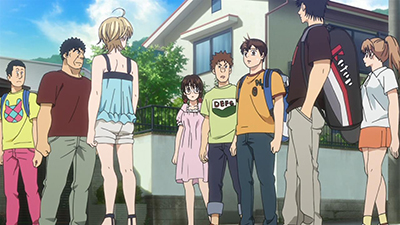 #11 - Pro At My Age
Season 1 - Episode 17
Araya and Eiichirō end up at deuce after neither player can gain an advantage. An ace end up being huge for Araya give him the match point advantage, and despite his best efforts a lucky bounce proves to be the end for Eiichirō as he loses 6-1, 6-4. The finals are held between Araya and Takuma. Takuma plays to his best ability and once again prevails, 4-6, 7-5, 7-5 to win the championship. As Eiichirō returns to his bag he runs into an unknown youngster named Ike Souji. Ike asks to see Eiichirō's notes before running off due to an important phone call. However he asks Eiichirō to inform Coach Miura that he will soon be visiting STC. After the awards ceremony is held, the others vow to defeat Eiichirō in the All Japan Junior before Eiichirō says he can't participate due to his low showings the year before. However he swears he'll get ready for the Inter-High. As Eiichirō gets home, he gets rewarded for his performance, but he shocks his parents when he asks them what they'd think if he decided to go Pro at tennis.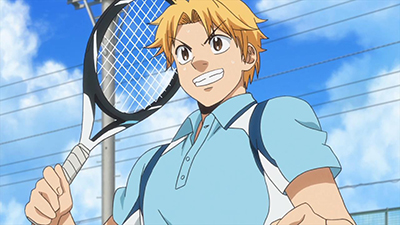 #12 - Dramatic by Nature
Season 2 - Episode 17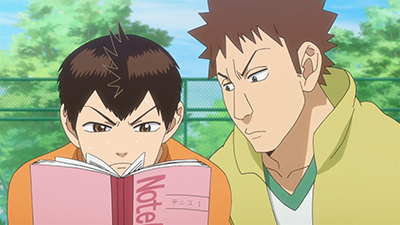 #13 - Methodical and Unorganized
Season 1 - Episode 2
Eiichiro is unable to answer Natsu when she asks him what he enjoys doing most. He becomes interested in tennis and returns to STC for another free trial. This time, he meets Egawa Takuma, an upperclassman who's friendly with Natsu. For some reason, he acts hostile towards Eiichiro, which is very intimidating. As Takuma watches, Natsu teaches Eiichiro how to hit the ball.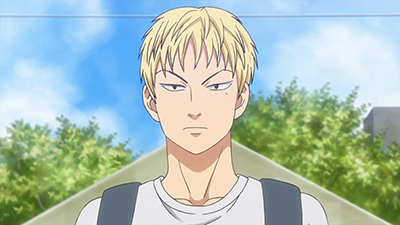 #14 - A Rude First Meeting
Season 2 - Episode 19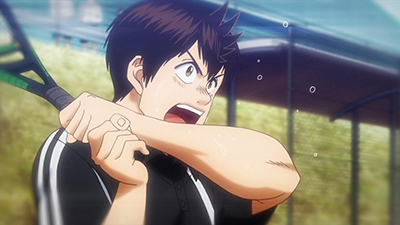 #15 - Full Force Toward Adversity
Season 2 - Episode 12
Araya and Eiichirō prove to be even and are both unable to break each others serve. Making things worse is there will be no tiebreaker., Instead an individual must win by 2 games. As set 3 continues Eiichirō begins to rely more and more on his instincts as his mind tires, and it begins to give Araya the slightest advantage. Eiichirō realizes if he doesn't break Araya when it is 6 all that he will likely tire and lose the match. Even that knowledge doesn't prove to be enough. Araya holds serve and goes up 7-6. Eiichirō then holds serve and evens it up at 7, but his mind completely wears itself out, and Araya goes on to win 9-7.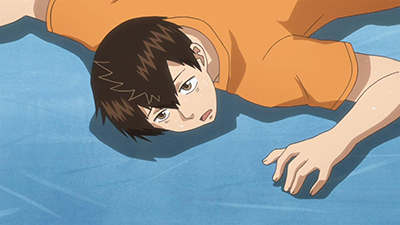 #16 - Resolve and Hell
Season 1 - Episode 19
Eiichirō manages to steal 1-point in the 10-minute match with Ike before his coaches reappear and make him stop playing a match. Afterwards Eiichirō is sent home to rest. The next day Eiichirō begins a brutal practice regiment that will recondition his body into that of a pro's. After 2 weeks of practice Eiichirō is invited by Coach Miura to come view some of the top seeds at the All Japan Junior. Eiichirō finds a fellow kindred spirit in terms of note taking and is shocked to learn he is the 2-seed. Eiichirō quickly realizes his data will allow him to control his opponents shots if his body gets conditioned correctly.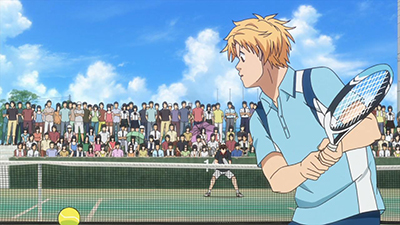 #17 - Whish, Then Fwoom
Season 2 - Episode 16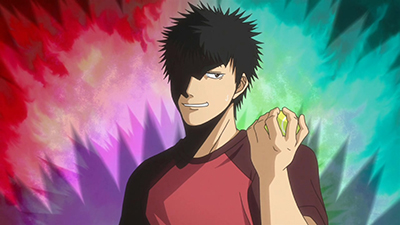 #18 - The Contest Is a Fight
Season 1 - Episode 3
Eiichiro is unable to forget how good it felt when he successfully returned Takuma's serve, and he spends all of his time practicing against the wall. After seeing Eiichiro practice against the wall non-stop for six hours on a Sunday, Natsu predicts that he will quickly improve.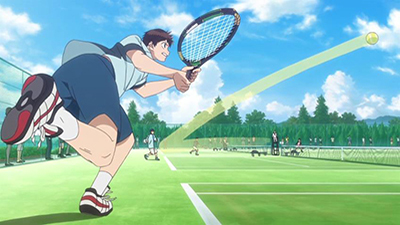 #19 - Unease on the Edge
Season 1 - Episode 10
The match between Eiichirō and Miyagawa begins with each holding serve. However Eiichirō feels that something is off. After studying his notes, Eiichirō realizes that Miyagawa has been studying his shots, and with a 4-3 lead he plans on making his move in the eighth game. If Miyagawa manages to break Eiichirō in the 8th game, the set will be all over. Instead of getting too depressed, Eiichirō changes his strategy and starts playing serve and volley tennis. The change of pace allows Eiichirō to win Game 8 and even it at 4-4, but will either competitor manage to break serve, and will Eiichirō be able to find his winning shot before it becomes too late?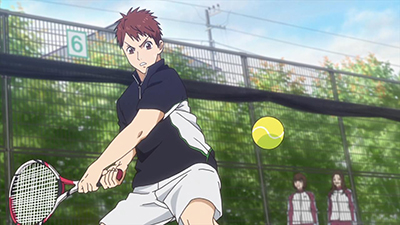 #20 - The Speed of Evolution
Season 2 - Episode 8
Eiichirō and Miyagawa face off in the second round of the tournament for their second match. If Eiichirō loses he knows he'll lose all chance of going pro. If Miyagawa loses he knows his path to become a pro will take longer and might force him to go to college first. As the two face off both unveil their new weapons. For Eiichirō he unveils his dangerous serve while Miyagawa unveils some new counters that will force Eiichirō to adjust his data in unexpected ways. How many breaks can each get off of each other?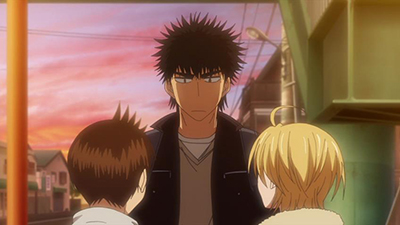 #21 - Takuma's Decision
Season 2 - Episode 5
Eiichirō returns from Florida and is given a day off to adjust his body to the time difference. After the day off Eiichirō begins a new strict training regime to help him get ready for the Kanagawa Prefectural. As part of his training Coach Aoi forces Eiichirō to challenge Takuma to a match. At first Takuma refuses, but when Eiichirō admits he can never go pro unless he can find a way to defeat Takuma, Takuma agrees to the match. At first Eiichirō is overwhelmed by Takuma's serves. As the game goes along though Eiichirō begins to serve like Takuma, shocking Coach Aoi. Coach Aoi stops the match unexpectedly, upsetting both Eiichirō and Takuma.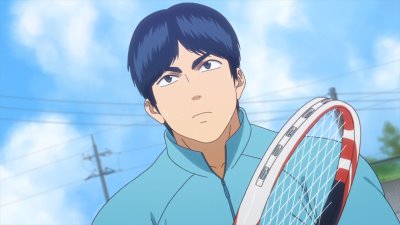 #22 - Recklessness and Surprise
Season 2 - Episode 24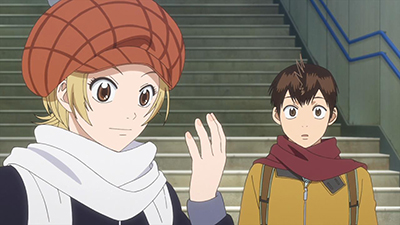 #23 - Eiichiro and Natsu
Season 1 - Episode 25
Eiichirō and Natsu go out on their first date. When Eiichirō asks Natsu what she thinks about him, she tells him he is cheating. Afterwards Eiichirō is allowed to resume practice. He learns how important it is for your ego and your subconscious to match up evenly. Coach Ryuhei decides the only way Eiichirō can meet his goals is to go to Florida during the winter break.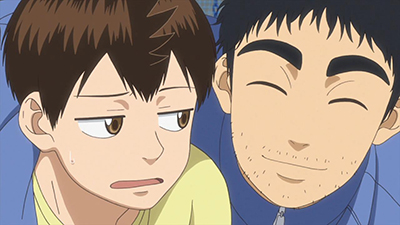 #24 - Duty and Desire
Season 1 - Episode 24
Eiichirō runs to watch Natsu's match when he learns she is in danger of losing. Afterwards they return to STC where he Ryuhei Aoi, a man who will become his new coach. At first he doesn't trust Ryuhei's words, but he is even more shocked when Coach Miura says all of his training is being turned over to Ryuhei, and Ryuhei won't let him do any practice the next two days.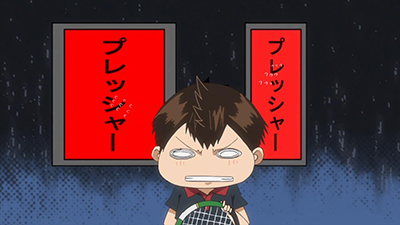 #25 - Visualize the Pressure
Season 2 - Episode 18