Ancient Aliens
#1 - The Doomsday Prophecies 7.94
Season 4 - Episode 1
The Maya created the most sophisticated calendar systems in the ancient world, and according to many scholars their Long Count Calendar will come to an end on December 21, 2012. What does this mean for mankind? Some researchers believe it will usher in the return of Bolon Yokte--a mysterious god associated with creation and war. Could this god actually be an extraterrestrial as some ancient astronaut theorists believe? Other scholars believe the end of the calendar will bring about a series of catastrophic events that may threaten the very existence of mankind. They point to a rare galactic alignment that will coincide with the end of the Mayan calendar as proof of an impending geological catastrophe. If these doomsday prophecies prove to be true, will it mean the end of the world as we know it? Or could it reveal some profound truth about the origins of the human race?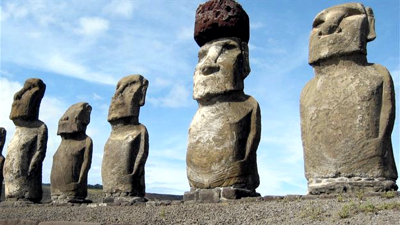 #2 - Mysterious Structures
Season 6 - Episode 13
Theorists explain how alien technology may be responsible for massive structures like the 3,000 megalithic stones in the French village of Carna, precision-cut blocks at Puma Punku in Peru and the Gobekli Tepe's 12,000-year-old circular structures.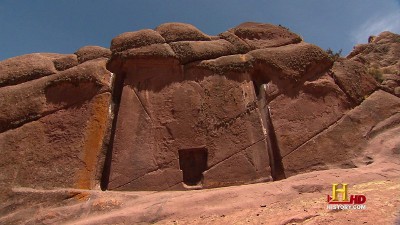 #3 - Mysterious Places 7.61
Season 2 - Episode 1
Mysterious places can be found around the Earth, and, inexplicably, UFOs are often sited near these mystical areas. Planes and ships unaccountably disappear in the infamous Bermuda Triangle. Strange magnetic anomalies in Mexico's Zone of Silence have not only drawn missiles off their course, but seem to pull meteorites out of the sky.
#4 - The Evidence 7.84
Season 1 - Episode 1
If ancient aliens visited Earth, what was their legacy, and did they leave behind clues that exist in plain sight such as sophisticated aircraft, complex electrical grids, and intricate construction machinery? Indian Sanskrit texts, dating back to 6000 B.C., describe in varying but vivid detail flying machines called Vimanas. Megalithic stone structures in Egypt reveal evidence of precision saw work. Interpretations of the Jewish Zohar writings offer depictions of a life-sustaining manna machine, eerily similar to chlorella algae processing systems today. Are these examples of modern technology, or is there evidence that these incredible mechanisms existed on Earth thousands of years ago?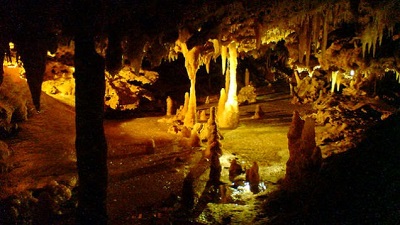 #5 - Forbidden Caves 7.57
Season 7 - Episode 1
Could the darkest recesses of our planet contain important information left by our ancient ancestors? And within Earth's mysterious caves, might we find evidence of otherworldly contact? Throughout human history, some caves have been considered sacred places for spiritual encounter and enlightenment, while others have been feared as true portals to purgatory. What happens in these subterranean spaces that has the power to influence religions around the globe? Could some of Earth's deepest caverns be secret conduits to supernatural realms? In Charma, India, archeologists recently discovered 10,000 year-old prehistoric artwork of what appears to be extraterrestrial beings. Could these paintings be a visual record of alien encounters in the distant past? Or might there be knowledge actually stored within the crystals and minerals that cover the walls of caves, as some Ancient Astronaut theorists suggest?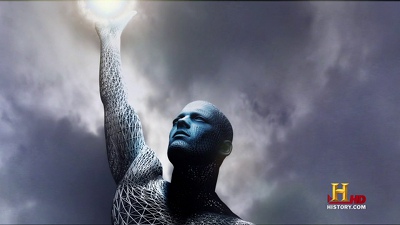 #6 - Gods & Aliens 7.85
Season 2 - Episode 2
Myths and legends have long been regarded as fantastic stories that describe powerful gods, mutant giants and fearsome monsters. But why do so many different cultures, separated by vast distances, tell the same stories? Is it possible that myths and legends were really eyewitness accounts of ancient astronauts descending to Earth?
#7 - Mysteries of the Sphinx 7.78
Season 7 - Episode 2
The Great Sphinx in Giza is the largest and most studied monolithic sculpture on Earth, yet it remains one of humanities greatest mysteries. This ancient monolith defies explanation, pre-dates our earliest known civilizations and may hide the secrets of our very origins. While mainstream archeology theorizes that the Sphinx was built around 2500 BC, geological evidence suggests it is much older. If this is true, then who--or what--created the Sphinx? Researchers are now proposing the existence of a second, twin Sphinx on the Giza Plateau. If so, has it been ...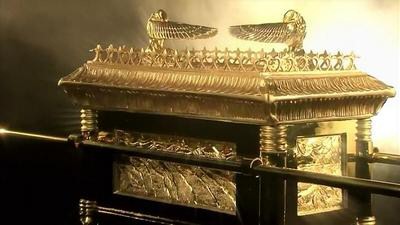 #8 - Aliens and The Lost Ark 7.60
Season 6 - Episode 2
The Ark of the Covenant is one of the most sought after religious relics of all times and far more than just a box that contained the Ten Commandments. The biblical stories surrounding the Ark speak of a device with divine powers that was able to produce food, take down stonewalls, kill those that come in contact with it, and provide direct communication to God. Are these stories mere myth? Or did the Ark of the Covenant possess extraordinary powers? What happened to this incredible relic? Could it still be hidden? Are we getting close to a rediscovery–and reactivation–of the Ark? And if so, will the Ark of the Covenant reveal a long, lost connection to our extraterrestrial past?
#9 - Secrets of the Tombs
Season 5 - Episode 1
Across the globe, archaeologists have uncovered ancient tombs filled with strange items and writings. Remarkable similarities have been found at each of the sites. How is it possible that the burial chambers of distant cultures were so similar in design? Ancient Astronaut theorists believe that some of these complicated and technically advanced tombs were designed with the help of extraterrestrials.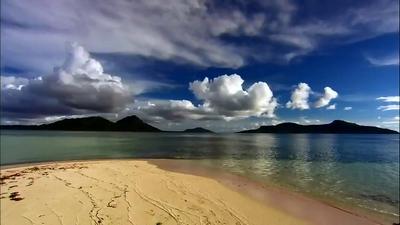 #10 - Aliens and Forbidden Islands 7.76
Season 6 - Episode 1
Legends of lost and mysterious islands, advanced civilizations and Eden-like paradises have been told by sailors throughout human history. Is it possible these stories are more than just the myths of imaginative seafarers? Might evidence of our Ancient Alien origins be found by exploring the world's most remote islands–strategic spots where extraterrestrials may have once made their earthly homes… and possibly still visit today? Unidentified submersible objects going at lightning speed… strange crafts coming out of water near remote volcanic islands… and mystifying megalithic ruins in the middle of the ocean. Is it possible UFO activity could be hidden deep underwater and off the coasts of islands? Could this explain why so many islands around the world have stories of unexplained sightings of objects both overhead and beneath the sea going back centuries?
#11 - Pyramids of Antarctica
Season 11 - Episode 1
Antarctica is Earth's most remote and least explored continent. It is buried under as much as three miles of ice in some places, but recent satellite imagery has revealed what appear to be the tops of man-made pyramids scattered throughout the ice-covered landscape. But how is that possible? Ancient Astronaut theorists suggest that an ice-free Antarctica may have been colonized by extraterrestrials in the remote past, until a global catastrophe plunged it into the ice age. Is there a greater history on the continent than what mainstream scholars suggest? Scientists have reported strange magnetic anomalies radiating from beneath the ice, the Nazis allegedly made secret expeditions to the continent in search of a lost civilization, and government whistle blowers have come forward with claims of strange sightings. Perhaps hidden beneath the ice of this frozen continent lies the truth about our extraterrestrial origins
#12 - Prophets and Prophecies 7.41
Season 5 - Episode 2
They were the messengers of divine knowledge and seers who shared visions of the future. For thousands of years, human civilization has been guided by the words and deeds of ancient prophets, but just who--or what--were these prophets communicating with? Might the experiences of history's prophets be evidence of communication with a heavenly source--or were seers like Elijah and Joseph Smith actually communicating with extraterrestrial overlords? And if so, are there similar prophets at work today?
#13 - Aliens and Monsters 7.36
Season 3 - Episode 2
Hindu scripture describes an enormous flying creature called a Garuda that shook the ground when it landed on Earth. Is it possible that this monster was actually a misinterpreted alien craft? Are hybrids like the Centaur, the Minotaur and Medusa just mythical creatures of fantasy–or could these ancient depictions of terrifying monsters have been the result of advanced extraterrestrial transplantation procedures?
#14 - The Mayan Conspiracy 7.77
Season 4 - Episode 2
The Mayan civilization dominated Central America for nearly 2000 years, but by the 9th century A.D., the great Mayan cities were abandoned, and the Mayan people vanished. What could have happened to this advanced culture? Might the Maya have left clues as to how they surpassed other cultures in science, mathematics, time keeping, and most importantly, astronomy? In recent years, hieroglyphs have been decoded to reveal that the Maya were able to accurately predict shifts in the Earth's axis every 26,000 years. Inscriptions on the sarcophagus of their most prominent ruler, King Pakal, tell of a journey to the Milky Way. And a sophisticated calendar foretells of the end of the world in 2012. Most striking is their belief that knowledge was passed to them by otherworldly beings who descended from the sky. Could the ancient Maya have actually conspired with extraterrestrial visitors to plan the future--and even the very end of the world?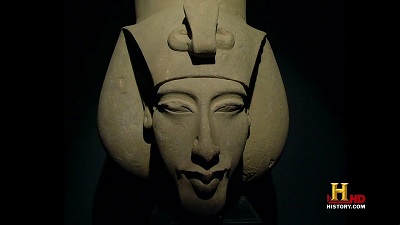 #15 - The Visitors 7.77
Season 1 - Episode 2
If ancient aliens visited Earth, who were they, and where did they come from? Possible historic evidence and beliefs are examined around the world. The Dogon people possess knowledge of a galaxy they claim was given to them by a star god named Amma. The Hopi and Zuni people celebrate Kachinas, gods from the sky, whose headdresses and costumes appear to resemble modern helmets and protective clothing. Halfway around the world, Chinese legends tell of the Han leader, Huangdi, arriving on Earth on a flying, yellow dragon. Was this dragon more likely a spacecraft? Ancient astronaut theorists believe that these are far from chance encounters and that extraterrestrials not only interacted with us, but changed the course of human history.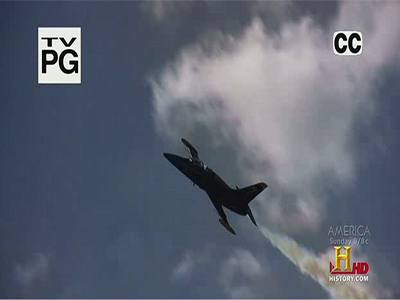 #16 - The Mission
Season 1 - Episode 3
If ancient aliens visited Earth, what was their mission, and is there evidence that points to when they will return? Ancient Sumerian tablets describe an alien race, known as the Anunnaki, who came to Earth to mine for gold. Egyptian hieroglyphs depict hybrid creatures that were part man, part animal. Mysterious crop circles and unexplainable crystal skulls are thought to contain messages that man has yet to decipher. Strange evidence may exist in multiple cultures throughout history suggesting that aliens came here to explore, excavate raw materials, experiment on human beings, and even for pure conquest.
#17 - Beyond Nazca 7.64
Season 5 - Episode 3
Erich von Daniken's landmark book, Chariots of the Gods, brought attention to the mysterious phenomena of the Nazca Lines. Hundreds of gigantic lines, some in the shape of animals, geometric patterns and even an alien-like being, extend for miles throughout a remote Peruvian desert. Scholars are divided as to who built them, and why. Some Ancient Astronaut theorists believe that the massive markings have an extraterrestrial connection, and perhaps the ancient people of the region created these gigantic figures in tribute to the gods who visited them. And with one of the largest deposits of nitrates in the world--a key ingredient in rocket fuel and weaponry--could Nazca have been a mining operation for advanced beings in the distant past?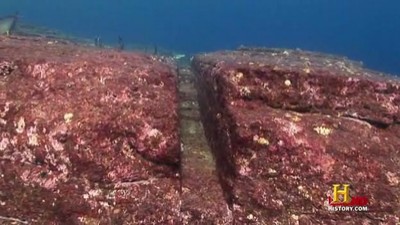 #18 - Underwater Worlds 7.69
Season 2 - Episode 3
Ancient underwater cities can be found around the globe, but could these aquatic worlds be the ruins of unknown civilizations--or even proof of extraterrestrial visitations? The infamous tale of the long lost city of Atlantis may be a preserved memory of an ancient alien metropolis.
#19 - Aliens Among Us 7.94
Season 7 - Episode 3
There are those who believe that the evolution of technology is not entirely of our own making. Ancient Astronaut theorists contend that it is by extraterrestrial design that we have become so technologically interconnected--and that we are being watched by beings from beyond our world. Do stories from the ancient past hold evidence of alien overseers? The Book of Enoch describes divine entities called the Watchers descending to Earth to monitor humankind and aid in our advancement. Inca legend states that the god Viracocha created humans and taught them astronomy,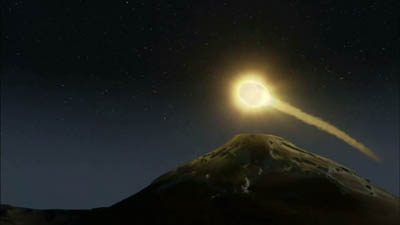 #20 - Aliens and Mysterious Mountains
Season 6 - Episode 3
Across ancient civilizations, the world's mountains were viewed as the sacred home to all-powerful gods. Why would so many different cultures share this belief that mountains had a connection to otherworldly beings? The Greeks believed their most powerful gods, the Olympians, waged an epic war for control of the universe from Mt. Olympus. Ruins of a 4000-year-old observatory discovered on a mountain in Macedonia reveal that the ancients tracked celestial movements from on high with remarkable precision. And in Peru, the descendants of the Incans continue an ancient pilgrimage tradition in order to commune with mountain spirits known as Apu. Could these gods have been extraterrestrials? Did they use remote mountain peaks to interact with early man? Might this explain why humans have been drawn to mountains for thousands of years?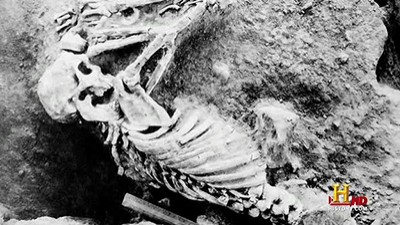 #21 - Closer Encounters 7.63
Season 1 - Episode 4
Reports of encounters with strange beings and sightings of mysterious objects in the sky have occurred throughout history. A 13th century historical book, Otia Imperialia, includes an account of a creature descending from a flying craft over Bristol, England. The log from Christopher Columbus' first voyage to America contains a report of strange lights in the sky. Medieval art pieces depict disc-shaped objects floating in the heavens. Sightings of flying cigar-shaped crafts were reported during the Black Plague. And there were even discussions of extraterrestrial life among America's Founding Fathers. Could these sightings, coming from every part of the world, from biblical times to present day, be evidence that aliens have been with us all along?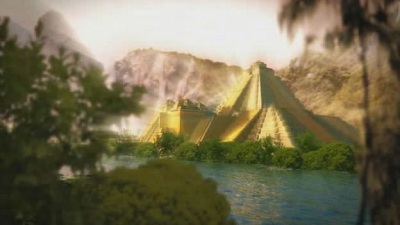 #22 - Aliens and the Temples of Gold 7.47
Season 3 - Episode 4
Could gold be the ultimate link between humans and aliens? A church in southern France is said to hold the key to alchemy--and a gateway to another part of the universe. Locals in Cusco, Peru believe UFO sightings are connected to lost gold at the bottom of Lake Puray. And some believe underneath the Great Sphinx of Giza lies an entire library left behind by extraterrestrials--a library stored on gold.
#23 - Underground Aliens 7.73
Season 2 - Episode 4
If extraterrestrials influenced human history, can evidence of their existence be found in hidden tunnels and caverns around the world? Could a cave in Ecuador contain metallic books inscribed with secrets of alien technology? Was an ancient underground city in Turkey built with alien help... or as a refuge from an alien attack?
#24 - The Next Humans
Season 11 - Episode 3
In the 21st century, technology is heading in a radical new direction--the merging of man and machine. Smart drugs, nanorobots, and machine-printed organs are just a few of the cutting-edge innovations catalyzing the evolution of humankind into an entirely new species. Transhumanists envision a future in which we become cyborgs, achieving far superior intelligence, the ability to survive beyond Earth's atmosphere without a spacesuit, and the possibility of immortality. But might similarly superhuman beings have walked the Earth once before? Beings that our ancestors regarded as gods? Ancient Astronaut theorists say yes, and suggest that we are simply following the course they set us on from the very beginning of mankind--to transcend our flesh and become like our extraterrestrial creators.
#25 - The Genius Factor 7.93
Season 7 - Episode 4
Throughout history, many of the world's greatest thinkers have helped push civilization forward with their profound insights and extraordinary abilities. But the majority of these master minds say their brilliance comes from a place they don't understand-and arrives at times they're not expecting it. In antiquity, people in nearly every culture around the world believed they did not possess genius, but that genius possessed them, like a spirit. Could it be that the forces of inspiration that the ancients attributed to the gods really did emanate from an otherworldly ...