The Best Episodes of Schitt's Creek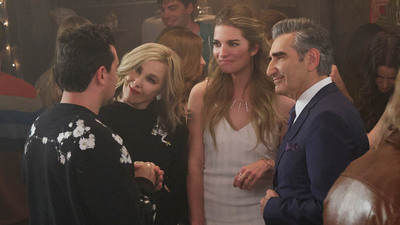 #1 - Happy Anniversary 7.94
Season 2 - Episode 13
Johnny and Moira go out for their anniversary and run into a couple they knew from their former life, while Alexis and David attend Mutt's annual barn party, making up with some friends, and making out with others.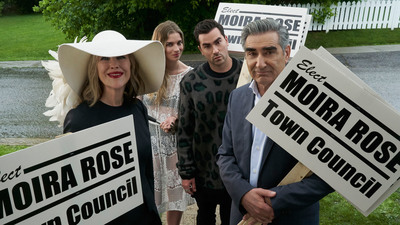 #2 - Lawn Signs 7.86
Season 2 - Episode 12
Some of Moira's lawn signs are missing, David and Alexis try to get David's boss out of trouble.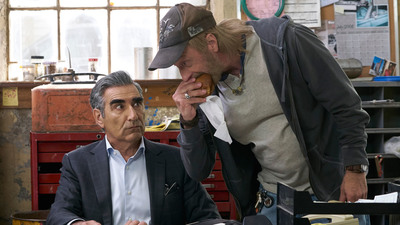 #3 - Bob's Bagels 7.82
Season 2 - Episode 5
Johnny convinces himself to have a partnership with Bob. David has an interview at a clothing store. Moira takes care of Alexis.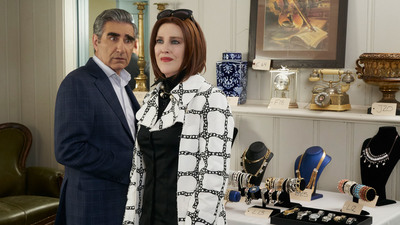 #4 - Estate Sale 7.81
Season 2 - Episode 4
Johnny and Moira go to an estate sale. Mutt surprises Alexis with a bike, while Roland asks David to help him shop for a special item.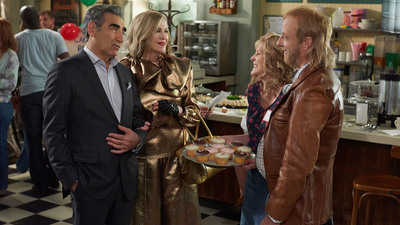 #5 - Milk Money 7.77
Season 2 - Episode 8
Johnny gets thrown into the raw milk business. Moira tries to connect with the townspeople. David gives style advice.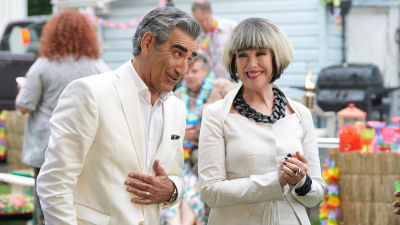 #6 - Honeymoon 7.76
Season 1 - Episode 10
Johnny and Moira go to Roland's Hawaiian party; Alexis and Ted host a dinner party; David and Stevie's relationship heats up.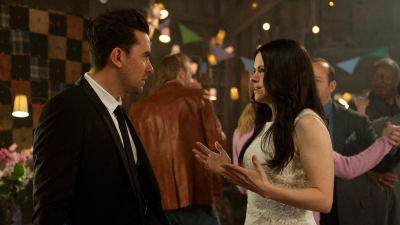 #7 - Surprise Party 7.76
Season 1 - Episode 12
Johnny tries to arrange a surprise birthday party for Moira. Things backfire when Moira, unwittingly, takes over the planning of her own party.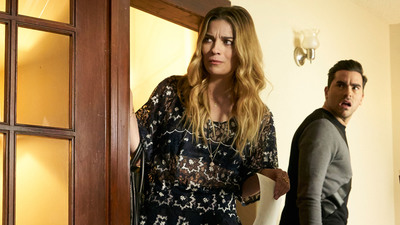 #8 - The Motel Guest 7.75
Season 2 - Episode 11
Johnny and Moira have a surprise guest, David and Alexis look for an apartment.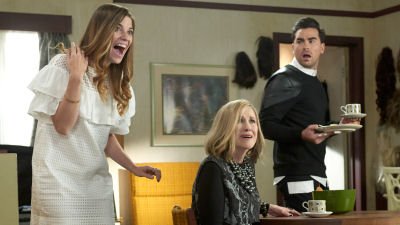 #9 - Town for Sale 7.74
Season 1 - Episode 13
Johnny finds a potential buyer for the town, while David and Alexis discover they may have become more attached to Schitt's Creek than they ever thought possible.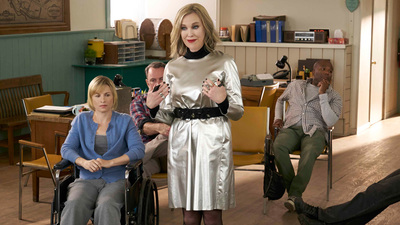 #10 - Moira vs. Town Council 7.74
Season 2 - Episode 6
Moira tries to beautify the town. David misuses the company credit card. A grooming misstep forces Alexis and Mutt to question their relationship.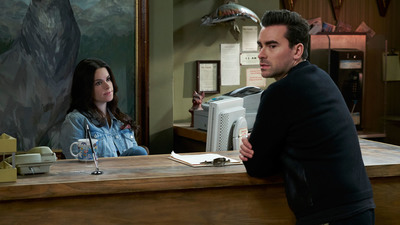 #11 - Ronnie's Party 7.73
Season 2 - Episode 10
Johnny and Moira, on the campaign trail, meet with a key demographic. Alexis struggles in her new job. David offers awkward emotional support to his boss' 14-year-old daughter.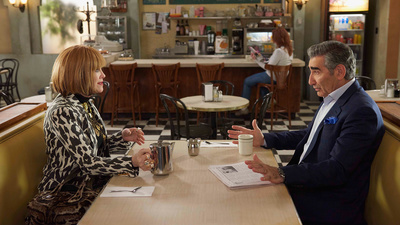 #12 - The Candidate 7.71
Season 2 - Episode 7
Johnny considers running for town council. David and Stevie look for love. Alexis copes with being single.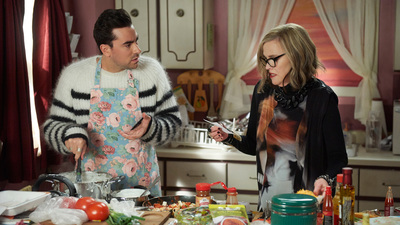 #13 - Family Dinner 7.65
Season 2 - Episode 2
Moira decides to cook dinner with the help of David. Johnny scopes out an office for his consulting business. And Alexis finally comes clean with Ted about their engagement.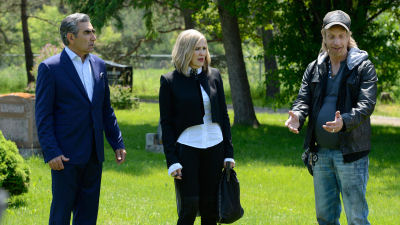 #14 - Carl's Funeral 7.63
Season 1 - Episode 9
Johnny reluctantly agrees to speak at the funeral of a local man he doesn't really know. Alexis struggles with her new boyfriend's love of animals.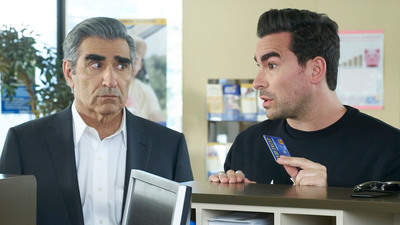 #15 - Moira's Nudes 7.62
Season 2 - Episode 9
Moira is worried that racy photos from her past will jeopardize the campaign; Johnny asks for financial help; Alexis gets a job.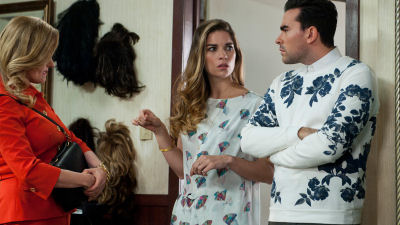 #16 - Little Sister 7.61
Season 1 - Episode 11
Moira's estranged sister, Deedee, pays an unexpected visit, while David agrees to talk with one of Jocelyn's students about being "different".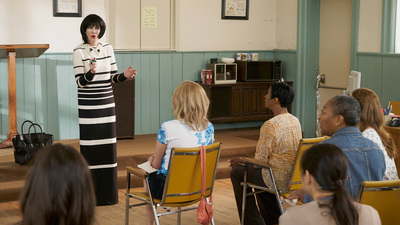 #17 - Jazzagals 7.56
Season 2 - Episode 3
Moira attempts to join the town's a cappella group. Alexis enjoys the heady first days of her latest relationship. And Johnny helps out at Bob's Garage despite himself.
#18 - Finding David 7.54
Season 2 - Episode 1
The Roses search for their missing son, David, while Alexis takes her relationship with Mutt to the next level despite technically being engaged to Ted.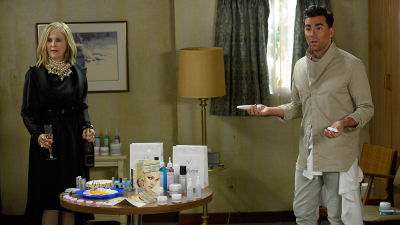 #19 - Allez Vous 7.54
Season 1 - Episode 8
Moira and David try to earn money by selling cosmetics to the locals, while Johnny heads to Elmdale in hopes of collecting unemployment insurance.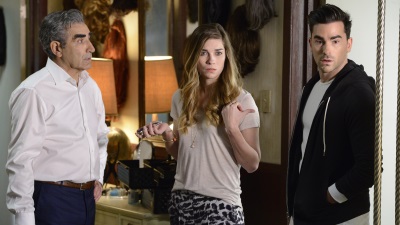 #20 - Bad Parents 7.44
Season 1 - Episode 4
Johnny and Moira, feeling like they have failed as parents, try to get to know their grown children. Alexis spies on Mutt and thinks he's having an affair with the Mayor's wife.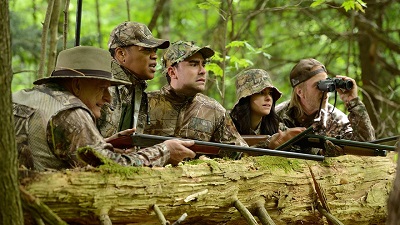 #21 - Turkey Shoot 7.41
Season 1 - Episode 7
Following an incident where David is unable to kill an insect in his room, Stevie, as a joke, invites David along on Roland's annual turkey shoot.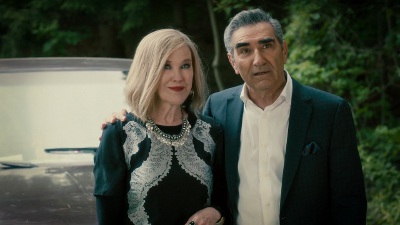 #22 - The Cabin 7.35
Season 1 - Episode 5
Looking for privacy, Johnny and Moira take the Mayor up on his offer of using his cabin for a night, while Alexis and David use the opportunity to throw a party.
Directors: Paul Fox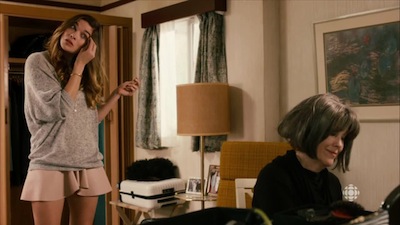 #23 - Don't Worry, It's His Sister 7.33
Season 1 - Episode 3
Johnny tries to get a potentially offensive town sign taken down, while David is faced with the frightening task of finding a job.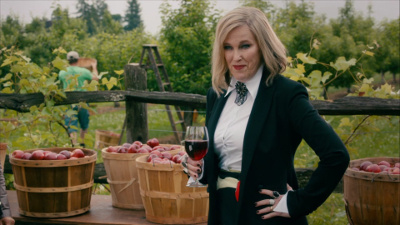 #24 - Wine and Roses 7.29
Season 1 - Episode 6
Moira is hired to be a local winery's spokesperson; David struggles with a health problem.
Directors: Jerry Ciccoritti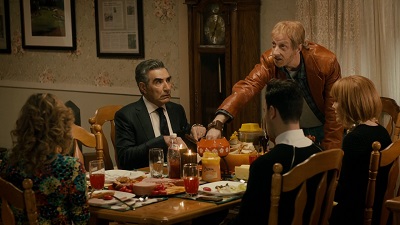 #25 - The Drip 7.09
Season 1 - Episode 2
Johnny must get permission to sell the town from its Mayor, Roland Schitt. David and Alexis spend a night out with the locals.
Directors: Jerry Ciccoritti