The Best Episodes of Pixar Shorts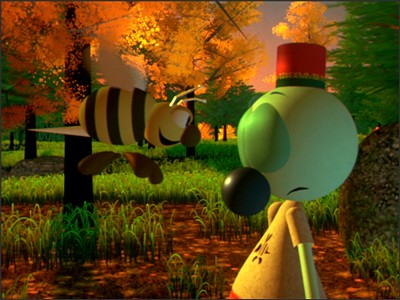 #1 - The Adventures of André and Wally B.
Season 1 - Episode 1
Dawn, the forest. André is waking up. Soon, Wally is taunting him. André points the other way and, with Wally temporarily distracted, runs off. Wally quickly catches on and chases André; off camera, we hear a scream, and Wally flies back with a bent stinger.
Directors: Alvy Ray Smith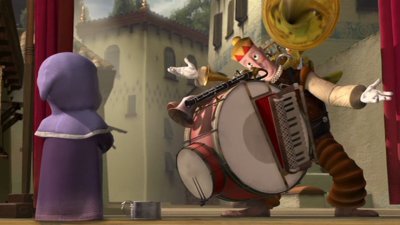 #2 - One Man Band
Season 1 - Episode 11
In this animated short film, we see Bass, a street performer playing a routine tune on a deserted Italian village square one fine afternoon, waiting for a pedestrian to tip him in his rusty iron cup. Soon, he spots Tippy, a humble peasant girl clutching a big gold coin, with the intention of dropping it in the piazza fountain to make a wish. Bass, seizing the opportunity, immediately plays an impromptu track, capturing the young girl's attention.
Directors: Andrew Jimenez

,

Mark Andrews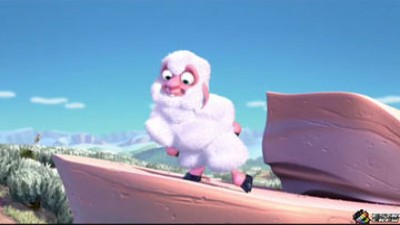 #3 - Boundin'
Season 1 - Episode 9
The film features a desert-dwelling sheep whose elegant dancing is very popular with the other animals. One day the sheep-shearers arrive and shear it for wool. Having lost his coat, the sheep becomes shy and loses the confidence to dance so elegantly. It is whilst in his bare state that a jackalope comes across the little lamb and teaches him the merits of "boundin'" rather than dancing.
Directors: Bud Luckey

,

Roger Gould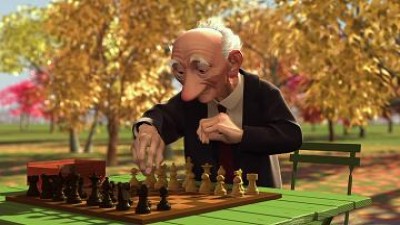 #4 - Geri's Game
Season 1 - Episode 6
The film is set in an empty park during autumn. The title character, Geri (voiced by Bob Peterson), plays a game of chess against himself, 'becoming' each of the players in turn by moving to the other side of the chessboard, where he changes his personality and either puts on or takes off his glasses to show this change.
Directors: Jan Pinkava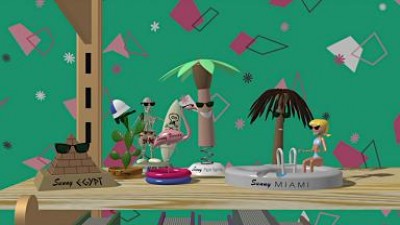 #5 - Knick Knack
Season 1 - Episode 5
A snowman stuck in a snow globe (named Knick, Frosty's cousin, according to the audio commentary) wants to reach a pretty "Sunny Miami" knick knack at the other end of the bookshelf. He tries many unsuccessful but funny methods to get out of his globe, but when he finally breaks out he falls into a fish bowl. He is mad only momentarily, as he sees an attractive "Sunny Atlantis" mermaid knick knack and immediately tries to run to her.
Directors: John Lasseter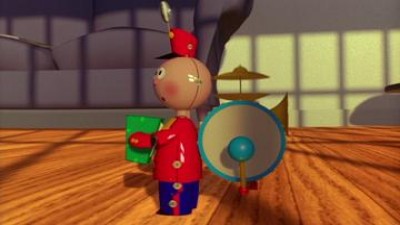 #6 - Tin Toy
Season 1 - Episode 4
The film takes place in one room and stars the toy of the title, a mechanical one-man band named Tinny, and a baby named Billy. At first the toy is delighted at the prospect of being played with by Billy, until he sees how destructive he can be. Fleeing beneath the couch, he discovers dozens of other toys who are too terrified to come out as they went through the same experience.
Directors: John Lasseter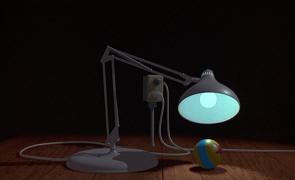 #7 - Luxo Jr.
Season 1 - Episode 2
It features two desk lamps (inspired by a Luxo brand task-light on John Lasseter's desk, hence the title), one larger (implicitly older, named Luxo) than the other. Luxo Jr. plays with a small rubber ball, as Luxo reacts to its antics. Luxo Jr. then accidentally breaks the ball and is admonished by Luxo, after which it finds and plays with an even larger ball.
Directors: John Lasseter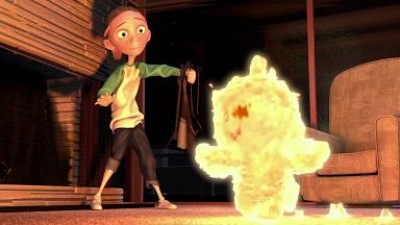 #8 - Jack-Jack Attack
Season 1 - Episode 10
The short is based on the youngest member of the superhero Parr family: the baby, Jack-Jack. From The Incredibles film, the audience knows that Jack-Jack's babysitter Kari McKeen started experiencing difficulty with him shortly after hanging up the phone with his mother, Helen Parr (a.k.a. Elastigirl/Mrs. Incredible).
Directors: Brad Bird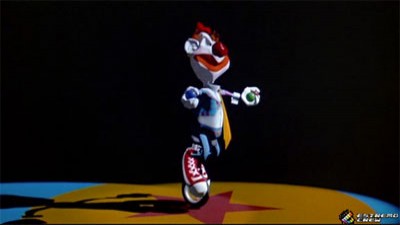 #9 - Red's Dream
Season 1 - Episode 3
The setting is a lonely city on a rainy night. No cars or humans are present. Somewhere in the city is a bike shop called "Eben's Bikes", which is closed for the night. In the corner of the shop sleeps Red, a red unicycle who languishes in the "clearance corner", awaiting to be purchased. As the camera zooms on him, the sound of rain falling turns into a drumroll, and we go into the dream-sequence.
Directors: John Lasseter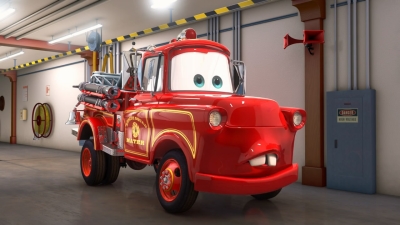 #10 - Rescue Squad Mater
Season 1 - Episode 17
Mater is a firetruck that has to rescue Lightning McQueen from a burning building. After he saves McQueen, he rushes him to the hospital, revealing that Mater is a doctor too.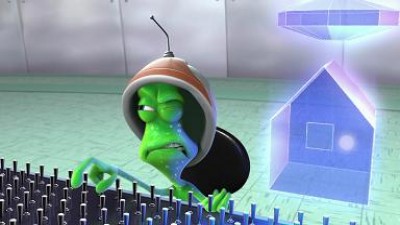 #11 - Lifted
Season 1 - Episode 13
A young alien, Stu, is in a spaceship taking an examination in abduction. He must snatch a sleeping farmer named Ernie under the watchful eye of his instructor, Mr. B. However, there is an array of thousands of unlabeled toggle switches he must manipulate to get the human into the ship's tractor beam, and he is having trouble.
Directors: Gary Rydstrom
#12 - BURN-E
Season 1 - Episode 16
A dedicated little welding robot named BURN-E will not rest until he has completed his humble directive and fixed a broken light post. He refuses to quit, even when begins to seems like the universe is out to get him.
Directors: Angus MacLane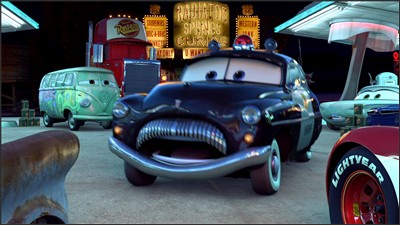 #13 - Mater and the Ghostlight
Season 1 - Episode 12
This short is based on the day to day shenanigans of Mater after the story shown in the feature film, once life has returned to normal in Radiator Springs. It is Lightning McQueen's very first Radiator Springs adventure since he decided to stay in the sleepy town. The short film starts with Mater playing pranks on the other residents of the sleepy town on Route 66
Directors: John Lasseter

,

Dan Scanlon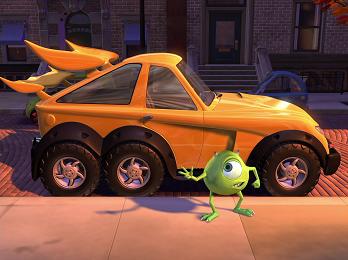 #14 - Mike's New Car
Season 1 - Episode 8
Mike is obsessed with his new six-wheel drive car, and insists on showing it off to his pal Sulley. Sulley's first words when he sees the car were, "What was wrong with your old car?" Mike simply replies, "Three little words, Sulley: Six Wheel Drive!" Unfortunately for Mike, everything that can go wrong does go wrong.
Directors: Pete Docter

,

Roger Gould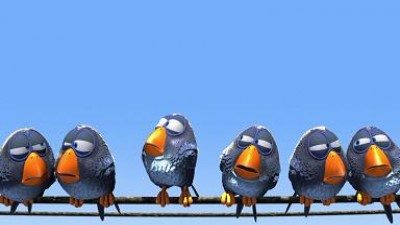 #15 - For the Birds
Season 1 - Episode 7
A group of small birds land on a telephone wire. When a much larger and awkward-looking bird arrives, the smaller birds reject him with taunts and insults. The large bird persists in trying to win their friendship, until at last the smaller birds decide to shove him from their perch, eventually ending up with the larger bird upside down.
Directors: Ralph Eggleston
#16 - Presto
Season 1 - Episode 15
Dignity. Poise. Mystery. We expect nothing less from the great, turn-of-the-century magician, Presto. But, when Presto forgets to feed his rabbit one too many times, well, there's really no telling what to expect! Follow the escalating high jinx of the amazing Presto, his rabbit Alec, and what happens onstage when a star magician's ego provokes some clever revenge from his neglected costar.
Directors: Doug Sweetland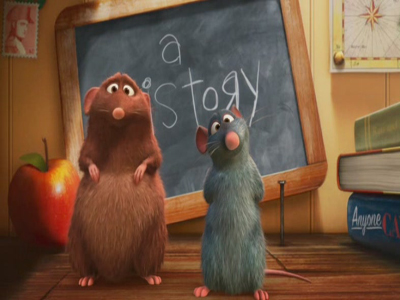 #17 - Your Friend the Rat
Season 1 - Episode 14
Emile and Remy narrate an animated history lesson on Rattus norvegicus, aka the common rat.