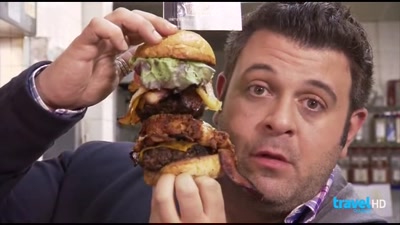 #1 - Milwaukee, WI 9.25
Season 4 - Episode 11
Adam is in Milwaukee to sample some of the city's finest meats. Then he meets a behemoth of an eater to help him devour a huge burger, fries, and six blazing-hot wings in less than 23 minutes.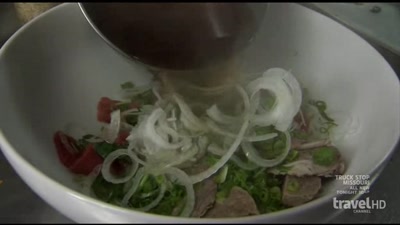 #2 - Dallas, TX 9.20
Season 4 - Episode 13
Adam Richman is in Dallas, Texas to try a variety of authentic German sausages, some Texas-style brisket, and to guide the hungry member of Man V. Food Nation, Pete MacGillis, through the Super Pho Challenge at Sprouts SpringRoll & Pho.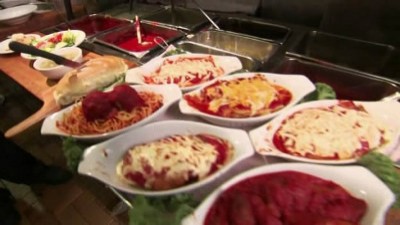 #3 - Niagara Falls 8.87
Season 3 - Episode 15
Adam is in Niagara Falls, NY, the honeymoon capital of the world. Adam has a date at Mick and Angelo's for their 7-lbs. pasta challenge.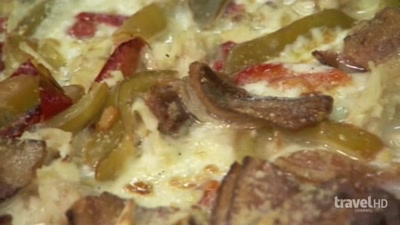 #4 - New Haven, CT 8.40
Season 4 - Episode 1
Adam Richman heads to New Haven, CT, to taste the original hamburger, a signature Clams Casino Pie and to help Man v. Food Nation member Ric Best take on the Caseus Cheese Truck Challenge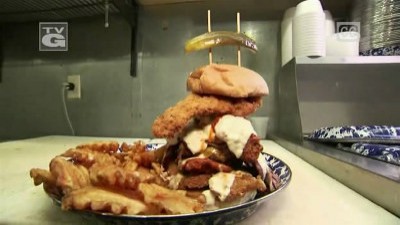 #5 - Des Moines, IA 8.40
Season 3 - Episode 18
Fifteen minutes isn't much time to finish a challenge, but it's all Adam Richman's got to complete the Adam Emmenecker Challenge at Jethro's BBQ; also on Adam's stop are two more notable restaurants in Iowa's capital city.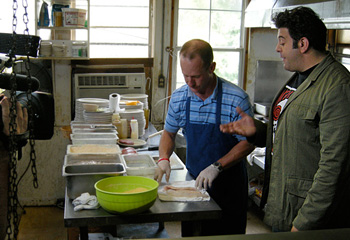 #6 - Little Rock, AR 8.27
Season 2 - Episode 17
Adam Richman visits Little Rock, AR, for the mammoth Quadruple Hubcap Burger; a huge community barbecue; and the Shut Up Juice spicy pulled-pork challenge at The Mean Pig BBQ.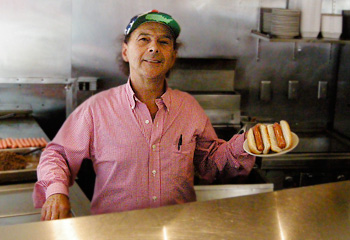 #7 - Detroit, MI 8.24
Season 2 - Episode 14
Adam visits Detroit, MI, to take on the massive Triple Threat Pork sandwich, 2 dueling Coney Dog joints and the world's biggest burger at Mallie's Sports Grill and Bar.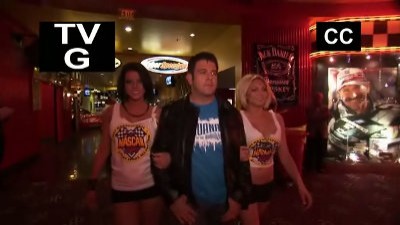 #8 - Las Vegas, NV 8.19
Season 2 - Episode 2
Adam is in Las Vegas for huge breakfasts, some of the hottest crawfish in the country and the Big Badass Burrito challenge at the NASCAR Café in the Sahara Hotel & Casino.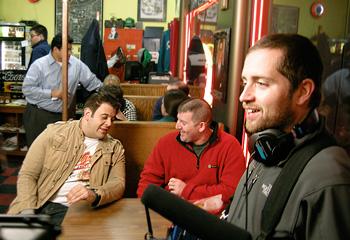 #9 - Hartford, CT 8.19
Season 2 - Episode 20
Adam Richman is off to Hartford, CT, for some humongous hot dogs, steamed cheeseburgers and a 10-pound super-stuffed pizza challenge at Randy's Wooster St. Pizza Shop.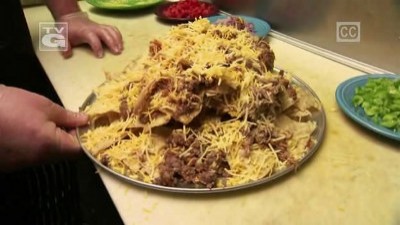 #10 - Ann Arbor, MI 8.16
Season 3 - Episode 20
Adam Richman heads to Ann Arbor, MI, for stacked burgers and some of the best deli sandwiches in the state. Watch Adam tackle the 5-lb. Mount Nacheesmo Challenge at Tio's Mexican Cafe.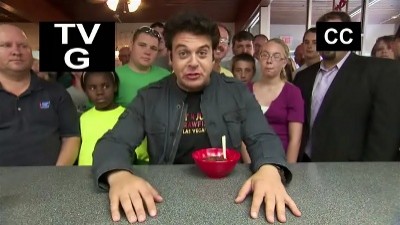 #11 - Springfield, IL 8.15
Season 2 - Episode 10
Adam Richman's food quest continues to Springfield, IL, where he'll sample a local favorite called The Horseshoe; visit the place that invented the corndog; and take the Firebrand Chili Challenge at Joe Roger's Chili Parlor.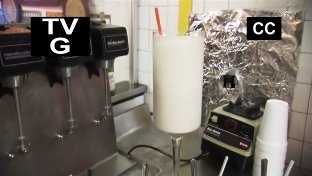 #12 - Washington, DC 8.12
Season 2 - Episode 12
Adam's hunger quest takes him to Washington, DC, where he visits Horace and Dickie's, and Ben's Chili Bowl. Then it's on to Annapolis, for the Colossal Challenge at Chick & Ruth's Delly.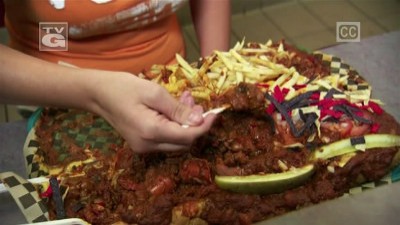 #13 - Sacramento, CA 8.10
Season 3 - Episode 17
Adam visits the California State Fair for fried food on a stick; Jim Denny's.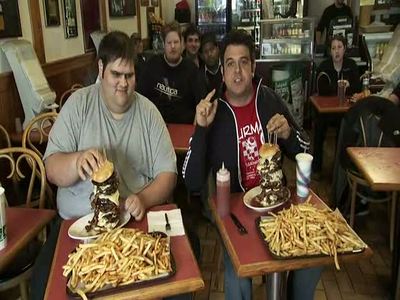 #14 - Boston, MA 8.09
Season 1 - Episode 8
Adam takes on the 10-pound Eagle's Challenge Burger at Eagles Deli.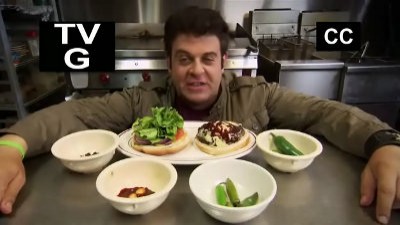 #15 - San Antonio, TX 8.05
Season 2 - Episode 1
Adam travels to the Lone Star State and visits Lulu's Bakery and Café for their 3 1/2-lb. cinnamon roll. Then he'll head to Big Lou's Pizza and Chunky's Burgers for the Four Horsemen Challenge.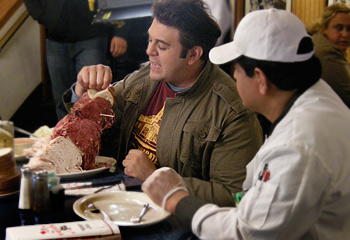 #16 - New Brunswick, NJ 8.05
Season 2 - Episode 19
Adam Richman heads to New Brunswick, NJ, for massive triple-decker deli sandwiches, 2-lb Stromboli and the legendary Fat Sandwich Challenge at the R.U. Hungry grease truck.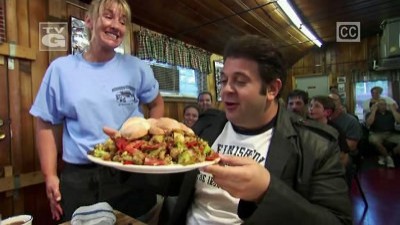 #17 - Syracuse, NY 8.04
Season 3 - Episode 13
Food enthusiast Adam Richman travels to Syracuse, New York,to visit Mother's Cupboard, where he will attempt to finish off a frittata weighing in at over six pounds; Adam also samples the food at two other popular restaurants.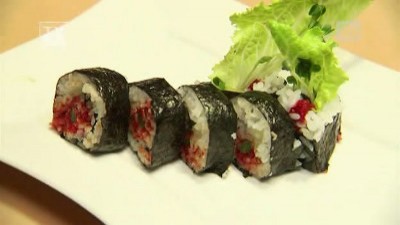 #18 - Salt Lake City, UT 8.03
Season 3 - Episode 5
Adam takes on the Hellfire Challenge in which Adam must eat super spicy sushi rolls and prior to the actual rolls he must qualify though 3 lesser hot dishes.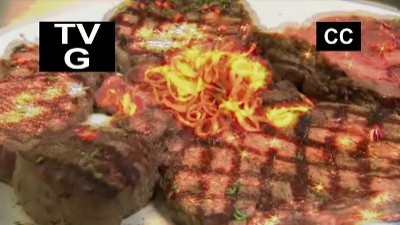 #19 - Baltimore, MD 8.03
Season 2 - Episode 13
Adam's search for the best grub in the US takes him to Baltimore, MD, for some pit beef, blue crabs and the Great Steak Challenge.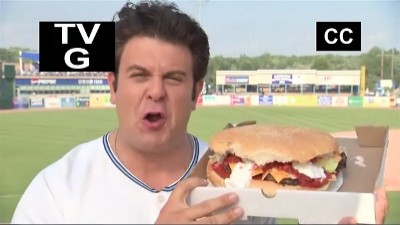 #20 - Baseball Special 8.00
Season 2 - Episode 9
Adam Richman visits 3 baseball stadiums known for serving up the most delicious and unique ballpark grub in the country. Adam's pit stops include GCS Stadium, home to the Gateway Grizzlies; Joseph P. Riley Jr. Park, home to the Charleston River Dogs; Fifth-Third Ballpark, home to the West Michigan Whitecaps.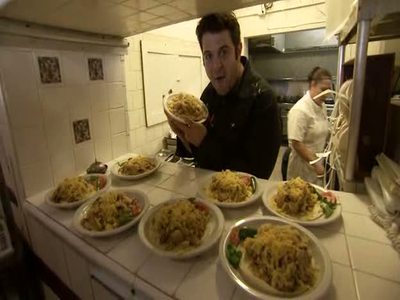 #21 - Austin, TX 7.98
Season 1 - Episode 5
Adam takes on Don Juan El Taco Grande -- seven huge breakfast tacos at Juan in a Million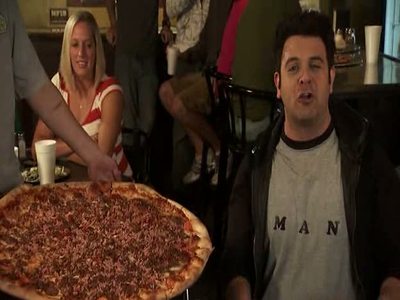 #22 - Atlanta, GA 7.98
Season 1 - Episode 7
Adam takes on the 13-pound Carnivore Pizza at Big Pie in the Sky pizzeria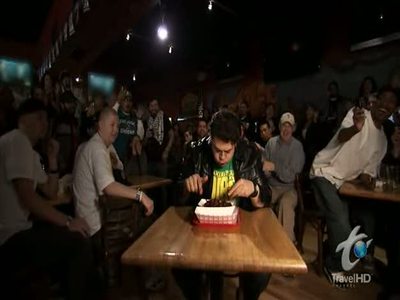 #23 - San Jose, CA 7.98
Season 1 - Episode 15
Adam Richman is in San Jose, California for mouthwatering ribs, a 5-pound burrito and a hot wing challenge at SmokeEaters. Hope he's hungry!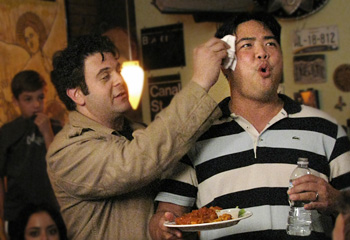 #24 - Brooklyn, NY 7.97
Season 2 - Episode 15
Adam returns to his hometown of Brooklyn, NY, for a burger topped with roast beef, Brooklyn's best Sicilian pie and a grudge match against some of the Empire State's spiciest wings at Buffalo Cantina.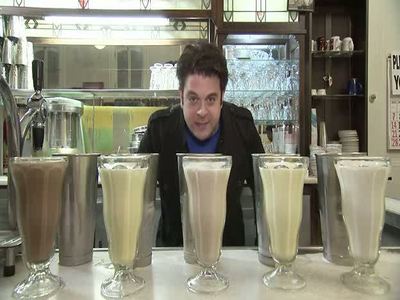 #25 - St. Louis, MO 7.97
Season 1 - Episode 14
Adam Richman travels to St. Louis. Pappy's Smokehouse, Iron Barley and the Malt Milkshake Challenge at Crown Candy Kitchen are all on the menu.