The Best Episodes of K-ON!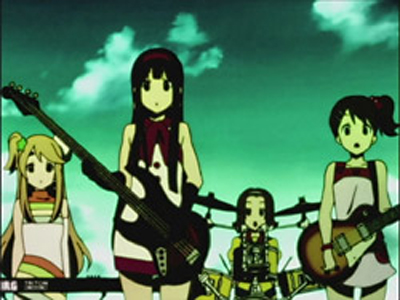 #1 - School Festival! 9.16
Season 1 - Episode 6
On the day of the school festival, Mio wants to practice for the club's live event, but everyone else is helping with their classes' other stands. They later get some practice done, but Mio is still nervous about singing center stage, even with Sawako's costume choices not helping the matter. Ritsu decides to hold a mock concert introduction to calm her nerves, although she still has jitters when the concert starts. Having seen her secret vocal practice beforehand, the others encourage her to do her best and the show manages to be a success. However, leaving the stage Mio trips over the guitar cable and accidentally exposes her underwear to the audience. She ends up getting a fan club, but cannot get over her embarrassment.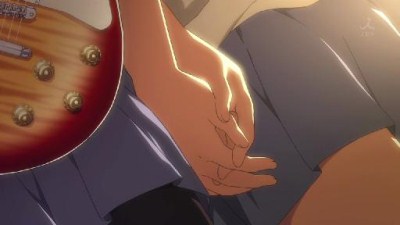 #2 - Yet Another School Festival! 9.10
Season 2 - Episode 20
The girls get on stage for their performance and are surprised to find everyone in the audience wearing the same shirts as they are, which moves Yui a lot. During their performance, they sing two new songs, and Yui gives her thanks to the people who have helped her, and even gets thanks in return from the others. After their performance, the girls look back on their previous years and start to become upset knowing that this is their last year together, but manage to cheer each other up.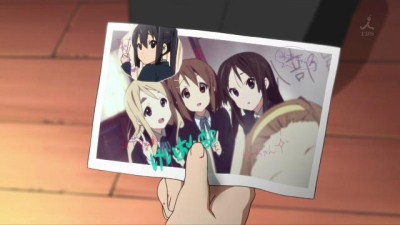 #3 - Graduation Ceremony! 9.08
Season 2 - Episode 24
On the day of the girls' graduation, Yui gets off to a rough start by being late and ripping her tights. Meanwhile, Azusa is similarly distracted and ends up banging her head. The girls hold onto something, though Yui's attempts to hide it during the graduation ceremony cause Sawako to grow suspicious. They later give Sawako the present, a card signed by the entire class, later that day as thanks for being their teacher. After the classroom empties, leaving behind several goodbye messages for Sawako, the girls go to the light music room, shortly followed by Azusa. Azusa, who had been holding in her feelings all day, finally breaks down into tears, begging them not to graduate. To cheer her up, the girls perform a special song they wrote just for her.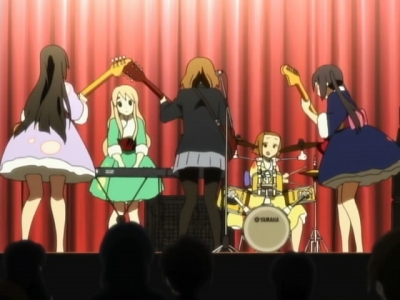 #4 - Light Music! 9.00
Season 1 - Episode 12
Yui is still sick from her cold, which is possibly attributed to her wearing a short yukata for too long. As the band tries to make do with Azusa as lead guitarist, Yui supposedly shows up over with her cold. However, her playing is too perfect and a slip of the tongue reveals that she is actually Ui, who had managed to play after a few days practice. Yui appears, but is still in no condition to play, so Mio suggests that she stay home until the day of the live performance. Yui eventually makes it in time, but forgets her guitar at home, so Sawako fills in for her while she goes to get it. Yui returns in time for the second song and the performance goes well, and the band even does an encore.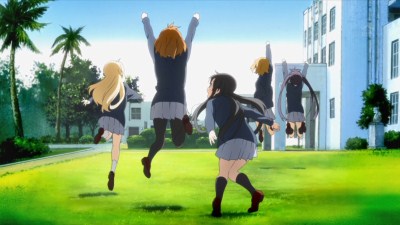 #5 - Visit! 8.95
Season 2 - Episode 26
Set before episode 23, Nodoka arrives in the clubroom with a sample of the graduation yearbook. The yearbook needs to be checked by Sawako, who is sick with a cold. Curious about what her apartment looks like, the girls decide to pay her a visit. Whilst looking through the album, they find a mysterious hand in the group photo, which turns out to be Ritsu's. Despite Sawako's objection, the girls decide to help her out around the apartment. They briefly visit Azusa, who is busy rehearsing for her freshman reception with Ui and Jun.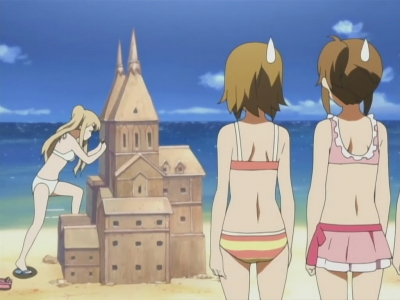 #6 - Training Camp! 8.85
Season 1 - Episode 4
After listening to the live performance of the previous year's Light Music Club, Mio is inspired to get the gang together to practice over the summer break for the upcoming Budokan school festival. They travel to Tsumugi's oceanside villa, where music and summer fun mix.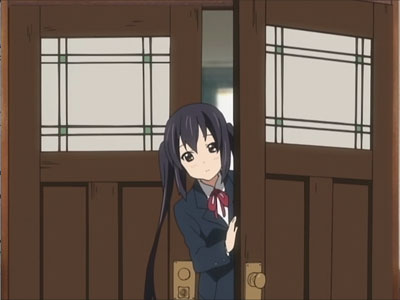 #7 - Freshman Reception! 8.85
Season 1 - Episode 8
Ui makes it into Yui's school as a freshman, as well as new student Azusa Nakano. When the class arrangements are announced, Yui, Mugi and Ritsu end up in the same class, whilst Mio ends up in a different class with Nodoka. The group put up with Sawako's ideas of promoting the club by dressing them up as animals. Ui and her friend visit the club only to find everyone dressed as maids. However, the band find it impossible to play with the outfits on. Meanwhile Azusa walks around looking for a club that's right for her. The group gets ready for a live performance, but Mio is too embarrassed to do the vocals, so Yui does them instead. Yui forgets the lyrics, but Mio manages to back her up. Ui brings Azusa to watch the show, who is so moved by it that she goes to join the club.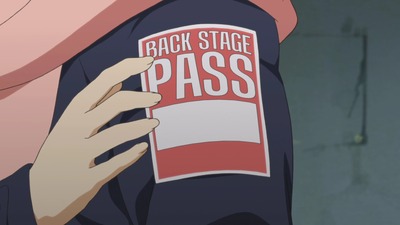 #8 - Live House! 8.81
Season 1 - Episode 14
Afternoon Tea Time plays their first show at a club.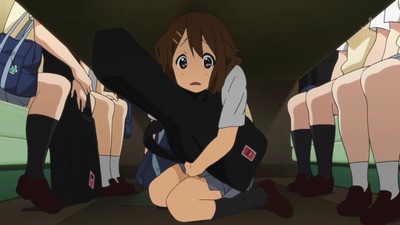 #9 - Teacher! 8.79
Season 2 - Episode 10
After Sawako gets a call on her phone from someone in the clubroom, the girls decide to follow her. There, they find her meeting up with one of her friends, and although they are easily noticed by her, she does not alert Sawako to their position. After Sawako leaves, her friend introduces herself to the others as Christy, a guitarist from the previous light music club during Sawako's punk phase, and reveals that one of their group's other members is getting married. At the wedding, Sawako is shocked to find her old death metal band on stage with Yui as the guitarist. When Yui gets off to a nervous start, Sawako sheds off her shameful pride and takes her place on stage.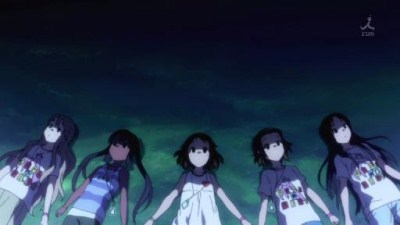 #10 - Summer Festival! 8.78
Season 2 - Episode 12
With summer vacation starting, everyone initially decides to do another training camp, but instead they decide this year to go to a summer rock festival in the mountains, which Sawako conveniently has tickets for. After following Sawako's strict survival guide, the festival starts and everyone gets into it, especially Mio, although Tsumugi and Yui become depressed when they cannot eat the foods they want. Meanwhile, the girls shortly go separate ways to listen to different bands. While Mio gets entranced by a left-handed guitarist, Sawako enjoys headbanging to a heavy metal band far from the others. After a day of music, the girls sit under the stars, listen to the bands far away, and agree to perform at the next Summer Festival.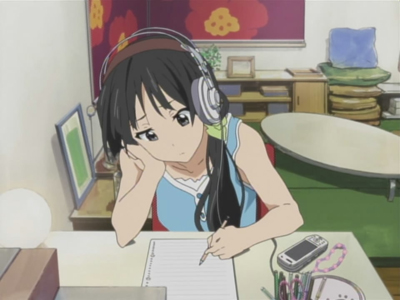 #11 - Mentor! 8.77
Season 1 - Episode 5
When Tsumugi's application to reserve the hall for the light music club is rejected due to it not officially being a club, it becomes apparent Ritsu had forgotten to fill out the required form. Yui's friend Nodoka Manabe, who is a member of the student council, offers to register them, but says they will need an advisor. The girls ask one of the teachers, Sawako Yamanaka, who rejects the offer until Yui figures out she was one of the previous light music club members, and Ritsu plans to blackmail her with the information.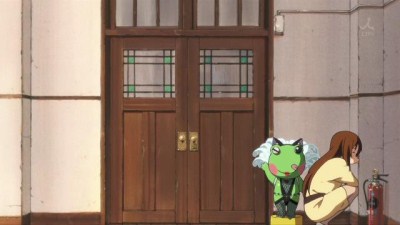 #12 - Planning Discussion! 8.74
Season 2 - Episode 25
Set just after episode 21, Azusa finds the light music club's attempted recruitment video from before she joined the club, which was so embarrassing that Mio hid it in a cookie can. In order to recruit some new members for the next year, the girls try to come up with pitches for a new recruitment video, but to no avail. After talking with Ui and Jun, Azusa comes up with the idea of filming a documentary of their activities, intersected with interviews from fellow students and staff. The video turns out great, besides one scene at the end which Azusa is not too keen on.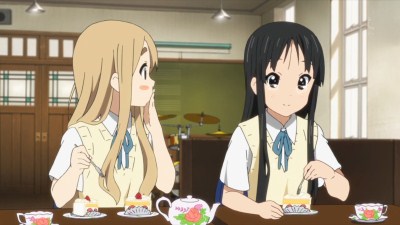 #13 - Summer Classes! 8.63
Season 2 - Episode 14
Unable to get Mio to hang out with her, Ritsu runs into Tsumugi who decides to hang out with her. They go to an arcade and then to a candy store, where Tsumugi is fascinated by all the cheap items. Meanwhile, Yui has Nodoka over to help with her homework, and gets upset when she eats the strawberry off her cake. Later, Tsumugi asks Ritsu to hit her, wanting the same skinship she has with Mio, but Ritsu cannot bring herself to do it. As a compromise, Ritsu attempts to train Tsumugi to be dopey enough that Mio would hit her instead, but to no avail. Hoping to make an opportunity, Tsumugi eats the strawberry off Mio's cake, but this just makes her cry. Having given up when a direct request to Mio also fails, Tsumugi finally gets hit when she implies Ritsu would be popular with the girls if she was a boy.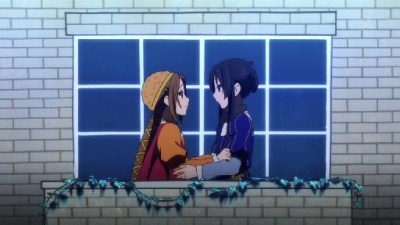 #14 - Romeo and Juliet! 8.62
Season 2 - Episode 19
As the seniors prepare for the play, Azusa worries that there has not been enough practice for the live performance. As the play goes on, the backstage crew realize they are missing Juliet's gravestone needed for the climax, but manage to borrow something from the occult club in time. After a successful play, the girls apologize to Azusa for making her worry and decide to hold an overnight practice session at school. Later that night, they browse through the closed stalls, where they find the missing gravestone, and give their thanks to the occult club. The next morning, Sawako gives the girls special Ho-kago Tea Time t-shirts for their performance.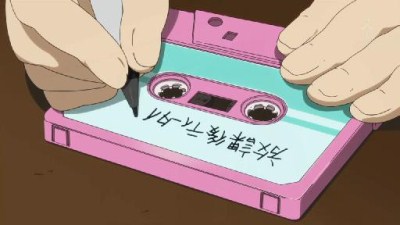 #15 - After School! 8.55
Season 2 - Episode 23
Although they are not supposed to be at school until graduation the next day, Yui and the others decide to hang around the club room, though they have trouble figuring out how to pass the time. They clear out their desks and visit the student council room before getting Azusa to buy them some lunch. Wanting to leave something behind after they graduate, the girls decide to record an album of their songs.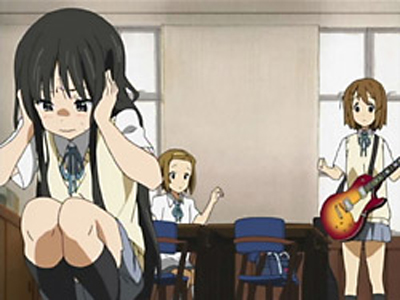 #16 - Special Training! 8.53
Season 1 - Episode 3
Yui and the girls are now taking their midterms. Unfortunately, Yui practices playing her guitar chords instead of studying, and she fails the exams. If she fails the retake exams, she cannot participate in club activities, and the club will be disbanded. A day before the retake, Yui still has not been able to study much and begs Ritsu, Mio and Tsumugi into helping her to study for her retake. Days after the retake, an exhausted Yui returns to the club room with full marks. To celebrate, the girls ask Yui to play the guitar chords she had learned, but she has completely forgotten them.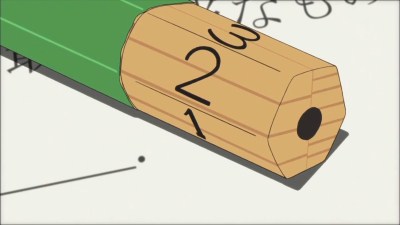 #17 - Exams 8.52
Season 2 - Episode 22
As the seniors prepare for their entrance exams, Azusa decides to make them a chocolate cake for Valentine's Day, getting Ui and Jun to help. When the day comes, Azusa becomes nervous about presenting the cake to them, also worried about their impending graduation. However, her friends encourage her and the cake is well received, even getting a speedy White Day gift from Yui. The next day, Azusa makes an expensive prayer at the shrine for the girls' success, and later receives word that they have all passed their entrance exams.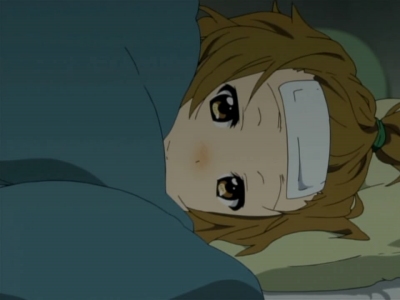 #18 - Crisis! 8.52
Season 1 - Episode 11
When Ritsu is reminded by Nodoka to fill in her gym-use application, the band notice they don't have a name yet. Azusa notices rust on Yui's guitar strings, and it becomes apparent that Yui has never given her guitar maintenance before. They take it to the guitar shop where Mio gets entranced by a Lefty fair. However, Yui doesn't realise she has to pay for maintenance, and when Tsumugi tries to pay, the staff refuse to take money from her. They tell her to consider it as a free service. Later, Ritsu starts to become jealous of Mio spending time with Nodoka and begins to fall out with her. She ends up with a fever, so Mio visits and smoothes things over. Afterwards, Ritsu gets in trouble for still forgetting her form, but Nodoka backs her up. Since none of the members could decide on a name for the band, Sawako chooses the name "After School Tea Time" to get it over with. However, Yui ends up catching Ritsu's cold.
#19 - New Club Member! 8.51
Season 1 - Episode 9
Azusa officially joins the club, although is shocked to find everyone drinking tea and eating cake instead of practicing. She yells at them when Sawako tells her off for actually practicing, but Yui manages to calm her down. Despite her objections, Azusa finds herself weak against Tsumugi's tea and cakes. Yui herself is rather shocked at how much better Azusa is at guitar than she is. Sawako brings a pair of cat ears for Azusa to wear, leading Yui to give her the name 'Azu-nyan'. Noticing she is a bit upset, Mio encourages the band to practice more, but the group quickly reverts to its lazy state. Azusa becomes really upset since she cannot understand why the band members she admired at the live performance behaves like they do. Mio explains to her that she stayed with the band because it is fun to play with the others, and Azusa decides to stay as well.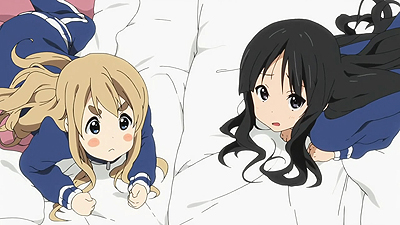 #20 - Field Trip! 8.49
Season 2 - Episode 4
The third years go on a school field trip to Kyoto. On the train there, Mio is a little annoyed at Yui's and Ritsu's childish behavior. Mio realizes that she will have to watch over both of them during the trip. After visiting various shrines and attractions, the group returns to the inn where the girls' bad habits continue to annoy Mio. The next day, they have a look around Kyoto, though Mio laments that no one wants to participate in any tourist activities. However, when they get lost on the way back to the train station along with Nodoka's group, Mio gives in to the jokey nature of the others and loosens up for the rest of the trip.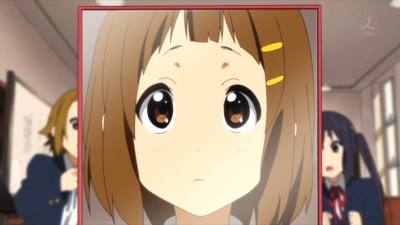 #21 - Graduation Yearbook! 8.49
Season 2 - Episode 21
With photos for the graduation yearbook coming up, Yui uses Ui as a model to determine the best hairstyle, though feels weird when she leaves her hairpin on her. Although the seniors have finished their clubs, the girls decide to use the music room to study for their entrance exams, though Yui and Ritsu still have yet to decide on their university choices. While trying to trim her bangs for her yearbook photo, Yui sneezes and accidentally cuts them off, giving her a completely different look. After their pictures are taken, the girls learn Mio had turned down a recommendation for a university because she wanted to study together with everyone. Upon hearing this, Yui, Ritsu and Mio turn in their university preference applications to Sawako, opting to go to the same women's university as Tsumugi.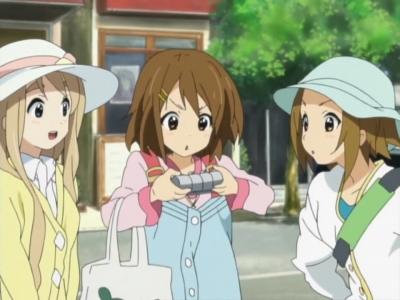 #22 - Instruments! 8.49
Season 1 - Episode 2
The members of the new light music club join forces in order to get Yui Hirasawa a guitar, an expensive Gibson Les Paul which costs ¥250,000.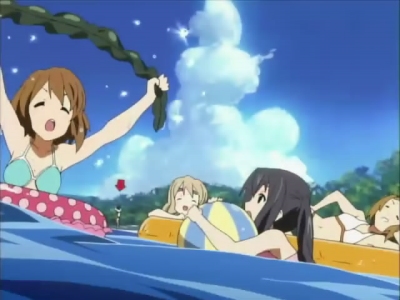 #23 - Another Training Camp! 8.44
Season 1 - Episode 10
Azusa meets up with Ui for lunch and are later joined by Ritsu. They try to call Tsumugi but end up talking to her butler. Yui and Ritsu invite Sawako to join their next training camp, but she appears disinterested. The gang arrive at an even bigger villa than last year, though Mugi points out it still isn't the one she desired. Yui and Ritsu want to play and Mio and Azusa want to practise, but the latter gets outvoted by Tsumugi in favour of playing. Azusa objects, but ends up having the most fun anyway, even getting sunburnt in the process. After practise, dinner and fireworks, Ritsu suggests a test of courage, and Mio and Azusa are shocked by the sudden appearance of Sawako. Later that night, Azusa joins Yui practising guitar. Azusa meets up with Ui again, although she can barely recognise her with all the sunburn.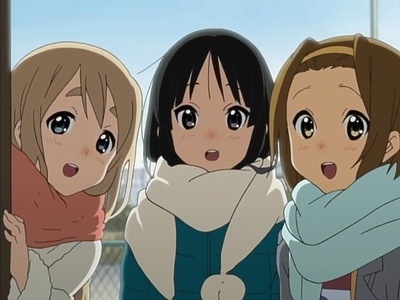 #24 - Christmas! 8.44
Season 1 - Episode 7
Ui remembers how Yui once attempted to give her a white Christmas by sticking pillow stuffing on the tree outside. Ritsu decides to hold a Christmas party for the club, and while her initial plans of holding it at Tsumugi's house fail, they eventually decide to have it at Yui's house, also inviting her friend, Nodoka Manabe. They also decide to do a gift exchange, and go shopping for various gifts. Ui prepares a lovely Christmas dinner for the group, which gets a little out of hand when Sawako shows up out of no where. During the gift exchange, Yui and Ui give each other some warm things for the winter. After the rest of the group leaves, snow falls and Yui and Ui decide to sleep together, although Yui ends up hogging the sheets. In the New Year, the club decides to go to the shrine to make their New Year wishes.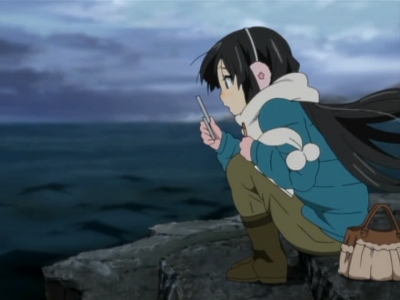 #25 - Winter Days! 8.43
Season 1 - Episode 13
As the cold winter weather creeps in, and despite Yui's offer of having nabe with everyone, each of the club members have individual duties. Tsumugi gets a part time job at a fast food restaurant, Mio goes to the beach to get inspiration for her lyrics, Ritsu has to entertain her little brother and Azusa is asked to look after her classmate's pet cat, despite not being good with cats herself. However, Mio cannot think of anything to write, Tsumugi buckles under the pressure, Ritsu ends up by herself and Azusa is left uncertain what to do when the cat starts throwing up. A random text from Yui cheers up the others and she comes to help Azusa with the cat. They all meet up for burgers where Ritsu is shocked to find what she thought was a love letter addressed to her was actually a set of lyrics Mio wrote.