The Best Episodes of Garfield & Friends
#1 - The Bunny Rabbits is Coming 8.50
Season 3 - Episode 2
Orson recieves a letter in his morning post telling him that the bunny rabbits is coming. Wade snaps into panic and starts shouting out, ""The Bunny Rabbits Is Coming!"" Sometime later, the crafty weasel is once again on the farmland and begins to kidnap the chickens and stuffs them into a sack. He then stuffs Roy, Wade and Orson into another sack. But his plans backfire when the bunny rabbits soon come and trample him. Orson, Roy and Wade escape and Roy is soon praised by the chickens when he rescues them. The crafty weasel then runs away and soon the farmer of the bunny rabbits asked where his herd went. That way!
#2 - Rainy Day Dreams 8.50
Season 2 - Episode 39
Garfield's wild fantasies get in the way of Jon trying to entertain a woman whom he think is his date, but turns out to be an insurance agent who is trying to take advantage of him.
#3 - Sales Resistance 8.50
Season 1 - Episode 39
Jon tries to stop Garfield from buying every useless product advertised on television.
#4 - Rip Van Kitty 8.17
Season 2 - Episode 4
Garfield, Jon, Odie and Nermal are having a picnic at the park. Garfield dreams that he sleeps for twenty years and Earth is invaded by aliens that look like him and eat everything.
#5 - Weighty Problem 8.00
Season 1 - Episode 19
Jon buys a new talking, fortune telling scale. Garfield decides to turn the knob of it and afterwards Jon goes on it. The scale tells him that he is overweight so Jon decides to excercise and gets Garfield to excercise with him. After many excercises that went wront due to Garfield, Jon goes onto the scale again and the scale informs him that he is the correct weight for his size. The scale then tells him that his fortune is to punish his cat for tempering with the scales eariler. Uh-oh!
#6 - Cabin Fever 8.00
Season 1 - Episode 22
Jon's friends loan him their cabin the the woods for the weekend, so the entire crew packs up their things and head up to the mountains. Jon goes out to get food when he finds the cupboards empty, leaving Garfield and Odie alone in the cabin. However, it begins to snow very heavily, and the roads are closed. Jon decides to make it back to the cabin on foot, while Garfield curbs his appetite by eating pictures of food out of a cooking book. Will Jon be able to get back to the cabin, and will Garfield finally get some real food before he starves?
#7 - Mystic Manor 8.00
Season 2 - Episode 67
Jon decides to take Garfield and Odie to Mystic Manor - an old haunted house. They try to get in, but are not allowed, so they check into a motel next door. Jon goes to take a nap, and leaves Garfield in charge of Odie. Odie chases a bat up to the manor, and Garfield follows. As he looks for Odie, he falls prey to a lot of the frightening tricks within the manor. Garfield and Odie return very scared, and Jon goes to show them that there's nothing to be afraid of, but the manor's gone and a construction crew is building a skyscraper!
#8 - The Black Book 8.00
Season 2 - Episode 15
Jon is upset with his unlucky-in-love status. He tells Garfield to hide his black book, but Jon can't make up his mind if he wants it back or not...
#9 - Identity Crisis 8.00
Season 1 - Episode 16
While on a jaunt about town, Garfield runs into Floyd the mouse and they begin to chat. In the meantime, a dog catcher comes by trying to catch a big, mean dog. The dog finds Garfield, so Garfield begins to bark like a canine to save himself. Floyd wants to learn the trick in case he comes across any crabby cats, so Garfield teaches him to meow. The dog comes across FLoyd, and he teaches the dog to squeak like a mouse. In the meantime, the dog catcher has become very confused, and captures Garfield. Imagine the surprise on his boss' face when his employee begins to claim he's found a barking cat, squeaking dog, and meowing mouse!
#10 - Garfield Goes Hawaiian 7.81
Season 1 - Episode 3
Garfield becomes stricken with the Hawaiian cat flu.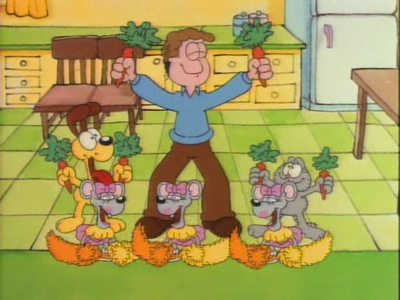 #11 - Basket Brawl 7.75
Season 2 - Episode 40
Garfield ""plays"" against Jon, Odie and Nermal in a basketball-game-type setting in order to get food into a picnic basket.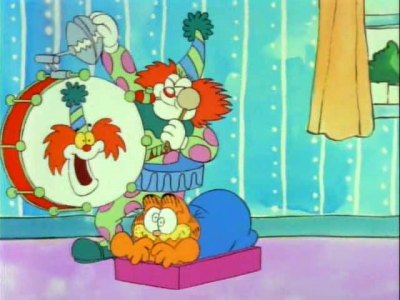 #12 - Peace & Quiet 7.70
Season 1 - Episode 1
After Garfield stays up all night watching television, Jon and Odie leave the house to give him some peace and quiet. But Binky keeps showing up to give a birthday surprise... to the wrong house.
#13 - Pest of a Guest 7.67
Season 2 - Episode 1
It's a cold, winter's night and a stray cat rings on Garfield's door. Jon and Odie feel sorry for the stray and takes him in. However, the stray has a lot more to him than just a poor kitty cat look and soon Garfield takes action...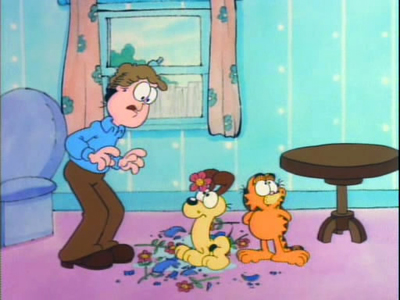 #14 - Arrivaderci, Odie! 7.25
Season 2 - Episode 52
Garfield is pretending to be a swashbuckler, but accidentally breaks a vase. He pins it on Odie, of course. Jon decides that Odie needs to go to the vet, and Liz keeps him overnight. In the meantime, Garfield thinks he got Odie into deep trouble, and begins to have guilt pangs.
#15 - Wanted Wade 7.16
Season 1 - Episode 2
Wade removes a service tag from a sofa and then thinks that the police are going to come after him.
#16 - Ode to Odie 7.14
Season 1 - Episode 9
Garfield narrates (in a rapping style) a tale about Odie's encounter with a few dogs in a tough neighborhood
#17 - The Binky Show 7.00
Season 1 - Episode 25
Garfield goes on the Binky Show to win a birthday present for Jon.
#18 - Polecat Flats 7.00
Season 2 - Episode 28
Jon drags Garfield to the Polecat Flats dude ranch so that he can experience life in the wild West.
#19 - Pros and Cons 7.00
Season 2 - Episode 25
Jon and Garfield are playing a game and Jon picks up a card and reads it. ""You lose! Your cat gets everything in the fridge!"" it said so Garfield helps himself. Jon now needed to get some more groceries because of this but he is too tired and if he sends Garfield to get them the food will never get home. So Jon sends Odie to get them. On his way to the groceries, Odie bumps into an alley-cat, who takes the money and gives Odie a dirty old sock in exchange. Jon becomes disapointed with Odie but Garfield has other ideas and thanks to a rerun on his show, he finds out what happened and dresses up as a geek and set off with the sock and play money from the game. Garfield finds the alley-cat and tells him that he's looking for his owner's lost sock and shows the alley-cat the sock and the amount of money he would give the alley-cat if he has it. The alley-cat sets off to find Odie. Garfield gets ahead of the alley-cat and gives Odie the sock. The alley-cat soon finds Odie and gives him the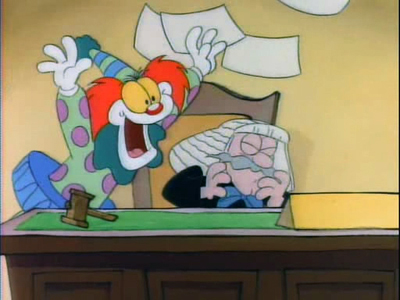 #20 - Binky Goes Bad 7.00
Season 2 - Episode 43
Binky has been brought to court on the charges of grand theft and robbery! Garfield decides to prove his innocence. He discovers there was a man who really hated Binky, and that he had disguised himself as Binky to get Binky in trouble. Garfield brings Binky's evil twin into court, but will he be able to prove which is the real Binky?
#21 - Maine Course 7.00
Season 2 - Episode 31
Jon recieves a ""Lobster on Wings"" from his relative as a gift. He begins to prepare a great gourmet meal, when he finds out that the lobster inside is alive! Both Jon and Garfield try to cook it, but they just don't have the heart. First, Jon tries to give it a home at the aquarium, but they have too many lobsters already due to the ""Lobster on Wings"" Co. So, Jon decides to keep the lobster as a pet. At first, life with a lobster around the house is fun, except it seems as though the lobster is homesick. So, Jon and Garfield fly out to the Atlantic Ocean to take the lobster back home.
#22 - First Class Feline 7.00
Season 2 - Episode 64
Jon decides to teach Garfield a lesson for continually trying to mail Nermal to Abu Dhabi.
#23 - Caped Avenger 7.00
Season 1 - Episode 34
Garfield's Teddy Bear, Pooky, is missing so he becomes ""THE CAPED AVENGER"" and starts looking for his friend, with Odie (nicknamed ""Slurp"") taging along as his sidekick.
#24 - The Curse of the Klopman 7.00
Season 2 - Episode 37
Jon's rich cousin Norbert dies. At the reading of the will, Garfield inherits the Klopman Diamond... which comes with a curse. After a series of bad events, Garfield gives in and sells the diamond to the man who demands it from him.
#25 - Robodie 7.00
Season 2 - Episode 34
Garfield and Odie decide walk to a salad bar for lunch. The owner is very distressed that Garfield's there because of his large appetite. In the meantime, Odie gets captured by a mad scientist named Dr. Bean. Dr. Bean makes a bunch of robot dogs using Odie as a model, and Garfield accidentally takes a decoy home. He and Jon soon notice the difference, and go find Dr. Bean's office and the real Odie.