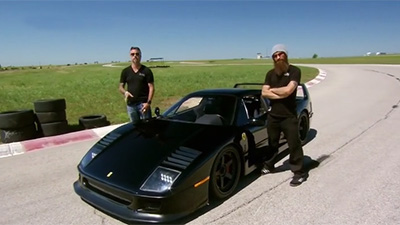 #1 - Ferrari Fix Part 2: 1917 REO 8.30
Season 3 - Episode 2
The GMG crew go all out to finish the Ferrari F40 rebuild. A broken $8000 windshield makes Richard regret taking on the project, until a parts delivery driver in high heels catches his eye. Richard's luck turns when the '67 Porsche 911S he buys turns out to be rare find worth more than he anticipated. Tom has one day to get crankin' on a 1917 REO and make it ready for auction.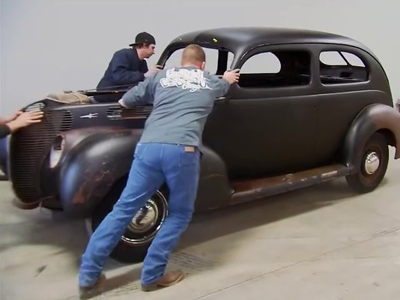 #2 - Ferocious Ford and Fast Ferrari 8.26
Season 2 - Episode 7
The Gas Monkey crew turn a rat-infested '38 Ford into a cool hot rod. Richard buys football player Emmitt Smith's Mercedes, which comes with a surprise. Is new female welder Alloy up for the GMG challenge? Richard gambles $400K on a banged up Ferrari F-40.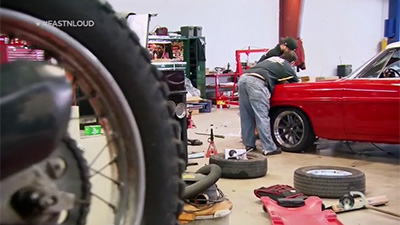 #3 - Ford Galaxie: Part 2/Nash Healey 8.11
Season 3 - Episode 7
With Aaron still missing in Denver, the Gas Monkey crew works to get the Ford Galaxie restored. Richard takes Tom to an auction with Evel Knievel's Messerschmitt. Richard tries to sell Dennis his Nash Healey, knowing that Dennis already owns a perfectly restored serial number one Nash Healey worth an estimated seven figures. Christie gets crank calls from a guy claiming to be Dale Earnhardt Jr.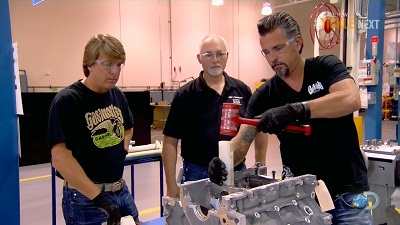 #4 - Killer COPO Camaro 8.09
Season 4 - Episode 4
Richard gets his hands dirty building a $100K 2013 COPO Camaro from the wheels up on the VIP assembly line. Aaron ignores his request to work on a newly arrived 1930 Model A. Instead, Aaron builds his own dream vehicle while the Monkeys tackle the A.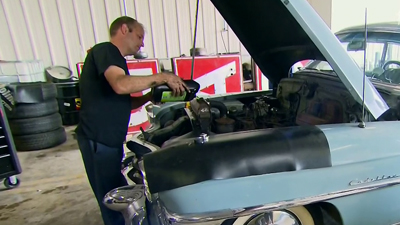 #5 - Big, Bad C-10 Build Pt2 8.06
Season 5 - Episode 10
The plan to build Gas Monkey's coolest show truck continues as Richard hopes to deliver a 1976 Chevy C-10 to the Cattle Baron's Ball. Meanwhile,Richard tries to flip a '66 Continental and a '51 Caddy. Also, Richard stops by Fired Up to check on the rent.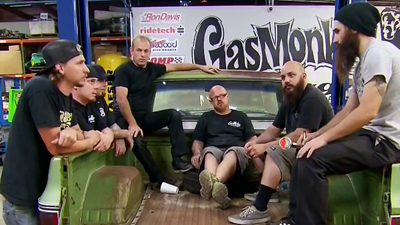 #6 - Big, Bad C-10 Build Pt1 8.05
Season 5 - Episode 9
Richard and Aaron build their coolest hot rod, a 1976 Chevy C-10 short bed show truck to be auctioned at the Cattle Baron's Ball. Plus, Richard misses out on a Firebird thanks to Thomas Weeks, and a 65 Cadillac is on the lot for one of Richard's buyers.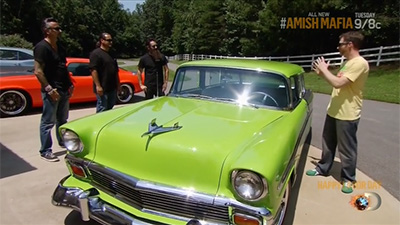 #7 - Dale Jr.'s Sick Nomad 8.05
Season 4 - Episode 1
SEASON PREMIERE:The Gas Monkey crew build NASCAR royalty Dale Earnhardt Jr a 1956 Chevy Nomad. While Richard and Aaron travel to Dale Jr's Carolina home with the Nomad, the crew finds ways to cool off in the Texas heat. Also, is a pumpkin Pantera a lemon?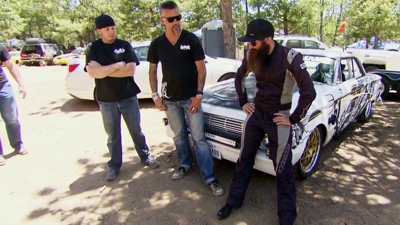 #8 - C10 Race Truck/Pike's Peak Pace Truck Part II 8.02
Season 5 - Episode 6
Pikes Peak International Race is 3 days away and the C10 pace truck is nowhere near being complete. Aaron struggles to keep the Falcon damage free as he approaches the race of his life. Richard also finds some old employees stepping into his territory.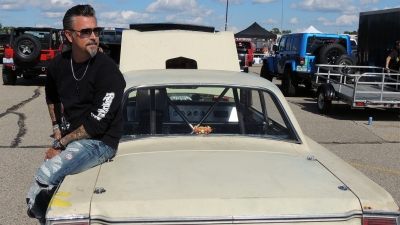 #9 - Racing a '67 Dodge Dart (2) 8.00
Season 7 - Episode 8
With engine problems on the Dart threatening to stop their big race with Roadkill before it starts, Richard and Aaron could face epic humiliation in front of millions of fans.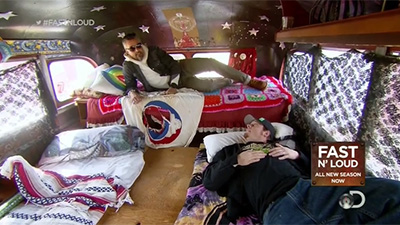 #10 - Ferrari Fix Part 1: Dead Head Bus 7.99
Season 3 - Episode 1
Invested over their heads in a wrecked Ferrari F-40 Richard, Aaron and the crew embark on the riskiest - and most expensive -- build in Gas Monkey history. To recoup costs they flip a '58 Corvette C1 and a time capsule Dead Head tour bus.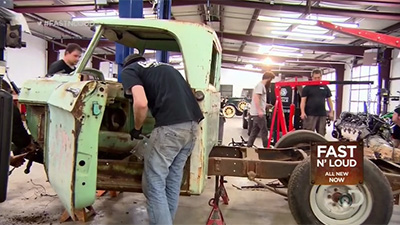 #11 - Dodge Hodge Podge Part 1, '65 Mustang 7.99
Season 3 - Episode 4
Richard and Aaron pick up a 64 Dodge Sweptline that's a mishmash of parts. A 32 Ford Roadster Richard forgot he bought rolls in, but it's up to Christie to seal the deal with the prospective buyer. KC hits the road with Richard to buy a 65 Mustang.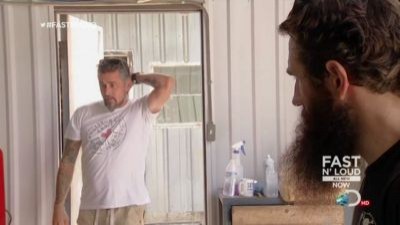 #12 - Holy Grail Hot Rod 7.99
Season 1 - Episode 12
A rare '32 Ford, a '64 Econoline van and an '89 Shelby pickup are featured.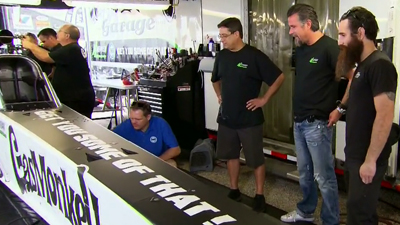 #13 - NHRA and a '55 Pink Caddy Pt2 7.98
Season 5 - Episode 12
After a constant wait for parts for the '55 Pink Caddy, the monkeys make a mad dash to get the car done on time. Meanwhile, Richard ventures into new territory as his Gas Monkey Dragster hits the Texas Motorplex for the NHRA qualifying runs.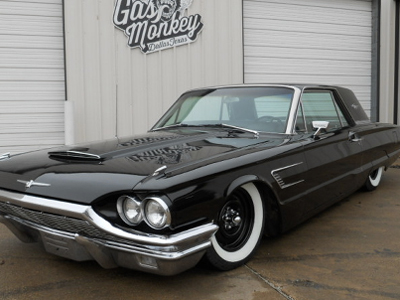 #14 - Trials of a T-Bird 7.97
Season 2 - Episode 6
Richard and Aaron bring a hot '58 Corvette home to the new Gas Monkey World Headquarters. Christie takes a gamble, buying a '65 T-Bird while Richard is away. Model Alloy Ash fires up her welding torch to prove to Aaron she's more than just a pretty face.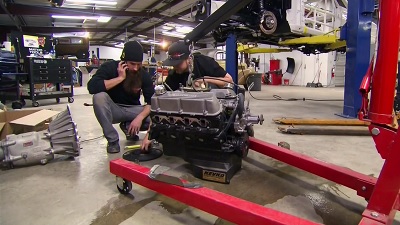 #15 - Aaron's Falcon Racecar 7.97
Season 4 - Episode 14
Aaron falls in love with and buys a famous '63 Ford Falcon race car off Richard, but will the original owner be impressed by Aaron's Gas Monkey style? While Aaron's tied up in his passion project, Richard flips a 1919 Nash and an unusually painted truck.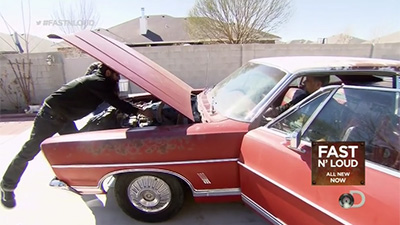 #16 - Ford Galaxie: Part 1/Bikini Contest 7.96
Season 3 - Episode 6
Richard and Aaron travel to Roswell to pick up a '67 Ford Galaxie. Then it's off to LA where Richard buys a '32 Plymouth and is excited to make a rare '51 Nash Healey deal. Finally, a former customer invites Richard and Aaron to Denver to be guest judges at a bikini contest for his restaurant chain. When Richard leaves for home, Aaron goes MIA and misses the plane.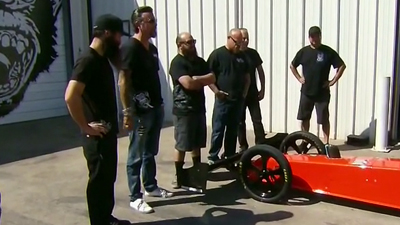 #17 - NHRA and a '55 Pink Caddy Pt1 7.95
Season 5 - Episode 11
When Richard gets a deal to build a '55 Pink Caddy for a 100 grand, it all seems like a sweet deal. Until the monkeys relay that they may not be able to build the car in time for the tight deadline. Meanwhile, Richard invests in sponsoring and NHRA team.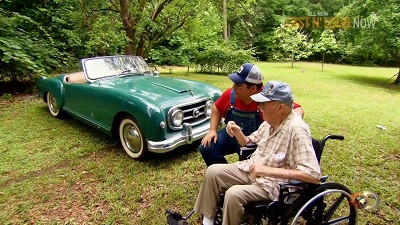 #18 - Cool Customline 7.95
Season 4 - Episode 3
A 1955 Ford Customline and a 1938 Aston Martin are featured.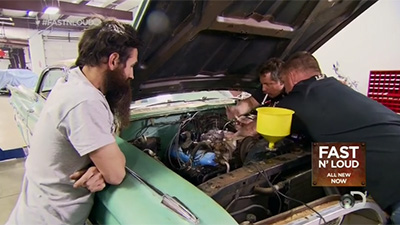 #19 - No Bull Bonneville 7.94
Season 3 - Episode 3
The road tripping Aussies are coming back and Richard has 72 hours to prepare a '59 Bonneville for their latest trip. Enter the Keagle. To get some more cash for the job, Richard snatches a bulk buy; a '67 Mercedes, a '50 Bel Air, a '54 Hudson Metropolitan and a '64 Autobianchi.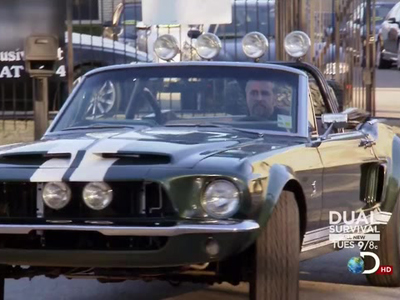 #20 - Bad Ass Bronco Part 2 7.94
Season 2 - Episode 3
With the Bronco over-budget and past deadline, Richard's patience (and wallet) are severely tested. He sells a '36 Ford three-window then considers a dare to sell his beloved Shelby Mustang. Sue is not amused with Gas Monkey's birthday gift to her.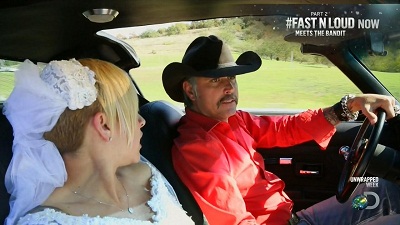 #21 - Gas Monkey Bandit Car (2) 7.94
Season 4 - Episode 12
The 1977 Trans Am customization is completed.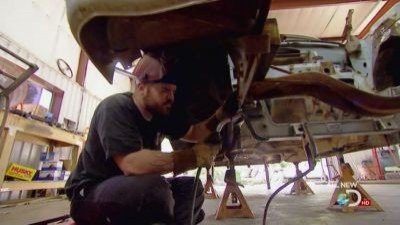 #22 - Ramshackle Rambler 7.93
Season 1 - Episode 8
Gas Monkey Garage owner Richard Rawlings and ace mechanic Aaron Kaufman head to Amarillo to pick up a '59 Rambler, but when they get there they discover it's covered in rust and filled with rat droppings. It will need to be rebuilt from the ground up to make it SoCal surf-worthy once again. Richard haggles for a '31 Model A Roadster for a quick flip. And Richard's friend Thomas picks up a Willis Coupe (aka WIllys Gasser) on Gas Monkey's behalf. It's rare and valuable in its own right, but could sell for $200,000 if Richard can prove its connection to a legendary drag racing team.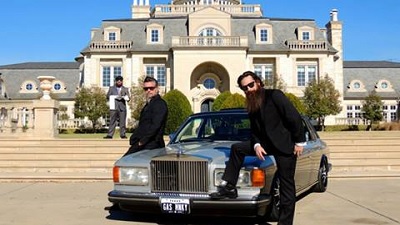 #23 - Troll's Choice Rolls-Royce 7.93
Season 4 - Episode 13
When Richard "accidentally" buys $92K worth of cars at an auction, his bookkeeper sister insists he flip all five cars in one week. Some go more easily and profitably than others but it's a weirdly built Rolls Royce that even Aaron has a hard time fixing.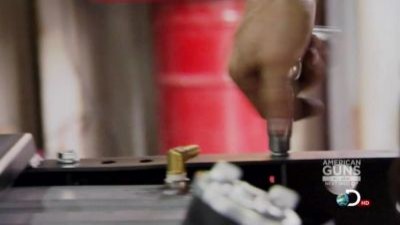 #24 - Frankensteined Ford 7.91
Season 1 - Episode 6
A '77 Trans Am and a '67 Cadillac are featured. Also: Two unlikely vehicles are merged together.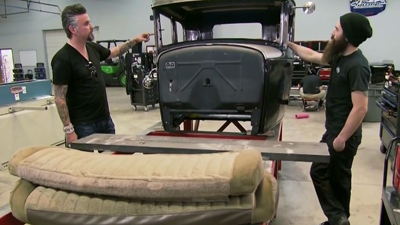 #25 - Chopped and Dropped Model A Pt 1 7.88
Season 5 - Episode 1
Aaron and Richard find themselves a 1931 Model A to chop! What begins as a simple build quickly grows into a grand green machine. With less than a month to build this chromed out 60's show car from the ground up, Richard's wild plan may be too much.