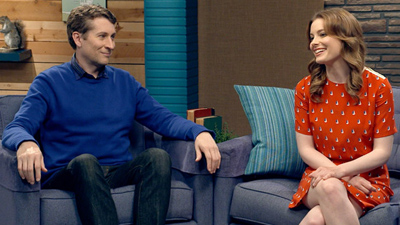 #1 - Gillian Jacobs Wears A Red Dress With Sail Boats 8.96
Season 2 - Episode 6
Actors Gillian Jacobs and Jason Mantzoukas stop by Comedy Bang! Bang! in the midst of Scott and Reggie trying to answer cliffhangers throughout the episode. Does Reggie's new girlfriend have a secret agenda? Will Scott seek revenge over his stolen sandwich? Who's inside the mysterious coffin on set? Special Guests: Chris Hardwick, Adam Scott and Michaela Watkins.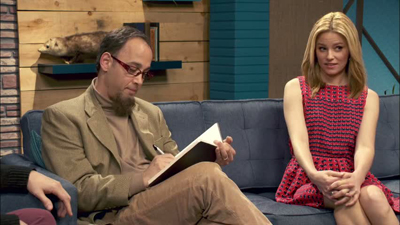 #2 - Elizabeth Banks Wears a Red Dress 8.71
Season 1 - Episode 8
When his guest Elizabeth Banks says the word of the day, host Scott Aukerman is forced to take action. While Scott nervously interviews a famous critic who is reviewing the show, a teamster interrupts to invite bandleader Reggie Watts and Scott on a "mind vacation". Smooth Jazz legend Barry R drops in to perform. Scott hosts a round of his game "What Do These Initials Stand For?"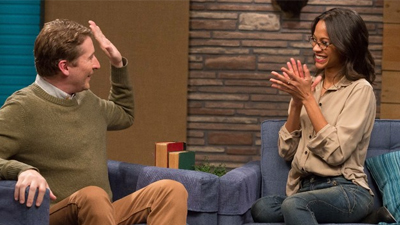 #3 - Zoe Saldana Wears A Tan Blouse & Glasses 8.65
Season 2 - Episode 5
Scott welcomes actress Zoe Saldana to the set as she discusses – err spoils – her next movie. Reggie swaps places with a cop, and director "Garry Marshall" talks about his surprising new project. Special Guest: John Carroll Lynch.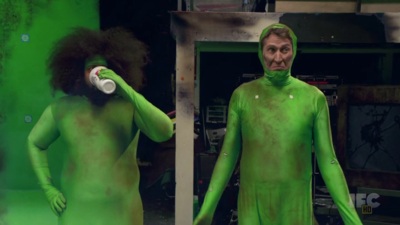 #4 - "Weird Al" Yankovic Wears A Hawaiian Shirt 8.65
Season 1 - Episode 10
Host Scott Aukerman welcomes guest "Weird Al" Yankovic, who smashes all musical conventions. Tenacious D stops by to play a new song. Scott and bandleader Reggie Watts use their new greenscreen technology, with disastrous results.The Potato Chip Woman visits to share the highlights of her incredible collection. Also, Reggie makes Scott a sandwich.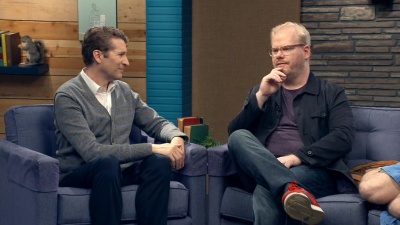 #5 - Jim Gaffigan Wears a Blue Jacket & Plum T-Shirt 8.58
Season 2 - Episode 15
Scott and Reggie welcome guest Jim Gaffigan to the show. Scott's slacker friend takes up residence on the set and everyone's favorite novelty furniture is back: Billy Big Mouth Bass!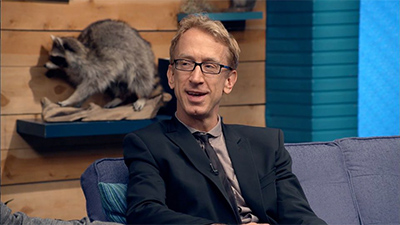 #6 - Andy Dick Wears a Black Suit Jacket & Skinny Tie 8.56
Season 2 - Episode 16
When Scott runs late for work, Reggie and guest Andy Dick explore the endless possibilities that one missed bus can make. A mysterious stranger has dire advice for Scott and his mechanic reveals the best location for underground comedy.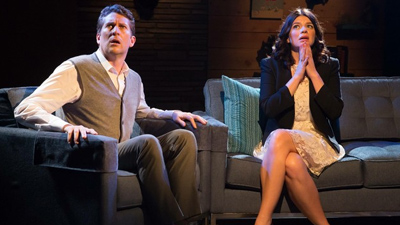 #7 - Casey Wilson Wears A White Lace Dress & A Black Blazer 8.48
Season 2 - Episode 10
Inspired by "I Dreamed A Dream," Casey Wilson sings her heart out during this week's musical extravaganza episode. We find out who lives below the studio and learn a valuable lesson about the importance of talking. Special Guest: Thomas Lennon and Paul F. Tomkins.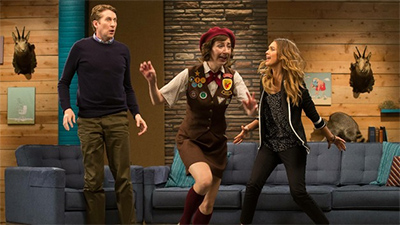 #8 - Jessica Alba Wears a Jacket with Patent Leather Pumps 8.48
Season 2 - Episode 13
Jessica Alba drops by and meets some very interesting characters, including a visit from The King of Cards. Scott travels the country helping women with their sweater woes.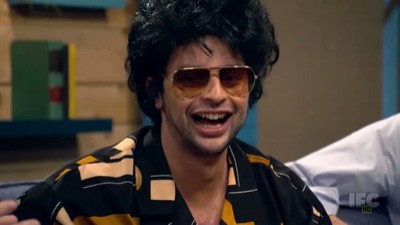 #9 - Jon Hamm Wears a Light Blue Shirt & Silver Watch 8.46
Season 1 - Episode 3
A film student directs a segment with guest Jon Hamm. Also: a visit from a man who eats bicycles.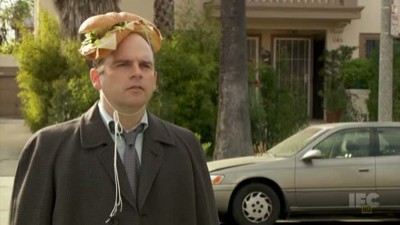 #10 - Seth Rogen Wears a Plaid Shirt & Brown Pants 8.45
Season 1 - Episode 5
Host Scott Aukerman interviews Seth Rogen about his recent vacation. Scott uses his psychic powers to listen in on people's most private thoughts. The world's top child bird caller visits and performs. Bandleader Reggie Watts interrupts the show to paint a portrait of Scott. Scott leads everyone in the game "What's Their Ailment?"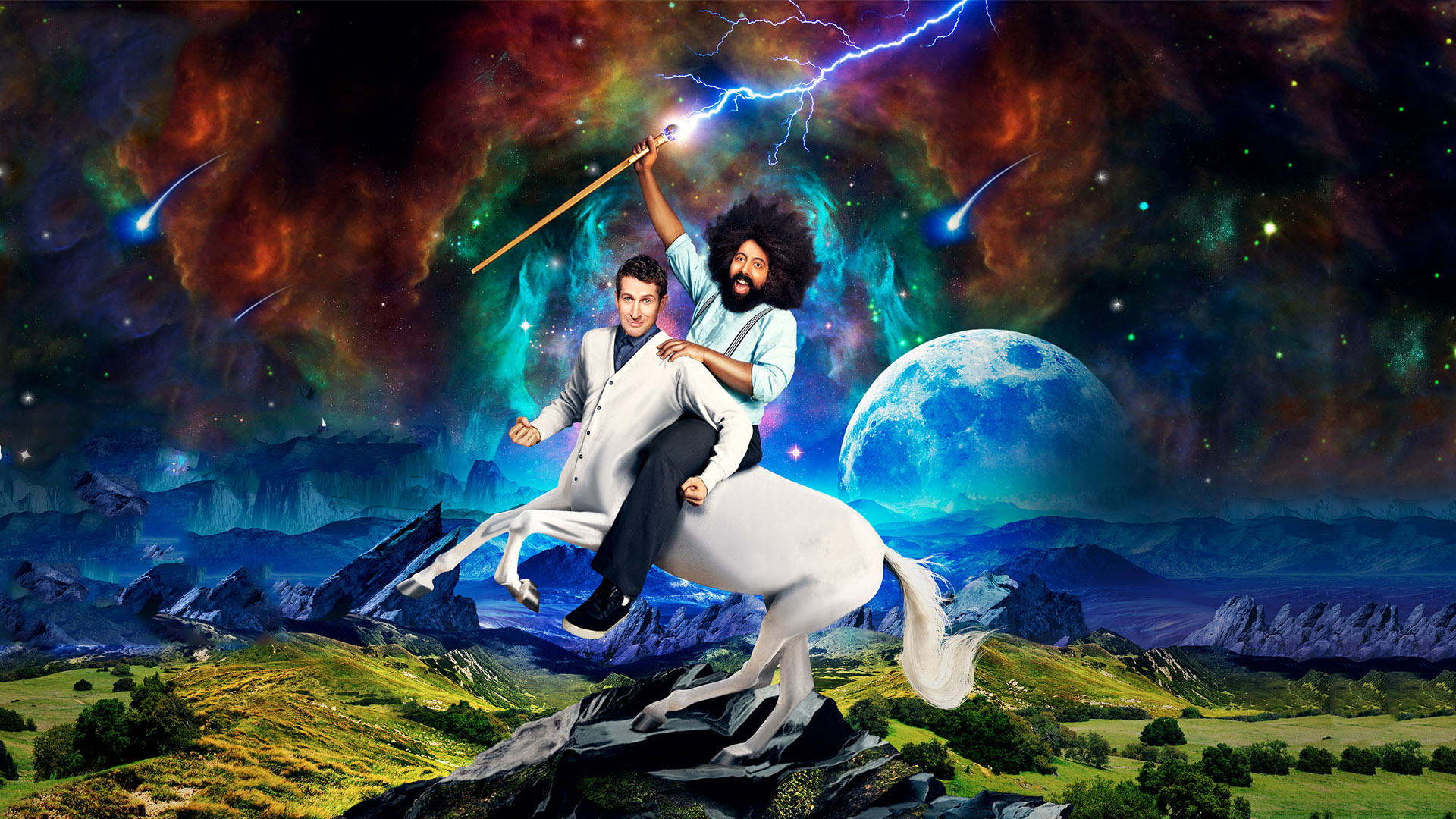 #11 - Tom Lennon Wears Black Slacks and a Black Skinny Tie 8.45
Season 4 - Episode 26
Tom Lennon shows just how very messy he can get. Scott's editors go on strike.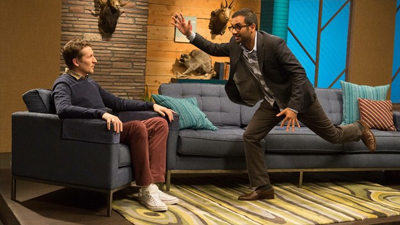 #12 - Aziz Ansari Wears A Charcoal Blazer 8.39
Season 2 - Episode 2
Scott's sick! An elite team is dispatched inside his body (Chris Meloni, Echo Kellum, Kulap Vilaysack) to fix him while he interviews Aziz Ansari and craft services coordinator Fabrice Fabrice (Nick Kroll). Scott teaches us an important lesson about bathroom hygiene and gets a little too friendly with Aziz and his bodyguard (Cedric Yarborough).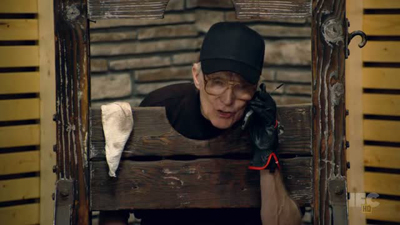 #13 - Amy Poehler Wears a Black Jacket & Grey Pants 8.38
Season 1 - Episode 2
Comic Amy Poehler discusses her hair and her feud with Mad Magazine.
Directors: Benjamin Berman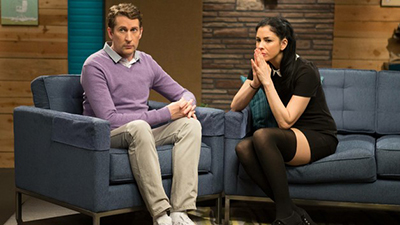 #14 - Sarah Silverman Wears a Black Dress With A White Collar 8.38
Season 2 - Episode 8
Scott gets tongue-tied during his interview with Sarah Silverman. The world's fastest talker goes for the record. Scott reveals his secrets to getting camera ready. Plus: Is Little Ladder's life in jeopardy? Special Guests: Adam DeVine and Joe Lo Truglio.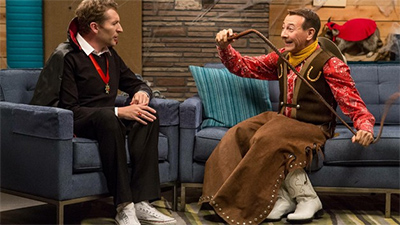 #15 - Pee-wee Herman Wears a Halloween Costume 8.37
Season 2 - Episode 12
Pee-wee Herman casts spells and saves Scott's life for Halloween; Reggie has a surprise costume of his own; Scott finds a killer from his past; Reggie Watts; Pee-wee Herman.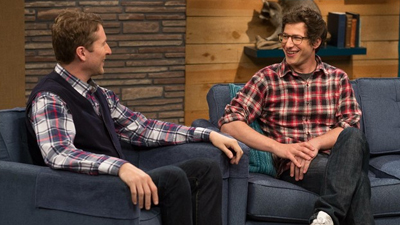 #16 - Andy Samberg Wears a Plaid Shirt & Glasses 8.34
Season 2 - Episode 1
Scott welcomes comedian Andy Samberg to the couch to discuss how to pick up girls and stay out of the doctor's office. Later, renowned psychic Tan Fu (Jordan Peele) stops by, Reggie Watts enters a cybernetic computer world and Scott's rewarded for his unintentional appetite for prunes.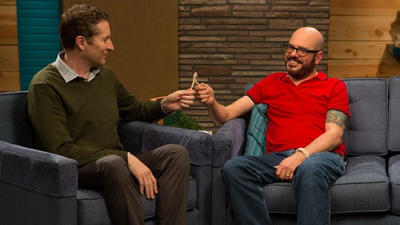 #17 - David Cross Wears A Red Polo Shirt & Brown Shoes With Red Laces 8.29
Season 2 - Episode 4
A Deputy Marshall's (Bob Odenkirk) unexpected visit to the set puts a pin in Scott's interview with guest David Cross. Later, a politician (Will Forte) stops by to set the record straight while an unlikely narrator chronicles all of this week's misadventures. Special Guests: Tim Meadows and "Weird Al" Yankovic.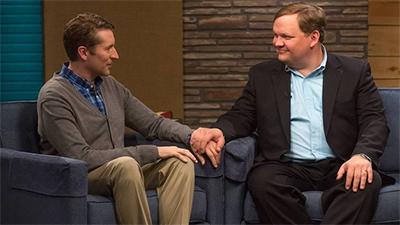 #18 - Andy Richter Wears A Suit Jacket & A Baby Blue Button Down Shirt 8.26
Season 2 - Episode 7
Scott invites Andy Richter to the couch along with actor Mike Hanford. Later, Scott and Reggie visit the big apple to invest their money. Finally, we find out who stole Reggie's bike. Special Guest: Michael Ian Black.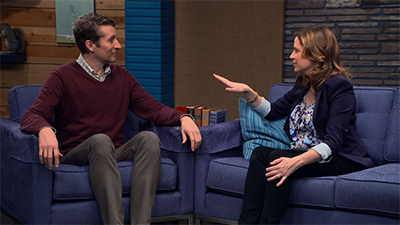 #19 - Jenna Fischer Wears a Floral Blouse & Black Heels 8.24
Season 3 - Episode 3
An inspector narrows down the suspects of a murder that occurred in the studio; Jenna Fischer shares a clip from her appearance on the British version of "Comedy Bang! Bang!"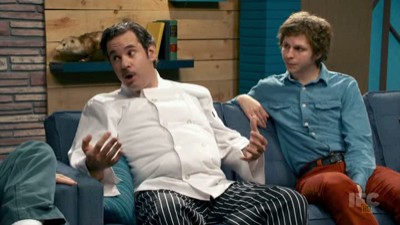 #20 - Michael Cera Wears a Blue Denim Shirt & Red Pants 8.23
Season 1 - Episode 4
Michael Cera registers his regret about missing out on his dream role.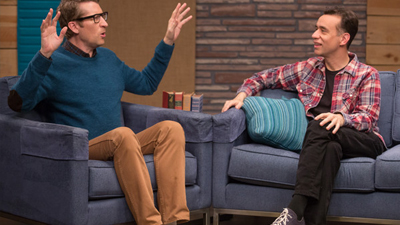 #21 - Fred Armisen Wears Black Jeans & Glasses 8.21
Season 3 - Episode 4
Fred Armisen and Scott are up for the same late night talk show hosting job; Reggie's ultimate fantasy is revealed.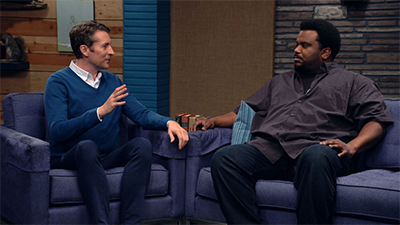 #22 - Craig Robinson Wears a Bordeaux Button Down & Dark Jeans 8.19
Season 3 - Episode 2
Craig Robinson has a question on his mind; Reggie is taken up to space to battle an alien race; Scott helps renovate homes; a comedy team hides a deadly secret.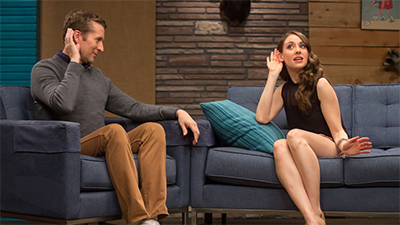 #23 - Alison Brie Wears a Black Mesh Top & Mini-Skirt 8.17
Season 3 - Episode 9
"Comedy Bang! Bang!" gets a talk show makeover; Reggie's favorite baseball team; Alison Brie reveals the secrets of her acting process; a German film director discusses his plans to make another film.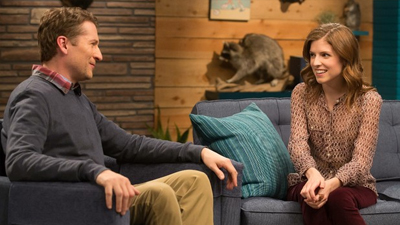 #24 - Anna Kendrick Wears A Patterned Blouse & Burgundy Pants 8.15
Season 2 - Episode 3
Host Scott Aukerman and musical cohort, Reggie Watts with guest stars Anna Kendrick and Ben Schwartz. Anna Kendrick time travels, Scott and Reggie preview their new movie, and the studio takes on a tropical twist when a Bahama Mama Maker is purchased. Plus: Are Scott and Reggie ready for parenthood?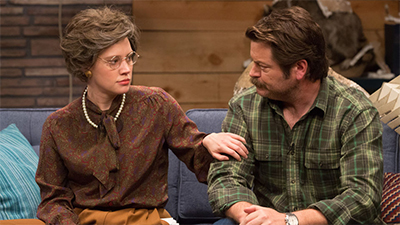 #25 - Nick Offerman Wears a Green Flannel Shirt & Brown Boots 8.09
Season 3 - Episode 6
A major disaster forces Scott and Reggie to conserve air in hopes of a last-minute rescue; Nick Offerman transfixes Scott with his mustache; a mysterious woman gives tips on how to be a friendly neighbor.