The Best Episodes of Big Brother
#1 - Season Premiere (1): Move-in
Season 18 - Episode 1
Four stowaways secretly tucked away in the house will kick off the two-night premiere event. Four competitions, three twists, two-nights and one Houseguest will be going home before the summer has barely even begun. This summer is guaranteed to be a bumpy ride.
#2 - Power of Veto 12
Season 18 - Episode 36
Tonight, can the Power Of Veto save James or Natalie? Plus, will being on the block together tear them apart?
#3 - BB1 Ep #2
Season 1 - Episode 2
The group sits around the kitchen table, sharing their life stories. The best part comes when Cassandra, who works at the U.N., says she's from New York. ""Harlem?"" asks cocky William, a little too quickly. ""Midtown,"" she says calmly. Eddie tells the others he lost his leg to bone cancer at 11, but never let himself feel sorry for himself. ""There was no real period of 'Why me?'"" he shares. ""It happened and I'll deal with it."" Jordan tells the group she's a triathlete, but doesn't let on she knows her way around a gentlemen's club. When it's time for bed, William finds himself in the room with the women, and is dispatched tout de suite. There's a test for the residents, Ã la the reward challenges on ""Survivor."" They have to decipher a cryptographic message that tells them where some money is. (The money apparently lets them buy food from the producers.) They figure it out, but realize they have to wait until the morning to go digging in the backyard. The women have a late-night pillow pa
#4 - Nomination Ceremony #1
Season 12 - Episode 2
Season 12: Episode 02: HoH Hayden Chooses a Target for Elimination The HouseGuests are reeling after the Saboteur's first attack—all of their food is now behind the locked storage room door! The prime suspects are Brendon, who inexplicably got up to get his toothbrush in the darkness, and Andrew, who was supposedly pulling pranks while he wandered around during the blackout. Andrew admits he is relieved he has immunity from nomination for sitting out on the first HoH competition. So have the HouseGuests fingered the Saboteur already? Who Wants to See the HoH Suite? Hayden is stoked to show off his blue and silver-themed Head of Household suite, which he describes as a "slick, contemporary" space. Ragan finds Hayden's very wholesome family photos (and a lack of shirtless "dude" shots of himself) a good sign that the HoH will make good choices when it comes to nominations. Rachel wants to know what the rope in his HoH basket is for, and Hayden explains when he was younger he learned rodeo skills. "Can you rope the Saboteur?" one HouseGuest asks. Geek Love The first sparks of attraction are literally electric when Brendon and Rachel reveal during a Hammock chat they both have science-related degrees. Rachel finds it very sexy that Brendon is getting his PhD. The feeling is mutual, because Brendon finds smart women interested in science a major turn on. Annie, the third wheel in the hammock, feels awkward. "I felt like I was watching my parents have sex," she says, noting she was "the cream in the scientific cookie." While love blossoms the game continues. Up in the HoH Suite, Enzo, Hayden, Matt, Monet and Kathy discuss the Saboteur. Matt notes that even if they are suspicious of Andrew he's safe for the week. Kathy thinks the Saboteur is a girl, especially a trustworthy one. She suggests Annie might be a possibility but Matt doesn't think she is the likely choice. Hayden realizes he is back at square one—just whom does he put up? Coming Out Annie pulls Ragan aside to the cabana room for a quick heart-to-heart. She has decided to come out to him as bisexual. "I actually have a girlfriend," she says as Ragan hugs her. Outside, more Brendon/Rachel bonding continues in the hot tub. As the two scientists continue to explore one another, Hayden takes notice. "They are a showmance in the making," Hayden declares, noting this development is not good for anybody. A little later Enzo and Hayden talk on the chaise lounge about how they could run the house together. It turns out Enzo is gunning to form his own mafia in the house, and takes the first steps to form an alliance. Enzo forms the first strategic alliance of the season, "The Brigade," with Hayden, Matt, and Lane. Enzo notes every mafia needs some muscle, like Lane, who he nick names "The Beast." Hayden is deemed "The Animal," and Matt is "The Brains," while Enzo names himself "Meow Meow," because like a cat he can be sneaky but cool and calm. True to his name, Lane doesn't understand the word "Brigade" and admits he doesn't really understand what comes out of Enzo's mouth. Time for the Have and Have Not Competition Bedecked as a very muscular tooth fairy, Hayden kicks off the season's inaugural Have and Have Not competition. The HouseGuests split into three teams of four as Hayden explains one member of each team must jump in a pool of caramel, climb under a huge straw and jump into a massive vat of popcorn and find a "sweet tooth" tile. The two teams that collect all eight of their tiles first are the Haves, while the last team becomes the Have Nots. Andrew notes it is more important for him to win this competition than an HoH competition because slop is not kosher! Monet notes jumping into the caramel is like "hitting a brick wall." Brandon almost loses his shorts when he slogs through the caramel, which gives everyone a view of his butt—Rachel, of course, finds this very cute. Everyone struggles, but Ragan can't believe how nonchalantly Kathy takes the competition when she leisurely looks for her first tooth. As Lane plows through the caramel, Kathy gets stuck and comes to a complete stop, irritating her team members. To add insult to injury, Britney accidentally kicks Kathy in the head as she rushes past her. Despite an initial lead, Kathy's team can't get their eight teeth in time, making them the Have Nots. Along with Kathy, fellow teammates Matt, Rachel and Ragan find out they not only have to take cold showers and eat an all-slop diet, they must now live in the dreaded "Have Not" bedroom, which Hayden warns is the worst in BIG BROTHER history. The good news is completing the Have Not competition means the HouseGuests get bolt cutters to break off the storage room lock. Not the Presidential Suite Hayden's warning proves to be more than true—the HouseGuests are appalled at the fish locker-themed Have Not Bedroom, which includes jars and jars of smelly bugs as decoration and plastic chaise lounges for beds! The game aftermath continues when Kathy tells Britney she had it easier because Britney's teammate Enzo left a tooth for her uncovered. Britney is not happy that Kathy is insinuating she was the weakest player. "You're trying to tell me I'm the worst one?" Britney asks incredulously in diary room. Britney announces Kathy doesn't need an enemy in this game, and she's making one fast. The Saboteur Strikes Again The next morning Andrew notices someone has put tape across two images on the memory wall—both Kathy and Britney have been tagged. Andrew immediately runs up to Hayden's room to fill him in, which only makes Hayden more suspicious Andrew is the Saboteur. Kathy brushes off the sabotage outwardly, but she admits privately this could ruin her game. The Saboteur suddenly comes on the monitor and warns them to "observe, listen and watch your back." Britney heeds the warning and goes right up to the HoH Suite to work on Hayden. Britney tells Hayden she doesn't think she deserves to be sabotaged, while Hayden assures her it was a move to just create drama. Hayden asks Britney whom she would nominate and Britney quickly throws out Brendon and Kathy's names. Britney says she'll vote however Hayden wants her to, but Britney's suggestion now has Hayden thinking—is Kathy a better choice for nominations than Rachel? Time for Hayden's Debut The HouseGuests quietly file in for their first nomination ceremony. Hayden begins by handing Andrew his key, reminding everyone Andrew is safe for sitting out on the HoH competition. Hayden then pulls Annie's key, announcing she is safe. Ragan, Enzo and Kristen are all relieved to find discover they are safe, with Britney, Matt, Monet, Kathy and finally Lane getting their keys. Rachel and Brendon are the first nominees for eviction. Hayden tells Brendon he was unaccounted for during the blackout, and informs Rachel she hasn't gotten to know him. Hayden later reveals Rachel is his pawn and Brendon is the target. Rachel is shocked, while Brendon feels Hayden has made a huge mistake by making himself an enemy. Will Rachel or Brendon win the Veto and escape the chopping block? And what will be the Saboteur's next move? Find out Tuesday, July 13 at 8pm ET/PT on BIG BROTHER on CBS!
#5 - Week 1 Nominations
Season 15 - Episode 2
After McCrae won the first Head of Household competition of the season, he must nominate two of his fellow HouseGuests for eviction. The third nominee for eviction will be made prior to the Power of Veto competition. The first "Have or Have Not" competition of the season also takes place.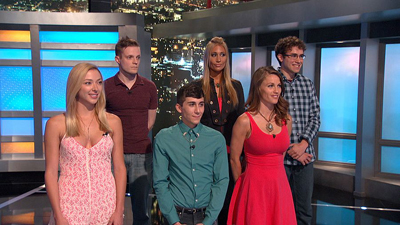 #6 - Season Premiere Part 2, Head of Household #1B
Season 17 - Episode 2
The remaining Houseguests move in, plus the "BB Takeover" begins as the first surprise guest delivers a game changer!
#7 - Season Premiere (2): Auto Eviction, Head of Household 1, Nominations 1
Season 18 - Episode 2
Tonight, one team must compete against each other, the loser will be the first House Guest sent packing, leaving the reaming three to decide which one of them will be the first Head Of Household of the Summer. Plus, two House Guests will be nominated for eviction.
#8 - PoV Comp #1; PoV Ceremony #1
Season 12 - Episode 3
Season 12: Episode 03: A Key Veto Win Shakes up the Nominations ­Brendon is not surprised that Hayden nominated him for eviction, but he didn't expect Rachel would be on the chopping block with him. Rachel sees this as her worst case scenario, while Head of Household Hayden thinks that he and his secret "Brigade" alliance including Enzo, Matt, Lane and himself have had a great first week. Brendon and Rachel console one another as Annie comes in to tell them that they got a raw deal. Annie feels close to the pair, and sees their nomination as bad for her personally and for her game. Secret Brigade alliance members Enzo and Lane both come in to watch the nominees' reactions, and notice the connection between Rachel, Brendon and Annie. Enzo doesn't like what he sees, and decides he needs to keep his eye on Annie. Outside after the nomination ceremony, Enzo tells Hayden and Lane that he thinks Annie is aligned with Brendon and Rachel, and that Annie is a strong player they need to watch carefully. If they need a replacement nominee, is she the choice? Being put on the block together has only drawn Brendon and Rachel closer. Brendon almost cries over his nomination, which prompts Rachel to get closer to him. Their first big make out session takes place on the hammock, with most of the house watching and giggling from the kitchen. Hayden can't believe that they're making themselves even bigger targets than they already were. After their canoodling, Brendon makes his way up to the HoH suite, where he basically threatens Hayden. "I would be worried about you," Brendon tells Hayden before he alludes that he is aligned with Annie. "Is this guy nuts?" Hayden wonders. Cinco de May-o It's time to pick players for the first Veto Competition. Besides the two nominees and the HoH, three additional players must be chosen at random. Drawing names from a bag, Hayden randomly picks his secret ally Enzo while Brendon randomly picks the house wild card Andrew. Rachel wants to pick Annie, but is visibly disappointed she draws Monet's name, something an angry Monet definitely notices. Veto host Annie brings everyone outside to a backyard transformed into a huge Fiesta with dozens of piñatas hanging across the lawn. Annie explains that the Veto players must smash open the piñatas and find lettered tiles. The player who can spell the longest word with their letters within ten minutes wins the Veto. But instead of candy, the piñatas are filled with spoiled mayonnaise! The yard turns into a big sticky mess as the players smash open their piñatas. Physician Andrew purposely misspells "pasteurized" to deflect attention from himself by throwing the competition, making the clear winner Brendon, who spells the 13-letter-word "understanding." Hayden and the rest of the Brigade view the Veto competition as a "blunder." Who do they nominate now? Enzo reaffirms his belief that they should make a power move and put up Annie, but Lane thinks Annie could be a powerful ally, and the one to go should be Arkansas sheriff Kathy, who is viewed as a weak player by many in the house. While the Brigade debates in the HoH suite, Britney comes up and affirms the Annie decision. But it turns out a little later Britney is playing a couple of angles—in a conversation with Annie, she reveals that Hayden thinks Annie is in cahoots with Rachel and Brendon. Annie doesn't trust Britney, so she decides to confront Hayden. "Who told you I'm aligned with Brendon and Rachel," Annie asks. "Britney," Hayden tells a stunned Annie. "Britney is stirring up trouble," Annie fumes. What the Saboteur Said! The Veto drama comes to a halt when the Saboteur makes an unexpected announcement on the living room monitor. The Saboteur makes it short but sweet—two of the HouseGuests are lifelong friends. "It is quite easy to figure out," the Saboteur says, leaving the HouseGuests wondering who the pair is. Andrew thinks Matt and Ragan might be lovers, but Kristin wonders if the whole thing is a lie. Is the Saboteur onto something or is he or she just messing with them? So Who Goes Up? Brendon calls everyone in for the Veto ceremony. Rachel congratulates Brendon on winning the competition, and tells him to do what he has to do. Brendon takes himself off the block, which leaves Hayden with the responsibility of nominating another HouseGuest for eviction. Hayden takes Enzo's advice and nominates Annie. She says it is okay, but Annie makes sure to spit out, "Lies weave evil webs—Britney!" Rachel is happy for Brendon, while Hayden notes that no matter who goes home, it's good for the Brigade. So who will be the first evicted HouseGuest? And who will be revealed as the Saboteur? Tune in for the live eviction ceremony on Thursday, July 15 at 8pm ET/PT for BIG BROTHER on CBS!
#9 - Week 1 POV
Season 15 - Episode 3
Tensions rise in the Big Brother house as McCrae faces the backlash of the two houseguests he nominated for eviction and America chooses the first Big Brother MVP who also nominates a houseguest. Also, the houseguests compete for the power of veto which could change everything. Marcela Valladolid from the CBS show "The American Baking Competition" guest-stars.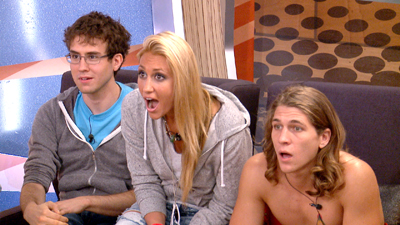 #10 - Nominations #1; Battle of the Block #1
Season 17 - Episode 3
Four Houseguests are nominated for eviction and compete in the Battle of the Block competition. Plus, the BB Takeover will twist up the game.
#11 - Road Kill 1
Season 18 - Episode 3
Tonight, a brand new competition will change the game once again. How will everyone react when the new twist is unleashed? Plus, with the veterans and newbies at war, who will strike next?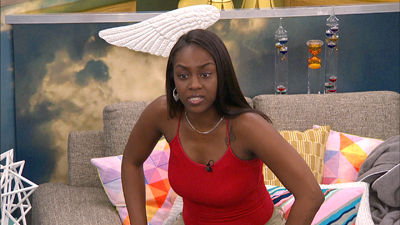 #12 - Veto #1
Season 17 - Episode 4
Who will win the power of veto? And will it be used to save either Jackie or Steve from eviction?
#13 - Power of Veto 1
Season 18 - Episode 4
Tonight, it's the first Power of Veto competition of the Summer. Will Paulie, Jozea or Paul be saved from the block?
#14 - Power of Veto #1
Season 16 - Episode 4
Devin becomes suspicious of Donny and convinces the Bomb Squad to go after the groundskeeper. Meanwhile, it's the first Power of Veto competition of the summer. Will it be used to save those on chopping block?
#15 - Eviction #1, Head of Household #2
Season 16 - Episode 5
It's only been one week and twists have sent this game into overdrive! With alliances crumbling almost as fast as they form one thing is certain, tonight one Houseguest will be evicted and a new HoH will be crowned!
#16 - Live Eviction 1, Head of Household 2
Season 18 - Episode 5
Who will be evicted from the Big Brother House? Plus the power will once again be up for grabs and another game changing twist will be announced!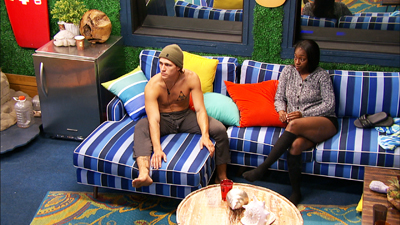 #17 - Live Eviction #1; Head of Household #2
Season 17 - Episode 5
Will Jackie stay in the Big Brother house? Plus two new HoH's are crowned. Also celebrity super fan Kathy Griffin returns to begin her BB Takeover!
#18 - Week 1 Eviction/Week 2 HOH
Season 15 - Episode 4
It's the first live episode of the season and one of three Houseguests up for eviction will be sent packing.
#19 - Week 2 POV
Season 15 - Episode 6
The second MVP of the season is named as the Power of Veto is once again up for grabs. Plus a Big Brother favorite returns with surprising news for the Houseguests.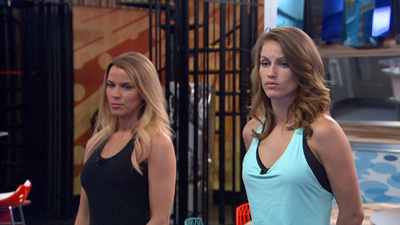 #20 - Nominations #2; Battle of the Block #2
Season 17 - Episode 6
The new heads of household move into their rooms and nominate two people for possible eviction.
#21 - Week 2 Nominations
Season 15 - Episode 5
The results of the HOH are in. The new HOH chooses two people for eviction and new alliances are made.
#22 - Eviction #2, Head of Household #3
Season 16 - Episode 8
Watch the repercussions of the Veto meeting. Plus, who will be evicted tonight?
#23 - Week 3 Nominations
Season 15 - Episode 8
The new HOH chooses two people for eviction and the house is divided between two big alliances.
#24 - Live Eviction 2, Head of Household 3
Season 18 - Episode 8
Bronte, Victor or Tiffany face the threat of eviction and entry into the "Battle Back" twist, and a new Head of Household is crowned.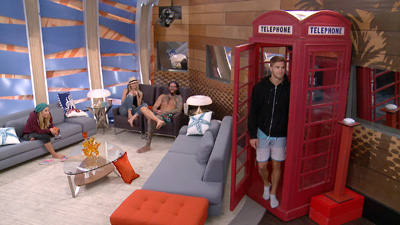 #25 - Live Eviction #2; Head of Household #3
Season 17 - Episode 8
Who will get the seventh phone call and win the power of the last laugh and how will it shake up the live eviction? Plus, a new surprise guest will help twist up the game.