The Best Episodes of Anthony Bourdain: No Reservations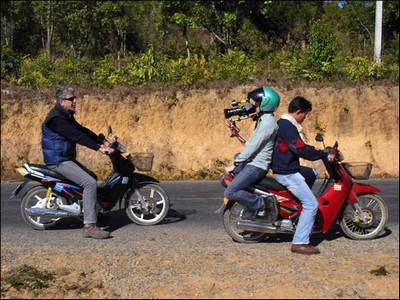 #1 - Laos 8.80
Season 4 - Episode 11
Tony has always been fascinated by Asia. This time he's visiting Laos, a less popular tourist country, to investigate its history, culture and unique culinary offerings.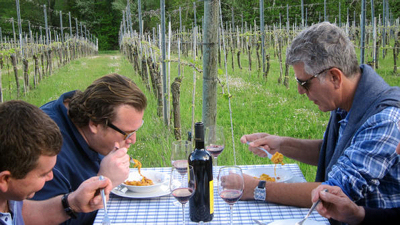 #2 - Emilia Romagna 8.71
Season 8 - Episode 12
Tony travels to Emilia Romagna, the "breadbasket of Italy," with acclaimed NYC chef Michael White, sampling the foods that make this part of Italy great.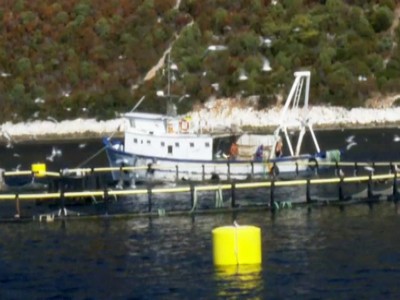 #3 - Croatian Coast 8.63
Season 8 - Episode 3
Croatia's Istria and Dalmatia regions are toured. Included: swimming with bluefin tuna; truffle hunting.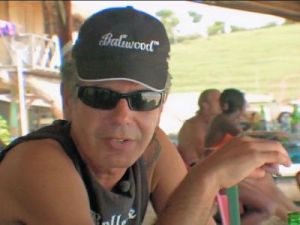 #4 - Indonesia 8.62
Season 2 - Episode 12
Tony explores the lush culture of Indonesia to discover what makes ex-pats want to stay. Along the way, he discovers the rich history and cuisine of Jakarta and Bali.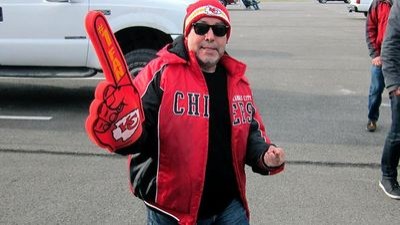 #5 - Kansas City 8.60
Season 8 - Episode 2
Tony Bourdain travels to Kansas City, MO, the BBQ capitol of the world with pal Zamir Gotta in search of the best barbeque. While there, Tony meets up with musicians, Dan and Patrick of The Black Keys for some serious finger licking meat.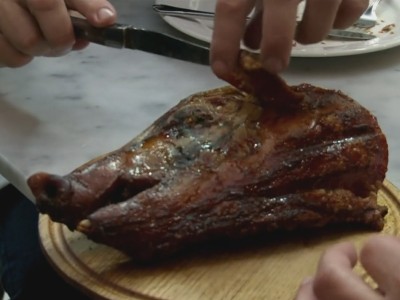 #6 - Sydney 8.58
Season 8 - Episode 10
In Australia, Tony dives with sharks, visits sheep farms and the chic innovative restaurants of the big city, samples fresh seafood, old school charcuterie, and the ubiquitous Australian barbie.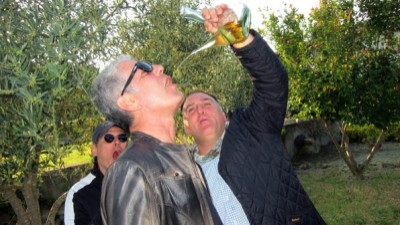 #7 - El Bulli 8.57
Season 7 - Episode 12
Tony travels to Spain's Costa Brava to cook and dine with chef Ferran Adria at El Bulli before the "best restaurant in the world" closes its doors for good. Friend and chef Jose Andres joins Tony for the experience of a lifetime.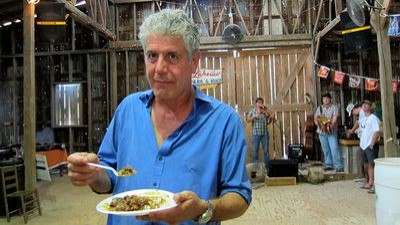 #8 - Cajun Country 8.55
Season 7 - Episode 16
Tony travels beyond New Orleans and into Cajun Country to find out what sets bayou culture apart. He dines with locals Wendell Pierce and Lolis Elie, partakes in an authentic crawfish boil and ends his trip with a whole-hog roast.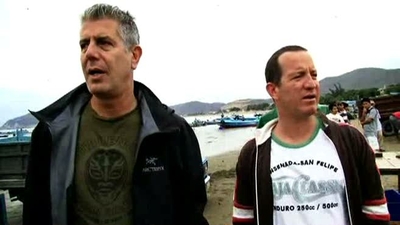 #9 - Ecuador 8.55
Season 6 - Episode 6
Tony meets with local chefs and foodies who help him sift through the endless amount of meat skewers, fish stews and street food stalls of Ecuador.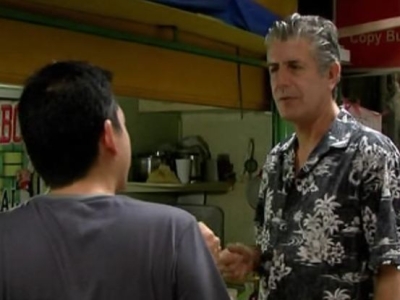 #10 - Philippines 8.50
Season 5 - Episode 7
Anthony Bourdain visits Manila, the second-largest and most well-known city in the Philippines. He'll meet up with travel author and foodie Claude Tayag for some traditional Pampangan seafood. Later on, Tony pairs up with Augusto, runner-up for the "No Reservations" FAN-atic Special casting call, in Cebu City.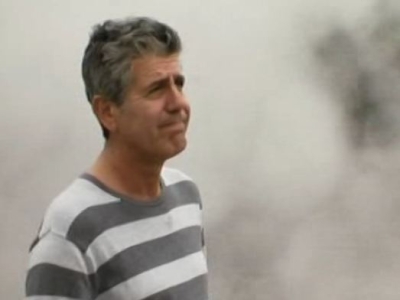 #11 - Azores 8.47
Season 5 - Episode 4
Having worked in kitchens alongside many generations of Azorean Portuguese immigrants, Tony decides it's time to find out more about their motherland and explore the culture that molded so much of New England's heritage. He hops from one island to the next while on the archipelago, dining on potatoes, pork, sausage, cabbage, shellfish, Portuguese soup and washing it all down with Gin and Tonics. From the hot springs in Furnas on Sao Miguel to one of the most remote locations in the world on Sao Jorge, and onto the beautiful wine making region of Pico, Tony experiences the best of Azores.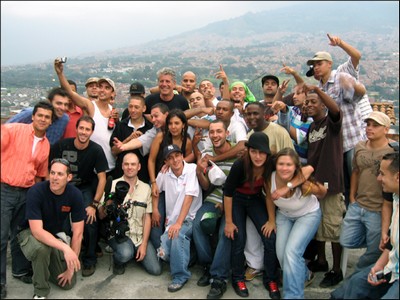 #12 - Colombia 8.47
Season 4 - Episode 12
This week Anthony is in Colombia, a country that finds itself the setting of one of South America's most remarkable transformations. In the 25 years since the death of Pablo Escobar, one of the world's most notorious drug lords, this once war-torn country has emerged like a phoenix from the scars of the past. Colombia offers Tony a tantalizing mix of cultures, delicious food and beautiful mountain scenery.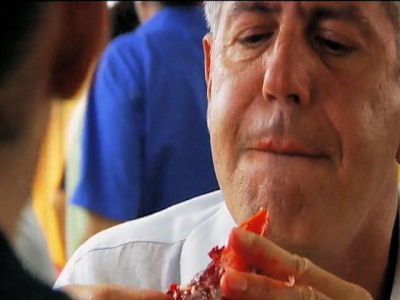 #13 - Singapore 8.42
Season 4 - Episode 1
The country of Singapore is serious about food. The cuisine of Singapore borrows from Chinese, Indian, Malaysian and Indonesian traditions. Along the way, it uses the cheap and plentiful ingredients of the the country to make the food available everywhere.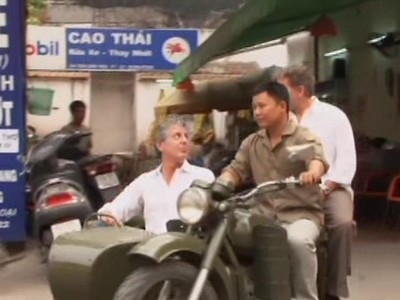 #14 - Vietnam: There's No Place Like Home 8.41
Season 5 - Episode 10
Anthony decides to move to the country for a year to write the perfect Vietnam book. Along with a local chef and realtor we explore the country and what Anthony can expect as a full time resident.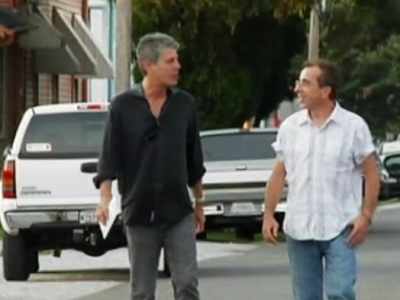 #15 - New Orleans 8.40
Season 4 - Episode 5
Hurricane Katrina has infinitely changed the city of New Orleans. As Tony explores the impact the storm had on the city, Tony discovers that the heart and soul of the city is still alive.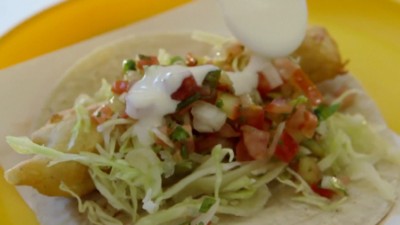 #16 - Baja 8.37
Season 8 - Episode 7
In this episode of No Reservations, Tony Bourdain heads to Tijuana, Mexico and the Baja Peninsula -- a place he admittedly knows very little about.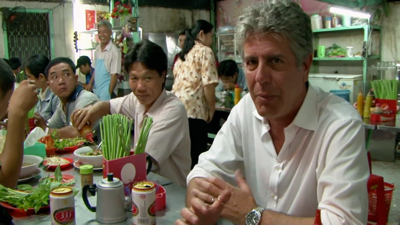 #17 - Sex, Drugs, and Rock & Roll 8.36
Season 8 - Episode 11
Tony dives into the holy trinity - sex, drugs, and Rock & Roll, recording music with Queens Of The Stone Age, making food porn, and burning cocaine in Panama.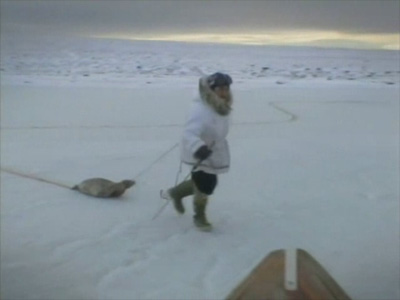 #18 - Quebec 8.35
Season 2 - Episode 5
Anthony visits a duck farm/processing plant to see how foie gras is made, teaches a class at the Montreal Culinary Institute and plays hockey with a local university hockey team.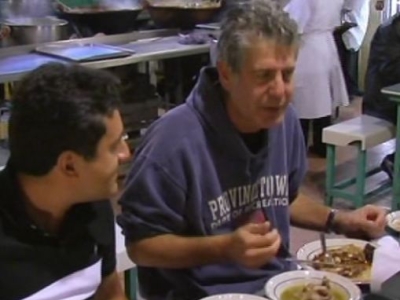 #19 - Mexico 8.35
Season 5 - Episode 1
Anthony Bourdain discovers the beauty behind the street food of Mexico.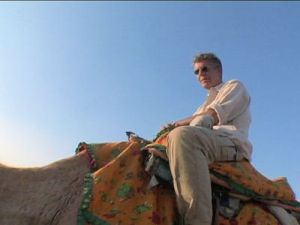 #20 - India (Rajasthan) 8.34
Season 2 - Episode 9
India is a land of color, aroma, kind people, and delicious cuisine. Anthony heads off to the more desolate region of Rajasthan in the northwest corner of the continent where he attends a birthday party and explores life in this magical region.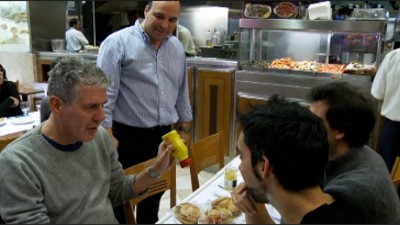 #21 - Lisbon 8.30
Season 8 - Episode 4
Once the center of the richest empire in Europe, Lisbon now faces one of the worst financial crises in the EU. But even as it struggles with rising debt and unemployment, Tony finds out that Lisbon is experiencing a cultural and culinary renaissance.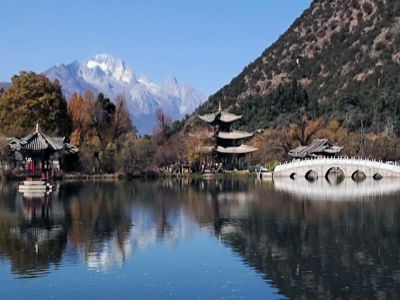 #22 - Shanghai 8.28
Season 3 - Episode 7
Tony Bourdain has always loved Asia. This time he's traveling to parts he's never been to–farther, deeper. From Shanghai to Tibet, Tony searches for the elusive Shangri-La.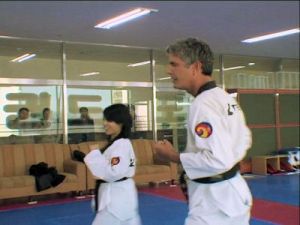 #23 - Korea 8.27
Season 2 - Episode 11
Tony gives in to pressure from one of his office staff and travels to Korea. His condition? Nari (the assistant) must come with him and guide him through Korean cuisine, customs and culture.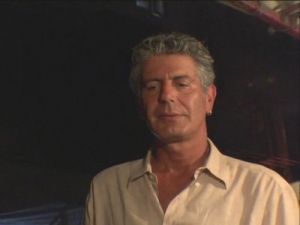 #24 - India (Kolkata/Mumbai) 8.27
Season 2 - Episode 10
Over the years, Tony Bourdain has fallen in love with India. The culture, the cuisine, the communities - it's all delicious and enchanting. Tony travels to Kolkata and Mumbai, formerly Calcutta and Bombay, to rediscover the magic of this beautiful land.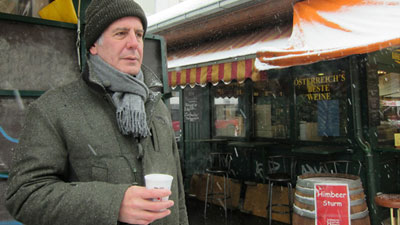 #25 - Vienna 8.25
Season 7 - Episode 4
Blood sausage, hunting, pastries and something called "Pus Stick" challenge Tony's pre-conception of Vienna as a pastry-filled "Sound of Music" nightmare.