The WORST Episodes of Almost Angels
Every episode ever - ranked by fan votes!
Last Updated: Sep 18, 2021
Casi Ángeles (lit. meaning Almost Angels) is an argentine live-action tv series about a group of orphans who are exploited and forced into robbery by the orphanage director, Bartolomé Bedoya Aguero. However, Bartolomé is running low on cash and in order to receive the inheritance of his dead aunt there are two conditions he must meet: keep the orphanage running and make his younger sister Malvina get married. Her current boyfriend, Nicolas Bauer, arrives to the Bedoya Aguero mansion after getting engaged to her, accompanied by his son Cristobal and a savage named Mogli.
Watch Now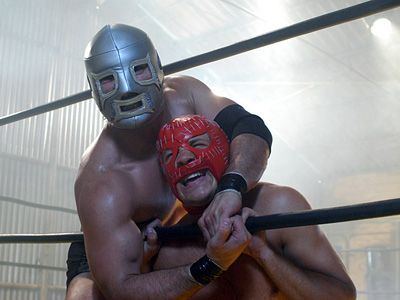 #1 - Tus Deseos Son Órdenes
Season 2 - Episode 11 - Aired Apr 17, 2008
Rama overhears at a bar that a girl named Valerie is being translated to the reformatory where Tacho was tortured last season. Tic-Tac tries to teach Cielo to control Eudamon. Tacho compites in a catch fighting tournament.
0 votes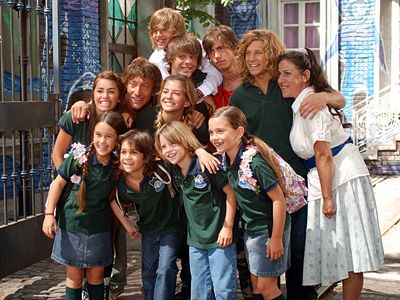 #2 - Retratos De Familia
Season 2 - Episode 12 - Aired Apr 18, 2008
Nico tries to make the orphans' first school day perfect, but it backfires and he feels helpless without Cielo's support. Meanwhile, Cielo tries to send him a message from Eudamon.
0 votes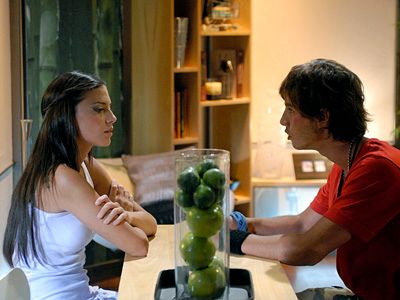 #3 - Hasta El Santo Desconfía
Season 2 - Episode 13 - Aired Apr 21, 2008
Rama tries to convince Vale to stay at the orphanage. Justina tries to obtain answers from Franca.
0 votes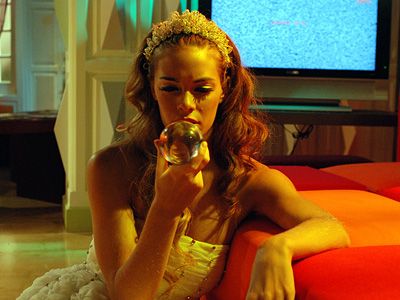 #4 - El Primer Beso
Season 2 - Episode 14 - Aired Apr 22, 2008
Cielo realizes that she's slowly losing some of her memories, and discovers that the longer she stays in Eudamon the faster her memories will fade away.
0 votes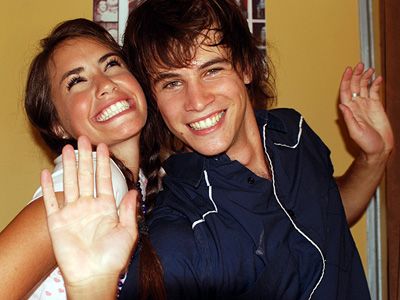 #5 - You've got a new message
Season 2 - Episode 15 - Aired Apr 23, 2008
On one of Bartolome's old fields, the farm keeper is found dead. Nico is asked to take in the keeper's daughter, Caridad, at the orphanage. Melody tries to break up Mar and Thiago, and becomes close friends with Tefi. Cielo meets an elderly woman claiming to be Esperanza Bauer.
0 votes
#6 - Episode 25
Season 1 - Episode 25 - Aired Apr 25, 2007
Bartolome sells Mar to get rid of her once and for all. Nico starts having second thoughts about his commitment to Malvina.
0 votes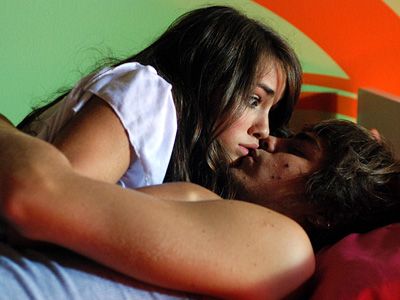 #7 - The invisible friend
Season 2 - Episode 16 - Aired Apr 24, 2008
Caridad arrives to the orphanage. To get everyone acquainted, Nico decides to play a game called "the invisible friend". Cielo says goodbye to Tic-Tac.
0 votes
#8 - Episode 26
Season 1 - Episode 26 - Aired Apr 26, 2007
The Orphans manage to get Mar back to the BB Foundation. Nico finally confesses to Cielo that he has fallen in love with her, and is overheard by Malvina.
0 votes
#9 - Episode 27
Season 1 - Episode 27 - Aired Apr 27, 2007
Cielo and JJ end up dining in the same restaurant as Nico and Malvina, ending in the world's most disastrous double date. Thiago buys Mar a cellphone so they can communicate in secret.
0 votes
#10 - Episode 28
Season 1 - Episode 28 - Aired Apr 30, 2007
Cielo passes out when she finds a photo of Alba Ortega, former cook of the mansion, in Justina's room. Rama and Lleca try to rob a financial company on Bartolome's orders, with catastrophic results.
0 votes
#11 - Episode 29
Season 1 - Episode 29 - Aired May 1, 2007
There's a small earthquake that scares the whole mansion except for Nico, who's convinced the quake was caused by a new lead he's pursuing. Meanwhile, Thiago tries to convince the older orphans (Jazmin, Mar, Tacho and Rama) to participate with him in a musical contest.
0 votes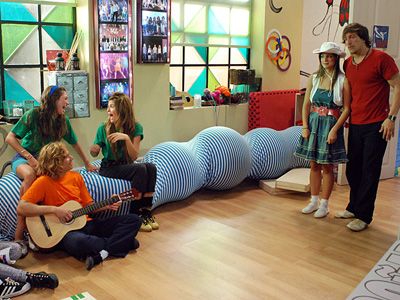 #12 - Follow the white rabbit
Season 2 - Episode 17 - Aired Apr 25, 2008
Cielo returns to our world, but without any memory whatsoever except for one thing: she must follow the white rabbit. Malvina tries to take the orphanage kids to a play.
0 votes
#13 - Episode 31
Season 1 - Episode 31 - Aired May 3, 2007
Although Nico and Cielo think they've escaped undetected, JJ and Malvina secretly and individually figure out where they spent the night. Cielo contacts Malatesta, Bartolome's recommended doctor, when her blackouts start escalating out of control.
0 votes
#14 - Episode 32
Season 1 - Episode 32 - Aired May 4, 2007
Lleca starts to search for his birth parents, with some assistance from Nico. Cristobal and Monito discover a new clue, but decide to keep it a secret from Nico and investigate themselves.
0 votes
#15 - Episode 33
Season 1 - Episode 33 - Aired May 7, 2007
Thiago, Jazmin, Mar, Rama and Tacho manage to sneak out for the musical competition. Nico and Cristobal get trapped in the tunnels underneath the mansion.
0 votes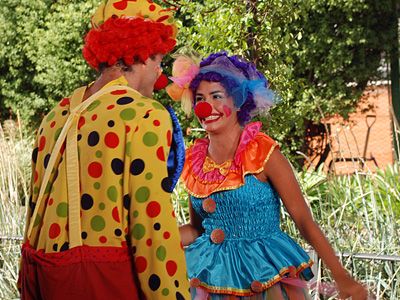 #16 - Encounters
Season 2 - Episode 18 - Aired Apr 28, 2008
Without knowing who she is, Salvador meets Cielo and offers her a place to stay. The Teen Angels are offered to play live on the radio.
0 votes
#17 - Episode 35
Season 1 - Episode 35 - Aired May 9, 2007
When Carla tries to extort Nico with a secret about Cristobal that no one else seems to know, Nico must decide whether he should tell his son the hard truth or pay off Carla the sum she wants (which isn't small, and would require Bartolome's help to afford).
0 votes
#18 - Episode 37
Season 1 - Episode 37 - Aired May 11, 2007
Cielo breaks up with JJ, but warns Nico that nothing will happen unless he calls off his engagement with Malvina. With no more tricks up her sleeve, Malvina is desperate, and Bartolome tries to help his little sister with a little advise: provoke an asthma attack to Cristobal in order to save him and look like a heroine to Nico's eyes. Malvina's not sure, however, if that's a low she's willing to sink to.
0 votes
#19 - Episode 38
Season 1 - Episode 38 - Aired May 14, 2007
Nico breaks off his engagement to Malvina, causing her wrath. In a fit of anger, Malvina finally fires Cielo. Meanwhile, back at the orphanage, Dolores decides to celebrate her birthday with a big party at the Inchausti mansion… and it just so happens that Mar's birthday is on the same day; Rama decides it should be special as well and encourages to celebrate as well.
0 votes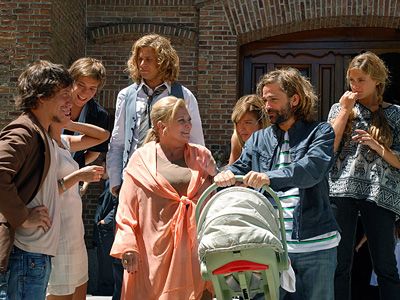 #20 - Baptism
Season 2 - Episode 19 - Aired Apr 29, 2008
The day has arrived for Esperanza's baptism. Nacho kisses Caridad for a bet and later hummiliates her. Berta Bauer returns to the mansion.
0 votes
#21 - Episode 39
Season 1 - Episode 39 - Aired May 15, 2007
Nico and Cristobal decide to take Cielo camping with them. JJ and Malvina get caught in a net while spying on the camp. Mar and Thiago kiss for the first time.
0 votes
#22 - Episode 40
Season 1 - Episode 40 - Aired May 16, 2007
Bartolome is furious after witnessing Thiago and Mar's kiss, and decides to put her on constant work duty to keep them apart. Cielo remembers something important while she's camping with Nico and Cristobal. Malvina calls Cristobal pretending to be his mother.
0 votes
#23 - Episode 41
Season 1 - Episode 41 - Aired May 17, 2007
Luz decides to write Lleca a letter. Thiago goes out with Dolores as friends, and they both see Mar stealing.
0 votes
#24 - Episode 42
Season 1 - Episode 42 - Aired May 18, 2007
Critobal gets angry at Cielo for her opinions about his mother. JJ sets up Nico, leading him towards a dangerous trap. Bartolome forces Mar to dig her own grave. Literally.
0 votes
#25 - Episode 43
Season 1 - Episode 43 - Aired May 21, 2007
Mar attempts to carry on after breaking up with Thiago. Mogli rushes to Nico's rescue. Cielo finds a photo of Angeles Inchausti, the mansion's missing heir.
0 votes