The Best Episodes Directed by Kaneda Ryuu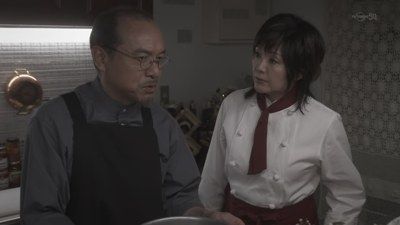 #1 - Dining Table
Garo Season 4 - Episode 10
Raiga is informed of the advent of the Horror Granda, but despite knowing the location, it is uncertain when it will appear, and thus Raiga and Mayuri leave to stand guard for its arrival. Before leaving, Raiga suggests to Gonza that he take the day off, but the butler offers some sandwiches for them to eat, and Mayuri claims that she cannot tell him how good it is because as a magic tool, she has no sense of taste. Gonza then spends his break with his old friend Anna. While out with her, Gonza expresses to Anna his attachment to Mayuri and his will to make her smile. Anna then suggests that he make Mayuri the special soup of the Saezima family. Elsewhere, Granda finally manifests itself and Mayuri recognizes it as one of the Horrors from the slate, but it still does not carry Eyrith's seed. As the Horror is defeated by Raiga and sealed by Mayuri, Gonza finishes cooking the soup, but feels it is not enough to please Mayuri until he has a plan. After Mayuri and Raiga return home, Gonza serves them the soup, and remembering how Mayuri smiled for a while while looking at a Makai painting, he asks Anna, who made the painting, to make a magic drawing on the plate, and she smiles just as Gonza expected. Gonza mentions that the soup is a special recipe exclusive to the members of the Saezima family, implying that he recognizes her as a part of it.
2 votes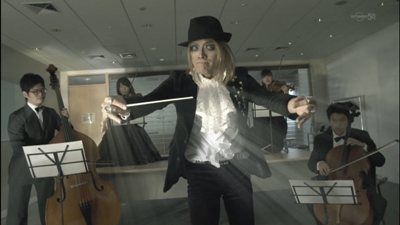 #2 - Suite
Garo Season 4 - Episode 19
Across the city, people are being victimized by the feeding frenzy of a Horror that entered the body of orchestra conductor Johann before the creature becomes bored with his prey. At Saezima Manor, Mayuri intently listens to a record player playing Clair de Lune with Gonza and Raiga wondering what feelings it stirs in the young woman. Soon after, Raiga is alerted to the presence of a Horror with Zaruba confirming their quarry to be a musical Horror named Abysscore as Raiga finds a personal invitation from Johann. After Mayuri confirms that Abysscore is a Ady Slab Horror, she finds herself kidnapped by Johan as he wants to taste the Life Score of an non-normal human. Luckily, Raiga saves Mayuri as he fights Johann before the Horror assumes his true form. Equipping the Garo armor, Raiga turns Abysscore's Makai March band against him before slaying the Horror as Johann dies applauding the Makai Knight's song. Sometime later, Raiga sees Mayuri listening to Clair de Lune before she tells him that Eyrith will awaken soon.
3 votes