The Best Episodes Directed by Hiroko Oguri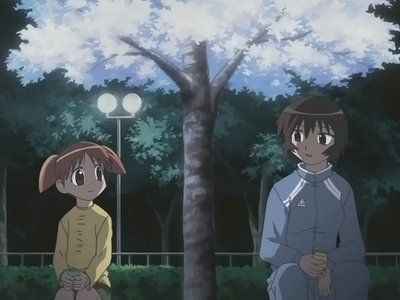 #1 - One Spring Night
91 - Yawn Master Osaka... the yawn master? Plus, Nyamo worries that she's getting old. 92 - Vaguely Youth Library research, the Go-Home Club, and freedom. 93 - Adults' Flower Gazing Yukari and Nyamo meet an old friend for dinner. Also, Chiyo ventures out after dark. 94 - Children's Flower Gazing Chiyo and Kagura discuss growing up, Yukari and Nyamo go on a double blind date, and Tomo and Yomi hang out. 95 - Cherry Blossoms Yomi's dirty little secret is revealed as everyone's night draws to a close.
15 votes
#2 - Yomi's Ordeals
86 - Yomi's Exposure to the World When Yomi returns from a New Years trip, she learns that bragging can have dire consequences. 87 - Betrayal Tomo has seemingly made it her mission in life to give Yomi a hard time. 88 - Excited, Excited, Excited, Excited Even Yomi is getting excited when the girls plan a trip to a new theme park. 89 - Left Out Yomi comes down with a fever on the day of the trip. 90 - Go! SNOWBALL FIGHT!!!
16 votes
#3 - Summer Break
21, "Summer Break" Summer Break arrives. Nyamo visits Yukari at home to instill some motivation in her. 22, "Welcome to Chiyo's Room" Yomi, Tomo, and Osaka go to visit Chiyo at her home... and are surprised by what they find! 23, "Invitation" The girls head to Chiyo's Family's summer home to enjoy their vacation together at the beach. Also, Chiyo and Osaka learn the true meaning of horror, courtesy of... the Yukari-mobile!!! O_o 24, "Someone With Experience, Speak" The group tries to pass the evening with scary stories and fireworks, with mixed results. 25, "Done For" The group returns home as Summer Break comes to an end. Also, Kaorin gets the shock of her life!
23 votes