The Best Episodes Directed by Daniel Silverman
#1 - The Lost Episode!
In this episode, the characters are dealing with trying to find things that they've lost. Sometimes it's not easy, but they have a little handy saying in the form of a song to help them, when you lose something --- ""go back, go back, go back to where you were!"" This helps out Steve to find something that he lost and later we help out Shovel and Pail and a kid named Felix after he loses some things when we help to walk him to school.
16 votes
Watch on Amazon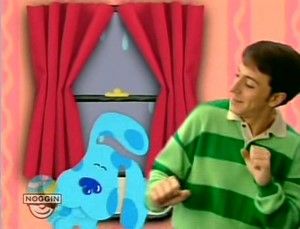 #2 - What Does Blue Want to Do on a Rainy Day?
When it starts raining outside, Steve and Blue aren't upset because they can have lots of fun indoors. In fact, the rain sounds a lot like music. So we take the opportunity to explore all sorts of different music. We find Mr. Salt, Mrs. Pepper and Paprika and help out with their water xylophone. We have fun with Steve tapping out rhythms and we also skiddoo into a farm, where we match up animals based on the songs they're singing.
102 votes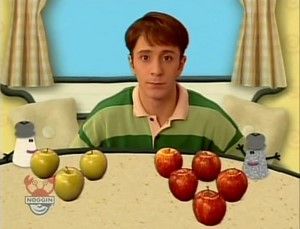 #3 - Math!
This episode looks at math, mostly counting, but also basic addition and subtraction. We count the steps that it takes to get to various locations. We also help some of our friends with figuring out who has more or less of something. Then, after figuring that out, we help them to total it. We also skiddoo into a present (gift) store, where Steve takes care of buying a new crayon that he needs and even picks up a special extra something.
117 votes
Watch on Amazon