Young Justice
#1 - Auld Acquaintance 8.76
Season 1 - Episode 26
The Team finally learns the identity of the traitor in their midst, forcing a battle against an enemy more dangerous than any they've ever faced before!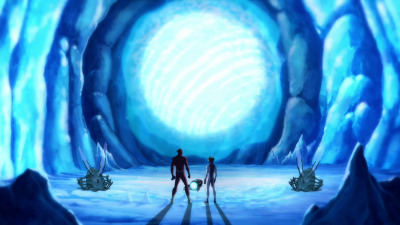 #2 - Endgame 8.67
Season 2 - Episode 20
June 20: The council of Rimbor has finally made its decision and declares the Justice League to be guilty. Superboy and Miss Martian show up with new evidence, but are told that it is too late. Back on Earth, Aqualad and Blue and Green Beetle take on Black Beetle on board the Reach ship. Black Beetle destroys Green's scarab, but Blue destroys Black's. However, he learns that Black Beetle has set an endgame in motion. Back on Rimbor, the council reconvenes and after some persuading, agree to reassess the case, and eventually release the League. Around the world, twenty Reach devices begin to damage the Earth's magnetic field, causing various types of natural disasters. Every hero is called in to split into teams of two, each duo carrying one of twenty devices provided by Lex Luthor that will shut down the machines. They succeed, but Jamie discovers a twenty-first machine in the Arctic. Flash and Impulse arrive to find that it has already gone into "chrysalis" mode and will soon destroy Earth; the two, directed by Luthor, use their speed to create a vortex that draws off the device's energy but need a further boost in order to succeed. They are soon joined by Kid Flash, but Wally's slower speed makes him a target for stray energy discharges which apparently cause him to disintegrate. The machine is shut down and Flash tells a distraught Artemis that Wally said he loved her before vanishing. The Justice League arrive back on Earth to be greeted by the Team, who inform them of Wally's disappearance. July 4: The world is finally free of the Reach, who are set to face trial for their actions. G. Gordon Godfrey starts campaigning for Lex Luthor to replace the now-resigned Secretary General Tseng, much to Superman's dismay. Impulse honors Wally's wishes by taking on the mantle of Kid Flash, and Artemis rejoins the team as Tigress. Virgil joins the Team as Static, romance blossoms between Robin and Wonder Girl as Superboy and Miss Martian begin to patch up their own relationship. Nightwing, grieving the loss of Kid Flash, takes a break from being a hero and maintains that Aqualad should remain leader for the time being with Batgirl as his assistant. The Team are told that they will work out of the Watchtower, side-by-side with the League. July 5: G. Gordon Godfrey and Desaad look on as Vandal Savage meets with Darkseid on Apokolips.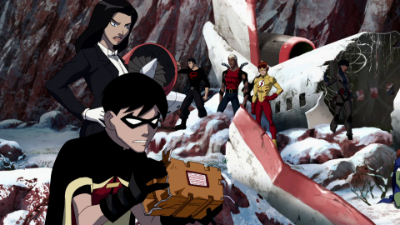 #3 - Usual Suspects 8.63
Season 1 - Episode 25
The Team gets a new member and a new mission – a mission that may finally expose all the Team's secrets... and all their lies!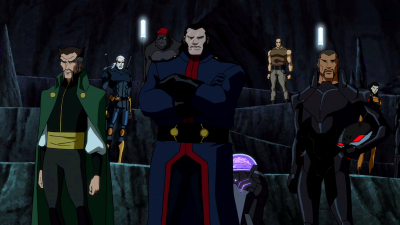 #4 - Summit 8.61
Season 2 - Episode 19
June 19: The Light call a summit with the Reach to discuss how their plans are advancing. As the tensions between the two groups begin to come to the fore, Ra's al Ghul notices the glamour charm on Tigress's neck and exposes her as Artemis, leading Deathstroke to execute both her and Kaldur. However, a hologram of Aqualad then plays which reveals to the Reach the extent of the Light's manipulations, leaving their alliance in tatters. Aqualad and Artemis suddenly rise, and as 'Deathstroke' turns out to be a disguised Miss Martian, the Team and Kid Flash make their entrance, leading to an all-out battle. In the midst of the chaos, the Reach ambassador and the Brain are captured, while Aqualad defeats Black Manta and Black Beetle mortally wounds Ra's al Ghul. However, Ubu rescues Ra's (pledging that he will be revived), Black Beetle escapes with the Reach Scientist, and Vandal Savage summons Klarion to elude the Team. In the aftermath of the battle, Nightwing insists that Aqualad take over leadership of the Team, while Savage ousts the League from the War World by defeating Black Lightning, Black Canary and Captain Marvel; then uses it to flee into space. On Earth, the League present the public with proof of the Reach's duplicity, and Black Beetle assumes control of the alien fleet, swearing to destroy the Earth now that it is of no further use to them and before the Green Lantern Corps and Guardians of the Universe arrive.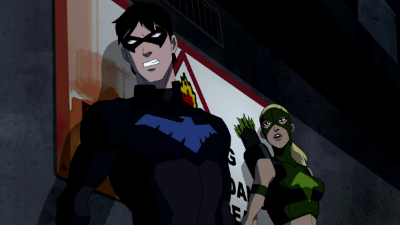 #5 - Depths 8.60
Season 2 - Episode 7
March 19: At Nightwing's request, Artemis rejoins the Team to help ensure the safe launch of one of Carol Ferris's communications satellites. The satellite is meant to strengthen relations between Earth and Mars, but Black Manta has sent Aqualad and his men to destroy it. Upon confronting the villains, Lagoon Boy is captured and shipped off to the Light's Partner while Nightwing and Artemis deal with the ground assault. They soon find themselves up against Aqualad, who fails to destroy the rocket but kills Artemis with his water sword. The rocket explodes anyway, and the heroes are unable to save their fallen friend. March 20: Aqualad reports to Black Manta, who reveals that he had planted the bomb that destroyed the rocket in order to test whether his son would take credit for the victory or not. At Mount Justice, the Team mourns the death of Artemis. On the waterfront of Blüdhaven, Nightwing and Wally meet in secret with Aqualad and Artemis (whose death was faked). Aqualad's defection from the Team and 'killing' of Artemis was part of a ruse to ensure that the pair could go undercover to learn more about the Light and their Partner. Artemis is given an amulet (which Zatanna had made without knowing its purpose) that will disguise her looks to everyone except Nightwing, Aqualad and Wally, then she and Aqualad leave together.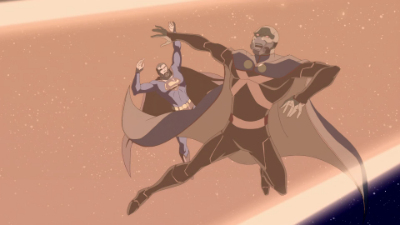 #6 - Failsafe 8.50
Season 1 - Episode 16
When the Justice League is defeated during an alien invasion, the Team has to step up and fill their mentors shoes.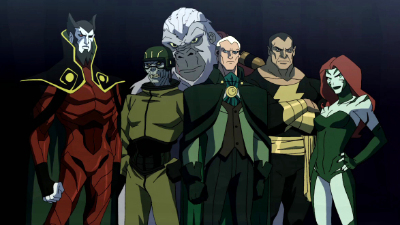 #7 - Revelation 8.50
Season 1 - Episode 14
When Plant Creatures attack major cities around the world, the team is eager to join the fight alongside the Justice League. Instead, Batman assigns them a still more dangerous task - taking out the plants' masters: a secret society of super- villains: the Injustice League!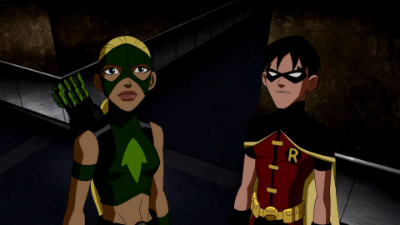 #8 - Homefront 8.43
Season 1 - Episode 12
When Mount Justice itself is attacked, can Artemis and Robin (the two teens without super-powers) save the Team (or even themselves) from the unknown invaders?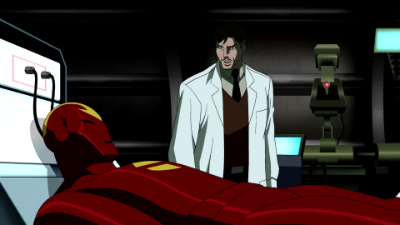 #9 - Humanity 8.43
Season 1 - Episode 15
The team is on the hunt for Red Tornado, determined to find out once and for all whether the robot was the mole - even if it means kidnapping new friend Zatanna and dragging her along on their quest!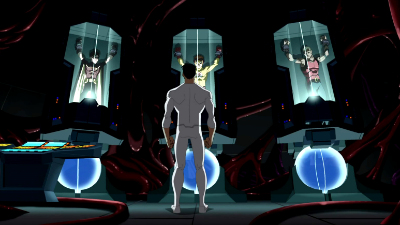 #10 - Fireworks
Season 1 - Episode 2
The sidekicks find a clone of Superman known as Superboy. They free him from Cadmus' control, while battling Blockbuster.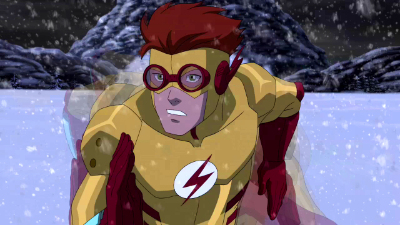 #11 - Coldhearted 8.42
Season 1 - Episode 20
Wally West comes oh-so-close to fulfilling his birthday wish to finally fight alongside the Justice League. Instead, a massively disappointed Kid Flash is taken off the mission and tasked with a simple delivery job. But a few deadly surprises await the birthday boy along the way.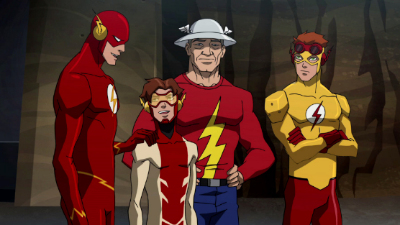 #12 - Bloodlines 8.35
Season 2 - Episode 6
February 28: A stranger appears within Mount Justice claiming to be a time traveler and the grandson of the current Flash (Barry Allen). The boy, Bart Allen/Impulse, soon gatecrashes the Garricks' wedding anniversary party and reveals his identity. Kid Flash/Wally West arrives soon after. The party is interrupted when they all learn that a villain called Neutron is on a rampage, and the Flash, Kid Flash, and Impulse head off to stop him. Meanwhile, Red Arrow and Cheshire travel to a League of Shadows base in Tibet where they finally find the original Roy Harper. In Central City, the Flashes defeat Neutron, and Impulse secretly administers a cure to Neutron's uncontrollable power. Later, Impulse also pretends to discover that he is stranded in the present day. February 28 (Forty Years Later): Through a nonlinear narrative, it is discovered that before Impulse embarks on his voyage to the present day, he bids farewell to Neutron, fully aware that the time travel is going to be a one-way trip. After he departs (and the events of the episode take place), Neutron reverts to normal but is horrified to discover that the post-apocalyptic future around him remains unchanged.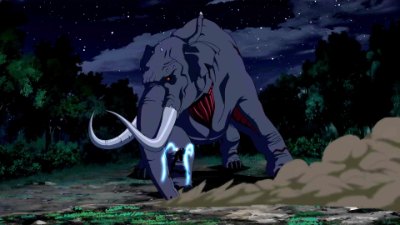 #13 - Alpha Male 8.35
Season 1 - Episode 13
Already exhausted and rattled after a home turf invasion of The Cave, the team learns that Aqualad - their friend and leader - withheld vital information that put them all at risk. When Batman sends the Team and new "den-mother" Captain Marvel to India to investigate bizarre reports of armed animals attacking human beings, can Aqualad pull his fractured team together?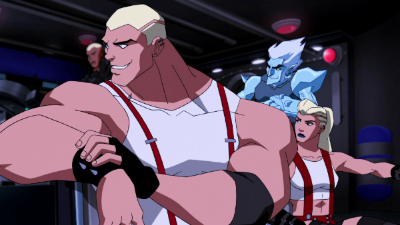 #14 - Darkest 8.35
Season 2 - Episode 9
March 23: Aqualad, Tigress (a disguised Artemis), Icicle Jr., and the Terror Twins are sent by Black Manta to capture Blue Beetle for the Partner, but they are thwarted due to Impulse's interference. However, Kaldur's tracking device (stolen by Impulse during the fight) remotely deactivates all security at the Cave, and Aqualad's team launches another attack. They capture Beast Boy, Blue Beetle and Impulse and escape, before Aqualad orders Tigress to detonate a bomb (which resembled the same one that blew up Malina Island) which obliterates Mount Justice. Having left Karen Beecher and Ray Palmer at the university lab, Mal Duncan returns just in time to rescue an unconscious Nightwing and Superboy. March 24: Wally West confronts Nightwing at the Hall of Justice about what happened and reveals his fears that Aqualad might be a triple agent. Elsewhere, Black Manta inducts Kaldur into the Light as a reward for his success as Ra's al Ghul states that it is time that he met their Partner.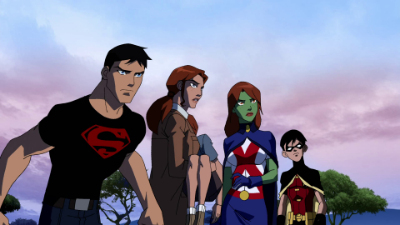 #15 - Image 8.34
Season 1 - Episode 21
A covert operation against Queen Bee in Qurac forces Miss Martian to finally face her greatest fears and her biggest secrets. But will she reveal those secrets to her friends—or allow what she's hiding to take down the entire team?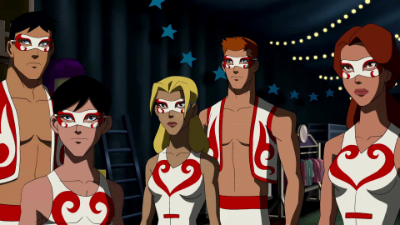 #16 - Performance 8.34
Season 1 - Episode 24
The Team goes undercover at the Haly International Traveling Circus to locate a thief stealing weapons technology across Europe. But a thief isn't all they find…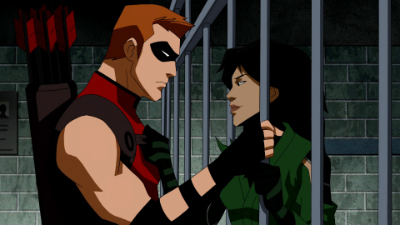 #17 - Targets 8.31
Season 1 - Episode 10
Red Arrow is on his own against the world's most dangerous assassins in preventing the League of Shadows from starting a war, until he is forced to make an unlikely alliance with someone even more dangerous. Aqualad fails to convince Red Arrow to ask the team for help.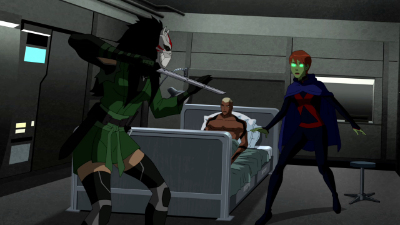 #18 - Complications 8.30
Season 2 - Episode 16
May 27: Nightwing arrives on the War World to inquire about the Team's disappearance, but Blue Beetle covers his tracks by insisting that a boom tube opened which sucked in everyone except for himself. Meanwhile, Artemis, M'gann and Aqualad (who has been cured but is playing possum) are stalling for time to try to figure out how to save M'gann's life. They formulate a plan after Black Manta gives M'gann the ultimatum that she has 24 hours left to finish her task, but before they can get very far, Kaldur and M'gann are attacked by Cheshire, who has infiltrated the sub with Sportsmaster. While the latter battles Black Manta, Aqualad tells Cheshire that Artemis is alive, but Jade (Cheshire) does not accept the truth until Artemis disables Miss Martian's inhibitor collar so that a full account of what has happened can be disclosed on the psychic plane. Sportsmaster is eventually convinced as well when Tigress demonstrates a move he taught her. The five concoct a plan for Kaldur and Artemis to remain undercover while the others make their escape, and they manage it successfully. May 28: In Gotham City, Jade decides to inform Paula Crock that Artemis is alive. Back on the submarine, Black Manta shares the news that his son is well again with Vandal Savage and the Reach Ambassador. Meanwhile, Nightwing looks on in fury as the Ambassador publicly praises Blue Beetle as Earth's saviour. Nightwing's detective work, in finding Robin's scratched birdarang, has led him to discover that Jaime turned on the Team.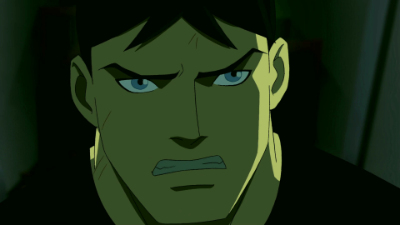 #19 - Schooled 8.29
Season 1 - Episode 5
Superboy's anger over his non-relationship with Superman is getting out of control. He refuses to train with Black Canary, and when the team faces an opponent that even the Justice League had trouble defeating, the Boy of Steel goes rogue.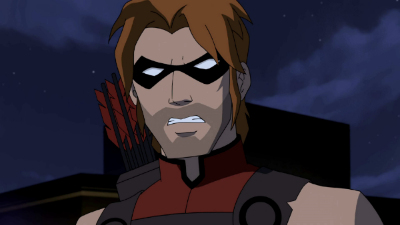 #20 - Salvage 8.29
Season 2 - Episode 4
February 13: Nightwing, Wally West, Jim Harper, Green Arrow and Black Canary reach out to Red Arrow, who has fallen into despair over his failed quest to find the original Roy Harper. Superboy, Blue Beetle, Wolf, and Super Sphere track Intergang leader Bruno Mannheim and his liuetenant Whisper A'Daire to the Hall of Justice, where the criminals reanimate the four Appellaxians into one Appellaxian Golem. The Appellaxian Golem attacks a nuclear power plant. Blue Beetle finds a way to communicate with the Appellaxian Golem, and learns it just wants to stop feeling pain. In the distance, Sportsmaster makes an example of Bruno and Whisper as his unseen partner destroys the Appellaxian Golem to prevent it from falling into enemy hands. February 14: Wally returns home to Artemis and wishes her a happy Valentines Day. They are attending college and living together. Red Arrow returns home where Cheshire - now his estranged wife - is waiting for him. She had returned to a life of crime due to his obsession with finding the original Roy Harper. Cheshire reveals to him that they have a daughter, and wants him to end his obsession for their daughter's sake. Cheshire has acquired a lead to the location of the original Roy Harper.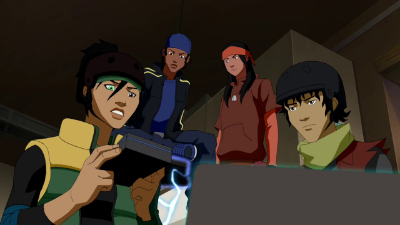 #21 - The Hunt 8.26
Season 2 - Episode 17
May 27: Black Beetle laments the setbacks that the Reach have suffered, such as the loss of most of their fleet, while on another part of the War World, Arsenal continues to flee from the Reach's forces. May 29: Lex Luthor encourages the runaways to rescue the Team from the Reach, and provides them with a Father Box which transports them to the War World. The Reach scientist informs the ambassador of this new development, and he becomes further disgruntled when he appears on G. Gordon Godfrey's show only to be taken to task about his blatant lie concerning the Reach only having the one ship. May 30: Nightwing and Miss Martian revisit the site of the Team's abduction, where they are met by Sphere. The Father Box directs the runaways to the captive Team members, with Arsenal on their tail as well after catching sight of them. When Black Beetle attacks the runaways, Roy intervenes and manages to free Mongul in the ensuing battle. As Mongul takes on Black Beetle, all of the heroes meet up and make their escape, but not before Deathstroke uses the confusion to snatch the key to the War World. Bumblebee alerts Nightwing to Arsenal's reckless behavior in the confrontation with Blue Beetle, resulting in Nightwing kicking Roy off the Team. The runaways offer him an olive branch and they return to their hideout, where Arsenal learns that they work for Lex Luthor and manages to turn them against him upon Luthor admitting being a party to the theft of the War World key. The four youths decide to end their deal with Luthor and depart with Arsenal.
#22 - Misplaced 8.26
Season 1 - Episode 19
When every adult on the planet disappears, only the team, Zatanna, and Billy Batson are left to defeat the five most powerful sorcerers on Earth. In the end, Zatanna officialy joins the team and Zatara becomes the new Doctor Fate.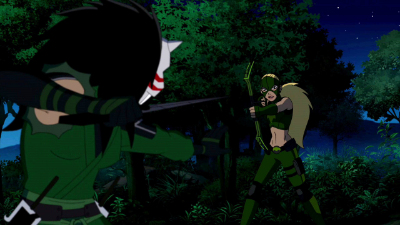 #23 - Insecurity 8.25
Season 1 - Episode 23
Red Arrow's return undercuts Artemis' confidence, while the team's mission to track down Sportsmaster threatens to expose her darkest secrets.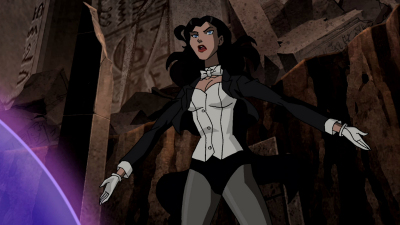 #24 - Intervention 8.24
Season 2 - Episode 18
May 30: With the help of Green Beetle, Black Beetle is able to defeat Mongul and imprison him again. They discover that the War World key has been stolen, while in Bludhaven, the Team return to base and realize that they need to turn their attention to saving Blue Beetle. June 13: Blue Beetle boosts the Reach's image by defeating Toyman in Metropolis. On his way home, he is ambushed by Batgirl and Impulse, who act as decoys while Zatanna and Rocket subdue him. Elsewhere, Miss Martian picks Lagoon Boy up from Atlantis, his leg having healed. June 14: The four heroes take Jaime back to the underground cavern in Bialya where the runaways were stored, and Zatanna sets about casting a spell to free Jaime from the Reach's control. When Green Beetle intervenes, the other Team members who were lying in wait reveal themselves and engage him in combat while the spell is completed. Both Beetles are placed off-mode and Batgirl and Zatanna explain that the cavern runes had their origin in a human mystic ritual that was the cause of Jaime's Scarab being placed off-mode when it first arrived on Earth. They even bring up the histories of the previous Blue Beetles Dan Garrett and Ted Kord. While en route from Atlantis, Miss Martian breaks up with Lagoon Boy having decided that they aren't right for each other. After Nightwing gets word on the status with Blue Beetle and Green Beetle, Miss Martian and Lagoon Boy arrive where they learn about what happened. While Lagoon Boy leaves to go watch some television Miss Martian later learns that she has missed her chance with Conner as Nightwing tells her that he has gone on a date with Wendy Harris. Meanwhile in Bialya, Queen Bee reveals to Mammoth, Shimmer, and Devastation that the Light's plans for the Reach, the Justice League, and the Team are set to proceed on schedule.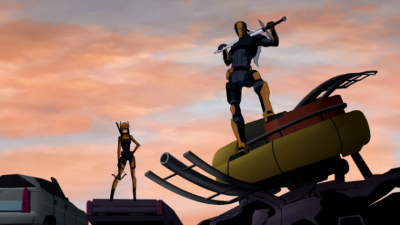 #25 - The Fix 8.24
Season 2 - Episode 13
April 9: Tigress intervenes before Psimon can enter Kaldur's mind and discover their secret; she drugs him, but he discovers her true identity before passing out. She persuades Black Manta that she ought to kidnap Miss Martian in order to force her to fix the damage she has done, and Manta sends Deathstroke to accompany her. Meanwhile M'gann determines that the Green Beetle is an ally, and he states that the energy drink created by the Reach contains chemicals that will eventually addict the population and make them incapable of revolt, as well as a tracer that seeks out the meta-gene. Lagoon Boy privately confronts Miss Martian about her behavior, but is interrupted when Deathstroke and Tigress attack the pair and take M'gann hostage. Aboard Black Manta's ship, Miss Martian and Artemis work on fixing Kaldur's damaged mind and, in spite of some resistance, they make progress; M'gann states that the process could take weeks, however. Nightwing reveals the truth about Aqualad and Artemis to Superboy and Lagoon Boy, both of whom are outraged. Elsewhere, Jaime Reyes convinces Green Beetle to modify his Scarab, and is ecstatic when he finds that the Scarab's voice has been silenced.