Tom and Jerry
#1 - Saturday Evening Puss
Season 1950 - Episode 2
Mammy wants to go out to dinner. So, Tom invites his friends over a party, and they use Jerry as a needle on a record player. After Jerry escapes from this, he gets back at Tom and his friends, by giving them some of their own medicine.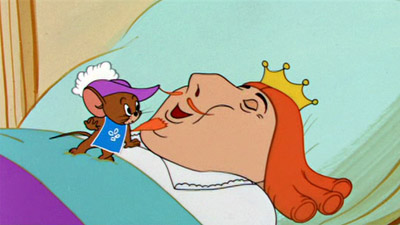 #2 - Royal Cat Nap
Season 1950 - Episode 65
The king is about to take a nap, and tells Tom that if he hears one sound and wakes up, it's off with his head!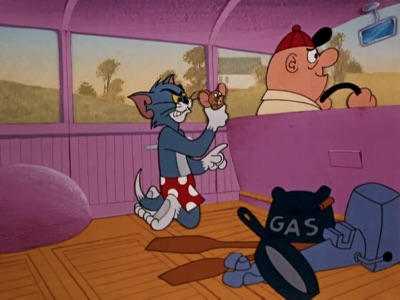 #3 - Down and Outing
Season 1960 - Episode 2
In this episode Tom and Jerry go fishing.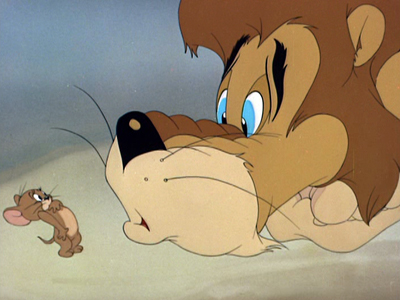 #4 - Jerry And The Lion
Season 1950 - Episode 4
On the radio, Tom and Jerry hear that a lion is loose in their area. Frightened, Tom gets on his hunting outfit and gets out a rifle. A bit later, Jerry finds the lion in their house, and learns that the lion's harmless, but he asks the lion to play a trick on Tom to make him look like he's ferocious.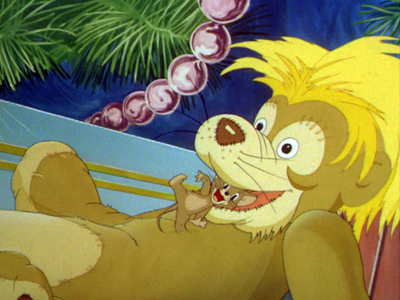 #5 - The Night Before Christmas
Season 1940 - Episode 3
It's Christmas Eve. Jerry sees a present wrapped in the shape of cheese.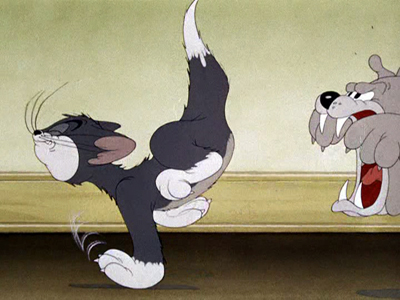 #6 - Dog Trouble
Season 1940 - Episode 5
Tom is chasing Jerry again, and they run into a bull dog. The bull dog gets angry, and starts to chase Tom AND Jerry.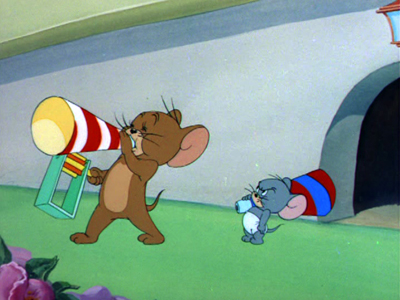 #7 - Safety Second
Season 1950 - Episode 5
It's the 4th of July, and Nibbles is looking forward to an exciting day with lots of fireworks. But Jerry is against this, considering safety first. Nibbles still sneaks out the fireworks anyway, which eventually leads to an explosive battle against Tom.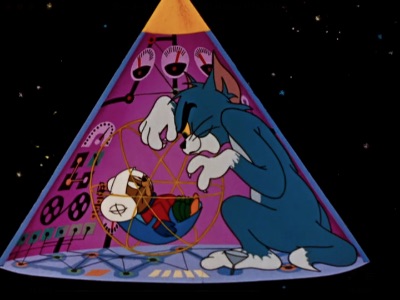 #8 - Mouse into Space
Season 1960 - Episode 5
Jerry finds Tom on a space capsule.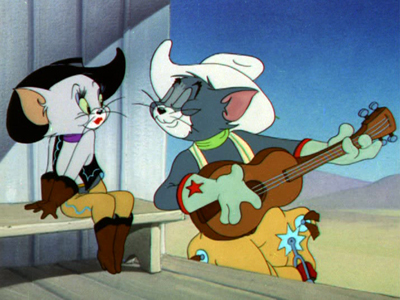 #9 - Texas Tom
Season 1950 - Episode 3
In this episode, Tom is a cowboy, and he uses Jerry like a lackey. He does all sorts of things to impress a female cat. Jerry gets mad, and releases a big bull on Tom that Tom runs away from in a hurry, and makes the female cat un-impressed.
#10 - It's Greek to Me-Ow!
Season 1960 - Episode 3
This episode depicts Tom chasing Jerry during the times of Ancient Greece.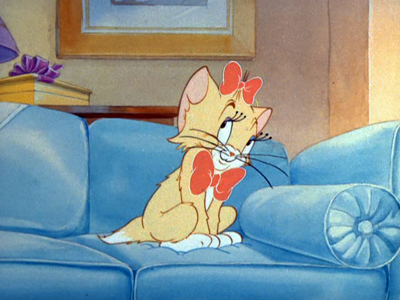 #11 - Puss N' Toots
Season 1940 - Episode 6
Mammy brings home a cute little kitten who just happens to be a girl. Immediately when Tom sees the kitten, he is smitten. Tom tries to act cool around the kitten, and he gives her presents (such as fish). Jerry wants to ruin this.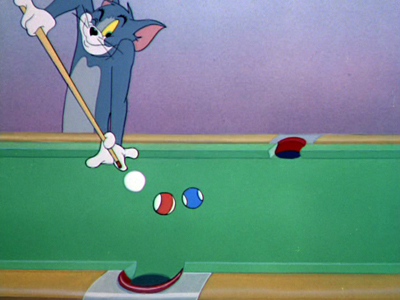 #12 - Cue Ball Cat
Season 1950 - Episode 8
The setting is of a poolroom. Tom uses Jerry as a ball, as he hits with his cue stick, trying to get into each of the pockets, and so on. Jerry does the same to get back at him.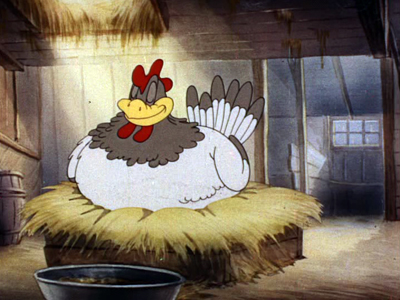 #13 - Fine Feathered Friend
Season 1940 - Episode 8
Tom chases Jerry on a farm, and Jerry hides by a hen. The hen is startled by Tom, so she hits him hard. Jerry dresses himself as a chick, and acts like he's one of the hen's. The rest of the chicks think Jerry is just another one of them. While Tom runs away from the hen, Jerry settles in by the mother and her chicks.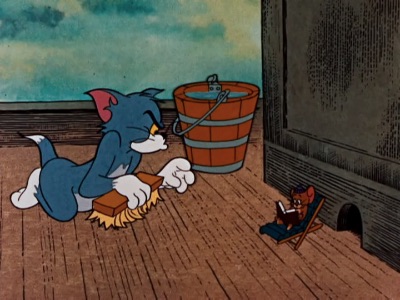 #14 - Dicky Moe
Season 1960 - Episode 8
A Tom and Jerry version of the book, "Moby Dick".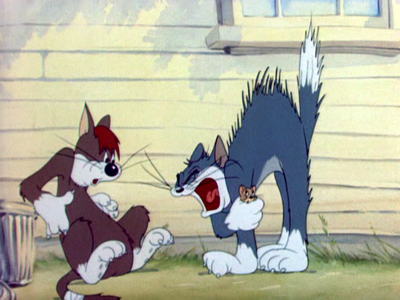 #15 - Sufferin' Cats!
Season 1940 - Episode 9
Jerry is being chased into an alley, and is seen by an alley cat. The alley cat wants to eat him, but Tom steps in, and says that's his mouse. The two cats fight each other for Jerry, as he runs away trying to hide. The alley cat says to share the mouse, but Tom wants Jerry all for himself. So, they race to see who will catch Jerry first.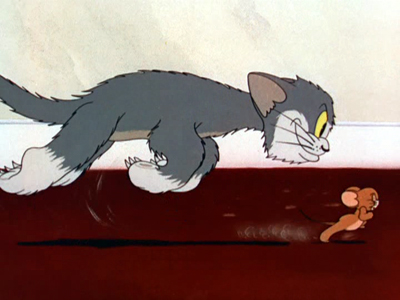 #16 - Puss Gets The Boot
Season 1940 - Episode 1
Tom chases Jerry all over their house, while Jerry foils Tom's plans to catch him. Tom breaks a lot of things in the house, while chasing Jerry, but that's when Mammy steps in. Mammy is Tom's owner. She tells him that if he breaks one more thing in the house, she's going to throw him outside. So, Jerry knocks over a lot of things in the house to make Mammy think Tom did it, and kick him outside. Tom tries his hardest to keep all these things from falling, so he won't be thrown outside.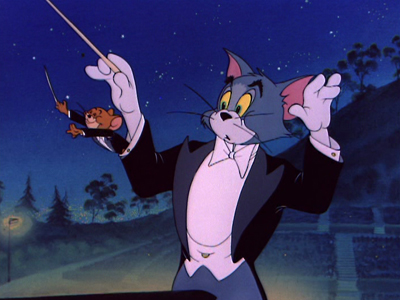 #17 - The Hollywood Bowl
Season 1950 - Episode 6
At the Hollywood Bowl, Tom is the conductor. Jerry wants to help out, and he gets in Tom's sleeves to help conduct. Tom denies his assistance again and again. Jerry gets mad and starts hitting Tom with instruments, and Tom does the same.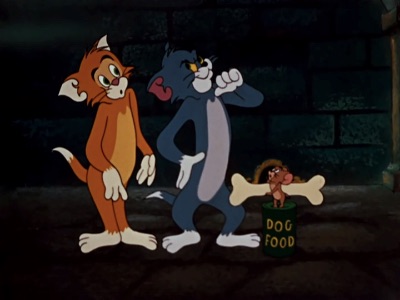 #18 - Switchin' Kitten
Season 1960 - Episode 1
This was the episode where Tom & Jerry go into an old castle on a dark and stormy night. The owner, most likely a relative to Dr. Frankenstein, switched animal brains to different animals. Jerry was a victim, who acted like a lion, and scaring Tom away, who had seen enough of the strange animals.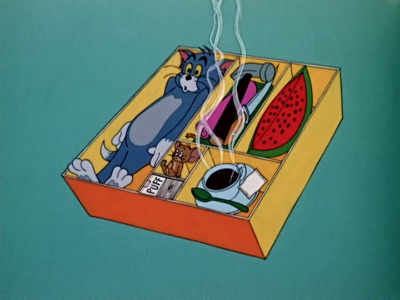 #19 - The Tom and Jerry Cartoon Kit
Season 1960 - Episode 9
This episode involves a kit containing Tom, Jerry, and a bunch of weapons.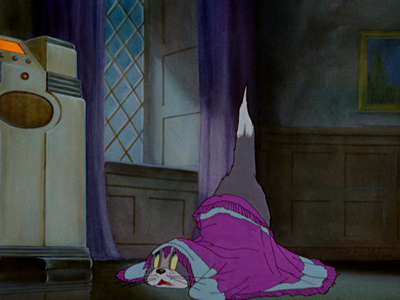 #20 - Fraidy Cat
Season 1940 - Episode 4
On the radio, Tom listens to "The Witching Hour" that tells scary stories that almost give Tom a heart attack. After seeing Tom's reaction to the radio show, Jerry schemes a way to scare Tom. He moves everything in the house to make it seem like a ghost is in the house. Jerry does everything he can to give Tom a good spook. Tom gets so scared by all the strange things going on that he faints. Later, he finds out that Jerry was the one behind all this, so he chases him around the house. Accidentally, Tom attacks Mammy instead of Jerry, and she, once again, throws him out of the house.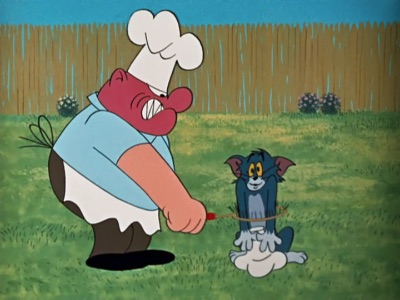 #21 - High Steaks
Season 1960 - Episode 4
Tom and Jerry interfere with a cranky man and his barbecue.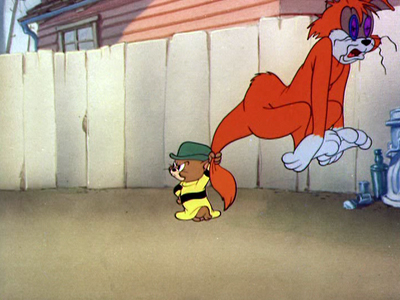 #22 - Jerry's Cousin
Season 1950 - Episode 11
There are beaten up alley cats in the street. This is the work of Muscles Mouse, Jerry's cousin. He calls up Jerry, and tells him that he wants to help take care of Tom for him.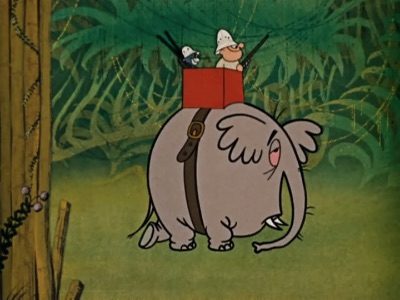 #23 - Sorry Safari
Season 1960 - Episode 11
Tom and Jerry are out on a Safari, but their vacation gets ruined.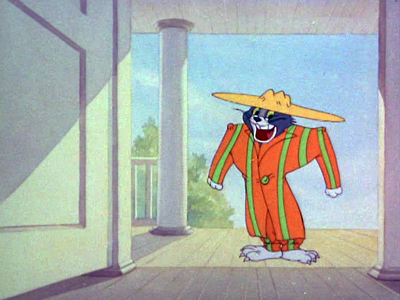 #24 - The Zoot Cat
Season 1940 - Episode 13
Tom gives Jerry, as a present to a girl cat he really likes. The girl doesn't accept the gift, and Tom goes back to the house with a pout. He hears on the radio about a zoot suit. Tom cuts out and sews together a very tight and nice-looking suit. He goes back to the girl cat's house, and as soon as she sees Tom's new suave look, she swoons. Tom acts like Charles Boyer, and he makes the girl fall in love with him. Jerry sees he has to ruin this. He does something to anger Tom, which makes him chase Jerry around the house, and tripped into a fishbowl. The suit shrinks to Jerry's size, and Jerry wears it. He takes Tom's place, and acts like a mini Charles Boyer to the girl cat.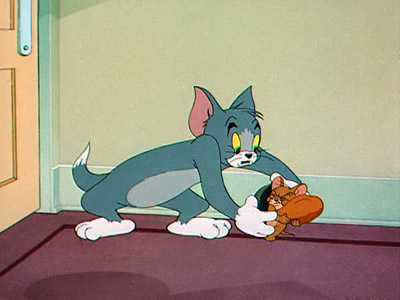 #25 - The Framed Cat
Season 1950 - Episode 7
Jerry gets blamed for stealing a piece of chicken, and Mammy makes Tom chase him. Mad, Jerry goes and frames Tom by saying that he stole Spike's bone, which leaves to even more frame-ups..