To Love-Ru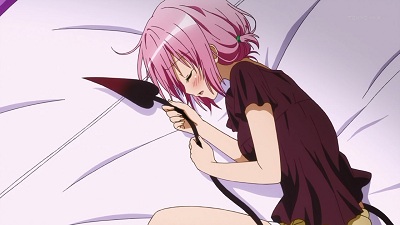 #1 - Room ~A Maiden's Feelings~ 8.73
Season 3 - Episode 12
Momo plays through several dating sims and takes notes hoping to aid her harem plan. As Momo completes another pathway, she wonders how she can use these concepts to solve the main issue: Rito. Momo wonders when she fell in love with Rito and remembers how Rito shared many interests with her such as plants. As Momo thinks of Rito more, she slowly starts to masturbate. Momo's romantic fantasies of Rito continue throughout school. At school, a group of boys who share a love interest with Momo form a fanclub titled "Venus Momo Club". As members, the club will dedicate themselves into helping Momo out. At first, Momo appreciates the help such as accepting all her duties, cleaning her furniture, and acting as bodygaurds but as time goes on, the club distances Momo from Rito more, making her unable to spend time with Rito. Momo sees Lala spending personal time with Rito and Rito making accidental gestures with other girls, making her feel left out. Momo's depression reaches the critical point and devises a way to spend personal time with Rito. During P.E., Momo cuts class and wanders off. Momo's club waits outside the locker room for Momo and learns about her biggest threat: Rito. Because Rito is frequently discussed by the morals committee and Momo lives with him, Momo will not be safe from Rito. Later, Rito receives a message from Momo to meet her in the storage shed. When Rito enters the storage shed, Momo locks the door and tackles him. She feels aroused over Rito and asks Rito how he feels being alone. Momo deeply caresses him and daydreams Rito becoming sexually active with her. Momo continues to seduce Rito until Momo's club finds out thanks to Mea. The club attacks Rito for kidnapping Momo, but Momo blasts back and forces the club to apologize to Rito. In the end, Momo blames Mea for ruining the moment and wonders how she can successfully win Rito's heart. Rito also cannot understand Momo's true intents.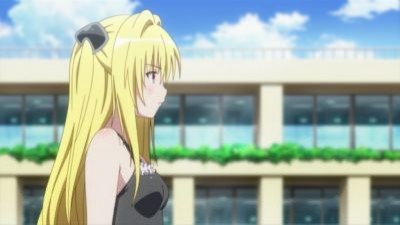 #2 - I Love You / I Love You 2 / I Love You 3 8.69
Season 2 - Episode 12
Starting from where Episode 11 left off, Lala accepts Haruna's feelings and vows to help achieve her love. At the water park, Saruyama observes Rito and tells him that he has changed after Lala came around as Rito is more comfortable being with girls. Rito tries to understand the values of Lala. Nearby, Run and Kyouko perform a concert when an alien amoeba attacks and suffocates everyone. Lala tries to rescue Haruna, who gets eaten by the amoeba, but suffocates. Rito sacrifices himself to rescue Lala and Haruna. As Haruna and Lala try to rescue Rito from death, Rito sees flashbacks and realizes that he loves Lala too. After the amoeba was defeated, Rito tells Lala in private that he loves her, but really loves Haruna too. Lala proposes a solution by having Rito marry both of them. Before Rito could oppose, Lala blasts Rito to Haruna so he could confess to her. Oshizu accidentally rips Haruna's swimsuit, making her run away when Rito confesses to her. His confession reaches Nana, Yui, Mikado-sensei, and Run, inspiring Lala that Rito should marry them all.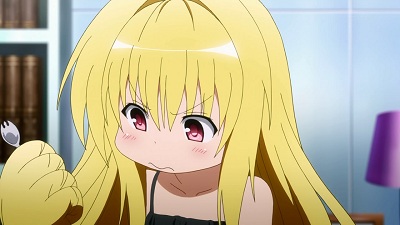 #3 - Past ~Memories Leading to Tomorrow~ 8.64
Season 3 - Episode 10
Yami starts telling Rito about her past, explaining how she was created by a woman named Tearju Lunatique; she was created from her cells, therefore Yami is similar to her and sees Tearju as her mother. However, Tearju was taken away from Yami by the association that had asked to create Yami. They forced Yami to follow the paths of darkness and trained her to be a weapon. She doesn't know what happened to Tearju and also notes that the society was destroyed when the Devilukes unified the universe. Rito demands a revenge, which confuses Yami given that Rito is her target. Yet somehow, Yami feels safe with Rito as she leans torwards him. During the conversation, Momo tries to spy on Yami, but is caught by Mikan. Momo convinces Mikan the necessity to spy on them claiming that Rito may do inappropriate acts with Yami in his sleep. Mikan reluctantly tags along, but stops and grabs Momo's tail, making Momo scream for help. The effects of Lala's invention soon wears off. Rito praises about being detached from Yami, but Yami feels insulted and knocks him down. She snuggles close to him for the rest of the night. The next day in school, everyone is Rito's class is surprised to see a new assistant who Rito recognizes as Tearju. While Lala and friends discuss about Tearju, Oshizu asks Rito to come with her. Mikado tells Rito she and Oshizu brought Tearju to earth during her investigation. She found a photo of Tearju and was able to trace her whereabouts. Meanwhile, Momo tells Yami to meet Tearju but Yami does not respond. Rito finds Tearju in the hallway and asks her to meet Yami. Tearju hesitates, blaming herself for abandoning Yami. The principal starts chasing after Tearju, making both of them run. Lala finds Rito and Tearju running and offers them help. She teleports them behind the bushes partly naked. Yami, sitting on a nearby bench, knocks out Rito, catching Tearju's attention. Tearju looks at Yami and calls her "Eve".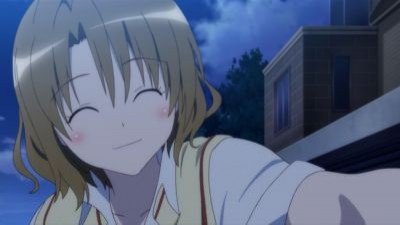 #4 - Pollen Telepathy / Girl's Feelings / Heartthrob Mail 8.50
Season 2 - Episode 10
Rito takes Celine out for a walk and meets up with Yui. As Yui argues with another person about Rito and her being a couple, Celine wanders off and steals a Cola. She drinks it and becomes drunk, spreading pollen everywhere. Saki and the others get infected by the pollen and fall for Rito. Rito tries to escape, but gets tackled by the principal. Rito is assigned to shop for groceries, but gets intercepted by Risa as she tries to ward off a stranger following her. Risa returns the favor by taking him to Mio's workplace. Risa tests Rito's reaction to girls, leading him by love hotels and into her bedroom. After playing with Rito, Rito arrives home late with no shopping done. Rito requests from Yui a book titled "Midnight Date" for his dad's manga and hands her his contact info. Yui contacts Rito with text messaging about the book, but Rito's sleepy and wants Momo to answer. Momo mistakes the message and responds awkwardly. Nana takes Rito's cellphone and asks a more provocative question and Celine sends a nude photo of Lala to Yui.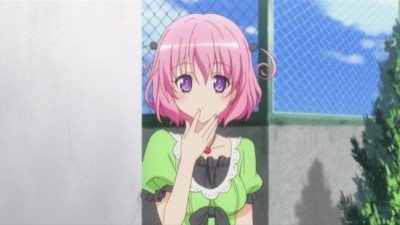 #5 - For Whom the Bell Tolls / Out Of Control Nuisance / Pop Star In Love 8.35
Season 2 - Episode 9
Christmas Day is approaching. While Rito goes to invite Yami for Mikan, Mikan explains to Lala about Christmas. Mikan and Rito never had a big Christmas celebration since their parents are rarely home. Mikan and Rito are having a big celebration for the first time. Lala makes Mikan's wish come true by bringing her parents home for Christmas. Momo accidentally uses a device which transports Rito into Peke's body. Hoping not to upset Lala, Momo brings Peke to Lala in time for P.E. and tells Rito to act like Peke. Lala's warm up stretches shock Rito as he feels her body. When Lala jogs, Rito passes out and causes havoc everywhere. Momo brings a substitute to Lala and vows to repair Peke. Run begs Rito to pretend to be her boyfriend because she lied to Kyouko about it. Rito accepts. As Rito and Run walk with Kyouko, the principal attacks. Run accidentally strips Kyouko and her clothes off. After defeating the principal, Kyouko tells Run that she knows about the lie. Rito brings Lala to restore their clothes, but Lala hypes over Kyouko instead.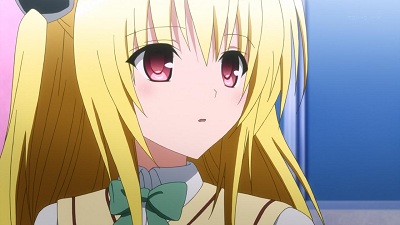 #6 - Sisters ~The Invention of Happiness~ 8.33
Season 3 - Episode 7
As Lala fixes up Nana's De-Dial, Momo tells to Nana grow up while looking at her chest, infuriating Nana. Lala brings out an item that grows Nana's breasts, but it only works for a few seconds and shrinks Momo's breasts. Momo sarcastically admits that she understood Nana's feeling. Later in Mikado-sensei's office, Rito and friends discuss about Lala's inventions and Oshizu asks about Lala's childhood. Momo recalls the frequent incidents with Lala's inventions; whenever she was fighting with Nana, Lala's inventions ran wild and they both cleaned up Lala's mess. At lunch, Rito and friends visit Mea's apartment. The apartment is empty and Mea notes that she lives alone. Nana finds it strange knowing that Yami is her sister while Momo was hoping to collect more details about master. In the follow-up meeting with Mikado-sensei and Oshizu, Momo expresses concerns about Mea and how she may be hiding her true heart. Yami notes that their hearts are incomparable with a human's heart because she and Mea are both weapons. Rito invalidates Yami's claim and relates the sibling analogy to Mikan. The meeting is cut short when a dog clings onto Oshizu, making her rip Yami's clothes, causing Yami to chase after Rito. Afterschool, Ren gives Rito Run's CD and explains about Lala's pure sweet child personality. Rito considers it as he thinks about Momo's harem plan. Later at night, Mikan asks Rito to call Lala and her sisters down for dinner. Rito enters Lala's room and finds her fixing an invention. Rito asks Lala when she started making inventions; Lala replies that it naturally came to her whenever she got bored. Momo hears Rito in Lala's room and thinks Lala is about to kiss Rito, but rejects the theory. She and Nana listen on. Rito asks Lala about her incidents; Peke replies that they were incentives to reunite Momo and Nana. Remembering what Ren said, Rito panics as he looks at Lala and activates an invention, tying both of them up. Momo and Nana discuss how much Lala cared for them.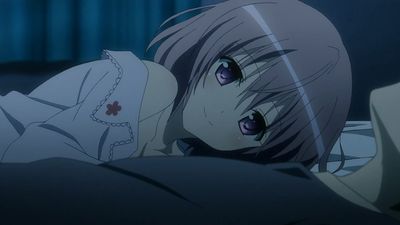 #7 - Continue 8.29
Season 3 - Episode 1
The story begins with Rito rudely awakened by each Deviluke alien. Rito explains his routine life and is most concerned with Momo due to her deceptive intents. As Rito arrives to school, he meets Haruna. Lala tries to encourage Rito to confess to her, but Rito pushes Lala to a corner and explains to her the situation is complicated as people are legally allowed to marry one person. Out from nowhere, Celine clings onto Rito. Momo and Nana surprise everyone that they have enrolled in their school. Now students, Momo winks at Rito, reminding him of the conversation last night in the bathtub. Momo overheard Rito's concern about marrying multiple girls and explained to Rito that many girls love him and marrying them all would make everyone happy. As the future king of Deviluke, he can have many concubines. Momo vows to create a harem for Rito. During class, Momo becomes popular among the boys while Nana greets a mysterious girl looking out the window. Nana impresses her with her ability to understand animals. The girl introduces herself as Mea. Later, Momo finds Yami at a bench. As Yami is an obstacle to her harem plan, Momo tries to secretly enlist Yami in her harem plan by convincing her to enroll. The conversation gets cut short when Rito runs in panic stating that the other boys suddenly went violent. The other boys arrive on the scene and attack Yami, forcing her to use her weapons. After Yami and Momo restrain the boys, Yami hears a mysterious voice reminding her that she's an assassin assigned to kill Rito.
#8 - A Frightening School Festival! 8.27
Season 1 - Episode 22
After reflecting on her experiences on Earth, Yami reminds herself that she's an assassin and decides to look for a job. At school, Yui tries to coordinate what her class is going to do for the culture festival and gives only two options, a calligraphy display or a region research exhibit, much to everyone's disappointment. Saruyama takes the lead and the class chooses to take on an animal cafe for their project. The class prepares for Culture Day as Yami continues to look for work in assassination however, when she fails to find employment, she returns to the school in time to help with the animal cafe.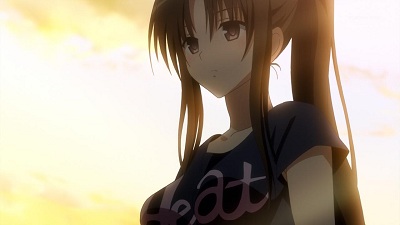 #9 - Bad Mood ~Bonds of Happiness~ 8.27
Season 3 - Episode 8
Mikan feels misplaced after seeing Rito become closer to Momo. She goes shopping and almost passes out on the way home due to the intense sun. Momo runs to save her but Kujou Rin grabs her and offers to take her to her place. Mikan feels the need to vent and starts telling Rin about how she feels misplaced. While Rin expresses negative thoughts about Rito, Mikan explains that despite his perverted actions, Rito is a really great guy. She also tells Rin about how everything seems to have changed since Momo's arrival. Although Momo appreciates Momo helping around the house with chores, but Mikan feels she is no longer needed. Rin tells Mikan that no matter what Momo does, if Rito is how Mikan describes him, he would not want Mikan to leave. During the conversation, Momo eavesdrops from the rooftop. Meanwhile, Yui keeps wondering about her crush for Rito as she goes for a walk. Haruna finds Yui and asks Yui to join her. Haruna takes Yui to the cosplay cafe with Risa and Mio. Risa tells them about the time where she went on a date with Rito. She starts braging about the how she had slept with Rito. Haruna rapidily blushes over Risa's sexual claims, but Yui refutes these statements, explaining that Rito is not like the other boys despite his perverted actions. She knows he does not do them on purpose. As they head home, Yui stops and understands she is shameless herself since she can not stop thinking about being with Rito. At the bridge on the way home, Mikan sees Momo who offers to take her home for the rest of the way. Mikan understood that Momo was eavesdropping the entire conversation earlier; she does not yell at her though. Momo tells Mikan how she envies her since Rito has been with Mikan much longer than her. Momo remembers how Rito told her Mikan is his "one and only, dear little sister" and how he considers her more than that. Momo also expresses her feelings for Rito to Mikan. Before they could continue, Rito appears running and screaming as he was very concerned about Mikan. Mikan pretends not to care but feels happier on the inside knowing that her brother cares for her.
#10 - True Self ~True Face in the Darkness~ 8.23
Season 3 - Episode 9
The episode begins with Rito thanking Rin for taking care of Mikan. Later, due to one of Lala's inventions, Rito and Yami become stuck to each other by the hand, Yami immediately tries to cut Rito's hand but Momo explains the effects will wear out eventually. Yami goes to buy food with Rito and makes it clear she does not want him touching her inappropriately over her food. While she is buying taiyaki, Rito gets embarrassed when the seller they are a couple. They sit on a bench where Rito invites Yami over for dinner at his house; she accepts. Back home, Rito helps Yami cook dinner. Nana thinks of feeding Rito because he can only use one hand but quickly blushes and forgets about it. Lala apologizes that her invention caused this mess and Mikan lets Yami stay as long she needs to. Next, Yami has to shower. Nana steps in despite Momo's demands, saying that she prevent Rito from doing anything perverted. In the shower, Rito is blindfolded while Nana washes Yami's back. Everything turns around when Rito's blindfold slips off, resulting in a beating. During bedtime, Yami and Rito must sleep together. As they are alone, Yami tells Rito how she never sleeps anymore and wants to talk about the past with him. While this happens, Oshizu goes for a walk when she encounters Mea. She follows Mea and wants to understand more about Mea. Oshizu leaves her body and enters Mea's mind. She first finds sweets and Rito licking her. As she goes deeper, she sees memories of Mea's past. Mea asked for information about Yami and hears her talking to someone who she calls "Master". Oshizu tries to find out about Master but is suddently kicked out by Mea herself as she detected Oshizu's presence. The darkness power inside Mea nearly swallows up Oshizu until Oshizu returns to her original body. Mea approached Oshizu and tells her that she could have died if she stayed in there longer. Oshizu. terrified asks Mea "Who are you".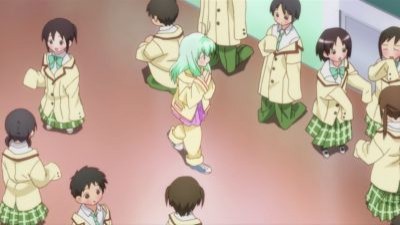 #11 - Love Queen!? / Let's Play a Practical Joke / Chocolates Are Sweet Love 8.23
Season 2 - Episode 5
Saki daydreams of Zastin. Her servants, Aya and Rin, help by kidnapping Rito, who is hiding from Lala and her lunchbox. Aya and Rin demand Rito to bring Zastin to school. When Zastin arrives, Saki tries to confess to Zastin, but gets interrupted as Lala finds Rito and feeds him her lunch, causing Rito to run in panic towards Saki. Run avenges Lala with an alien skunk that will gas Lala into a child, making her weak. However, the skunk escapes and causes more chaos at school. Run, as a child, tries to catch the skunk and nearly falls off the top of the building. Lala, also a child, rescues Run, but tosses her too high as she cannot fully control her strength yet. Yui watches everyone prepare for Valentine's Day and struggles as she makes her chocolate for Rito. Yui finishes her giri chocolate, but is too nervous when delivering it the next day, making her randomly yell at Rito and form second thoughts about Rito's problems. Watching other girls deliver their chocolates to Rito, Yui finally gains confidence to deliver her chocolates to Rito.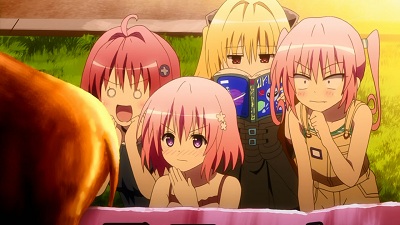 #12 - Metamorphose ~Time for a Change...~ 8.19
Season 3 - Episode 6
Momo offers to show her body to Riko. Riko sidetracks by asking where Mea went. Momo replies, "She left." As Momo questions Mea's intentions, she shows Riko the secrets of a female's body by touching her private parts. Mea sneaks in and witnesses Momo's deceptions. Using the memory she got from Rito before, Mea forces Momo to let her in regarding the harem plan. Momo reluctantly accepts, hoping that Mea can get master to come out. Mea and Momo lick Riko until Riko changes back. Mikan enters the room and is shocked to find Mea and Momo along with a naked Rito. Mea exposes Momo's cover-up, making Mikan scold at all three of them and kick Mea and Momo out of Rito's room. Run stops by Rito's house and wants to ask Rito for advice, but Rito is seemingly occupied at the time. Momo quickly fixes a meet up with Rito, hoping to advance her harem plan. During the meet up, Momo and the others spy on Rito. Mea wants to see kissing while Nana wants to keep Rito from naughty acts. In the cafe, Run asks Rito his opinion about her manager forbidding relationships. Rito tells her not to stress herself, inspiring Run. He causes chaos with Saki, Aya, and Rin, prompting them to escape. Outside, Rito and Run talk about Memoruzians and their ability to change genders. Momo suspects that Rito may be making progress. Run cries admitting that she loves Rito but could not compete with Lala due to her ability to become Ren, therefore making her not completely female. Her idol career also makes it difficult to meet with Rito. Next, Run feels ill; Rito brings her to nearby bench. Momo and the others catch up with Momo thinking that Rito may be making sexual encounters. Enraged, Nana jumps out to attack Rito only to find Yui stopping Rito too. Suddenly, to everyone's surprise, Run glows and splits from Ren, becoming two bodies. Yami explains from the encyclopedia that Memoruzians split into two different bodies when they reach adulthood using a process called "metamorphosis". Momo finds this outcome rewarding as the Run-Ren transition is no longer an obstacle to her harem plan.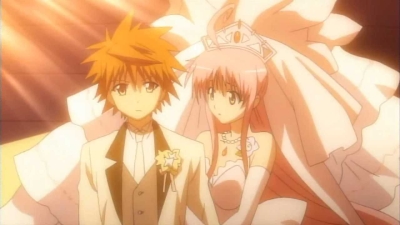 #13 - Lala 8.18
Season 1 - Episode 26
Starting where the last episode left off, Rito is still trying to make it to the ship in time. With more challenges, he starts to lose hope and eventually goes into a dream of him, Haruna, and Lala. After awakening to Haruna and Lala yelling, he makes it to the ship. Then it cuts to a marriage where Lala says she can't marry him unless he wants to. Using her memory erasing tool, she then tries to start a new life on Earth, but ends up just transferring back into the school because her invention, like many others, is faulty, and a new adventure then begins.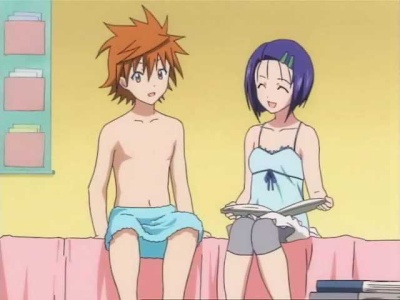 #14 - A Secret Between the Two of Us 8.18
Season 1 - Episode 14
After thinking about what Lala's father said to him, and the challenge that lies ahead, he brainstorms ideas on how to become the number one man in the universe. He starts training and meets Haruna, walking her dog, Maron, during his first run. After explaining to Haruna that he must change, she decides to cheer him on, meeting everyday during his runs. His goal to change also affects Haruna, who eventually asks him on date to eat lunch together at the river bank. During that time, Haruna's dog chased a bird and eventually lands into the river. After Rito saves him, the two go to Haruna's house to clean Rito's wet clothes. While waiting for his clothes to dry (Rito ended up wearing a towel), the two talked about their middle school days. When Haruna was about to go to check if Rito's clothes were dry, she trips. They almost kiss, only to have Haruna's older sister walk in on them, and it turns into another awkward situation when Rito's towel falls off.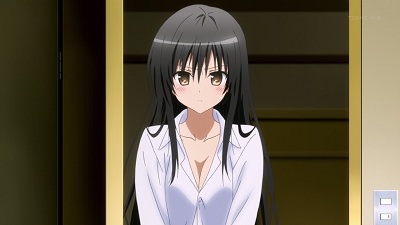 #15 - Each Speculation 8.13
Season 3 - Episode 3
Rito wakes up and finds himself inside his bathroom with Mea. Mea tests Rito's beast-like moves and asks Rito if he experienced something similar. She reads Rito's memory about Momo and her harem plan. Yami cuts Mea off from reading Rito's memory and warns her to not bother Rito. Mea walks off and learns about the harem plan and how she and Momo are competing for Yami. Later, Nana introduces Mea to Lala and friends. Rito sees Mea and realizes her from the dream earlier. As Mea speaks obscenity to Rito, Momo considers adding Mea into her harem plan. Afterschool, Rito spots Yui and offers to walk home together since Mikan is cleaning up Saibai's atudio and Momo and Nana are with Lala at an important event. Yui is first skeptical but accepts. Momo secretly escapes from the event, a Magical Kyoko Costume Show, and observes Rito walking home with Yui. She finds this a perfect opportunity to advance her harem plan and devises a way to lure Rito and Yui into Rito's house. She first uses the princpal to chase them toward Rito's home and simulates rain to get both of them inside. Inside, Momo surrounds the home with a barrier and creates a romantic scenery by simulating rain and a blackout. Rito accidentally falls onto Yui, giving Momo signs that her romantic scenery is working. Her patience runs out when she finds Mikan and the others trying to get inside. Then, Mea shoots a laser beam and destroys the barrier, breaking Momo's scenery and exposing Rito and Yui to everyone. Lala tells Rito there was no rain today and Mikan sees Momo's tail, adding to her suspicions about Momo. Meanwhile, Mea tells master she was only messing with Momo's harem plan.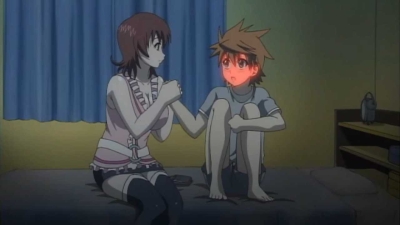 #16 - Earth's Final Night 8.10
Season 1 - Episode 25
After taking back his daughter, the King of Deviluke sends Zastin to deliver a message to Rito. Rito finds out that, the next day, he needs to board the Devilukian spaceship to prove he is really number one in the universe. He confesses his feelings to Haruna, and takes off the next day to board the spaceship, with the citizens of Japan, and Earth, cheering for him. Eventually, he comes across a dangerous plant that grows extremely fast. he manages to run away, but cannot do so forever and gets caught. However, a SUV comes and Kotegawa saves Rito, only to hit him again for a misunderstanding. Mikado drives the SUV towards the spaceship and the episode is left at a cliffhanger.
#17 - The Prefect of Spotless Integrity 8.07
Season 1 - Episode 8
A school student, Kotegawa Yui has had enough of the "ecchi" in the school, and tries to set the school some morals. Not only does she try to clean it up, but enforce some new school rules, and has a squad so to speak, to check on the students. Shortly later, Yui has started to realize that Rito is behind all the "ecchi" in school. So she gives him punishment so he wont be able to talk to any girls for 2 weeks (well after persuading the peverted principal of course). But Yui comes to see that Rito isn´t like that, and then removes his punishment. Yet things go badly wrong when Lala's machine pulls him to her.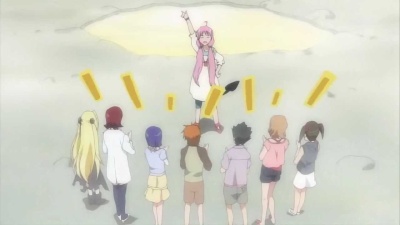 #18 - Hell's Hot Springs: Alien Girls and Colorful Exposed Bodies 8.05
Season 1 - Episode 19
Lala is seen watching a commercial on tv about the Tsumata Misami Hot Springs. She then tells Rito that she wants her own hot spring. Rito finds Lala attempting to build something in their yard. Lala then asks Rito to go get her a drink, so Rito heads to the store where he is suddenly attacked by Yami-chan as a test. Rito tells her that Lala is back at home building something, in which after hearing this, Yami-chan leaves. When Rito returns, he finds that Lala constructed a large drill machine which she intends to use to dig underground and hopefully find a hot spring. Mio, Risa, Mikado-sensei, Yami-chan, Haruna-chan, and Saruyama are all invited to join Rito and Lala dig underground. As they travel, they find Tokugawa's hidden treasure and the entrance to Atlantis, which Lala blatantly passes by due to there being no presence of a hot spring nearby. They eventually come across what is called the Seven Colored Hot Springs due to the water appearing as seven different colors. All the girls enjoy using the big and spacious springs, while Saruyama and Rito are stuck using a very small and cramped one. Saruyama decides to get out of the small spring and mess with the girls in the other hot springs. Rito soon follows, and sees Saruyama chasing after Risa and Mio, which Rito then tells him to stop. They come across Mikado-sensei and Yami-chan, who then punches them both with her hair stating that she hates ecchi people. Lala then tells Haruna she needs to leave the spring to try and find a hot spring she can bring back to Rito's house. Rito then finds Haruna and they try to start a conversation with each other, which is then interrupted by Lala who tells them that they need to leave quickly because she accidentally hit an underground volcano. They come across a civilization of moles who seek to rule the Earth's surface, but the moles are then killed by the flowing magma, and everyone returns safely to the surface.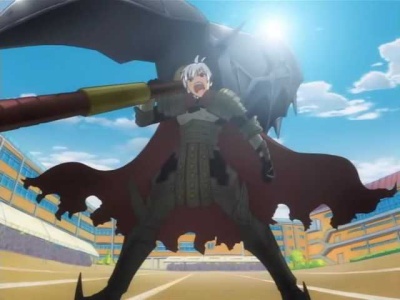 #19 - A Frightening Field Day! 8.01
Season 1 - Episode 12
A perverted day for Rito at a sports festival, he keeps on accidentally touching Haruna and he thinks she hates him. The contests dont make sense and the principal makes the girls do things just to please his sick desire. This day gets worse and worse for Rito.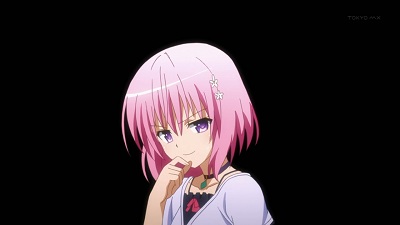 #20 - Doubt and Dish 8.00
Season 3 - Episode 2
Mea speaks with the mysterious voice about her day. The voice reminds Mea about her job; killing Rito and reverting Yami back to an assassin. Meanwhile, Momo warns the dangers of Yami to Rito and convinces him that Yami may change back and kill him anytime. Next, Momo is surprised to see Mikan invite Yami over for cooking lessons. Nana also comments about making a new friend to Lala. During the dinner service, Rito freaks out over Yami's Taiyaki soup and thinks she may have set a trap. He nearly vomits and asks to go shopping. During bedtime, Rito finds Momo in his bed. Momo warned Rito earlier that she must protect Rito to allow the harem plan to progress. Yami may kill Rito in his sleep. As Rito tries to sleep, Momo caresses him every way, forcing Rito to shove her aside. As Rito later takes a drink, Yami asks Rito for a talk. Yami explains about her cooking lessons and compares it to her attacks. Momo mistakens it for an assault and jumps down to defend Rito. Yami only wanted to know if Rito enjoyed her Taiyaki soup. The next day, Yami also becomes enrolled. Mea finds with Yami and explains how she is Yami's sister with similar abilities. During class, Yami does not get along with other students and blocks people from befriending her. Momo offers to help but get rejected too. Meanwhile, Mea asks Nana about Rito. Nana simply replies, "He's a beast." Her rambling comments about Rito only interests Mea, who then goes to find Rito herself. Momo then talks to Mikado-sensei, who loved Yami being enrolled. She tells Momo how Yami's lifestyle has been nothing except fighting. While Yami is sitting on a bench wondering about her feelings Yui approaches Yami and tells her that not understanding their own feelings is normal, and she too does not understand her own feelings. Then Nana asks Yami if she's seen Mea. While Rito is asleep on the roof Mea climbs on top of Rito and whispers how she'll be able to know what he's truly like once they are "joined together".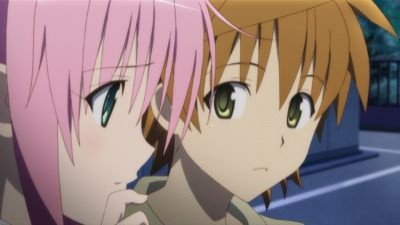 #21 - Yami-Yami Fashion / Wonderful Love / The Twins Escape 7.99
Season 2 - Episode 4
Risa and Mio find Yami reading fashion magazines. As Yami always wears the same clothes, Risa and Mio bring Yami to a clothes shop and try a new style. Yami found a new attractive style but cannot use her weapons without damaging her clothes. In the end, she appears to have reverted to her normal clothes, but with a surprise. When Haruna takes her dog, Maron, out for a walk, she feels that someone is stalking her. She finds Oshizu on her break from Mikado-sensei's clinic work and asks for help. Lala helps Haruna by making a machine that switches their bodies. Using the bait trick, Lala and Oshizu defeat the stalker. The stalker was an alien dog that fell in love with Maron. Gid the king orders Zastin to retrieve Nana and Momo because they escaped to evade studying the Royal Lineage of Deviluke. Nana and Momo try to hide in Rito and Mikan's house, but run after Zastin finds them. Nana and Momo then use their cellphones to summon dangerous animals and plants to attack Zastin and his assistants, forcing him to admit defeat.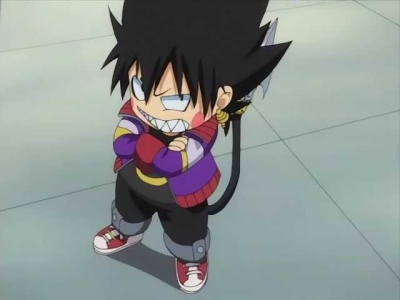 #22 - The Greatest Man in the Universe 7.96
Season 1 - Episode 13
The day starts out like any other day for Rito, Lala right up in his face. This morning Zastin is at Rito's house to speak with him. He tells him that Lala's father is coming to see him to make sure that he is worthy of marrying Lala. Throughout the day Rito worries about what Lala's father looks like and can't get it out of his mind. Today at school all of the girls that have appeared throughout the other episodes seem to make his day "interesting." Rito gets called to the roof to speak with another girl that is introduce in this episode, but after he gets done talking to her he hears a mans voice. The woman was a test by Lala's father to see if Rito was worthy, but he fails. Rito, after seeing a little kid standing in front of him, doesn't believe that this is Lala's father. He soon shows why he is the ruler of the universe. Lala runs to the roof before anything can happen and saves Rito. After seeing his daughter protecting Rito and telling why she loves him, King Deviluke challenges Rito to become the number one man in the universe. Rito goes home and thinks this over and decides that he is going to do it.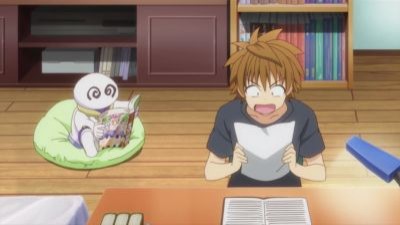 #23 - Beach Girls / Late Night Tutor / Love Master 7.94
Season 2 - Episode 6
Part A.) Rito and the others visit Saki's private beach. Saki tries to win Lala in her Watermelon Split contest, but Rito, tossed in the air by Nana, destroys the watermelons. Momo summons an alien watermelon and Saki offends it, causing it to attack everyone. After Rito, Lala, and Ren attack the watermelon, Yami splits the watermelon into halves. Part B.) Haruna receives a 98 on a math test while Rito receives an absymal 18. He bumps into Yami, who tells him to seek Lala for help. To Rito's surprise, Lala receives a perfect 100. Peke explains to Rito about Lala's genius intellect. Despite Lala helping Rito study for tomorrow's exam, Rito blanks out, forgetting how to do the problems. Part C.) Lala's progress with Rito continues to stall. Risa and Mio help Lala by giving her a book on seduction techniques. Lala tries many methods, but only makes Rito angrier. Then, Lala tries the "Candlelight Trick" in which she seduces Rito with sexy clothes. Although that method failed too, Rito admit that he enjoyed having a surprise event, inspiring Lala to continue her seduction techniques.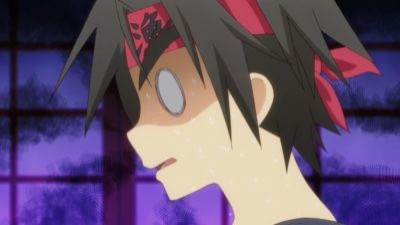 #24 - Things You See In the Dark / Meet the Yuuki Family! / Sleepover Party 7.88
Season 2 - Episode 2
Lala creates a mess of her own gadgets at school. As Rito tries to keep Haruna away from Lala's gadgets, Rito and Haruna accidentally activate the warp ring, sending both of them into an unknown location naked. Haruna and Rito explain about their background, but gets discovered by Mikado-sensei as the unknown location was in her clinic. Haruko, Mikan's teacher, wants to visit Saibai (Mikan and Rito's dad) because she is a fan of his manga. Due to a new deadline, Saibai is unable to visit. Lala dresses Rito up to be Saibai, but Rito is too nervous, acting strangely in front of Haruko. Lala invites Haruna and Yami to a sleepover party. After a big dinner, Rito decides to take a bath. However, Lala does not know about Rito's presence and invites all the girls to the enlarged bathroom she created (Rito is still inside). Although the enlarged bathroom is large enough for Rito to hide and escape from the girls, Peke activates Lala's controller, restoring the bathroom to its original size and putting Rito in front of all the girls all naked.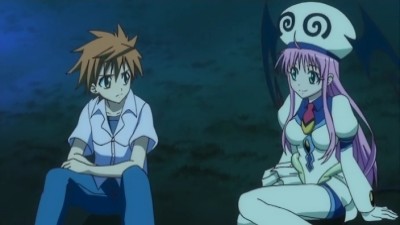 #25 - A Broken Engagement!? 7.85
Season 1 - Episode 2
Rito discovers from Zastin, Lala's uncle and leader of her personal guard, that if he were to back out of his engagement with Lala, that he would be killed and Lala's father would destroy the Earth. Rito hypothetically asks him if it were somehow possible to back out of his engagement and not suffer the repercussions. Zastin tells him that he must feel up Lala's breasts once more within the first three days of his engagement in order to call it off. While he attempts many times to touch Lala's breasts, he does not make it in time, and thus is stuck with the engagement. The next day while at school, a new transfer student is announced to the class. Just as Rito is thinking that school is the only place that he can breathe anymore, Lala is brought into class and all of Rito's hopes of a quiet school life fall apart.