Tim and Eric Awesome Show, Great Job!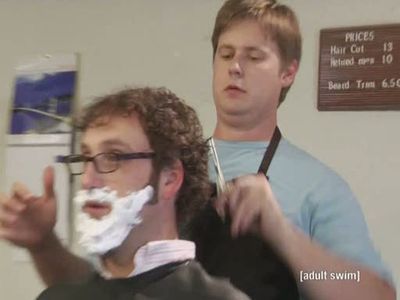 #1 - Hair 8.77
Season 4 - Episode 8
Cinco introduces the C-Bund as a "great alternative to pants", Tim graduates from barber school, "Live With my Dad" song, J.J. Pepper's Videography ad(guest starring Will Forte), Afternoon Review, Eric ruins Tim's graduation party, "Reasonable Shirts", Cinco Musical Tapes presents "Groban sings Casey" ad.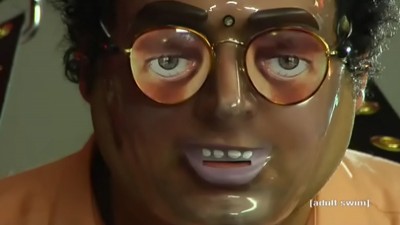 #2 - Handsome 8.67
Season 5 - Episode 8
Tim and Eric go on a quest to determine who is number one handsome man. Meanwhile, a party is successfully slept away with Cinco Face-Time Party Snoozer.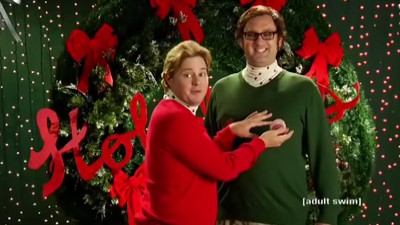 #3 - Man Milk 8.50
Season 5 - Episode 10
The half-hour series finale. Tim and Eric are gearing up for the holidays when they begin to lactate. Thinking quickly, the boys (and Eric's son Koi) decide to bottle their man milk to give as holiday gifts. However, they neglect to pasteurize the milk, killing everyone. Meanwhile, Ben Stiller and Ben Hur join forces to form the dynamic comedy duo Ben StillHur, Cinco unveils its Privacy Helmet, David Liebe Hart sings about overseas STDs, and Paul Rudd watches dancing men on a computer and becomes smitten with Tayne.
#4 - Larry 8.50
Season 3 - Episode 9
Larry gets jealous of Mr. Henderson and Carol's date together. Burps with Tim & Eric. Tairy Greene's acting class continues. Bobby Stoan performs on the Channel 5 Child Showcase.
#5 - Tommy 8.50
Season 4 - Episode 5
Tim and Eric hire Tommy Wiseau to direct a "Pig Man" sketch for them. Features clips from The Room. Cinco introduces the Mancierge service.
#6 - Snow 8.44
Season 4 - Episode 1
When a blizzard snows in Tim and Eric, they reminisce over hot chocolate and urine with David Liebe Hart and Richard Dunn.
#7 - Origins 8.36
Season 4 - Episode 6
Tim and Eric's origins, The Cinco Mouth Decorator, Dr Steve Brule with a tip on eggs.
#8 - Jim and Derrick 8.32
Season 3 - Episode 6
Jim and Derrick board, Chug, and get chill with Elisha Cuthbert in the zone. You just got bonged! And damn... Drez plays it all back. Also, Cinco's Pep Pep makes an appearance. (Elisha Cuthbert and John Mayer)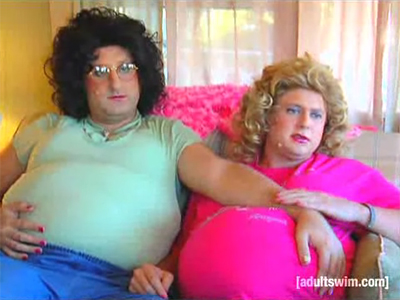 #9 - Pepperoni 8.25
Season 2 - Episode 9
The Bread Heads try to get to a Bread Harrity concert. The Mayor and Roy Teppert have a disagreement.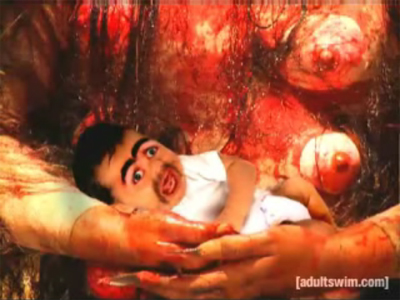 #10 - Forest 8.25
Season 2 - Episode 5
Tim's life is saved by the Snuggler.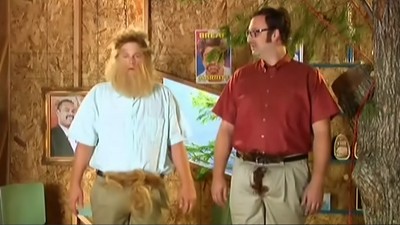 #11 - Puberty 8.24
Season 5 - Episode 2
Eric hits puberty naturally before Tim, causing Tim to seek out synthetic ways to activate puberty to catch up with Eric. Fortin' with Will.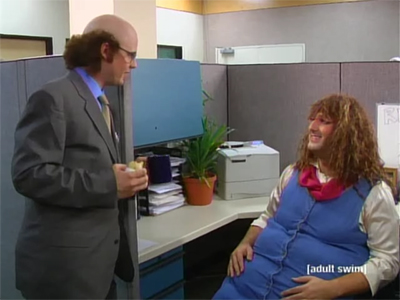 #12 - Chunky 8.18
Season 1 - Episode 5
A keytar group plays a song about sports. Carol's secret love for her mean boss finally reaches a boiling point. The new Cinco toy, "T'ird", is advertised. Danny Mothers interviews Glen Tennis about his second film "Crystal Shyps". Vernon does some ventriloquism with his potty mouthed dummy, Horsy, with Richard Dunn on the drums. And Eric pulls a prank on Tim.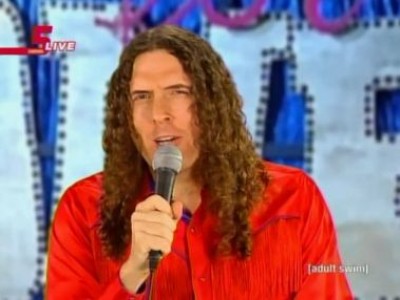 #13 - Muscles for Bones 8.16
Season 3 - Episode 8
Channel 5 Live broadcast of the Muscles for Bones benefit for Richard Dunn. Starring Richard Dunn, David Liebe Hart, Casey and his Brother, Uncle Muscles, Steve Brule and more!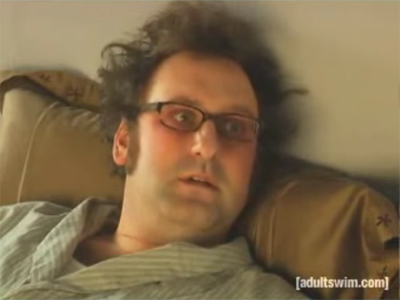 #14 - Coma 8.15
Season 2 - Episode 4
Tim's birthday is coming up and Eric can't wait, so he takes Wait Mate pills. The problem is, he takes too many and loses his memory.
#15 - Jazz 8.14
Season 3 - Episode 7
Tim and Eric lead their jazz band through jazz chatter scats. The Beaver Boys visit a restaurant and come into contact with some shrimp and white wine. How do you truly clean up after your cat? (Maria Bamford and Bill Hader)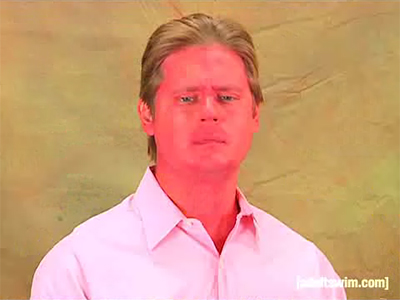 #16 - Embarrassed 8.14
Season 2 - Episode 10
Tim gets embarrassed when Eric shows a naked baby picture of him. Steve Brule gets drunk while doing a report on wine.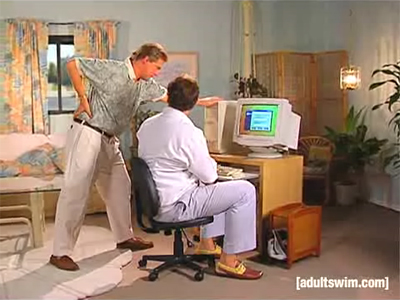 #17 - Innernette 8.13
Season 2 - Episode 8
The Innernette comes with 103 websites and virus protection! Get your Pussy Doodle and have your cat paint you a picture.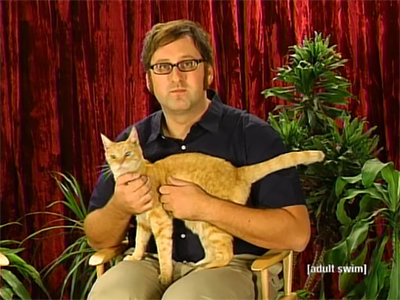 #18 - Cats 8.13
Season 1 - Episode 3
Tim learns a new magic trick that runs him into some problems. "Kid Break" shows children that it's okay to sit down while you pee. Tairy Greene teaches new Gravy Robber employees the best gravy robbing techniques. Tim draws free portraits on Hollywood Blvd. And Jaime Stevens returns home from his summer abroad with newfound powers in "Kitty Cat Man".
#19 - Rascals 8.09
Season 3 - Episode 3
Those Darn Rascals. Bob Odenkirk tries to fix Tim and Eric's friendship when Tim kills Eric's rascal. Cinco introduces the Cinco-Fone. Tairy Greene teaches a child acting class.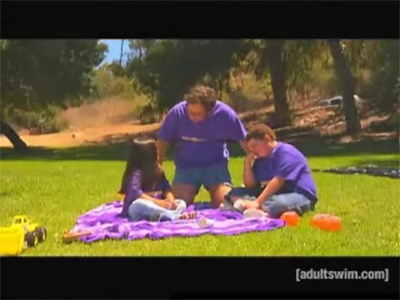 #20 - Dad's Off 8.08
Season 2 - Episode 2
Armando's day at work gets sidetracked when he finds an unexpected surprise waiting for him in the dumpster. Spagett!! The Heidecker family shows off their state-of-the-art technology at having fun while Eric's family makes do with a home-made slip & slide.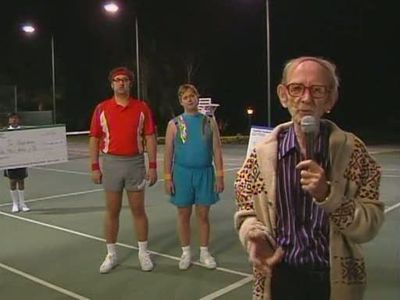 #21 - Tennis 8.08
Season 4 - Episode 10
Tim and Eric engage in a high stakes game of tennis, while Richard Dunn presides. Meanwhile, Glen Tennis sits down with Grum to discuss the release of their latest film.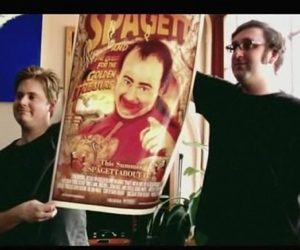 #22 - Spagett 8.04
Season 3 - Episode 4
The Adventure Begins. Spagett goes Hollywood, and a friendship is threatened. Love is not always hard. (John C. Reilly, Brian Posehn, Steve Schirripa)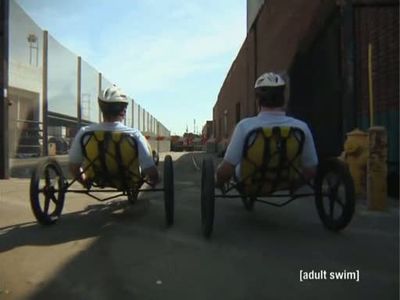 #23 - C.O.R.B.S. 8.00
Season 3 - Episode 5
When Tim and Eric run out of show ideas, Aboxa balloons drops by. Steve Brule has a report about the internet, where he then makes a video, and hopes it will go viral. C.O.R.B.S (Cops on Recumbent Bikes) attempt to stop a group of Colombian terrorists trying to take over a sugar factory, which ends in a terrible tragedy, and some sound effects. Grill Vogel teaches you how to hug appropriately in a workplace. We're also introduced to a family dealing with divorce, and the Cinco Eye Tanning System. (John C. Reilly and Ray Wise)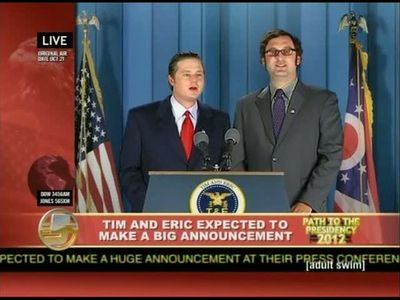 #24 - Presidents 8.00
Season 4 - Episode 7
Ben Hur hosts The Ben Hur Show Awesome. Includes a commercial for FreeRealEstateForJim.biz, a Kid Break about bloody nipples, Channel 5 Presents The Human Body with Dr. Steve Brule, Tim and Eric both want to be President during a press conference, "White Boys", Michael Ian Black Focus on Comedy with guests Tim and Eric, and an ad for The Best of Pusswhip Banggang album.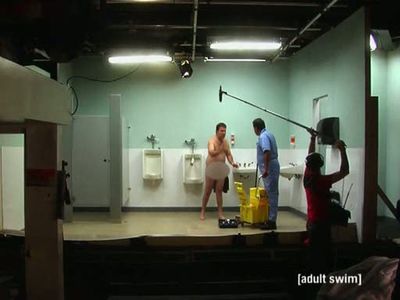 #25 - Balls 8.00
Season 4 - Episode 2
When Eric's 3-T Scroat starts acting up, Tim is forced to investigate. But can you find the real one?