Three's Company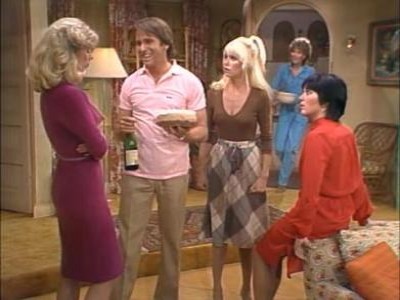 #1 - Upstairs, Downstairs, Upstairs 8.53
Season 5 - Episode 1
Jack wears himself out trying to serve dinner in three places at once.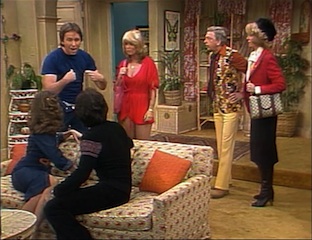 #2 - Chrissy's Cousin 8.41
Season 5 - Episode 7
Chrissy's clumsy cousin Cindy moves into the apartment.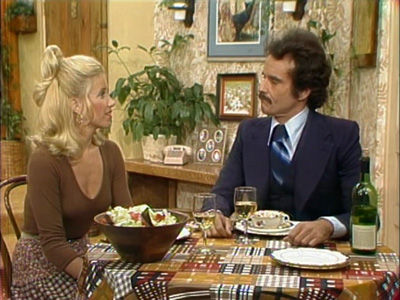 #3 - Cyrano de Tripper 8.38
Season 2 - Episode 8
Jack agrees to cook dinner for Chrissy and her date, who happens a very fussy gourmet.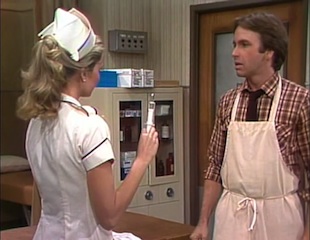 #4 - Jack Bares All (1) 8.36
Season 6 - Episode 1
Jack clashes with a sassy nurse named Terri Alden, whom Janet invites to take Cindy's place as the third roommate.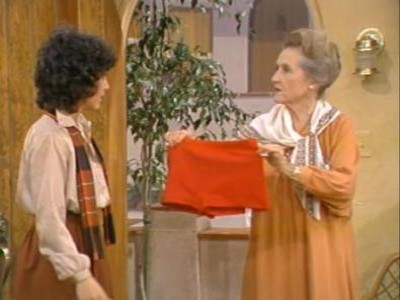 #5 - The Older Woman 8.36
Season 3 - Episode 14
Jack tells Janet and Chrissy that he's going out with an old woman. Janet and Chrissy thinks that it is roper's aunt after she shows up with his swimming trunks after Jack says that he went surfing with his new girlfriend.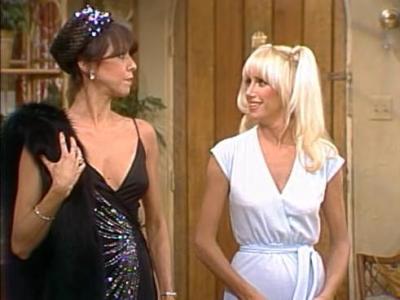 #6 - A Hundred Dollars a What? 8.33
Season 5 - Episode 3
Chrissy doesn't realize that her childhood friend is a high-priced call girl.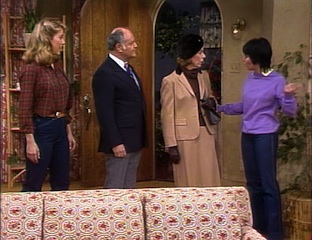 #7 - Jack to the Rescue 8.33
Season 5 - Episode 8
When Cindy loses her job, Jack gets it back by finding her boss in an uncompromising position.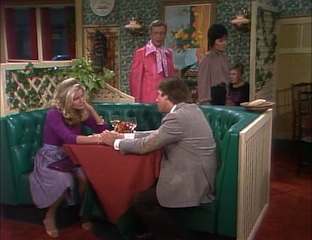 #8 - Lies My Roommate Told Me 8.33
Season 6 - Episode 6
Jack plays Cyrano for a tongue-tied Larry, who has talked Terri into a date.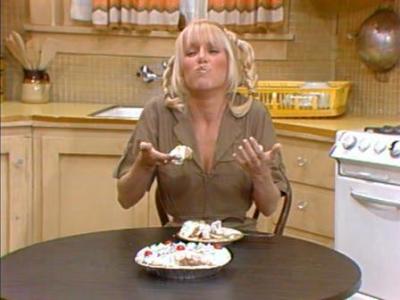 #9 - The Bake-Off 8.30
Season 3 - Episode 19
Chrissy accidentally eats Jack's pie right before a pie contest he is supposed to be in.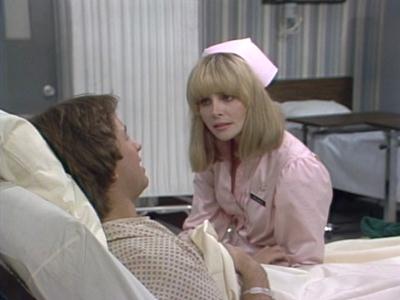 #10 - Jack's Tattoo 8.27
Season 8 - Episode 16
Jack needs surgery to remove a tattoo that his navy buddies made him get while drunk.
#11 - Chrissy's Night Out 8.25
Season 2 - Episode 9
Chrissy's friendly nature causes her to be mistaken for a hooker by an undercover cop.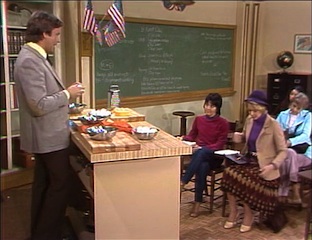 #12 - Teacher's Pet 8.25
Season 5 - Episode 16
After Jack teaches a cooking class, Dean Travers' niece offers herself to Jack in exchange for a good grade.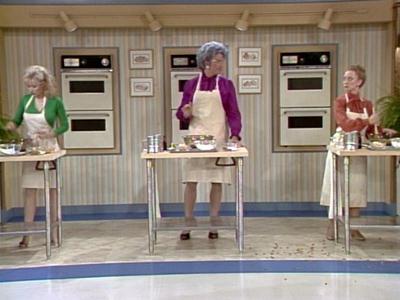 #13 - Grandma Jack 8.22
Season 8 - Episode 7
To win a baking competition, Jack tries to pass as an old grandmother.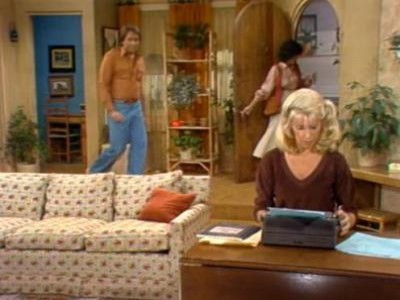 #14 - The Love Diary 8.22
Season 3 - Episode 3
Chrissy discovers a spicy diary and uses it to perfect her typing skills. Mr. Roper reads the diary and thinks that Chrissy has it in for him!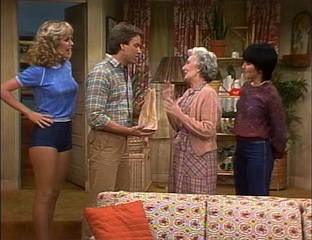 #15 - Jack's Other Mother 8.22
Season 5 - Episode 10
An old lady takes a motherly interest in Jack but interferes with his love life.
#16 - Chrissy's Hospitality 8.20
Season 4 - Episode 9
Chrissy falls and hits her head in the bathtub while trying to put up a shower curtain. Jack and Janet take her to the hospital when she starts to get dizzy. They misunderstand the doctor when he comes out of Chrissy's room crying, and think that she has only a short time to live.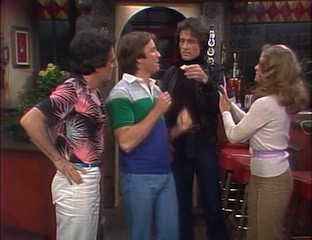 #17 - Dying to Meet You 8.20
Season 5 - Episode 20
Jack fakes his own death to avoid a barroom tough who is bent on killing him.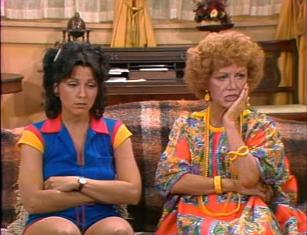 #18 - Good Old Reliable Janet 8.19
Season 3 - Episode 2
Janet and Mrs. Roper participate in a nude beach protest, and end up walking home without their clothes.
#19 - Look What I Found 8.18
Season 8 - Episode 15
The trio leaves a stray kitten at Mr. Furley's doorstep, but the gift threatens Furley's ability to pass an inspection ordered by his brother Bart.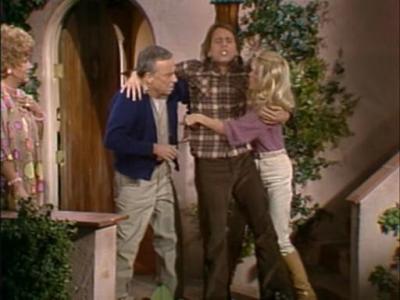 #20 - The Harder They Fall 8.18
Season 3 - Episode 18
Jack ruins Janet's date when he has a broken leg.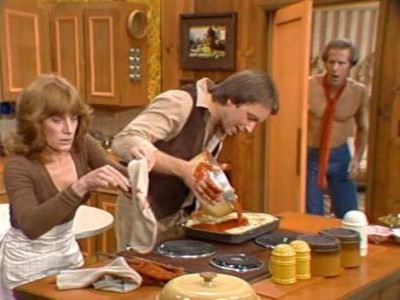 #21 - Triangle Troubles 8.17
Season 3 - Episode 22
Jack goes out with a girl, and he is afraid that she will leave him due to his living arrangements. But what he doesn't know is that she has the same problem that he does.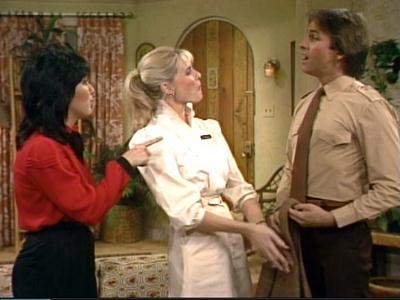 #22 - Jack's Double Date 8.17
Season 7 - Episode 17
Janet and Terri bet Jack that he can't go without women for a week, but the temptation of a new flame gives him little chance to collect.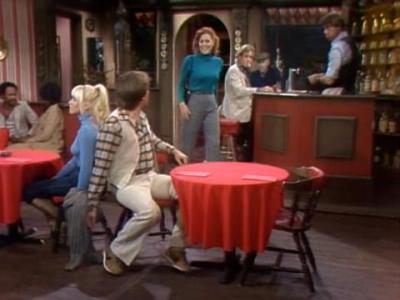 #23 - Handcuffed 8.14
Season 4 - Episode 18
Chrissy borrows her policeman cousin's handcuffs and accidentally gets locked together with Jack who has a big date waiting for him.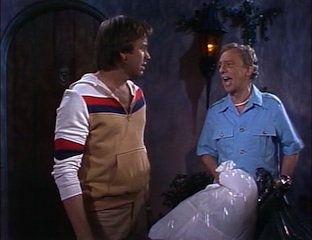 #24 - In Like Larry 8.14
Season 5 - Episode 15
When Jack and Larry switch apartments, Jack feels unwanted and misses life with the girls.
#25 - Honest Jack Tripper 8.14
Season 5 - Episode 22
Jack learns that honesty is not always the best policy when he commits to always telling the absolute truth.