Thomas The Tank Engine & Friends
#1 -
Season 16 - Episode 0
#2 - A Happy Day For Percy
Season 10 - Episode 51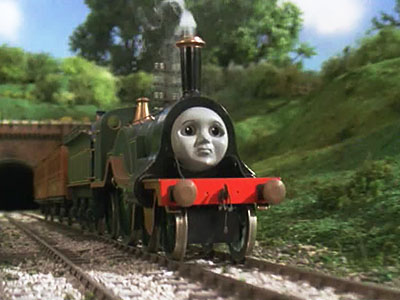 #3 - Emily's New Coaches 7.57
Season 7 - Episode 1
Emily is a new steam engine who has recently arrived on the Island of Sodor. She accidentally takes Annie and Clarabel, and Thomas gets annoyed by this. Later, Oliver & Toad get stuck and Thomas is fast approaching! Emily, who is closeby, sees this and rushes to the rescue, but will she prevent a possible serious accident from occuring in time?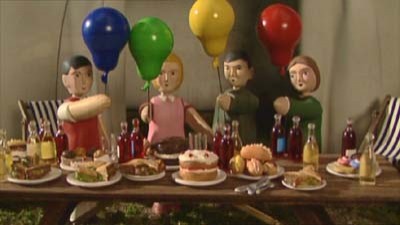 #4 - Thomas & The Tuba 6.67
Season 8 - Episode 1
Thomas is to collect the Brass Band to take them to the park as a treat for Lady Hatt's birthday but when he does is in such a hurry that he leaves the Tuba Player standing on the platform. Will the Fat Controller's party plans for his wife be tarnished?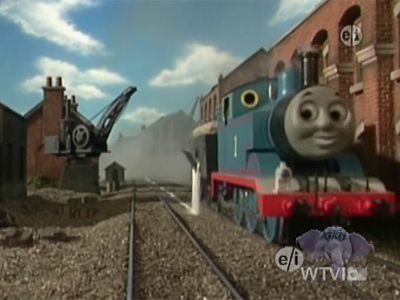 #5 - Follow That Flour
Season 10 - Episode 1
Thomas is not happy that James is collecting the flour for the cakes to be had at a children's party. Thomas is so cross that he is stuck shunting trucks instead, he bangs James' flour truck hard, which causes the door to fly open, resulting in all the flour pouring out! Thomas goes to get a replacement flour truck but by the time he reaches the mill, it is shut. But there is one last hope: There is another truck full of flour – behind a whole lot of empty ones.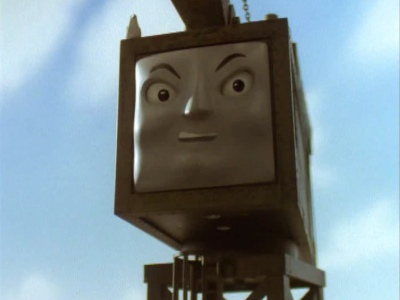 #6 - Cranky Bugs 6.74
Season 5 - Episode 1
At the docks, Thomas and Percy are working hard, but the new crane, Cranky, thinks little engines are useless - "bugs" he calls them. But that night some rough weather makes a tramper crash into the shed where Gordon, Henry, James and Duck are, trapping them inside. Cranky is then toppled over by the high winds. Who will save them all now?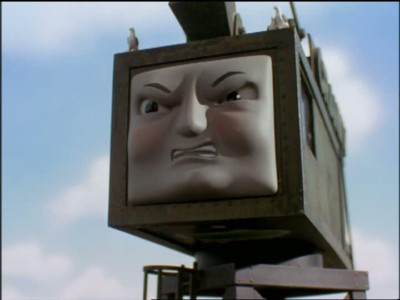 #7 - No Sleep For Cranky 6.48
Season 6 - Episode 1
Cranky is always feeling, well... cranky! This is because every night he has to stay up late to load and unload important goods being imported and exported at the harbour. Then one day, Salty (unintentionally) gets on the crane's nerves so much that in a fit of rage, Cranky drops some pipes that knock over a shed resulting in blocking the Main Line! Harvey won't be able to clear the shed till morning so how will the time be able to be passed?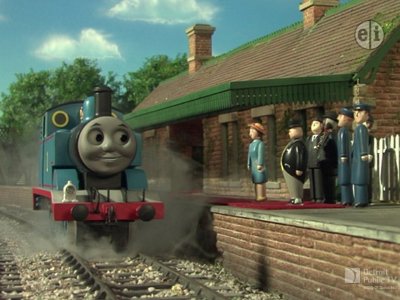 #8 - Thomas & The Storyteller
Season 11 - Episode 1
Thomas is chosen to show a storyteller around Sodor so she can write a story in time for the new library opening. However, a series of bad incidents for his friends could ruin the story!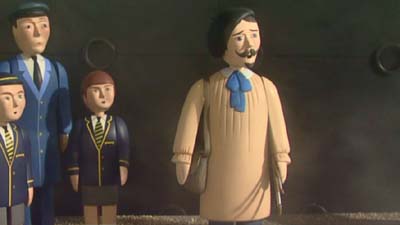 #9 - Percy & The Oil Painting 6.92
Season 9 - Episode 1
A very famous Artist wishes to choose a suitable location to paint for his picture which will be entitled "The Spirit Of Sodor". Percy tries many places which he thinks the Artist may like, but what Artist sees, Artist doesn't like…
#10 - Who's Geoffrey?
Season 19 - Episode 1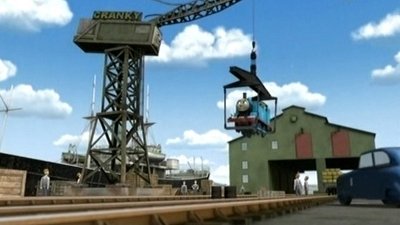 #11 - Creaky Cranky 5.93
Season 13 - Episode 1
#12 - Thomas' Tall Friend 7.38
Season 14 - Episode 1
Thomas is called upon to deliver a giraffe to the Animal Park, but he can't wait to show the giraffe to the children and leaves without waiting for the giraffe's keeper and soon runs into trouble. The giraffe will not follow Thomas' orders and will not lay down to go under a bridge.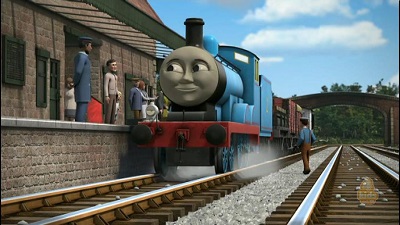 #13 - Ole Reliable Edward
Season 18 - Episode 1
The bigger engines tease Edward for being old and unreliable, especially Gordon.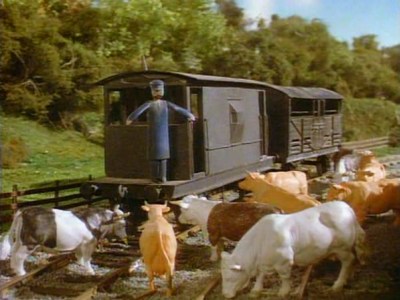 #14 - Cows 7.58
Season 2 - Episode 2
Old Edward unknowingly loses part of his train due some bothersome cows who break out of their field and cause a coupling to come loose. He feels very cross when Henry and Gordon laugh about it and boast that cows wouldn't bother them. However, they'd reckoned without Bluebell the cow!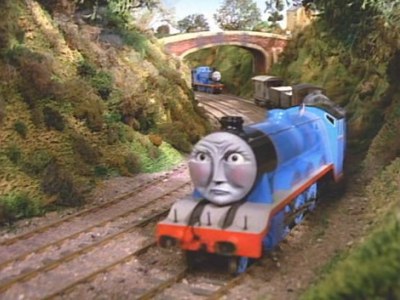 #15 - Edward & Gordon 7.38
Season 1 - Episode 2
Edward is feeling sad, as all the other engines are bigger and younger than him. But when Gordon gets stuck whilst pulling trucks up a hill, it's Edward to the rescue.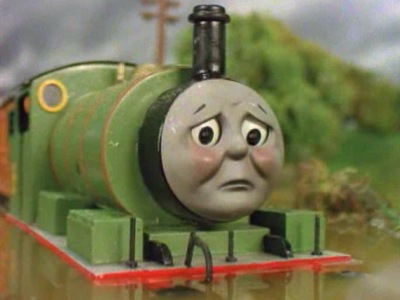 #16 - Percy's Promise 6.92
Season 3 - Episode 2
It's holiday time and the Vicar's Sunday School is spending the day at the seaside. Percy promises Thomas that he'll get Annie, Clarabel and the children home safe and sound; but floods spell disaster for the little engine until...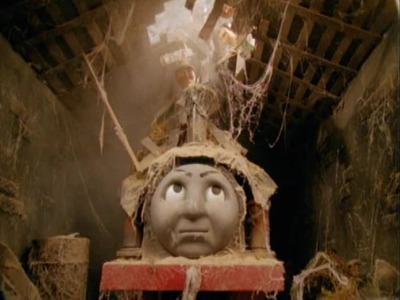 #17 - Sleeping Beauty (Part 2) 8.00
Season 4 - Episode 2
Thomas tells the engines the rest of his story about Duke and how a group of people set out to save him.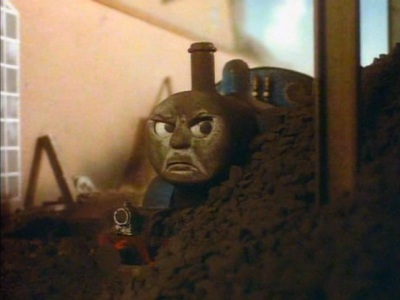 #18 - Thomas, Percy & The Coal 7.14
Season 2 - Episode 1
Thomas boasts of how his blue paintwork looks splendid. But he doesn't look so splendid when he gets covered in coal dust whilst working at the Coal Hopper! Percy laughs at his friend's accident, but it's not long before he has a mishap with coal too!
#19 -
Season 16 - Episode 0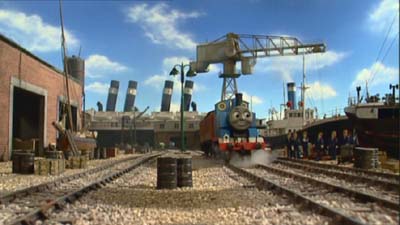 #20 - Thomas & The Rainbow
Season 9 - Episode 2
Thomas sees a glorious rainbow in the Sodor sky, upon the ending of a great storm. After confiding with Edward, who says that rainbows hold something magical at the end, Thomas sets out to find just what that something could be, but neglects the fact he has work to do.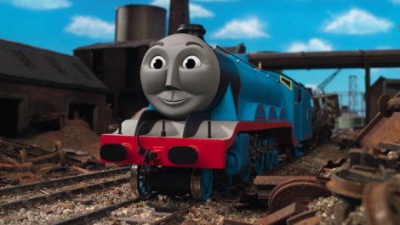 #21 - Steady Eddie 5.79
Season 12 - Episode 2
Edward is told to take a brass wheel along the express line to the Waterworks, but opts to take the branch line so the people can see him. Although Edward is warned the line ahead is bumpy, he continues onwards as the school is nearby. When the wheel begins to tear the rope, Edward goes up Gordon's Hill, but then the wheel rolls off to the Smelters. Edward saves it just in time and has it chained on so it won't fall off.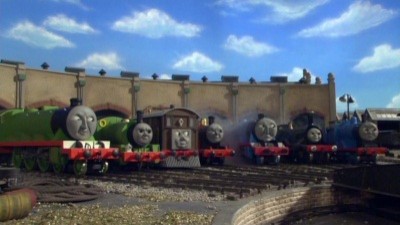 #22 - Thomas and the Billboard 6.58
Season 12 - Episode 1
It's Knapford Station's birthday and all the engines are preparing for the festivities. When a photographer comes to photograph the engines for a billboard Diesel accidentally obscures Thomas; Thomas thinks this was on purpose and is so distracted he goes the wrong way and knocks the billboard over. This gives an opportunity for all the engines to be in a new photo, but when Diesel isn't told, he has to do all the others' jobs. Everything is soon rectified and the new photo is put up at Knapford.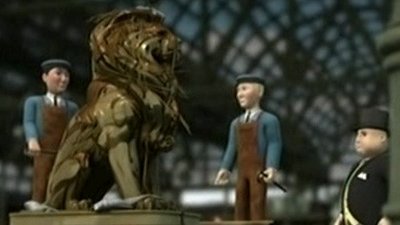 #23 - The Lion of Sodor 5.75
Season 13 - Episode 2
Thomas is given the job of transporting a crate containing a very special statue called The Lion of Sodor. However, he thinks his cargo is a real lion, so he decides to take extra care of it. Throughout his journey to Knapford, Thomas decides to make sure that the lion is well fed and comfortable, so he collects syrup from Henry, fish from Edward, and straw from Toby, which are all placed inside the crate. When Thomas arrives at Knapford station, the crate is opened up and everyone is shocked to see the Lion of Sodor in a terrible mess. Thomas feels very silly and owns up to what he thought of his cargo. The Fat Controller and Henry explain that the Lion of Sodor was a special statue which got broken. Thomas' cargo was the new statue of the Lion. Feeling silly, Thomas agrees to get the statue clean. Taking advice from Henry and Edward, Thomas gets it cleaned at the wash-down and then polished at the Sodor Steamworks. Once the Lion of Sodor looks very clean, Thomas takes Toby's advice to a short-cut via the windmill to get back to Knapford station, where the Mayor of Sodor is very pleased to see the new statue.
#24 - James in the Dark 5.54
Season 14 - Episode 2
James refuses to be fitted with an old-fashioned-looking lamp to help him see in the dark. However, the stubborn engine begins to regret his short-sighted decision when he is called upon to pick up opera singer Alicia Botti, the Mayor of Sodor, and the Brass Band for an evening concert, but accidentally collects Farmer Trotter, Farmer McColl, and their animals instead!
#25 - Not So Slow Coaches
Season 18 - Episode 2
Annie and Clarabel experience some unexpected high-speed adventures.