The West Wing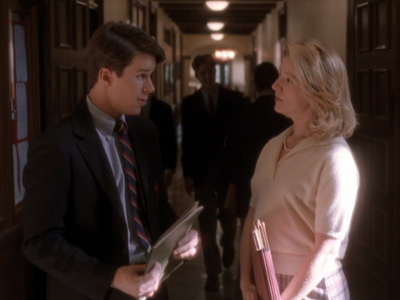 #1 - Two Cathedrals 8.83
Season 2 - Episode 22
On the day of Mrs. Landingham's funeral, the staff deals with a Haitian presidential crisis and the law suit against the big tobacco companies, and Bartlet must decide about running for reelection.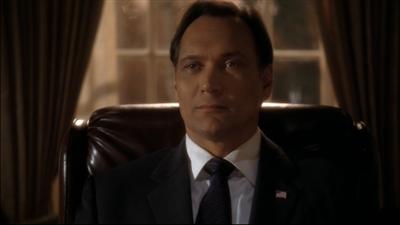 #2 - Tomorrow 8.81
Season 7 - Episode 22
After seven seasons of the Award-winning drama series, the Bartlet Administration prepares to leave the White House and The West Wing. While Santos and his winning camp are nervously gearing up for the presidential inauguration, current President Bartlet (Martin Sheen), CJ (Allison Janney) and the others fondly look back as they prepare to leave the White House forever.
#3 - 2162 Votes 8.73
Season 6 - Episode 22
At the Democratic National Convention, Russell, Santos and Baker jockey for the 2162 votes that will give one of them the nomination for President, and the opportunity to lose to the apparently unstoppable Vinick in November. Meanwhile, the President must make a decision before it's too late on whether to deploy a secret rescue mission to the space station, and the FBI is asked to determine who leaked the existence of the military shuttle to the press.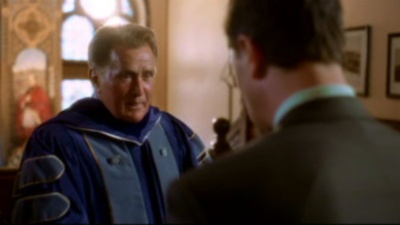 #4 - Commencement 8.55
Season 4 - Episode 22
Bartlet finally tells the staff the truth about the death of Shareef; Danny agrees to hold off on the story after five alleged terrorists go missing; Andy goes into labor after once again refusing Toby's marriage proposal; Zoey is kidnapped from a nightclub on the night of her college graduation.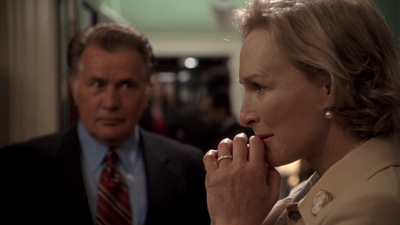 #5 - The Supremes 8.51
Season 5 - Episode 17
Jed and the staff vet potential Supreme Court appointees; Toby and Andy don't see eye-to-eye on her fact-finding trip to the Middle East; Donna's parents are the unlikely inspiration for the resolution to the problems arising from the judicial confirmation process.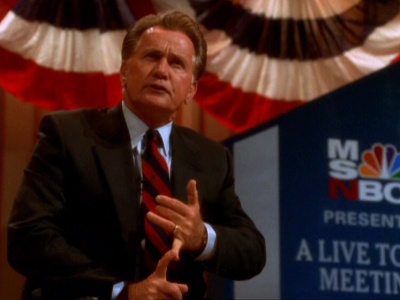 #6 - What Kind of Day Has It Been? 8.51
Season 1 - Episode 22
The staff deals with the crisis of an American pilot who was shot down in Iraq; Toby's brother is in danger on a space shuttle whose doors won't close; Bartlet and the senior staff walk into trouble as they leave a town meeting.
#7 - In the Shadow of Two Gunmen (2) 8.50
Season 2 - Episode 2
With the accomplice in custody, it's revealed that the intended target was Charlie, not Bartlet. The staff still awaits news about Josh, and recalls how C.J. and Donna came to join the Bartlet campaign.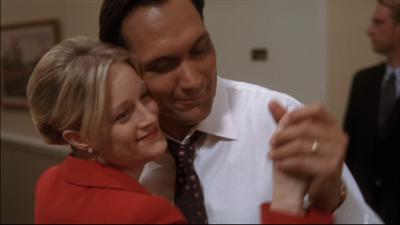 #8 - Election Day (2) 8.49
Season 7 - Episode 17
Abbey is in New Hamphire with Liz Bartlet-Westin and they are awaiting the results of Doug Westin's campaign for a seat in Congress. Members of both the Santos campaign and the Vinick campaign must decide how to handle a tragedy, as the voters around the country continue to cast their votes for the next President of the United States.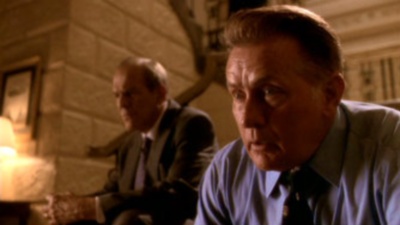 #9 - Twenty Five 8.48
Season 4 - Episode 23
When Bartlet learns that Zoey's kidnapping is the work of Qumari terrorists, he invokes the 25th amendment to diminish their leverage and eliminate any conflict of interest; since there's no Vice President, the power of the Presidency passes to Bartlet's chief political rival and the most powerful Republican in the country, the Speaker of the House, who immediately takes a very hard line; now that twins Huck and Molly have arrived, Toby wonders if he's capable of loving them enough.
#10 - In the Shadow of Two Gunmen (1) 8.46
Season 2 - Episode 1
While the staff awaits news regarding the injuries to Jed and Josh, they recall how Josh, Sam, and Toby became involved in the campaign three years earlier; Leo, Toby, and C.J. deal with inquiries on Secret Service protection policies, as well as the absence of executive authority while Jed was in surgery.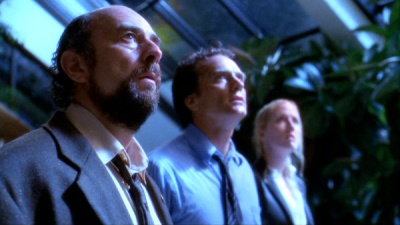 #11 - 20 Hours in America (2) 8.43
Season 4 - Episode 2
Donna teaches Toby and Josh an important lesson as their trek homeward continues; Sam staffs the President in Josh's absence and welcomes an old friend home; Bartlet hires a secretary and C.J. finds a Big Brother for Anthony; the situation in Qumar continues to escalate; Bartlet gets spooked by a photo op as the Dow continues its dive; and a pipe bomb kills 44 students at a Midwest university swim meet.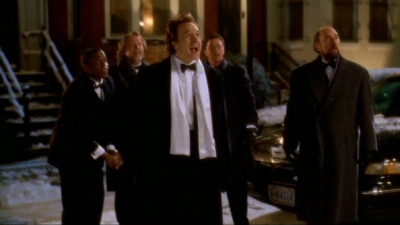 #12 - Inauguration (2): Over There 8.43
Season 4 - Episode 15
Toby discovers that Will's frankness, stubbornness, and commitment to ideals is much like his own; Charlie remains on the hunt for an inaugural Bible; Bartlet and the staff continue to debate over sending American troops into Kundu to stop a genocidal war until Laurel and Hardy provide some needed inspiration; Bartlet appoints Will Deputy Communications Director; Donna takes one for Jack when a comment he thinks he is making off the record is included in a "Post" article by Danny's editor.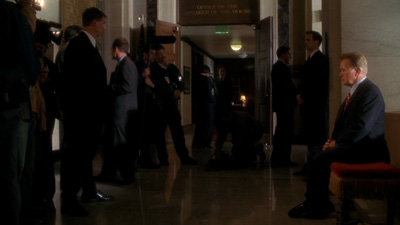 #13 - Shutdown 8.43
Season 5 - Episode 8
Jed's decision not to be held hostage by Haffley shuts down the federal government; unable to get through to Jed and fearing the worst, Leo calls in the reinforcements, and Abbey returns to Washington to deliver a message and provide her husband with a little perspective; after being benched from the staff meetings, Josh gets put back in the game by Jed and sets the stage for victory; disregarding the advice of more seasoned colleagues, Haffley makes a major misstep and loses his advantage over the White House; Jed and Haffley meet and reach an accord on the budget.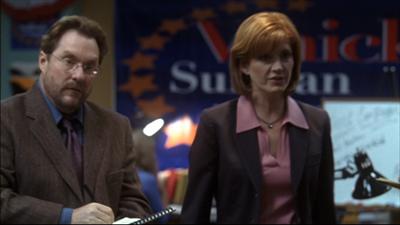 #14 - Election Day (1) 8.41
Season 7 - Episode 16
Election Day finally arrives, and between analyzing exit polls, and mulling over news reports, a few Santos staff members discover the joys of campaign romance. Meanwhile, C.J. ponders life after the White House; and Annabeth makes a tragic discovery.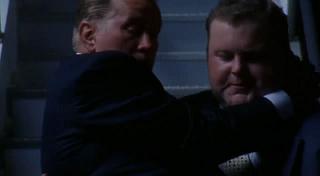 #15 - Impact Winter 8.41
Season 6 - Episode 9
As acting chief of staff, Josh calls Leo in for backup when the news about Jed's health hits; the staff follows the progress of an asteroid headed for earth; Jed struggles with his relapse as C.J., Kate, and Toby handle the repercussions of his illness on the progress of the China summit; Josh is outraged when Will uses Jed's paralysis as a political opportunity for Russell; Donna resorts to extreme measures when Josh avoids her repeated attempts to sit down for a personal discussion; after receiving some wise advice from Leo about the future, Josh makes a decision about the man he'll support in the upcoming presidential election.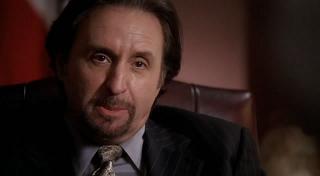 #16 - In God We Trust 8.39
Season 6 - Episode 20
Senator Vinick, now the Republican Presidential nominee, receives advice from former Bartlet political consultant Bruno Gianelli on how to win all 50 states in the general election, and more specifically in the near term how to present his religious views to the public and pick a running mate. Meanwhile, Bartlet wrestles with getting a minimum wage hike passed by attaching it to a bill necessary to raise the debt ceiling, and with how to unify his party in the face of a three-way race for the Democratic nomination.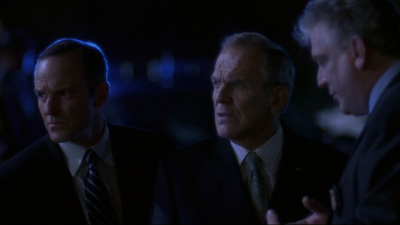 #17 - The Dogs of War 8.37
Season 5 - Episode 2
Bombs drop on Qumar upon Walken's orders; as the hours pass without any word on Zoey's whereabouts, tensions increase within the Bartlet family; Walken and Leo clash after Josh's suspicion that the opposition is using Walken's tenure in the Oval Office to advance their agenda is confirmed; Andy takes the twins home; Leo inflicts a new intern from a prominent political family on an unwilling Josh; Jed's staff is less than thrilled when they learn who will succeed Walken as Speaker of the House; the search for a new Vice President is accelerated; Zoey is rescued.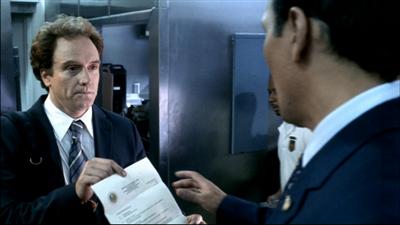 #18 - The Mommy Problem 8.34
Season 7 - Episode 2
Santos and Vinick have to deal with press fallout when it looks like the Bartlet White House is not going to continue the investigation into the press leaks.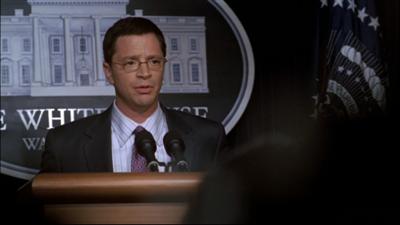 #19 - Duck & Cover 8.34
Season 7 - Episode 12
Bartlet must deal with the possiblity of a nuclear explosion in California, Kate is keeping a careful watch on the election in Kazakhstan and China's response, Will is acting as the government's voice this week, and Josh is trying to keep his political version of Tourette's in check.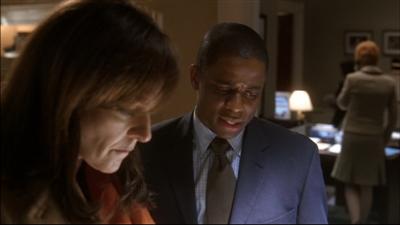 #20 - Institutional Memory 8.33
Season 7 - Episode 21
C.J. and Will both face uncertain futures as Bartlet and his staffers prepare to leave the White House to make way for the Santos administration.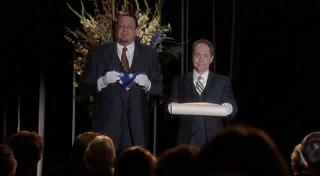 #21 - In the Room 8.32
Season 6 - Episode 8
Penn and Teller roll a lesson about the First Amendment into their entertainment at Zoey's White House birthday party, setting off a media frenzy and public relations nightmare; Baker drops out of the race, leaving the field free for Russell, who asks Josh to run his campaign; Jed takes a hard line on making significant gains on substantive issues in his last China summit; Vinick turns down Jed's offer of the U.N. ambassadorship to run for president; a fully ambulatory Donna has difficulty scheduling a meeting with Josh; Jed has an MS relapse which leaves him partially paralyzed and in a wheelchair.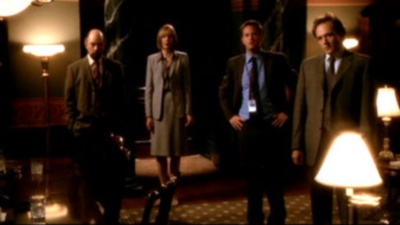 #22 - Life on Mars 8.31
Season 4 - Episode 21
On his first day at work, Joe Quincy pieces together three news leaks and uncovers a scandal which forces Hoynes to resign.
#23 - The Last Hurrah 8.31
Season 7 - Episode 20
While Santos is busy trying to select a new vice president, his wife finds her new responsibilities staggering. Meanwhile, Vinick ponders his next move.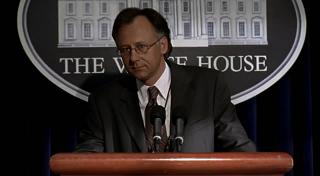 #24 - Liftoff 8.30
Season 6 - Episode 4
Margaret and Charlie prove to be invaluable allies as C.J. has a rough first day in her new position, made even more difficult by a Russian bearing radioactive gifts and a Defense Secretary's attempts to undermine her; Toby's less than stellar performance in the briefing room makes the search for a new press secretary a top priority, and Josh volunteers Donna to assist him in interviewing potential candidates; faced with a number of vulnerable seats in the upcoming election, Josh attempts to dissuade Matthew Santos from dropping out of another race for the House.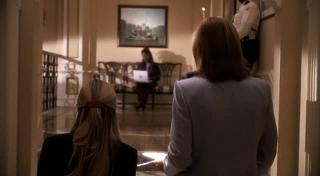 #25 - Faith Based Initiative 8.30
Season 6 - Episode 10
A senator attaches a rider to the federal budget bill that would ban gay marriage, almost daring the President to veto it, as the physical infirmities of Bartlet's MS become more pronounced. The Internet is rampant with a story that questions CJ's sexual orientation, and it is only fueled further when CJ refuses to dignify the allegations by putting out a statement. Donna joins the Vice President's senior staff, and heads for New Hampshire to start up Russell's presidential campaign there. And Santos decides that he will run for president after all, but only if Josh will leave the White House to manage his campaign.